Plaça Reial, colonnades,
terraces and plenty of history
The Plaça Reial is Barcelona's main square. At least, that was the idea when it was built, in the middle of the nineteenth century. And, although it's not a demonstration of civilian, religious or military might (as many of the main squares in Spain are), it is one of the main congregating points for locals.
And that's considering that many of them prefer other, less touristic spots. But it's true that Plaça Reial has such a wide selection of bars and restaurants on offer that there's always going to be somewhere that will suit or surprise anyone who visits it.
Origins of the Plaça Reial
Barcelona's Plaça Reial is a relatively new space. Until 1835, the year of the Mendizábal Disentailment, the Capuchin Convent, built in 1718, stood on this site. This building was demolished on official orders, leaving a large empty space in the heart of one of the city's new hubs.
So, the council at the time thought it was fitting to create Barcelona's new main square here, in the same style as many cities in Spain, with buildings that could attract Barcelona's budding industrial bourgeoisie.
The construction project was won by Francesc Daniel Molina i Casamajó, and the square was given the name real [royal] in honour of the monarch at the time: Ferdinand VII. In fact, there was a plan to place an equestrian statue of said king in the centre of the square. That space was, in the end, occupied by the fountain Font de les Tres Gràcies, created by the house of Durenne, from Paris.
The architecture of the Plaça Reial
Molina i Casamajó designed the Plaça Reial as a rectangular space flanked by stately buildings, under which would be wide colonnades. The idea was that they could be occupied by businesses that would serve the square's inhabitants.
Over the years and above all at the end of the twentieth century, these spaces have been taken over by bars, restaurants and night clubs, which have converted the Plaça Reial into one of Barcelona's night hotspots.
You might be interested to know that the ornamental lamp posts added to the square were the work of the young Antoni Gaudí. They were installed in 1879 and are crowned by a winged helmet and a dragon. They were a trial run for a plan to install gas lamps throughout the city. However, in the end only the ones in this square and another three on Carrer Pla de Palau street were ever erected.
In the 1980s, Plaça Reial was remodelled by the architects Frederic de Correa and Alfons Milá. They were responsible for the pedestrianisation of the square. They added a group of palm trees, which lend a certain colonial air to the space.
Another piece of interesting information about this place: Plaça Reial's colonnades are the perfect spot for the market for stamp and coin collectors that sets up here on Sunday mornings.
Restaurants in Plaça Reial
Architecture aside, the Plaça Reial, very close to Les Rambles, Plaça de Catalunya and Port Vell, is known for its lively atmosphere. It's in the mornings and at lunchtime when it is frequented by local residents and neighbours.
It gets rowdier as the afternoon wears on when many of its terraces start to fill up with tourists and night owls in general. These terraces belong to some of the square's most popular restaurants. These are a few of them:
Ocaña (Plaça Reial, 13-15): This is an attractive, multi-use space. Operating as a terrace and a café during the day, it has a restaurant offering Catalan cuisine, a cocktail bar with a high dose of creativity, a night club… All of that in a space with a décor that's striking, to say the least.
Les Quize Nits (Plaça Reial, 6): This restaurant is a Barcelona classic. It opens at 9:00 AM and offers eclectic cuisine with strong Mediterranean roots. Just as nice as the restaurant itself is the terrace outside.
La Crema Canela (Passatge de Madoz, 6): This is on one of the passages that give access to the square. Here, they serve Mediterranean cuisine with oriental touches. They're all about the extra-virgin olive oil.
Rossini (Plaça Reial, 13): Classic Italian cuisine, with the typical pasta and pizzas, but with a touch of sophistication. The décor is pretty sophisticated too. The terrace sits under one of the square's colonnades.
Bar Glaciar (Plaça Reial, 3): This is one of Plaça Reial's classic bars, still going strong. Founded in 1929, they still serve up vermouths, well-pulled beers, tapas and baguettes on the marble bar. When night falls, this is also a good spot for a drink or two.
Nights in Plaça Reial
Plaça Reial is home to some of Barcelona's busiest night spots. Some of them include:
Sidecar Factory Bar (Plaça Reial, 7): This place has been livening up nights on the square since 1982. They have everything from live music (with a varied line-up) to sessions played by well-known DJs. They've also got a terrace.
Jamboree Dance & Jazz Club (Plaça Reial, 17): This is another veteran of the Plaça Reial, with a focus on live music. In fact, there are two gigs played here every day, with artists playing all kinds of music, but with a special focus on good jazz.
Karma (Plaça Reial, 10): This is a temple for any rock fan in Barcelona (opened in 1978), although occasionally they also play pop and dance music. Anyone who's looking for a calmer atmosphere can enjoy a drink on the terrace, which is open late into the night.
Information of interest
How to arrive
On foot: The Plaça Reial is about six minutes' walk from the Monument to Columbus down by the port of Barcelona, and a similar distance from the Plaça de Catalunya.
By Metro: Liceu station (line 3).
By bus: Routes 59 and V13.
By train: Catalunya station.
Related
plans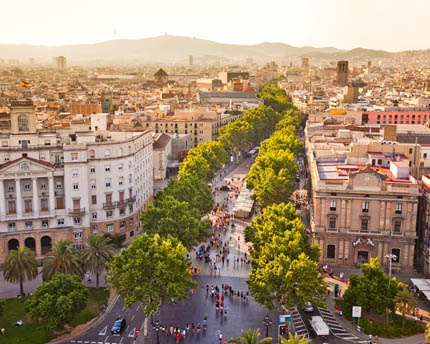 Places of Interest
Routes and Walks