Romantic things to do in Hamburg:
from culture to entertainment
The city of Hamburg, located at the mouth of the Elbe river, is considered the second largest city in Germany, in terms of population, after Berlin. Although it is not known for being the most romantic German destination, it is possible to get a lot out of it if travelling as a couple. For starters, in winter temperatures can get pretty cold, something that, in addition to the beautiful imagery it creates, is also perfect for cuddling up.
If you are looking for a different type of getaway and are thinking about visiting Germany as a couple, you will no doubt find many reasons to choose this city filled with elegant architecture and neoclassical palaces, large parks, pretty gardens and long avenues perfect for strolling along hand in hand. What's more, the city in northern Germany offers so many options for romantic things to do that both you and your partner will find it hard deciding what spots to visit, which flavours to discover and which excursions to take in the surrounding area, including the idyllic Bremen and Lübeck.
So don't hesitate and get planning your trip to Hamburg to discover the romanticism of its canals and the special atmosphere of its historic port. If you decide to visit in summer, you can even take a small trip to the North Sea coast, which has a rugged appearance and is brimming with energy.
Five romantic things to do in Hamburg
In the city, which was rebuilt like few others after the Second World War, there is no time to be bored. Discover some romantic things to do while exploring everything the city of Hamburg has to offer.
Free cancellation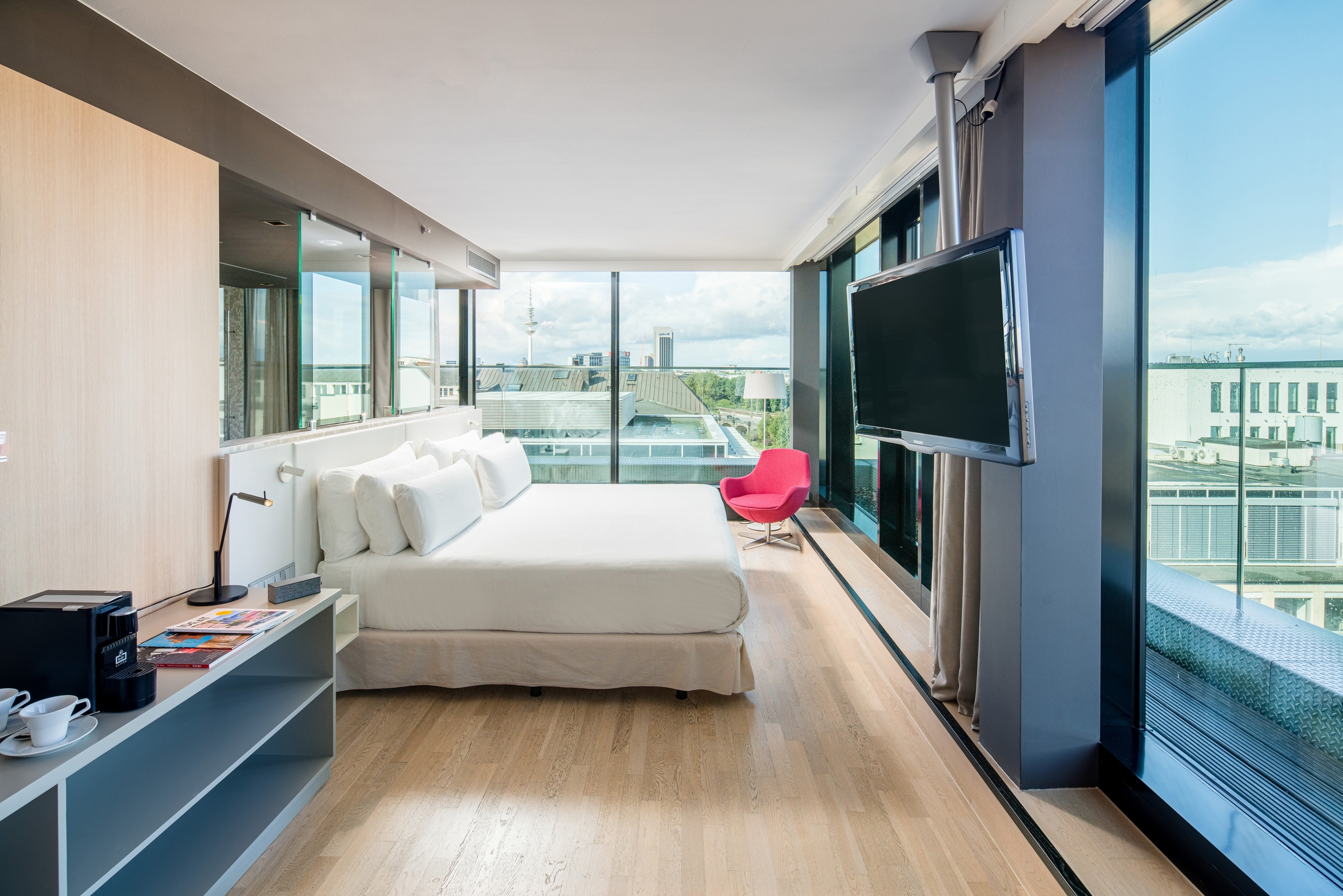 Discover its historical city centre
When you arrive in a city like Hamburg you'll want to explore it on foot (or by bike) to see if everything you have been told is true or not. To form your own opinions, you should start by visiting its historical city centre to see the city's most iconic monuments. Some of the must-visits include its beautiful Renaissance City Hall building, St Nikolai church and the Chilehaus building, which back in the day was a daring addition to Hamburg's traditional architecture. Also not to be missed is the HafenCity neighbourhood, a maze of canals that is home to the old exposed-brick warehouses in which goods from all over the world were stored. The area is designated a UNESCO World Heritage Site.
Cruise along the canals
After pounding the streets you will no doubt fancy putting your feet up. So what about seeing Hamburg's skyline from the canals? The view of the city's buildings from the water is even more beautiful. Around the port (Landungsbrücke ferry terminal) you will have no problem finding businesses offering short boat rides that take you from the docks to the Speicherstadt district. If the sun is out, choose a boat with an open top, which will also allow you to take some nice pictures.
Strolling through Planten un Blomen park
Perhaps the loveliest green space in and around Hamburg, the centrally located Planten un Blomen park is one of those places where you will fall in love with each nook and cranny. Spanning 45 hectares, it houses beautiful themed gardens such as the old botanical gardens and one of the largest Japanese gardens in Europe. Not only is it a romantic thing to do in Hamburg but it is also practical, as you can learn about botany, use of medicinal plants and, if you have time, you can even go to the Hamburg History Museum, which is close by.
Attending a concert at the Elbe Philharmonic
One of the great advantages of going on a romantic getaway in Europe is the amount of cultural options on offer. Among them, a perfect thing to do as a couple is attending a concert or show at the Elbe Philharmonic (the Elbphilarmonie). Just seeing the building designed by the architects Herzog and de Meuron will make you fall in love, so imagine what it is like to enjoy the sound inside its auditorium. If you prefer smaller concerts, there are countless pubs where you are sure to find one.
Romantic dinner at Haerlin
Indulging in some culinary delights should not be missing from your romantic things to do in Hamburg and the best place to do so is the restaurant Haerlin. And not just because, with its two Michelin stars, it is considered one of the best restaurants in Germany, but because enjoying the creativity of its chef, Christoph Rüffer, his dishes with French touches, and the views of the Binnenalster (or Alster lake) is a true delight. An evening at a place as romantic as this will, without a doubt, be the icing on the cake for a romantic break.
And if you don't want your night to stop there, we recommend choosing some of the city's rooftops for a cocktail with views of Hamburg's skyline. There are many options, although we love the Skyline Bar 20up, situated 90 metres above the ground.
Where to sleep in Hamburg?
One hotel that particularly stands out among the rest in Hamburg is the Barceló Hamburg, a four-star hotel with an urban feel situated right in the city centre. The modern hotel boasts 193 incredible B-rooms, which are a perfect place to rest and recharge your batteries before you set off to discover the city's effervescent cultural scene.
If you stay for lunch at the hotel, we encourage you to try the fusion cuisine at its restaurant 1700 as well as its well-stocked wine bar. The hotel is perfect for couples who can even treat themselves to one of the Deluxe rooms, situated on the top floors, which boast beautiful panoramic views of the city's skyline. Another fantastic option is booking a suite with a terrace that looks out onto Alster river and the lakes. Neither option will leave you disappointed. You can also make use of the gym first thing in the morning or relax in the spa after an intense day of tourism.
Free cancellation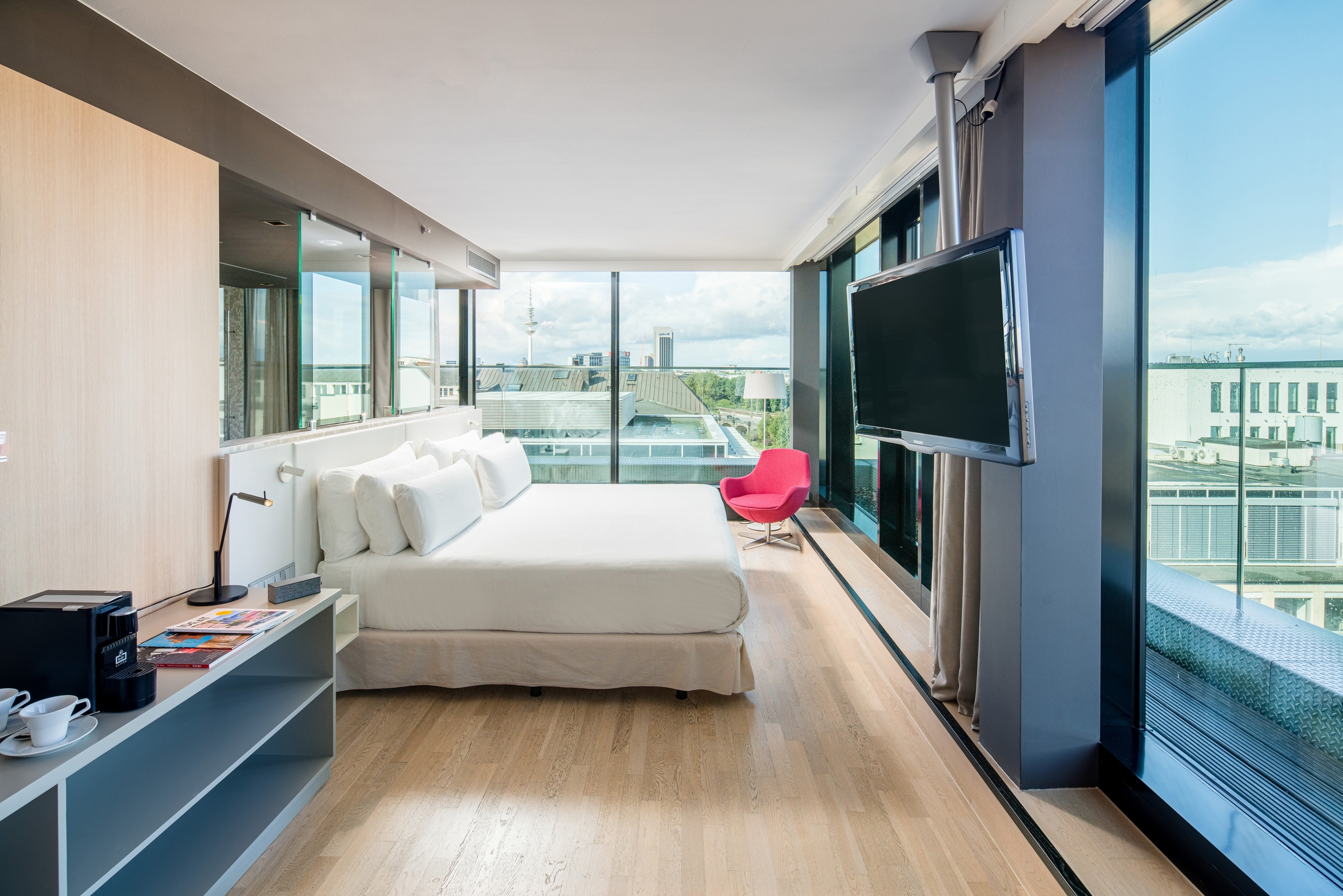 Frequently Asked Questions
What are the essential places to visit in Hamburg as a couple?
In Hamburg there are countless romantic things to do for couples. Essential things to do include attending a concert at the Elbe Philharmonic, taking a boat ride along the canals and through the port, and strolling through the park Planten un Blomen.
What are the most romantic places in Hamburg?
What makes a place romantic depends on each couple, but the following places will no doubt make you feel loved up. These include the Japanese garden at Planten un Blomen, the surroundings of Alster lake with its swans and any spot amid the canals in the Speicherstadt district.
What are the most romantic restaurants in Hamburg?
In Hamburg there are a host of romantic restaurants, but one of them, the spectacular two Michelin star restaurant Haerlin, also offers the most incredible food. You may also be interested in Seven Seas, which has an inviting atmosphere, and the restaurant Hala, serving Lebanese cuisine.
Related
plans