Duration
2 hours
Rating
Language
English, Spanish
Location
City centre
Time of year
Autumn, Spring, Summer, Winter
More info
Custom experience
Suitable for people with reduced mobility
Recommended for: Couples, Groups, Solo travellers
What the experience includes
Enjoy a unique activity at Beer Spa Granada, the first of its kind in Spain whose treatments and services are centred around the regenerative properties of beer. The relaxing spa sessions bathed in beer or the array of massages and aesthetic treatments bring a sense of peace and relaxation with an element of fun to create a different type of experience.
Everything you need to know
The dreams of beer lovers will come true at this beer spa in Granada. This adults-only activity features a spa circuit unlike anything you have ever seen and invites you to soak in bubbling beer barrels with water, hops, malt and yeast. You can also complete this unique experience with Alhambra beers and traditional appetisers served in a private relaxation area with beds of barley and a must-see beer sauna.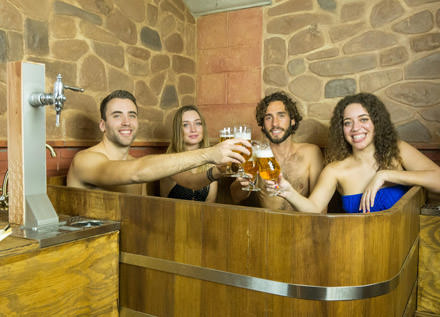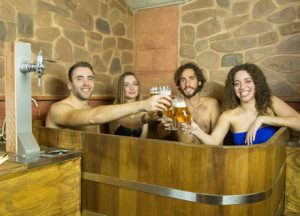 The experience lasts two hours and is available between 11:00 AM and 9:00 PM. Disposable swimwear and towels are provided.
At Beer Spa Granada, visitors can also purchase an array of body, facial and beauty treatments based on the healthy properties of beer's natural ingredients, which among other things, tighten loose skin, improve skin cell renewal, and ease fatigue and stress. Massages using hop and yeast body oil, body scrubs, relaxing facial massages, manicures and many other services will invite you to take a break from reality.
Immerse yourself in everyone's favourite drink and enjoy an unrivalled relaxation session at this beer spa in Granada.