Explore the Alhambra with
Granada Total Audioguía
Duration
3 hours
Rating
Language
English, French, German, Italian, Spanish
Schedule
8:30h a 18:00h
Location
City Centre
Time of year
Autumn, Spring, Summer, Winter
More info
Custom experience
Suitable for people with reduced mobility
What the experience includes
With Granada Total Audio Guide, you can visit Granada's Nasrid jewel without having to book your tickets in advance and accompanied by accurate explanations in six languages: Spanish, French, English, German, Italian and Japanese. This is the perfect way to explore the emblematic monument while being privy to many details that go unnoticed by most tourists.
Although it is an ideal activity for just about anyone since the Alhambra is a must-see stop in this Andalusian city, art enthusiasts will particularly enjoy it because it covers one of the most spectacular monuments in the world.
Everything you need to know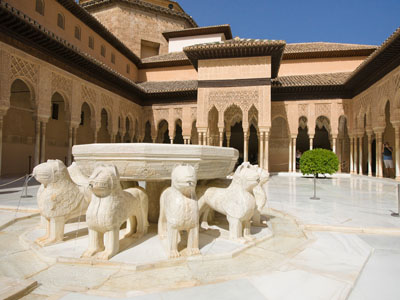 The palatial city of the Alhambra was the residence of Nasrid sultans and their court. This monument is comprised by palaces, fortified towers and gardens that stand out for their beauty. Although the Alhambra's exterior is impressive—with Sierra Nevada as the backdrop—when viewed from the Albaicín neighbourhood, the interior houses exquisite creations of stunning plasterwork, geometric tiling and breathtaking fountains from which the trickling sound of water offers a lovely melody.
There are countless reasons to visit Granada's main tourist attraction before leaving the city. With Granada Total Audio Guide, this is possible without having to book tickets in advance. Additionally, the explanations included in the audio guide will teach you the basic concepts of Nasrid architecture and provide information to help you thoroughly understand the landmark's decorative elements.
This experience guarantees access to the most important parts of the monument: the Alcazaba, the Nasrid palaces, the Generalife, the Mosque Baths and the Palace of Charles V. You will also receive a detailed map so you can your way through the landmark as well as headphones to hear the descriptions.
Important notes:
In accordance with the regulations established by the Board of Trustees of the Alhambra, participants must provide the following information to confirm their purchase of this experience.
Tickets to the Alhambra must be purchased at least 10 days in advance.
NAME AND SURNAMES
PASSPORT NUMBER OR DNI NATIONAL IDENTIFICATION NUMBER
AGE
GENDER
NATIONALITY
While visiting the Alhambra, visitors must always carry the identification document they used to make the booking. The company will not be held responsible if the a is refused entry to the Alhambra because they are not carrying this document.