Sampling local ingredients.
The flavour of Granada.
Duration
3 hours
Rating
Language
English, Spanish
Schedule
9:00 AM - 3:00 PM
Location
City Centre
Time of year
Autumn, Spring, Summer, Winter
More info
Shared experience
Suitable for people with reduced mobility
What the experience includes
The flavour of Granada is an experience for foodies or for people who want to avoid conventional tourist spots and instead discover a more authentic version of Granada around the everyday life of its markets.
This activity consists of visiting San Agustín Market—the most popular and centric in the city—to purchase local products and taste regional oils. To conclude, participants will be served two drinks and four tapas at the nearby Plaza de la Pescadería, the home of some of the city's best bars.
Everything you need to know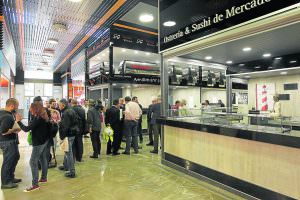 The experience takes place in the centric San Agustín Market, located a short distance from emblematic landmarks such as the cathedral and Plaza de Bib-Rambla. It was built on the site of the former Monastery of San Agustín that was destroyed by a fire in 1871.
This Granada market is an important business hub that houses a total of 60 establishments selling fish, fruit, meat and all types of goods.
The flavour of Granada is a perfect way to delve into a lesser known facet of the city and experience the day-to-day activities of locals who visit the market in search of fresh fish and fruit brought from Motril Market. It also features one of the most popular traditions among residents: going out for tapas in the heart of the city. Granada is famous for its incredible historical and cultural heritage, its quality food and the generous tapas served in bars alongside every beer or glass of wine.