Duration
30 minutos
Rating
Language
English, German, Spanish
Location
Playa del Jablillo, Costa Teguise
Time of year
August, Autumn, Spring, Summer, Winter, Year-round
More info
Custom experience
Not suitable for people with reduced mobility
Recommended for: Children, Couples, Groups, Solo travellers
What does the experience include?
The Adapted Sea Trek activity was created so that persons with reduced mobility can fulfil their dream of being under the sea. They are accompanied by at least three instructors and can enjoy the chance to discover and interact with the marine fauna of Lanzarote during a truly unforgettable day.
What you need to know
The Adapted Sea Trek experience is run on El Jablillo beach (Costa Teguise) and the water here is ideal for both scuba diving 'baptisms' and more advanced diving courses because it is protected by a rocky breakwater.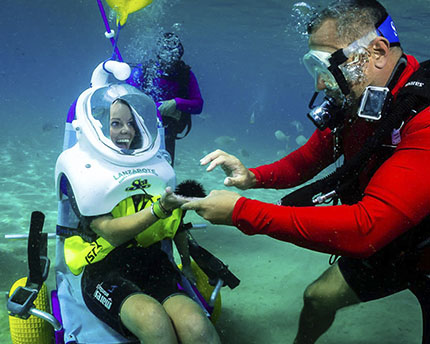 The aim of the experience is to give persons of reduced mobility the chance to explore the seabed for 30 minutes by using a helmet with impressive underwater vision that has a continuous airflow supplied through tubes connected to oxygen tanks.
Information of interest
Experience duration: 30 min.
Minimum age: 8 years old.