Duration
2 horas
Rating
Language
English, German, Spanish
Schedule
Martes y Sábado en todos los idiomas. La recogida es entre las 19:00 y las 19:30.
Location
Playa del Jablillo, Costa Teguise
Time of year
August, Autumn, Spring, Summer, Winter
More info
Custom experience
Not suitable for people with reduced mobility
Recommended for: Children, Couples, Groups, Solo travellers
What does the experience include?
Learn how to dive in one of the most popular destinations amongst diving lovers. This experience includes a theory class, a 30-45 minute immersion (crucial for familiarising yourself with the basic principles of diving), and an immersion at the Playa del Jablillo (Costa Teguise), where you will be accompanied by an instructor at a depth of approximately 4 metres.
What you need to know
The Costa Teguise's Playa del Jablillo is the perfect destination to go diving for the first time. The waters are extremely calm, thanks to the beach's rocky breakwaters, which allows you to experience the sensation of weightlessness.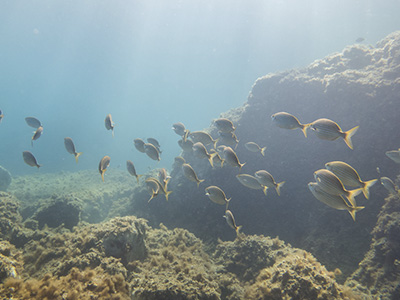 The diving initiation can be done on an individual or group basis, from Monday to Saturday. Initiation times: 8:45 AM, 11:30 AM and 2:00 PM. The total duration of the experience is approximately 1.5 hours, although you have the opportunity to undergo two immersions instead of one (in this case, the total duration will be 2 hours).
The activity consists of a theoretical part, in which you will learn the main principles of diving, and an immersion in which you will descend to approximately 4 metres below sea level in the first immersion and 6-12 in the second immersion, where you will be able to observe and interact with marine life. All of this will take place under the supervision of a qualified instructor. Are you going to miss out?
Information of interest
Price of the experience: €75
Price with two immersions: €100