Rating
Language
English, German, Spanish
Schedule
Monday - Saturday
Time of year
August, Autumn, Spring, Summer, Winter, Year-round
More info
Custom experience (minimal group: 1 personas)
Not suitable for people with reduced mobility
Recommended for: Groups
What does the experience include?
Experience the adrenaline rush caused by driving a buggy around Lanzarote's spectacular volcanic landscapes. Make your way down dirt tracks that are inaccessible to normal buses and cars, and enjoy a different type of driving as you discover sights of huge touristic interest.
What you need to know
Unlike quadbikes and karts, these small 4×4 vehicles can drive across dirt or cement tracks at a speed of 60-80 km/h. The driver's safety is also guaranteed at all times thanks to the buggy's low centre of gravity. This helps to stop it from overturning and skidding. Despite this, we advise slowing down on rocky terrain or in more complex driving areas.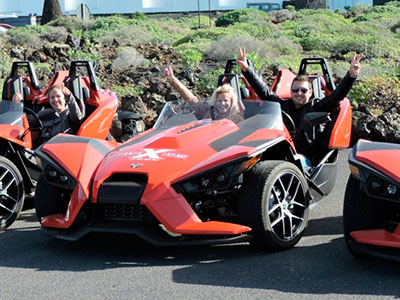 The Lanzabuggy vehicle range offers everything from simpler models to high-end competition vehicles, complete with 800 cc 4-speed engines, adjustable suspension and 4-wheel drive.
These buggies will allow you to explore Lanzarote's most treasured spots, exploring the island's picturesque villages, wonderful forests and legendary volcanic landscapes.
Lanzabuggy offers various routes which last from 110 minutes to 5 hours, with the longer outings including a meal.
Information of interest
Prices and duration of the tours:
Buggy Tour: €85/1.5 hours.
Buggy Tour: €115/3 hours.
Maverick Rzr special tour: €180/3 hours
Lanzaxtreme volcano tour: €105/2 hours
Lanzaxtreme long tour: €140/3 hours
Lanzaxtreme tour with meal: €195/5 hours
Lanzastrike adventure volcano tour: €95/3 hours
Lanzastrike adventure long tour: €130/3 hours
Lanzastrike adventure and Lanzaxstreme tour (meal included): €195/5 hours