Duration
1 día
Rating
Language
English, German, Spanish
Time of year
August, Autumn, Spring, Summer, Year-round
More info
Custom experience
Not suitable for people with reduced mobility
Recommended for: Children, Couples, Groups
What does the experience include?
Marvel at Lanzarote's striking volcanic landscapes from a 4×4 car, capable of driving along dirt tracks that buses are unable to access. Viajes Tara takes you to places that you wouldn't find along the standard tourist routes, offering travellers the chance to discover a different Lanzarote.
What you need to know
The small size of this volcanic island means that it can be easily covered from north to south (or, in this case, from south to north) in a single day. Staying in Fuerteventura doesn't, therefore, exclude you from signing up to this Viajes Tara tour and discovering Lanzarote's many secrets. The company picks up clients from their respective hotels in Fuerteventura before taking them to Corralejo. From there, you'll take a ferry towards Playa Blanca in southern Lanzarote.
After reaching Lanzarote, the tour will make a first stop in Los Hervideros. These are a series of volcanic caves which are penetrated by water from the Atlantic Ocean, where, after crashing against the rocks, the water appears to "boil" ("hervir", hence its name). Next, the tour will take you to the coastal town of El Golfo, famed for its magnificent Lago Verde ("Greek Lake", in English). Following this, you will proceed to the inland part of the island, visiting Yaiza, the Timanfaya National Park and Tinajo. Returning to the coast (the northeast coastline, in this case), the tour will then head to La Santa and Famara.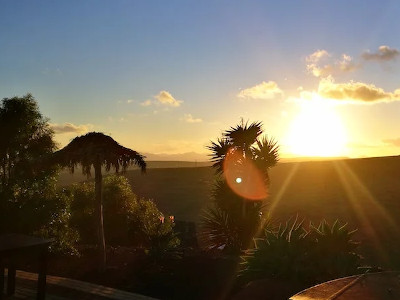 The last stops on the tour will be the Virgin of las Nieves chapel, offering exceptional panoramic views across the Caleta de Famara and Punta Ganada, and the town of Haría in northern Lanzarote. To bid farewell to the island in a way that it deserves, the experience ends with a visit to the bodega of the El Patio Agricultural Museum, where you will be able to sample various local wines and cheeses.
Price of the experience:
From the north:
Adults (older than 13 years): €93. Wednesday, in French; Friday, in German and English.
Children (from 2 to 12 years): €73. Wednesday, in French; Friday, in German and English.
From the south (trips take place on Fridays):
Adults: €98.
Children: €78.