Rancho Texas

Lanzarote park
Rating
Language
English, German, Spanish
Time of year
August, Autumn, Spring, Summer
More info
Custom experience
Not suitable for people with reduced mobility
Recommended for: Children, Couples
What does the experience include?
Enjoy an unforgettable family day out at Rancho Texas Lanzarote Park, a zoo equipped with a spacious swimming pool area, where you'll be able to swim with sea lions, paddle a canoe or go on a pony ride. Fun for the little ones is guaranteed!
What you need to know
Situated between Lanzarote airport and Puerto del Carmen, just one kilometre from the coast, Rancho Texas Lanzarote Park is much more than a traditional zoo. At its facilities you'll be able to view a wide range of animals and children will be able to ride on a zip wire, hunt for gold in an indigenous settlement and swim in the Corral del Agua, an extensive swimming pool area with different pools for babies, children and adults.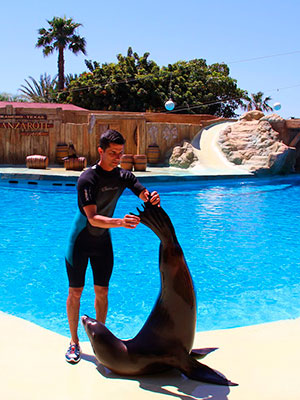 The animal species that attract the most interest among visitors to the park are the snakes, the Nile crocodiles and the Bengal tigers, as well as dolphins and sea lions, with which you can interact.
What's more, the complex offers live cowboy lasso shows, night-time Western-themed shows and eagle, buzzard, falcon and condor flight exhibitions. A perfect plan for enjoying an unforgettable family day out.
Information of interest
Price:
Adults: €30
Children (from three to 12 years old): €22
Interaction with sea lions (adults and children): €50
Interaction with dolphins (adults and children): €100
Admission to the Country Western Night: adults, €40; children, €22