Duration
45 minutos
Rating
Language
English, German, Spanish
Time of year
August, Autumn, Spring, Summer, Winter, Year-round
More info
Custom experience
Not suitable for people with reduced mobility
Recommended for: Children, Couples, Groups, Solo travellers
What does the experience include?
Sea Trek is an innovative system that lets you easily walk on the seabed and experience the feeling of weightlessness as if you were walking on the surface of the Moon. It's the perfect activity for anyone who would like to discover the marine life of Lanzarote without having to spend part of their holiday doing more demanding training.
What you need to know
This new experience will make you feel weightless, just like being on the Moon, as you walk on the seabed surrounded by the impressive marine life of Lanzarote. If you can walk and breathe you can do a Sea Trek!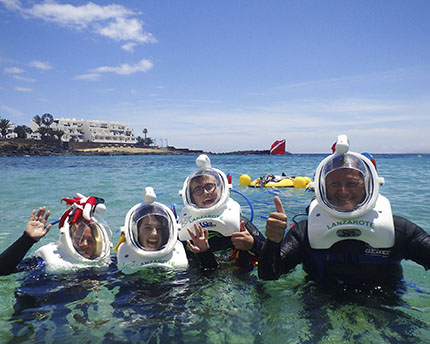 To do this activity you must be eight years old and above but you don't need to know how to swim. You can do it with glasses, no experience is required, and anyone can do it regardless of their fitness levels — you just need to walk and breathe and take part in a brief 10-minute training session. The activity lasts for 30 minutes and reaches a maximum depth of six metres.
Information of interest.
Duration: 60 minutes.
Minimum age: 8 years old