SSI Scuba Ranger -
children´s diving
Duration
90 minutos
Rating
Language
English, German, Spanish
Time of year
August, Autumn, Spring, Summer
More info
Custom experience
Not suitable for people with reduced mobility
Recommended for: Children, Groups, Solo travellers
What does the experience include?
SSI I Scuba Rangers is a club that offers numerous scuba diving activities for children between 8 and 12 years old. Safety is a priority and Scuba Rangers programmes are only taught by specially trained instructors in a swimming pool or in confined waters in protected areas at a maximum depth of 4 m. Participants receive recognised Scuba Rangers certification.
What you need to know
Adults are as happy as children when they go diving, and little ones have a simply fantastic time as they take their first steps in the world of diving. Native Diving runs an experience aimed at children between 8 and 12 years old who are accompanied by an instructor who explains everything they need to know to enjoy a safe dive.
After being taught the theory, the children head to El Jablillo beach, an ideal spot for doing beginner dives and where they can discover and interact with Atlantic marine fauna, experience the exciting sensations of diving and fall in love with the sea.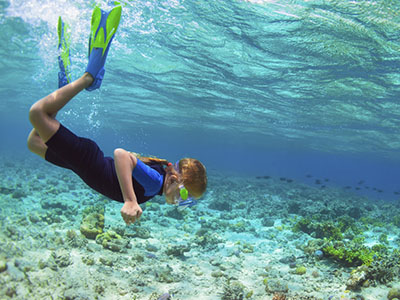 Children will remember this amazing underwater adventure for many years to come.
Information of interest
Available languages: Spanish, English and French.
What you need to bring: swimming costume/trunks, towel and a medical certificate from the past two years.