Submarine safari

Lanzarote
Duration
1 hora + 30 minutos de tiempo libre
Rating
Language
English, German, Spanish
Schedule
Todos los días
Time of year
August, Autumn, Spring, Summer, Winter, Year-round
More info
Custom experience
Not suitable for people with reduced mobility
Recommended for: Children, Couples, Groups
What does the experience include?
Enjoy an incredible underwater tour on board an 18.5-metre-long submarine in which you'll discover the diverse underwater wildlife along Lanzarote's coast and view two shipwrecked boats on the seabed.
What you need to know
Submarine Safari, a local company specialising in submarine tours, offers participants up to four pick-up points in different parts of the volcanic island (Costa Teguise, Puerto del Carmen, Playa Blanca and the Arrecife bus interchange). From there, you'll be taken to Puerto Calero by a free bus service.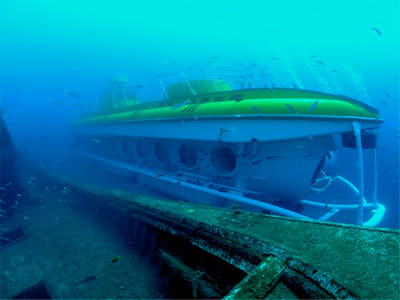 Once there, participants will be given their corresponding boarding pass at the company's premises and will have a short while to stroll along the marina, have a soft drink at Nemo Cafe or visit the souvenir shop.
Then, after some important safety instructions, staff will drive you to the submarine to start your 60-minute underwater tour, in which both the descent and the subsequent ascent to the surface are included.
Once back on dry land, participants will receive a certificate confirming they completed the submarine tour and, if you so wish, you'll be able to take a photograph home with you. Finally, you'll have half an hour of free time to enjoy the elegant Puerto Calero marina, considered one of the most exclusive areas on the Island of Volcanoes
Information of interest
Price:
Adults: €55
Children (from two to 14 years old): €34