Group activities in Minorca,
from dawn till dusk
There are 400 UNESCO Biosphere Reserves in the world, and Minorca, a small, tranquil island, is home to one of them. It was declared as such in 1993, thanks to the healthy balance struck between tourism development and the conservation of its natural resources. Today, this is still true of Minorca, an island of contrasts that continues to offer travellers the wild side of its pristine natural spaces.
This uniqueness is what makes the group activities that the island has on offer even more extraordinary. The same activities you might do elsewhere take on a new level here, the inhospitable landscape being an added bonus. Unspoilt coves whose beauty makes up for how difficult they are to access, local festivals that are still focused around religion, and never-ending roads that will live up to all your dreams about travelling on two wheels… If you visit Minorca with friends, then we've shared some ideas that will make your trip an unforgettable experience.
Unspoilt beaches and coves
It's true what they say about the biggest pleasures in life sometimes being the simplest ones. Minorca is no exception to that rule, which is why we're kicking off with a suggestion that will wow everyone, although it might sound like a cliché. Wild beaches and coves are something you'll find dotted along the entire 200 kilometres of Minorca's coastline. To the north, with a more dramatic, darker coast, you'll find well-known spots such as Cala del Pilar, Cavalleria and Algaiarens. To the south, with white sand and pine trees everywhere, there are more familiar names, such as Macarella, Mitjana, Turqueta or Son Bou.
The list of beaches and coves where you could potentially have a picnic in Minorca is endless. That's why we've picked out just two (one in the north and another in the south), both of which are equally tempting:
Cala Trebalúger
Even though this cove, in the south-western corner of the island, isn't as famous as Galdana and Mitjana, it just oozes beauty. Nestled between two fairly high cliffs covered in greenery, Cala Trebalúger is where you'll find the mouth of the eponymous river. From Cala Mitjana, which has a car park, there's a 1.5-kilometre path along the coastline which leads you to this cove. Once there, it's easy to shelter from the sun in the shade of one of the pine trees that encircle the beach.
Playa de Binimel•là
To the northwest of the island, not far from the town of Es Mercadal, you'll find this untouched beach where another river meets the sea, this time the Torrente de Salairó. This beach perfectly illustrates the type of coast that characterises the north of Minorca, with coarse, dark sand, beds of posidonia, and rocky reefs. Only 400 metres separate the beach from the closest car park, so it's easier to access than Cala Trebalúger.
Local summer festivals
As we're big fans of contrasts, from a day spent chilling out, we suggest you dive right into something a bit more festive. Although it's small, Minorca hosts the same kind of local festivals that you find all over Spain. Experiencing them for yourself is a fantastic way of having fun whilst discovering the island's rich culture.
The Fiestas de Sant Joan, celebrated every year at the end of June in Ciutadella, trigger off the summer festivals in Minorca. Unique and spectacular, these festivities focus around horses and riders who participate in each and every event.
Other important festivals follow in July, such as, for example, the Fiestas de Sant Martí in Es Mercadal, Fiestas de Sant Jaume in Es Castell, and Fiestas de Sant Antoni in Fornells. They all take place one after another in the second half of July.
And there's more to come in August. It kicks off with fiestas in Es Migjorn Gran and carries on with festivities in Llucmaçanes, Alaior, Sant Climent, Ferreries, and Sant Lluís.
In September, the island's capital, Mahón closes the festival season with the Mare de Déu de Gràcia festivities, a relatively new celebration that originated in the late nineteenth century but is extremely famous amongst islanders. So, the only thing left to do is for you to choose the fiesta that best fits into your schedule.
Discovering the charms of Minorca by motorbike
If a bicycle seems too much like hard work and a car seems boring, why not try driving a motorbike along the stunning, quiet roads of Minorca? If you're travelling as a group, the only risk you run is looking like a motorbike gang, but don't worry, the locals are used to it. It's no coincidence that every year more scooter rental companies pop up on the island—a good option if motorbikes aren't something you ride on a daily basis. What's more, the prices are very reasonable considering how expensive cars can be.
If you opt for this mode of transport, you'll get to know the island's main road—the Me-1—very well. From the road, it's nice and easy to turn off to many local attractions. Driving a motorbike means that all kinds of spots are very easy to access. On the way from Ciutadella to Mahón you'll see signs popping up for locations such as the old Líthica quarry, an impressive natural work of art which often hosts live music concerts. Or the modest Mount Toro, which, at 358 metres tall, is the highest point on the island, in addition to being a unique viewpoint over Minorca and the neighbouring islands.
You'll also see turn-offs to Torre d'en Galmés, the largest prehistoric settlement in the Balearic Islands, with 62 excavated hectares. Or there's the Finca de Subaida, whose cheese is covered by the Mahón-Menorca cheese designation of origin. This important cheese factory offers tasting sessions and guided tours of their facilities which are a great opportunity to learn about the cheese curing process. As you can see, Minorca is a heaven for any foodies who have a thing about motorbikes.
Related
plans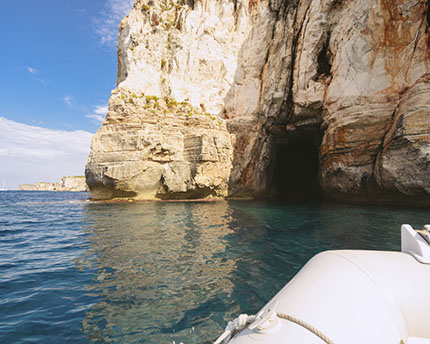 Sports and Adventure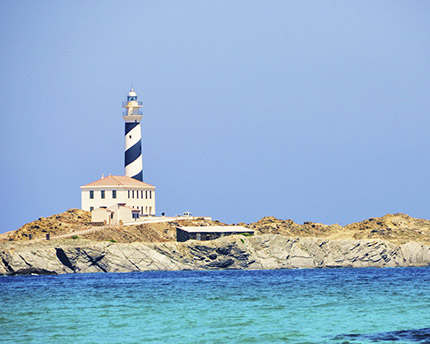 Places of Interest