Carmona,
beloved by kings and film-makers
Carmona proudly sits on one of the last of the rolling Los Alcores hills. Its strategically raised position meant that, for centuries, it was highly sought-after by the Turdetani, Carthaginians, Romans, Moors and Christians, each culture leaving behind a rich historical heritage.
This wealth was further enhanced when, after having been re-conquered by King Ferdinand III 'the Saint', King Peter I chose Carmona as one of his favourite towns. The Christian monarch was responsible for transforming what was originally a Moorish castle into what is today the town's most emblematic monument: the Alcázar del Rey Don Pedro.
But Carmona is far more than its castle or other important monuments. First and foremost, it is a classically Andalusian hilltop town with a layout of white houses interspersed with splashes of bright colour. What is more, Carmona is particularly famous for its Semana Santa—Holy Week—festivities when its streets are filled with powerful and deeply moving scenes. And, naturally, it is also well-known for its excellent cuisine.
The Alcázar del Rey Don Pedro
Almost everyone is drawn to Carmona to see the Alcázar del Rey Don Pedro castle, a Moorish structure that was restored by King Peter I 'the Cruel' who converted it into one of his favourite residences in the fourteenth century. Similarly to the Alcázar in Seville, part of which was also built by King Peter I, the Alcázar in Carmona was constructed in the attractive Mudéjar style.
While the Lisbon Earthquake of 1755 sadly destroyed a significant part of the castle, large sections of the curtain walls survived and now surround the Parador de Carmona hotel. It is worth climbing up to the hotel terrace to enjoy magnificent views of the Vega de Carmona plain.
A curious footnote in the castle's history is that the town's bullring was installed inside its walls during the second half of the nineteenth century.
What else to see in Carmona
The Alcázar Puerta de Sevilla is a short walk from Alcázar del Rey Don Pedro, a fortress which once formed part of the town's defensive walls; it was initially restored in the fourteenth and fifteenth centuries and latterly in the 1970s. Today it is home to the Carmona Tourist Information Office.
Impressive Roman Amphitheatre dates back to the first century and the southern section remains fairly well preserved. Excavation of the site began at the end of the nineteenth century. Although it is not generally open to the public, there is a good view of the amphitheatre from outside the grounds.
The Roman Necropolis also dates from the same period and is a hugely valuable site, not least because it emphasises the important status of archaeology in Carmona and the town's many decades of commitment to this work. There are two particularly well-preserved tombs in the Necropolis that should not be missed: the Tomb of Servilia and the Tomb of the Elephant.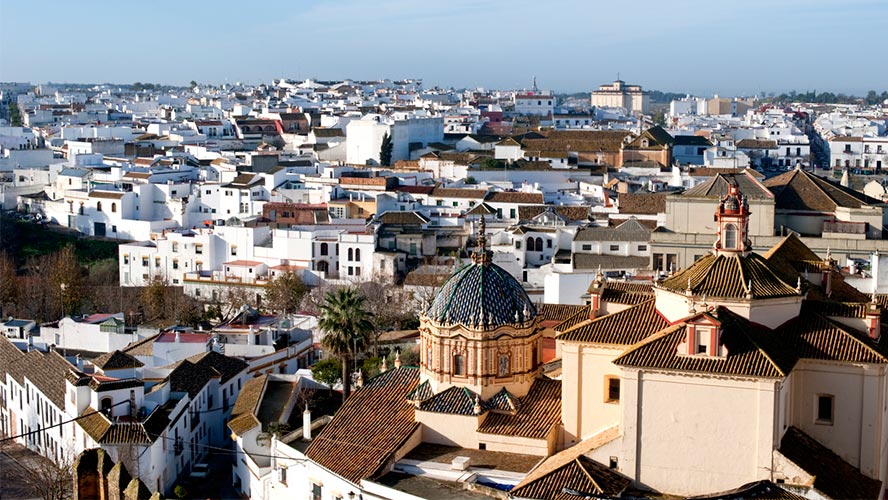 A visit to the Teatro Cerezo is also highly recommended; this theatre was built in the 1930s and its architecture draws from both the Modernist and Eclectic styles. It was constructed by an inhabitant of the town who became a millionaire overnight after winning Spain's National Lottery.
More ideas for enjoying Carmona
Carmona's wealth of monuments also includes a large number of palaces, churches and convents. Some of the most noteworthy palaces include the Los Briones palace; the Lasso de la Vega residential palace; the mansions of the Los Aguilar and Los Rueda families; the Marquess de las Torres residential palace; and the Alcázar de la Virreina. Today, many of these buildings are hotels.
The city also has an important religious heritage and perhaps the most spectacular of its many churches is the Iglesia de Santa María (fifteenth to sixteenth centuries), which was built on the site of the town's largest mosque. The Convento de las Descalzas (seventeenth to eighteenth centuries) is a Baroque convent located next to the church and is remarkable for its profusion of decorative elements.
Together these monuments create such a natural film set that, coupled with the town's typically Andalusian feel, it is no surprise to learn that Carmona has been repeatedly used as a film and television location. In fact, you can join a tour to visit filming locations that appear in films and series such as Manolete, Nadie conoce a nadie, Fugitivas, Carmen, La Peste, Cazatesoros o Mariana Pineda, among many others.
Finally, La Cueva de la Batida is an eerie cave located on the outskirts of Carmona in a vast quarry whose use can be traced back to Roman times. Ever since, over the course of several centuries, huge stone blocks have been excavated and used to construct buildings in Carmona and other locations. Over the years, quarry workers have left their marks on the walls of this enormous space alongside religious symbols and nature-inspired designs, creating an immense piece of historical graffiti that is carved instead of painted in the rock.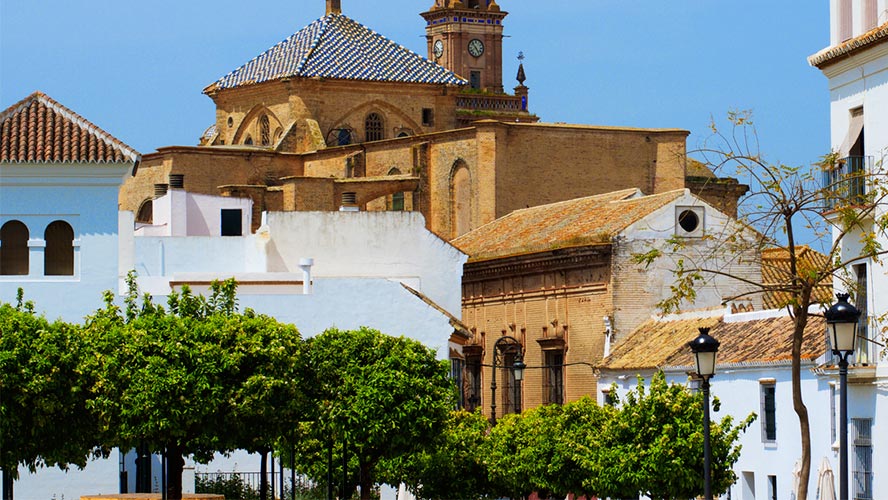 Where to eat in Carmona
Apart from the famous torta inglesa, which is made by the Poor Clare nuns in their convent, food in Carmona is not hugely different from that found in other towns across Seville and Andalusia. Restaurants favour seasonal produce and dishes influenced by the many different cultures that have passed through these lands.
For example, La Almazara de Carmona (Santa Ana, 33) combines local flavours and recipes with modern cooking techniques and meals are enjoyed in what was originally Carmona's oil mill, a truly authentic setting.
La Yedra (General Freire, 6) is another charming restaurant; diners are seated in an Andalusian patio with an ancient lemon tree and the restaurant serves sophisticated dishes with local flavours. Examples include Iberian pork fillet with saffron aioli, or rice with Boletus cremoso.
Finally, if you would like to experience an establishment with the traditional cuisine that gives this land its distinct flavour, try Casa Curro Montoya (Santa María de Gracia, 13) where dishes made with meat from the Sierra Norte mountains of Seville are particularly recommended.
Information of interest
How to arrive
By car: Carmona is just 35 kilometres (22 miles) from Seville on the A-4 motorway.
By bus: no. M-124 (Casal bus company) runs between Seville and Carmona with over 20 running on weekdays.
Tourist information
Related
plans