There's much more to eating in Seville
than just tapas
Eating in Seville is the best way of discovering one of the essences of the city, because in Seville's kitchen various gastronomic cultures, including Andalusian, Castilian, colonial and American, are blended together, and it's been that way for centuries. But on top of that, new restaurants in the city compete with each other to be the most creative and original, above all as regards using ingredients that come from distant lands, the presentation of dishes and the combination of flavours, just as is the case in many other culinary scenes in Spain. A true gastronomic revolution is taking place that, here in Seville, is well underway in various hotspots, all of which are well worth a visit. And the best part is that not all of these restaurants are concentrated around the Cathedral (vincular a URL correspondiente) and the neighbourhood of Santa Cruz (vincular a URL correspondiente). They're also spread throughout the neighbouring areas, and many can be found by the riverside. 
Where to eat in Seville
That being said, to eat in Seville your best bet is to stay in the Centre. Specifically, we're talking about the area that lies between the Puerta de Jerez and Calle Torneo, bordered by the river, as well as the Plaza de Pilatos and the Mercado de la Encarnación, in the heart of the city. There are so many bars and restaurants that your problem won't be finding a table, but picking your favourite when there's so much variety on offer. And, of course, so much competition means the quality has to be top notch. 
For those who want to enjoy the experience of eating in other parts of Seville, there's also the option of crossing the Guadalquivir River and discovering the restaurants of Triana. The area around Calle Betis, for example, is a great choice and offers superb views over many of Seville's main landmarks. 
Another great option for either lunch or dinner in Seville is the area of Calle Nervión, which is very close to the Santa Justa train station. There are lots of chain restaurants around here, but there are also plenty of establishments that are bursting with personality that serve up dishes with Andalusian and Sevillian flavours. A good example of one of these is La Bernarda (corner of Juan de Mata Carriazo and Bartolomé de Medina, 21), a restaurant with pretty a modern feel to it, in the food it serves, but also in its atmosphere and décor.
Where to eat in the centre of Seville
One of the best places to eat in the centre of Seville is a classic in the world of Hispanic haute cuisine, the Taberna del Alabardero (Zaragoza, 20). Head chef Leo Núñez changes the menu four times a year, working with seasonal produce. Another classic is the Casa Manolo León (Guadalquivir, 8), the flagship of a group of Sevillian restaurants (although it originated in Matalascañas, Huelva), that offers a catering service that's in high demand for celebrations of all kinds in Seville.  
A more informal option is Zarabanda (Padre Tarín, 6), which offers Mediterranean flavours (with an emphasis on pizzas) in a relaxed, fun environment. Burladero Tapas y Tintos (Canalejas, 1) is similar, decorated in a style that blends modern design with a traditional, bullfighting theme. It is the perfect spot for informal lunches or dinners.  
Another famous spot for eating in the centre of Seville is Carlos Baena (Rastro, 28), the perfect restaurant when the sun is shining, as you can eat alfresco on its garden terrace. Here, they serve up traditional Sevillian food, whilst still tipping their hats to modernity. 
Trendy restaurants in Seville
Foodies will love the city's trendiest restaurants. One of these is Gastrobar La Santa María, in the recently refurbished Barceló Sevilla Renacimiento (Av. Álvaro Alonso Barba). The hotel was already a hit thanks to its chic modern décor, but now it is winning hearts with this new culinary concept. With its sleek design, this welcoming restaurant offers an original selection of dishes and the option of al fresco dining on an inviting ground-floor terrace. Embark on a culinary journey to America without leaving your table – the wide variety of tapas and dishes have a New World flavour with a local twist. 
Another good example of one of the most cutting-edge places to eat in Seville is Seis (Plaza Nueva, 7), which opened its doors in 2017 and, since then, has become something of a sensation amongst both locals and visitors alike. That's thanks to both its impressive, elegant décor, with a focus on the plant kingdom, and its menu, on which cuisines from different corners of the country are blended together, with the odd international dish thrown in for good measure. Its tapas bar and sophisticated selection of cocktails are also a big draw. 
Another attractive option is Pintón (Francos, 42), which is based around a more classic concept. In fact, the restaurant takes up part of the Andalusian patio of the Almacenes Peyré complex, renovated by the architect Aníbal González. The rice dishes are particularly worth trying, as are the gyozas, with delicious fillings, but lots of people visit this spot to sample the delights of the tapas menu. 
Ispal (Plaza de San Sebastián, 1), part of the successful chain La Raza, is also worth a visit. It might well be their most ground-breaking restaurant. Here, they masterfully blend traditional Andalusian flavours with innovative techniques and presentation in delightful surroundings. 
And of course, it's worth taking a turn around the Mercado Lonja del Barranco (Arjona, no number), where there are dozens of spots where you can enjoy a glass of wine or a beer with a few tapas, but you can also have lunch or dinner and try some of the latest culinary trends. 
Restaurants in Triana
A large proportion of Triana's bars and restaurants are concentrated on Calle Betis. But, if you venture beyond the banks of the Guadalquivir, the neighbourhood has a lot more to offer. One of the most notable is Jaylu (López de Gomara, 19), a seafood-themed restaurant, reflecting the neighbourhood's seafaring tradition, where they pride themselves on the quality of the products they bring to the table from the ocean.  
Slightly more economically priced is Victoria 8 (Victoria, 8), right in the heart of Cava de los Gitanos, and set in a typical Andalusian tiled patio complete with geraniums and a fountain. Their main focus is on traditional flavours, but in Seville, it's almost impossible not to experiment with new gastronomic influences, and in this restaurant, they really nail the combination of the two. 
Typical Sevillian cuisine is also what Bodegón (Virgen de Luján, 45), a restaurant that's really close to the Parque de Los Príncipes, has to offer. It's in a beautiful setting with an open wine cellar that's best known for its seafood, especially its selection of fried dishes.  
 These are just a few tips because when it comes to eating in Seville, it's best just to follow your nose and, above all, the advice of the Sevillanos themselves. At the end of the day, thanks to their character and their way of life, when it comes to eating, they're the experts. 
Related
plans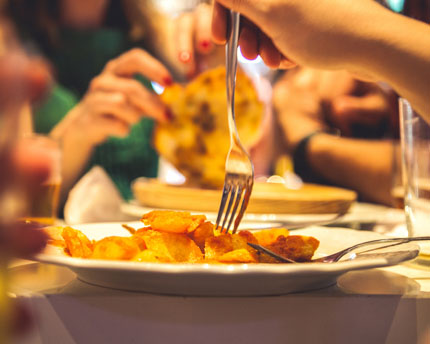 Food and Drinks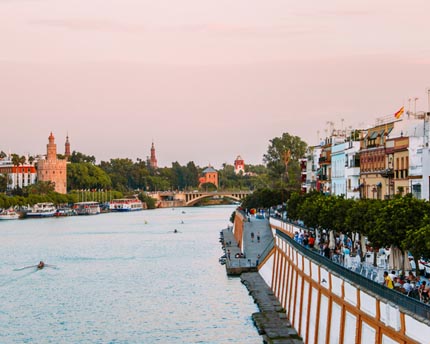 Places of Interest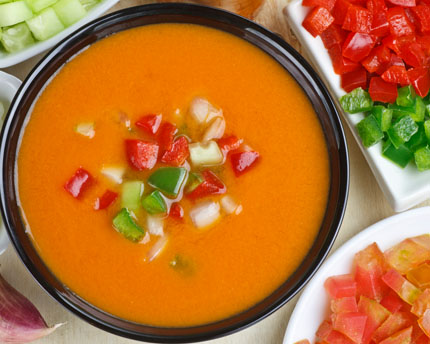 Food and Drinks