Duration
10 horas
Rating
Language
English, Spanish
Time of year
Autumn, Spring, Summer, Winter
More info
Custom experience (minimal group: 1 personas)
Not suitable for people with reduced mobility
Recommended for: Children, Couples, Groups, Solo travellers
What the experience includes
Within our sublime collection of experiences for our most demanding guests, we present a crazy, fun and very exclusive combination. The Loro Parque has been named for several consecutive years as the best zoo in Europe. We want you to enjoy the charms of their shows and their rich variety of animals specified in a unique way. Live the exclusive experience… penguins, etc. while accessing exclusive VIP areas of this tour. Know the details of each species, their habits, behaviors, diet, etc … from the hand of our experts. During the break, we propose "Brunelli´s", a great steakhouse where the best meats are specially selected with a maturation process of 28 days in controlled temperature and humidity chambers, offering a great dining experience with sea views.
Once we have finished our tour in Loro Parque, we head to Siam Park, where you can enjoy Siam Beach, the only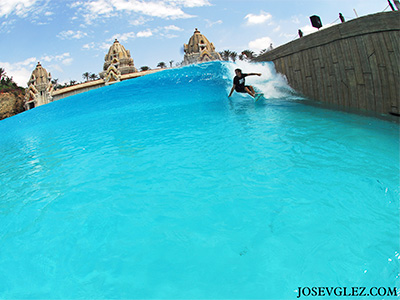 private beach in Europe with the largest artificial waves in the world. You can design your wave session in detail, choosing the direction, the height (up to a maximum of 3.8 m.) And the frequency of them. An experience that can be done by adults and children, enjoying the beach exclusively during the sunset in a unique and privileged environment.
Recommendations
Wear comfortable clothes, coat during the winter months,
sport shoes and sunglasses.
Use of sunscreen and bring your swimsuit.
It is essential (or highly suggested) to bring a photo or video camera.
Prices
1 Pax: €3.200
2 Pax: €3.400
3 Pax: €3.600
4 Pax: €3.650
5 Pax: €3.800
6 Pax: €3.900
Included
Private transport
Exclusive entrance to the zoo
Guided tour
Preferential access to all shows and VIP areas of the park
Lunch at Brunelli's Steak House
Private access to the water park for 10 people max
Wave design à la carte
Wave session for 2 hours
Official surfing federated instructor
All the material and photo session inside the water
More Information
This experience lasts approximately 10 hours.
It is recommended to start the activity at 8:30 a.m. 400€ Supplement for recording aquatic video, aerial shots with drone and video editing. If you cancel the activity one month in advance, 100% cancellation fees. Taxes included.