Duration
38 hours
Rating
Language
English, Spanish
Schedule
To be agreed
Time of year
Autumn, Spring, Summer, Winter
More info
Custom experience (minimal group: 1 personas)
Maximum group: 6 personas
Suitable for people with reduced mobility
Recommended for: Couples, Groups
What the experience includes
From Royal Hideaway Corales Suites we want to surprise our most demanding clients with this sublime experience combining two of the main attractions in the Canary Islands: excursions in luxury yachts between islands and diving in one of the best areas of the world for the practice of this activity. This combination of unique sensations in an incomparable environment will make you feel the pleasure of enjoying an unforgettable experience in an amazing landscape.
The activity begins in the port from where we depart to Isla del Hierro. During the trip, you can enjoy the panoramic views of the island of Tenerife and the majestic Teide volcano. As we move away and leave Tenerife behind, the silhouettes of the islands of La Gomera and El Hierro will begin to appear on the horizon. In addition, during the voyage, it is very likely that the cetaceans that inhabit the Canary waters, surprise us by crossing our route. You can even enter the fascinating world of sport fishing with our professional fishing teams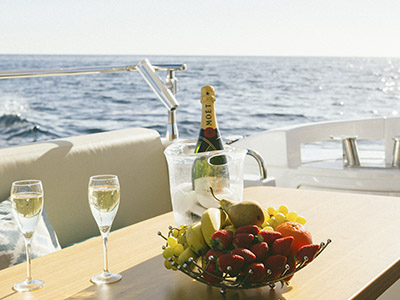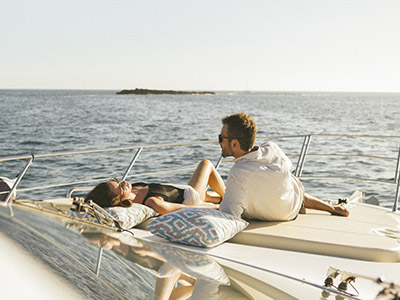 With the arrival to El Hierro, we will enjoy the immersion in the Reserve of Las Calmas, one of the best places in the world for the practice of this underwater modality. The waters surrounding the island have an average annual temperature of 21ºC, which, together with the influence of the Canary current, makes El Hierro a habitat for species of a markedly tropical nature. This, together with the absence of large human populations and rivers that provide sediment, makes the waters of a transparency difficult to find in most of the world.
Everything you need to know
The experience includes:
Transfer from Tenerife to El Hierro on a luxury vessel.
A boat tour of exclusive spots.
Diving – El Hierro will open the Marine Reserve of La Restinga for these activities.
Snack on board.
This experience lasts approximately 38 hours. Includes hotel-port transport, rental yacht for 36 hours, berthing in the ports, snacks, meals, dinners and drinks, professional fishing equipment, crew, immersion in El Mar de Las Calmas, complete and safe diving material.
We recommend starting the activity at 09.00am. Activity is not recommended for children under 7 years of age. The schedules are approximate and may vary depending on the time of year in which the activity is carried out. If you cancel during the last 7 days, 50%, and 72 hours, 100% cancellation fees. Taxes included.
Recommendations:
Take casual bathing clothes, coat during the night, sunscreen and sunglasses.
People who do not know how to swim should inform the crew before boarding.
It is essential (or highly suggested) to bring a photo or video camera.
Prices:
1-2 people: 7.500€
3 people: 7.800€
4 people: 7.950€
5 people: 8.050€
6 people: 8.050€