Duration
Depends on the rate
Rating
Language
English, French, German, Italian, Spanish
Schedule
Every day
Location
Puerto de las Galletas, Pantalán 3
Time of year
August, Autumn, Spring, Summer, Winter, Year-round
More info
Custom experience (minimal group: 1 personas)
Not suitable for people with reduced mobility
Recommended for: Groups
The yacht is an Azimut 60 Flybridge and was manufactured in Italy in 2017.
It has a length of 18.36 m, a beam of 5.02 m and a 1.37 m draught. The interior has 3 + 1 cabins and 2 + 1 bathrooms with shower, a sitting room and fully equipped kitchen. The machine room has two R6-800 MAN engines with 800 CV each and an alternating current auxiliary engine.
In addition, the yacht has a gyroscopic stabilizer that ensures a smooth ride and prevents rolling.
The rear platform can be submerged to make it easier to get in and out of the water and the yacht also has a hardtop flybridge.
The interior has been crafted from high quality materials and uses next generation technology. We also have sport fishing equipment that can be used at no additional cost. The yacht has a capacity of 12 passengers and 2 crew members with safety equipment for everyone consisting of 13+4 life jackets and a raft, fire extinguishers, fire pumps and a first aid kit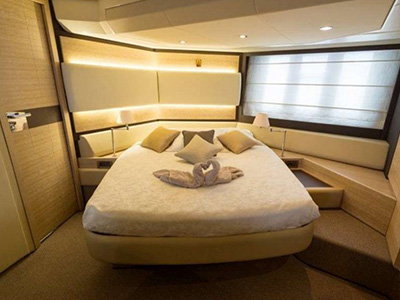 It also has all the insurance and permits required for sailing, fishing and whale watching. VIP transfer included.
Prices:
3-hr private charter: €1800
4-hr private charter: €2300
5-hr private charter: €2800
6-hr private charter: €3300
7-hr private charter: €3800
8-hr private charter: €4000
24-hr private charter: €4500 + fuel expenses