Duration
Depends on the rate
Rating
Language
English, French, German, Italian, Spanish
Time of year
August, Autumn, Spring, Summer, Winter, Year-round
More info
Custom experience (minimal group: 1 personas)
Not suitable for people with reduced mobility
Recommended for: Groups, Solo travellers
Jet Bike / Jet Ski Safari
Have fun driving our fabulous jet skis in a circuit or set off on a safari along the coast. You can enjoy this activity at El Duque beach, Fañabe beach, Troya beach and Las Américas beach.
Our jet skis are Yamaha Wave Runner VX1100 cc. A driving licence is not required.
Includes: jet ski, guide, insurance, fuel, support boat and life jacket
Parascending
Join us and fly along the coast by parachute at an altitude of 50 m and enjoy the incredible views. You'll travel aboard a magnificent, modern 11-m boat with a take-off and landing platform.
Our team will guide you through this fascinating experience in total safety and comfort.
Flyboard
The coolest and most fashionable water sport that's easy to learn and fun for all ages.
This ingenious device is a board connected by a hose to a jet ski; pressurised water is sent along the flexible tube to a pair of boots on the board, propelling it into the air with hand stabilization.
Bahriyeli (2 or 3 hours)
We sail on our boat BAHRIYELI from Los Cristianos port towards the pods of pilot whales that live off the southern coast of Tenerife all year round.
You can also spot a variety of dolphin species, including bottlenose dolphins, striped dolphins and common dolphins, to name just a few.
Options:
– 2-hour excursion (whale watching)
– 3-hour excursion (whale watching + stop for swimming + food and drink)
Fly fish
Are you the kind of person who loves intense experiences and likes to prove that there's nothing they fear?! Then this is the attraction for you!
The fly fish defies the laws of physics, flying very high and very fast.
We just have one question… Are you brave enough?!
The minimum age for this activity is 10 years old.
Max. 6 passengers at a time.
Banana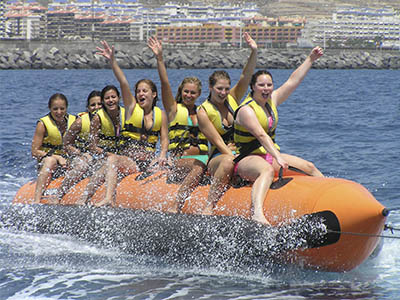 This has been the star attraction of our beaches for many years.
Anyone over 10 can ride the banana boat and it can be hired as a group, individually or for you and your partner.
Max. 12 passengers at a time.
The minimum age for this activity is 10 years old.
Cancellation policy:
More than 48 hours before start of activity: full refund
Less than 48 hours before start of activity or no-show: no refund
Cancellation due to bad weather: full refund
(The date of your booking may be changed, but please make sure you let us know in advance)
Precios:
SINGLE JET SKI (20 MIN): €40
PARASAILING (10 MIN): €40
SINGLE JET SKI SAFARI (40 MIN): €60
SINGLE JET SKI SAFARI (1 HR): €80
SINGLE JET SKI SAFARI (2 HR): €120
SINGLE JET SKI SAFARI (2 HR 30 MIN): €150
DOUBLE JET SKI SAFARI (1 HR): €100
DOUBLE JET SKI SAFARI (40 MIN): €70
DOUBLE JET SKI SAFARI (2 HR): €150
DOUBLE JET SKI (20 MIN): €50
FLYBOARD (30 MIN): €75
FLYBOARD (15 MIN): €50
FLYBOARD PACK (JET SKI CIRCUIT (20 MIN) + FLYBOARD (15MIN)): €70
SINGLE BOOSTER PACK 1 (JET SKI (40 MIN) + PARASAILING)): €80
FLY FISH (10 MIN): €12
SINGLE BOOSTER PACK 2 (JET SKI SAFARI (1 HR) + PARASAILING)): €110
SINGLE BOOSTER PACK 3 (JET SKI SAFARI (1 HR) + PARASAILING + FLY FISH)): €120
DOUBLE BOOSTER PACK 2 (JET SKI SAFARI (1 HR) + PARASAILING)): €140
WATERSPORTS SINGLE BOOSTER PACK (JET SKI CIRCUIT (20 MIN) + PARASAILING + FLY FISH)): €65
DOUBLE BOOSTER PACK 3 (JET SKI SAFARI (1 HR) + PARASAILING + FLY FISH)): €160
WATERSPORTS DOUBLE BOOSTER PACK (JET SKI CIRCUIT (20 MIN) + PARASAILING + FLY FISH)): €110
SINGLE SAFARI BOOSTER PACK (JET SKI SAFARI (2 HR) + PARASAILING + FLY FISH)): €150
BANANA BOAT: €12
DOUBLE BOOSTER PACK 1 (JET SKI (40 MIN) + PARASAILING)): €120
DOUBLE SAFARI BOOSTER PACK (JET SKI SAFARI (2 HR) + PARASAILING + FLY FISH)): €190
DOUBLE JET SKI SAFARI (2 HR 30 MIN): €180