Nightlife in Istanbul:
discover the best bars and nightclubs
Going out in Istanbul can be a thrilling experience. A city of 15 million inhabitants split across two continents, hundreds of bars and nightclubs of all types… Turkey's main city is, without a doubt and by far, the country's most nocturnal city. The list of places to go out in Istanbul is almost endless. From exclusive cocktail bars to concert venues through to bars selling craft beer and nightclubs that stay open until sunrise, the old city of Constantinople never sleeps.
Where to go out in Istanbul
Istanbul is, above all, enormous. As always happens with cities of this magnitude, nightlife varies from neighbourhood to neighbourhood and many offer excellent options. That said, the two most important nightlife spots in Istanbul are: Beyoglu, on the European side, and Kadikoy, on the Asian side.
Taksim and Beyoglu
Beyoglu is one of Istanbul's most famous districts. It is home to Taksim Square (internal link), the city's most important, which is always packed full of shoppers and passers-by. Although most of Istanbul's main sights are on the other side of the Golden Horn (internal link), in this part of the city you can visit Galata Tower (internal link), which offers some of the best views. The area is also home to Istanbul's main shopping street, Istiklal Avenue (internal link), an elegant pedestrianised road which starts at Taksim Square and goes on for a kilometre and a half until Sishane station.
Beyoglu represents Istanbul's most modern and urban side and is traditionally the city's main nightlife area.  The area surrounding Istiklal Avenue is full of bars and taverns and is a good place to start the night. It is also home to various nightclubs, although since it is one of the city's most touristy areas it is worth being on guard as many establishments (especially those with public relations on the door) have become tourist traps.
A bit further to the south, at the mouth of the Golden Horn, right next to Galata Bridge (internal link), is the neighbourhood of Karakoy. Over recent years this important commercial district has become one of the city's most alternative and most trendy areas, full of cafés, bars and restaurants. It's easy to get lost in its steep, narrow streets, although it's just as easy to get your bearings thanks to the ever-present Galata Tower.
Another of the quintessential nightlife areas in the Beyoglu district is Cihangir. A stone's throw from Taksim, in 2013 it was the epicentre of anti-government protests due to its proximity to Gezi Park and since then it has been regarded as Istanbul's counter-culture area par excellence. The neighbourhood shares the same aesthetics as Beyoglu with nineteenth-century buildings that look like they are about to fall apart, steep, narrow streets and dozens of establishments for all tastes.
Kadikoy: an up-and-coming nightlife area
Over recent years Beyoglu has faced stiff competition from across the Bosphorus Strait for the title of Istanbul's coolest neighbourhood. Until recently the neighbourhood of Kadikoy, in the Asian part of Istanbul, was a largely uninteresting residential area that naturally didn't appear on cultural maps. Today Kadikoy is one of the neighbourhoods of Istanbul with the most nightlife, although its bars usually close before those in the Beyoglu area and at around one in the morning things wind down considerably.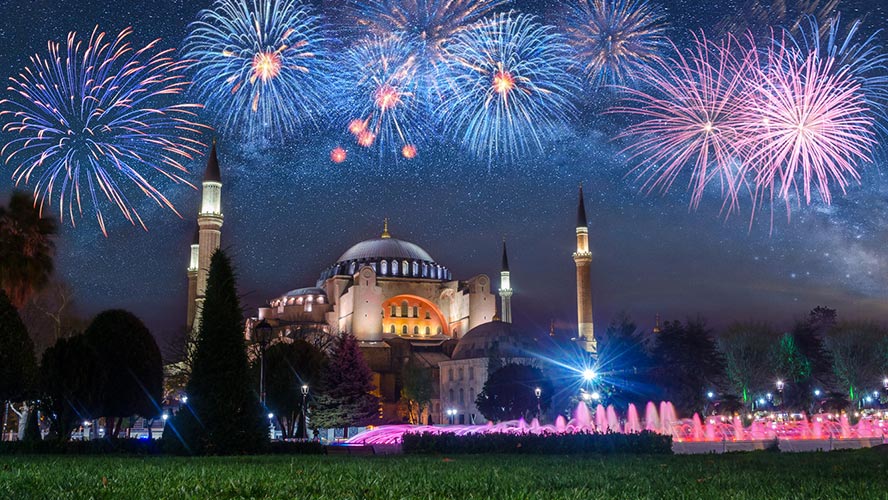 Fuegos artificiales en EstambulKadikoy is a neighbourhood full of contrasts in which long-established businesses sit alongside a new wave of shops, bars and restaurants with a more modern feel. Most of the neighbourhood's trendiest bars and restaurants are in the area surrounding Kadife Sodak street.
Bars and nightclubs in Istanbul
The city of Istanbul is full of bars, nightclubs and live music venues. Nightlife options are endless and below are just a few places for painting the town red in Istanbul:
B Heaven: situated on the twelfth floor of the Barceló Istanbul Hotel (internal link), next to Taksim Square, the panoramic views from the bar are among the best in the whole city. It also boasts a jam-packed programme of events that means every night is different to the last.
Champs Sports Bar: also in the Barceló Hotel, Champs Sports Bar is one of the most popular places in the area to enjoy a beer while watching a game on one of its screens. It has an interesting gastropub-style menu.
Babylon Istanbul: Istanbul's most famous live music venue. Situated in the former facilities of the historical brewery Bomonti, it was the key factor in the transformation of this cultural complex in one of the trendiest nightlife destinations in the city. It has capacity for 500 people and also serves as the recording studio of the popular Radio Babylon.
360 Bar: another bar with spectacular views of the city. As its name suggest, from this bar and its terrace you can look out onto all of Istanbul. The bar is contemporary with an excellent cocktail menu and an elegant feel. You have to pay to see the views and prices are higher than the city average.
Peyote Nevizade: one of Istanbul's historical clubs situated in the heart of Beyoglu, on a back street next to Istiklal Avenue. It boasts an almost daily live music programme and you can usually always find good DJs playing on the terrace. A bastion of the local music scene that has played host to many of Istanbul's most interesting artists.
Gizli Bahce: an electronic music club on the top floor of a building on the busy Nevizade street. It is usually full every day, even during the week, and is known for its LGBTI-friendly atmosphere.
Arkaoda: a pioneer in Kadikoy's transformation, this café by day and nightclub by night opened in 1999. Since then it has become one of the best places in the city to listen to live music. Situated on Kadife Sodak, it has served as a magnet for the numerous other bars that have arrived since.
Related
plans