Canary Islands family holidays: walk in the footsteps of Travelmadmum
Are you dreaming about Canary Islands family holidays? Travelmadmum and her tribe escaped to the Canary Islands for winter family holidays in Fuerteventura.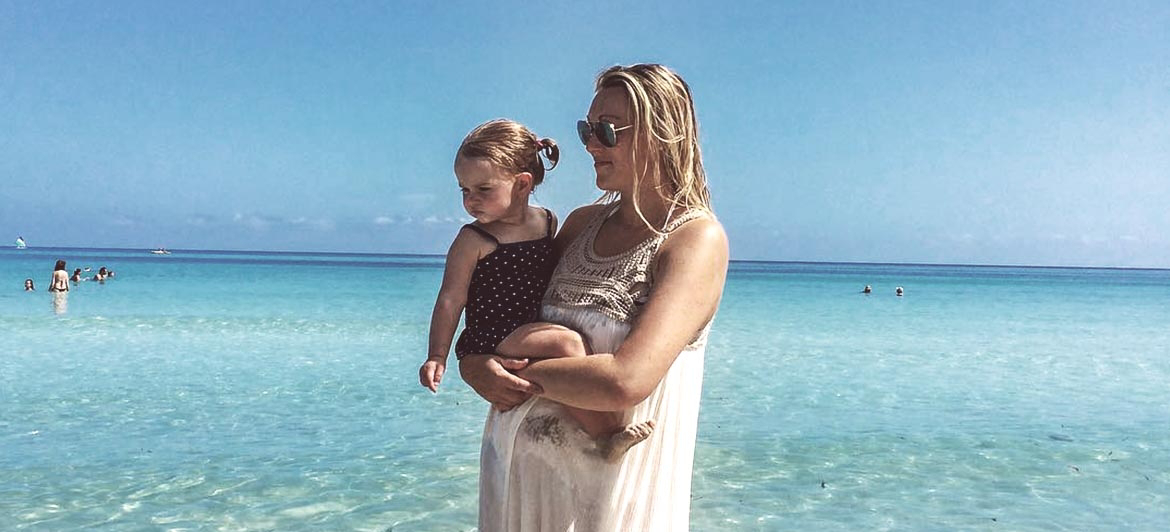 Have you got a bad case of the winter blues? Karen, better known as Travelmadmum, realised her tribe had been suffering from a bad case of them when they escaped to Fuerteventura with Barceló just after Christmas for a Canary Islands holiday with children.
Winter is never an easy time, and it can be even more trying when you've got kids. Once the Christmas lights have come down and the holidays are over, the cold months stretch out before us, with a long wait until spring decides to deign to make an appearance.
Karen and her husband Shaun decided what they and their two little ones, Esme and Quinn, needed was an escape from the not-so-Great British Winter to the sunshine, in the form of family-friendly holidays in the Canary Islands. And, as far as winter family holidays go, this one definitely did not disappoint.
Travelmadmum, Karen Edwards, is an Instagram sensation with over 105 thousand followers and a hugely successful blog, who first gained media attention when she and her husband Shaun took to the road during her maternity leave. They like to call it a baby gap year. Her little girl Esme was only 10 weeks old when she went on her first adventure!
Since then, they've added little Quinn to the tribe, and he's been exploring the world almost since day one, too! This tiny person has already been to 27 countries, Esme to 41, and their mum and dad to 81. And they're not going to be stopping any time soon! 
As Karen points out on her blog, she and her husband don't have high-powered jobs or sky-high salaries. They're just travel lovers, who want to share that love with their kids.
They simply made the decision back when she first got pregnant to make the most of her maternity leave to spend quality time with their new arrival whilst discovering the world, and have never looked back.
As Karen puts it, 'the overall aim (of the blog) is to inspire like-minded, travel-loving parents – your travel days do not have to be over. It's all about incorporating your little person into your way of life.' Travelling with young children doesn't have to be impossible!
Currently based in London, the thought of Canary Islands winter holidays was something they just couldn't resist.
Canary Islands family holidays: Fuerteventura winter sun
Right after the Christmas madness was over, in need of an escape from the cold of London, Karen, Shaun and the kids packed their bags and headed for the Barceló Castillo Beach Resort on the shores of Fuerteventura for a child-friendly Canary Islands holiday.
The kids couldn't believe their eyes when they got out onto the balcony of their apartment and saw the playground, beach and swimming pool, their stomping ground for the next few days.
As it's one of the best child-friendly hotels in the Canary Islands, there are all kinds of kids' activities laid on at the Castillo Beach Resort's kids' club to keep little ones occupied whilst their parents have a chance to relax and unwind, as this family found out. One of Esme's favourite parts was the kids' disco, which she really got stuck into!
Karen was particularly grateful that there was plenty to keep the kids amused after having been keeping them entertained all Christmas long, as we're sure any parents out there will understand only too well.
They spent their days soaking up the glorious winter sunshine, the perfect antidote to all those coughs and colds that we all fall victim to at this time of year, especially the smallest people amongst us.
Whilst she was in Fuerteventura, Karen had lots of people sending her messages asking whether it was really that warm at the beginning of January, struggling to believe it when looking out of their window's in the wintry UK, dreaming of short breaks to the Canary Islands. Her video answer spoke louder than words.
She uploaded a video story from the sandy beach showing Shaun paddling in the shallows with Esme on his shoulders, both in full swimming gear, soaking up the gentle rays.
If that doesn't prove that Canary Islands family holidays are the best way to get a bit of sun at this time of year without going too far from home, we don't know what does! 
Canary Islands winter holidays: the perfect escape
Are you looking for the best place to stay in Fuerteventura for families? If your idea of heaven is the perfect all-inclusive holiday, then the 4* Barceló Castillo Beach Resort, in Caleta de Fuste, might be just what the doctor ordered. As far as Fuerteventura family hotels go, it's a fantastic option.
You'll be able to luxuriate in your spacious bungalow or apartment, take your pick from several restaurants and bars, try your hand at water sports or even treat yourself to a spa session whilst the kids are kept entertained. One thing you're definitely not going to be on a holiday in the Canary Islands with children is bored!
Each of the Canary Islands has their own individual charm, and they're all perfect for winter family holidays and family breaks with balmy temperatures year round. But, if you're after a bit of peace and quiet to go with your sunshine, then the 'tranquil island', as Fuerteventura is known, might be perfect for you. If you've been wondering which is the best Canary Island for families, you'll be pleased to know that this might just be the best Canary island for kids.
With February fast coming to a close, you might be wondering what the weather is like in the Canary Islands in March. The excellent news is that the only way is up! The already balmy temperatures warm up even more come March, and the cooler winter nights start to give way to warm spring ones.
Don't just sit there and stare out of the window waiting for summer to arrive. Book yourself and your family a little slice of summer, spend your holidays in Fuerteventura, and get the dose of 'Vitamin Sea' you all need to see you through till spring.