Canary Islands water and amusement parks
A round-up of the best Canary Islands water & amusement parks for some family fun, including Tenerife, Lanzarote and Fuerteventura.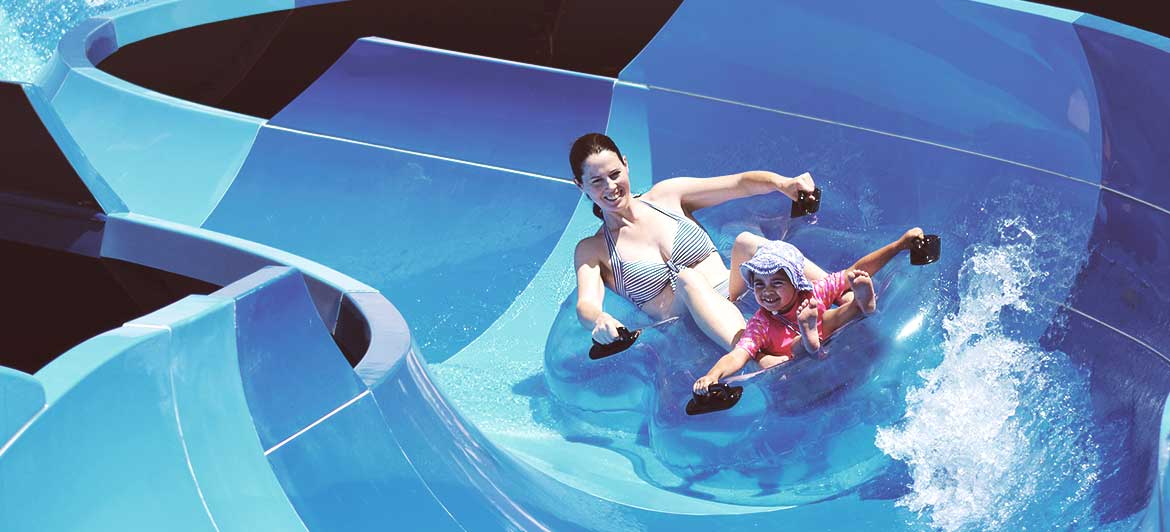 Looking for the some of the best Canary Islands water & amusement parks where you can enjoy some family fun in the sun? Whether you're heading to Tenerife, Lanzarote or Fuerteventura, there are infinite options to keep the whole family entertained.
The Canary Islands are one of the most popular sun, sea and sand holiday destinations going, due to their blessed year-round sunshine, glistening shorelines and lunar landscapes. Aside from their sheer island beauty, they offer fantastic accommodation to cater to the whole family.
Check out a selection of the must-visit Canary Islands water & amusement parks, as well as the perfect hotel to complete your stay. 
Canary Islands water & amusement parks: Lanzarote
Looking for the ultimate family-friendly hotel in Lanzarote? Occidental Lanzarote Playa is the perfect choice for an all-inclusive family holiday with plenty of facilities on site to keep the little ones entertained. With two swimming pools, children's adventure playgrounds, sports courts, a mini club, plus nearby water sports, you can enjoy an unforgettable holiday on the island. Discover Lanzarote's top amusement parks here…
studio make up just part of the spectacular infrastructure that this hotel offers.
AquaPark Costa Teguise
Head to Lanzarote's largest waterpark, AquaPark Costa Teguise, where there are plenty of attractions suitable for all ages. The little ones can explore the children's lake, leisure park, bouncy castles and mini slides, whilst those up for making a splash can endeavor the towering water slides and kamikazes. If that were not enough, battle it out at the park's very own indoor paint balling track, where those aged 16 or over can compete in a series of games.
Rancho Texas Lanzarote Park
Rancho Texas Lanzarote Park is the island's must-visit animal and water park. Enjoy an exclusive opportunity to interact with dolphins and sea lions and watch one of their incredible shows, or simply experience plenty of exotic animal encounters, including white tigers, raccoons, snakes, donkeys, horses, armadillo, deer, goats and more. The park also boasts a Splash Zone water park where you can cool off in the swimming pools or take a plunge down the twisting slides which cascade down from the mountains. Pony rides and canoeing are also on offer, as well as plenty of restaurants on site where you can indulge in delicious food, soft drinks or sangrias. 
Canary Islands water & amusement parks: Tenerife
Need a hotel that is ideal for families for your Tenerife getaway? Royal Hideaway Corales Suites is the new luxury hot spot in Tenerife, welcoming families with its fantastic facilities. The impeccable cuisine, spacious bedrooms and stunning swimming pools are just a few things you will fall in love with at this island gem, not to mention the incredible selection of water sports nearby. Check out Tenerife's water and amusement parks… 
Aqualand Costa Adeje
Aqualand Costa Adeje is every families' paradise, brimming with thrilling slides, tube rides, rapids and kids' pools. Along with this is Aqualand's star attraction, the Dolphinarium, where a large group of adorable dolphins will amaze you with fascinating shows carried out every day at 15:30pm. Open every day of the year, this water kingdom is the perfect spot for a family adventure in Tenerife.
Siam Park
Sprawling across a massive four acres, Siam Park boasts masses of attractions, from leisurely rides to adrenaline pumping slides. Boasting a magnificent wave pool with the biggest artificial waves in the world, you can jump right into the crashing waves that rise to three meters high or simply paddle at the edges. The park also features the world's longest lazy river snaking around the park, as well as an unbeatable water side allowing you to plunge down a 28-meter drop into a shark-filled aquarium. The options are endless at Siam Park, so it's worth spending the whole day to make the most of the fun. 
Lago Martiánez
Lago Martiánez is the ultimate entertainment zone in Puerto de la Cruz, comprising seven artificial swimming pools, a large lake, plus landscapes gardens, cascading waterfalls, terraces, islands, viewpoints, bars, restaurants and even a casino. Bask in the Tenerife sunshine and admire the incredible array of sculptures and monuments around the complex, designed by world-renowned and local artist César Manrique. There are plenty of restaurants and snack bars dotted around so you will never be short of refreshments, as well as plenty of cocktail bars if you fancy sipping on sangrias under the sun. 
Canary Islands water & amusement parks: Fuerteventura
Heading to the beautiful island of Fuerteventura and looking for a hotel for your stay? Barceló Castillo Beach Resort lies on the seafront of Caleta de Fuste beach, within easy reach of the airport and the island's capital Puerto del Rosario. The hotel boasts three magnificent swimming pools with delightful sea views, as well as a kid's pool and mini club specially designed for the youngest members of the family. Here is Fuerteventura's hottest family attraction… 
Acua Water Park
Acua Water Park sits in the tourist area of Corralejo and is the most fun-filled spot in Fuerteventura. With a wave pool, rapids, kamikaze, tube slides, splash lagoons, and more, the whole family can enjoy unlimited fun at this entertainment hub. Free sunbeds are also available around the complex, with catering service to the pool offering drinks and snacks. If that were not enough, the kids will love the children's club – an area specifically designed for the enjoyment of the little ones, where they can enjoy different activities such as face painting, balloon art, drawing and board games. As Fuerteventura's only water park, be sure to make a splash and not miss out on the fun.