Underground subterranean adventures: Mexico & the Dominican Republic
Caves, cenotes and more! There's a whole world happening underground in Mexico and the Dominican Republic. Here's how to go underground during your getaway.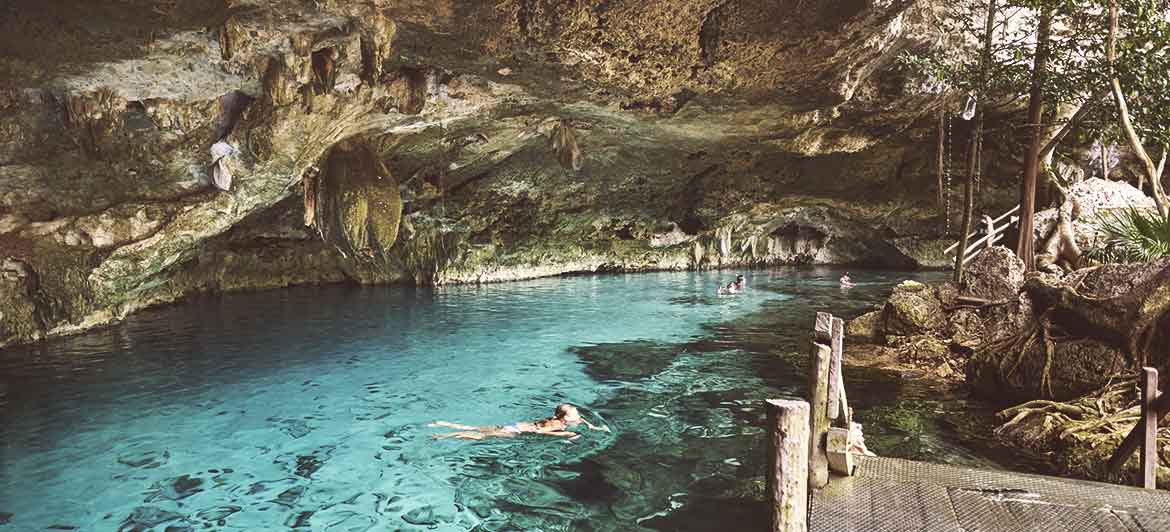 Caves, cenotes and more! There's a whole world happening underground in Mexico and the Dominican Republic. Go underground while you're visiting Barceló Maya Grand Resort, Royal Hideaway Playacar, Occidental at Xcaret Destination, Occidental Caribe and Barceló Bávaro Grand Resort.
The Gran Cenote
The Yucatán Peninsula is packed with cenotes – estimates suggest there are more than 6,000 of these naturally formed swimming holes located throughout the area. Located just a short distance from Tulum and the Barceló Maya Grand Resort, the Gran Cenote is perhaps the ultimate cenote, offering crystal clear blue water, otherworldly rock formations and colorful marine life. Bring your snorkel and diving mask – you're going to want to see what's happening beneath the surface of this incredible natural attraction.
The Secret River: Rio Secreto
A literally hidden gem, Rio Secreto (The Secret River), located near Royal Hideaway Playacar is an underground river and system of caves with stunning, mocha-colored stalagmites and stalactites and luminous, crystal clear turquoise waters. Dive in and take a swim in the natural pools and explore the caves, discovering wonder beneath Quintana Roo. Rio Secreto is a perfect activity for those with a taste for adventure.
Xcaret Underground
The 24-hour all-inclusive Occidental at Xcaret Destination is tucked within an ecological and historical preserve, offering a complimentary riverboat (trajinera) to the Xcaret Park, located just adjacent to the resort. Here, you'll uncover an array of eco-adventures, including a series of caves hidden in a lush jungle that features performers re-enacting ancient Mayan traditions. Then take a ride down Paradise River, an underground waterway that offers stunning scenery as you float gently onboard a comfortable raft. Keep an eye out for wildlife, including blue crabs, iguanas, peccaries and other friendly Xcaret residents.
Underground Eats: Alux Restaurant
This isn't your average date night. For a meal at Alux Restaurant in Playa del Carmen, you'll descend into a 10,000-year-old cavern (right next to a cenote) to enjoy authentic and innovative Mexican cuisine in an otherworldly setting. Don't miss the extensive selection of tasty cocktails, including several made with the Mayan liquor Xtbentun. Tip: Make your reservations well in advance – Alux may be underground, but the secret is out!
Hoyo Azul: The Blue Cave
Located in Scape Park, one of Punta Cana's most spectacular natural destinations, Hoyo Azul (The Blue Cave) is a favorite subterranean spot for Dominicans as well as visitors, thanks to the dazzlingly intense color of the water. You've never seen blue like this before! You'll find the cave at the base of a 75-foot tall cliff – don't worry, stairs make it easy to get down there. On a guided eco-tour, you'll descend into the Hoyo Azul, wander across bridges, and take a swim in this stunningly pure water. Nearby, discover the Iguabonita Cave, where trained guides will lead you through the vast underground network of chambers and tunnels that lie beneath.