Things to do in Ibiza: Our hotlist of Ibiza's top attractions
Whether you are looking for a blissed-out Balearic island break or fun in the sun, here are our top things to do in Ibiza right now.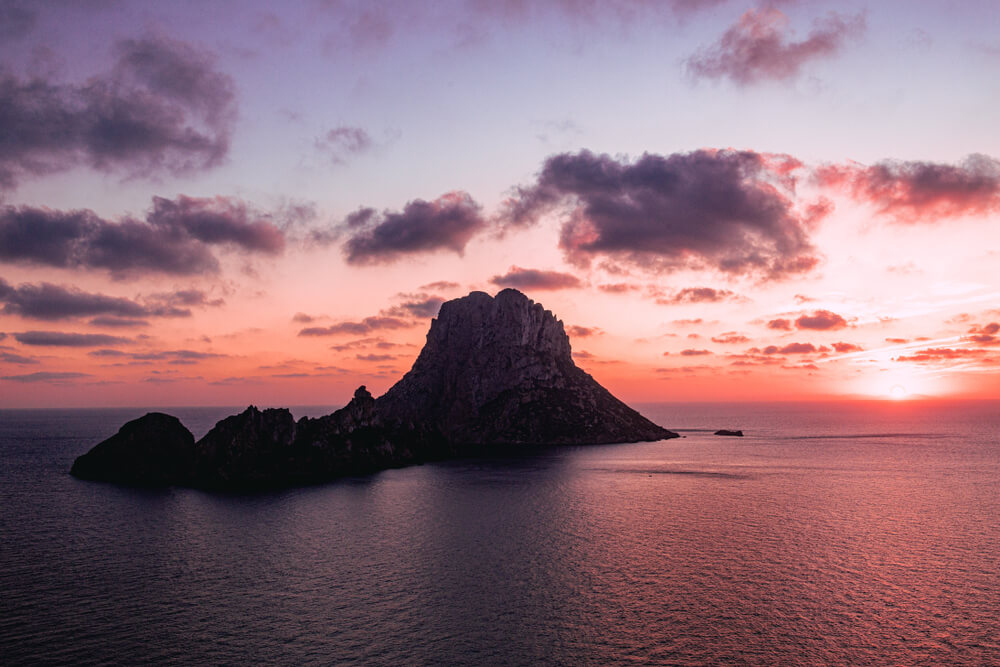 Once branded as the party island, Ibiza has now garnered a reputation for being a sophisticated wellness destination. Hazy, alcohol-fuelled nights have been swapped for sunrises on the beach and early morning hikes. But, don't for a second think that it has lost its fun side. There is an abundance of things to do in Ibiza. From revitalising salt water swims to discovering local artisans at one of the many flea markets, life in Ibiza is never dull. Whether your idea of the perfect holiday involves lounging by a hotel pool all day or it is a fitness-fuelled break bursting with active excursions, Ibiza has it all
Discover the top things to do in Ibiza
Regardless of whether you choose to visit the white isle during the winter or the summer, there are countless places to visit in Ibiza that will make you want to stay forever. The magic of this island lies in its nature. With this in mind, we urge you to soak up all the natural beauty Ibiza has to offer. That is why our list of the best things to do in Ibiza will take you on an alluring tour of the island's best beaches, invigorating hikes and al-fresco dining spots. So, what are you waiting for? Grab your suitcase and passport and lose yourself amongst Ibiza's ancient architecture and fragrant olive groves.
Beaches to visit in Ibiza: Cala Saladeta
Cala Saladeta, which is near the famous Cala Salada cove, is a magical spot on the island of Ibiza and one of the most beautiful beaches in the Balearic Islands. The two coves boast lush vegetation, golden sand and crystal-clear water and are close to the famous village of San Antonio on the western side of the island. We recommend getting there early to spend the morning on the beach since it is one of the popular places to visit in Ibiza and it tends to fill with people later in the day.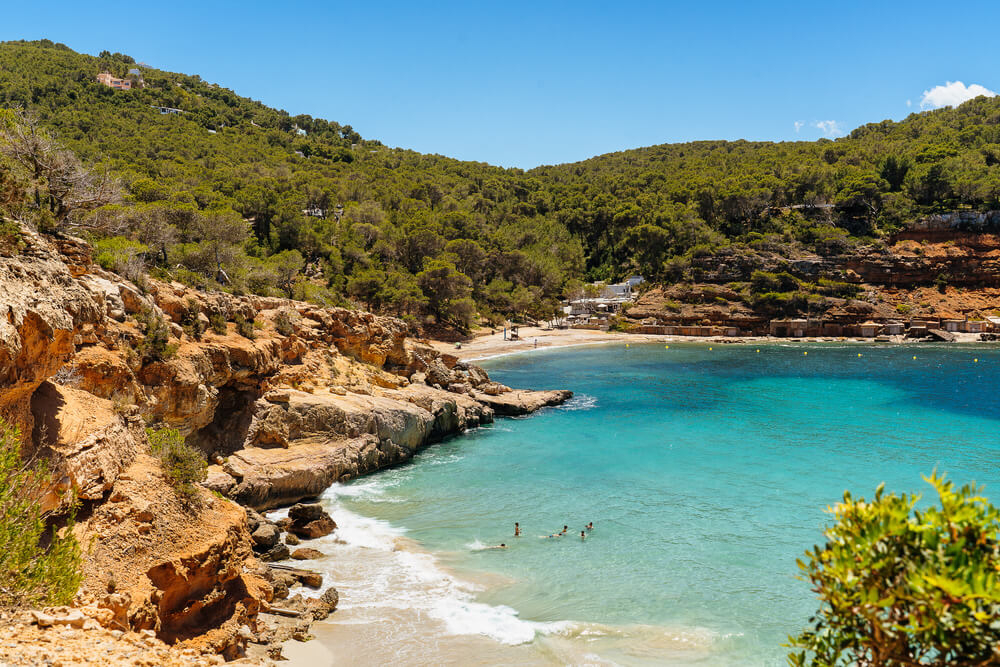 Spending the day at Cala Saladeta is one of the best things to do in Ibiza
Enjoy natural Ibiza attractions: Witness a magical sunset at Benirrás
After a day at the beach and before getting ready for dinner and a night out on the town, be sure to make time for a unique experience you'll remember forever. They say that the sunsets on this island are absolutely amazing. 
Our recommendation for things to do in Ibiza: Make your way to Benirrás 
Here, you'll witness a magical version of an Ibiza sunset. Right when the sun collides with the Mediterranean Sea, you'll hear the rhythm of drums and your body will begin to move to the beat as you become immersed in Ibiza's hippie atmosphere. This is one of our favourite outdoor activities in Ibiza and it should certainly not be missed during your stay.
Local attractions in Ibiza: Las Dalias Hippie Market
The outdoor markets located throughout Ibiza exude the hippie atmosphere of this Balearic Island. If you are looking for things to do in Ibiza during the day, then check out the local handicrafts, bohemian-style clothing and souvenirs for loved ones back home at one of the many flea markets on the island. You can also get a taste of the local cuisine and listen to live music. Our recommendation: Although there is an outdoor market in Ibiza every day of the week, you should definitely check out the one at Las Dalias. The main day is Saturday, but a more relaxed version—known as the Night Market—takes place on Monday nights and is one of the top things to do in Ibiza.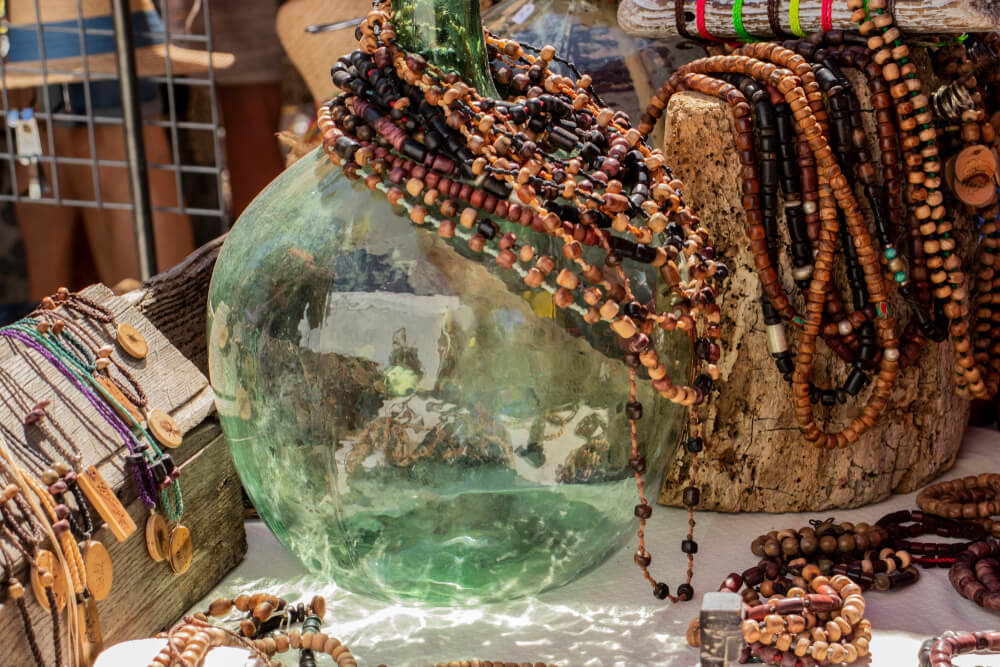 Things to do in Ibiza for fashionistas: Las Dalias
Fun things to do in Ibiza: Travel to the end of the world
If you're a fan of active tourism and the thought of lying under the sun for endless hours bores you, there are many activities in Ibiza for adventurous types. These range from water activities to hiking routes. One of these routes begins at the beach in the port of Portinatx and travels to what is known as "Ibiza's end of the world", Punta des Moscarter, located on the northern end of the island. It lasts approximately three hours and you will be guided by a round lighthouse with black and white stripes. Our recommendation for things to do in Ibiza: Stay at Barceló Portinatx, an adults-only hotel and relax in its wellness area after making your way to the lighthouse at des Moscarter.  
Sights to see in Ibiza: Es Vedra
If you are looking for the ideal spot to practise meditation while you are on holiday in Ibiza, look no further than the secret rocky island of Es Vedra. This 400-metre-tall rock rises from the sea in such an imposing and majestic nature that it makes it impossible to resist.
The best way to enjoy this must-do Ibiza day out is to hop on one of the many boats that will take you up close 
If you want to step foot on this rocky outcrop, charter your own cruise - you will need to kayak part of the way but since the sea can get choppy hire an instructor to help you navigate the waves. If you don't have sea legs, a magnificent place to admire this natural wonder is the Cala d'Hort beach where you can easily lay down your towel and while away the hours marvelling at the beauty of Es Vedra. But, did you know? This rock is the protagonist of many local myths and legends, one of them being that it is the third most magnetic place on earth.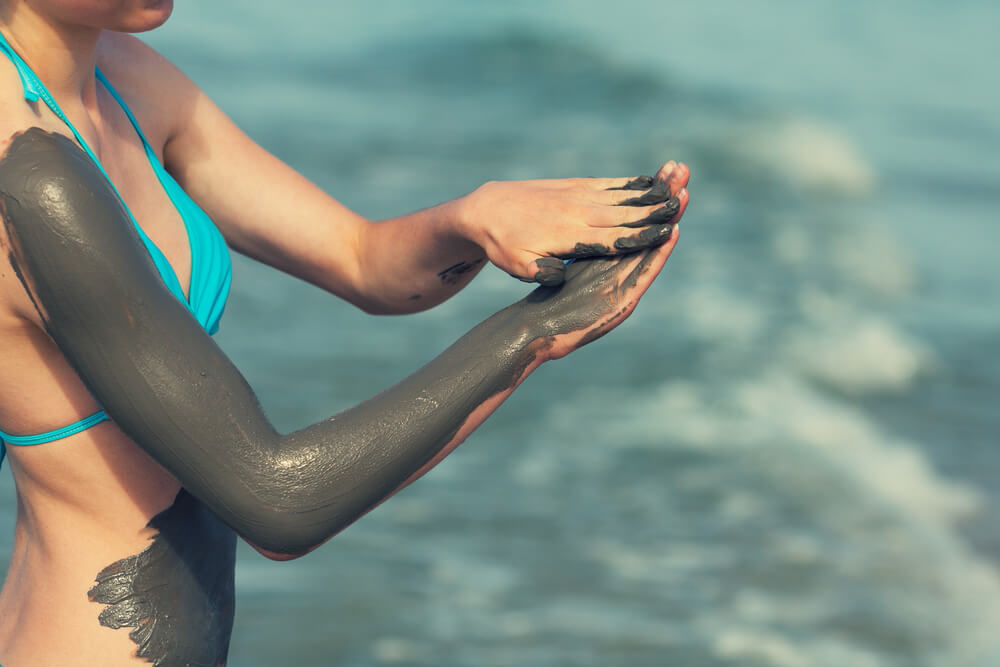 Things to do in Ibiza: Enjoy a mud bath at Aigües Blanques beach
Unusual things to do in Ibiza: Cool off with a mud bath
If you are planning a romantic getaway, one of the best things to do in Ibiza is visit the Aigües Blanques beach located in Santa Eulalia del Río. This secluded, off-the-beaten-track, golden sand beach is hidden between two cliffs making it an ideal spot for couples. It is also worth noting that this beach is also a popular nudist spot and it is not uncommon for people to practice naturism on the beach. But, what makes this sandy spot one of the best places to go in Ibiza is the grey-coloured mineral rock that can be found in the cliffs surrounding the beach. Take a water bottle with you and use it to wet the rock face. You will see it turn into sludgy mud which has been said to contain healing and restorative properties for your skin. Cover your body with the mud and let it dry in the hot Spanish sunshine before diving into the gin-clear waters to wash it off. This is one of the must-do things in Ibiza for fans of natural spas!