Riviera Maya summer must-do's
Looking to get away from it all this summer? Summer in Riviera Maya is as good as it gets, with beaches, eco-adventures and more.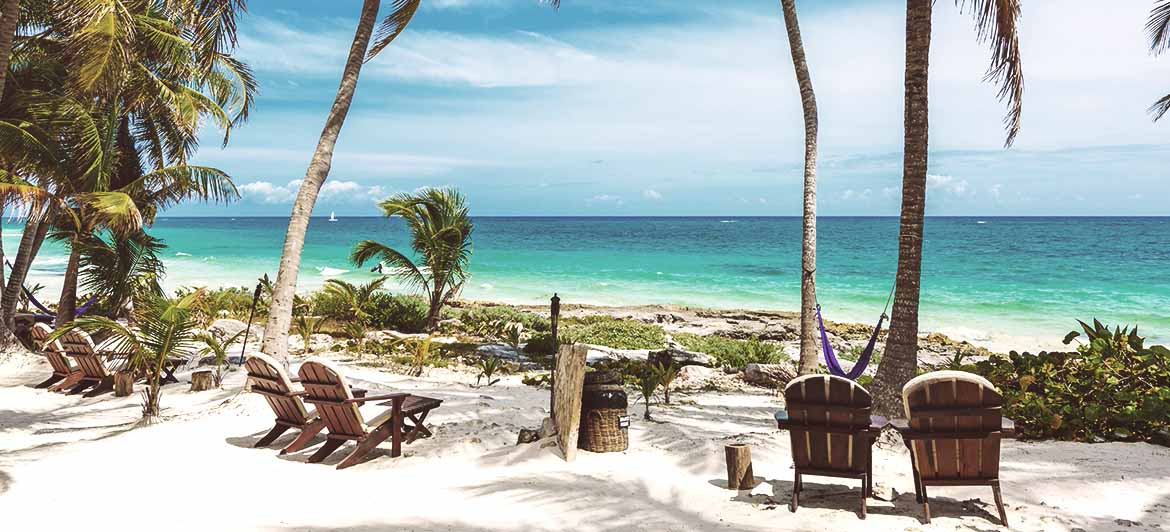 Looking to get away from it all this summer? Summer in Riviera Maya is as good as it gets. During a vacation here, you'll experience incredible beaches, fun events, family friendly adventures and so much more. Here are the best things to do this summer in Riviera Maya during your all inclusive vacation at Riviera Maya's Occidental at Xcaret Destination, Barceló Maya Grand Resort (comprised of Barceló Maya Beach, Barceló Maya Caribe, Barceló Maya Colonial, Barceló Maya Tropical, and the all-suite, AAA Four-Diamond Barceló Maya Palace) or the adults-only, AAA Four-Diamond Royal Hideaway Playacar, as well as Cancun's Occidental Tucancún or Occidental Costa Cancún.
We know why you're here: the beaches! You can't have a summer in Riviera Maya vacation without spending some time on the beach. Each one of Barcelo Hotel Group's all inclusive resorts boasts an extraordinary stretch of sand. But if you want to explore more, here are few extra options.
Mamitas Beach: Beach party anyone? Mamitas Beach in Playa del Carmen isn't secluded – but it's a whole lot of fun. There's a vibrant atmosphere at this beach 365 days a year. The water is warm and calm, the people are friendly and there is a diverse array of beachfront restaurants, clubs and shops to check out as well.
Puerto Morelos: Puerto Morelos is a quintessential Riviera Maya beach town – laid-back and chilled out. Located between Cancun and Playa del Carmen, the beach here features crystal clear waters (great for snorkeling), pristine sands and fewer crowds than other beaches in the area. Definitely worth the trip! And take some time to check out one of the area's most interesting attractions – the Leaning Lighthouse!
Akumal: The sugary white sands at Akumal, located between Tulum and Playa del Carmen, may be the main attraction. But there's a lot more going on here. For one thing, it's a haven for nesting sea turtles. Between May and November every year, hundreds of these majestic creatures come to Akumal to lay eggs.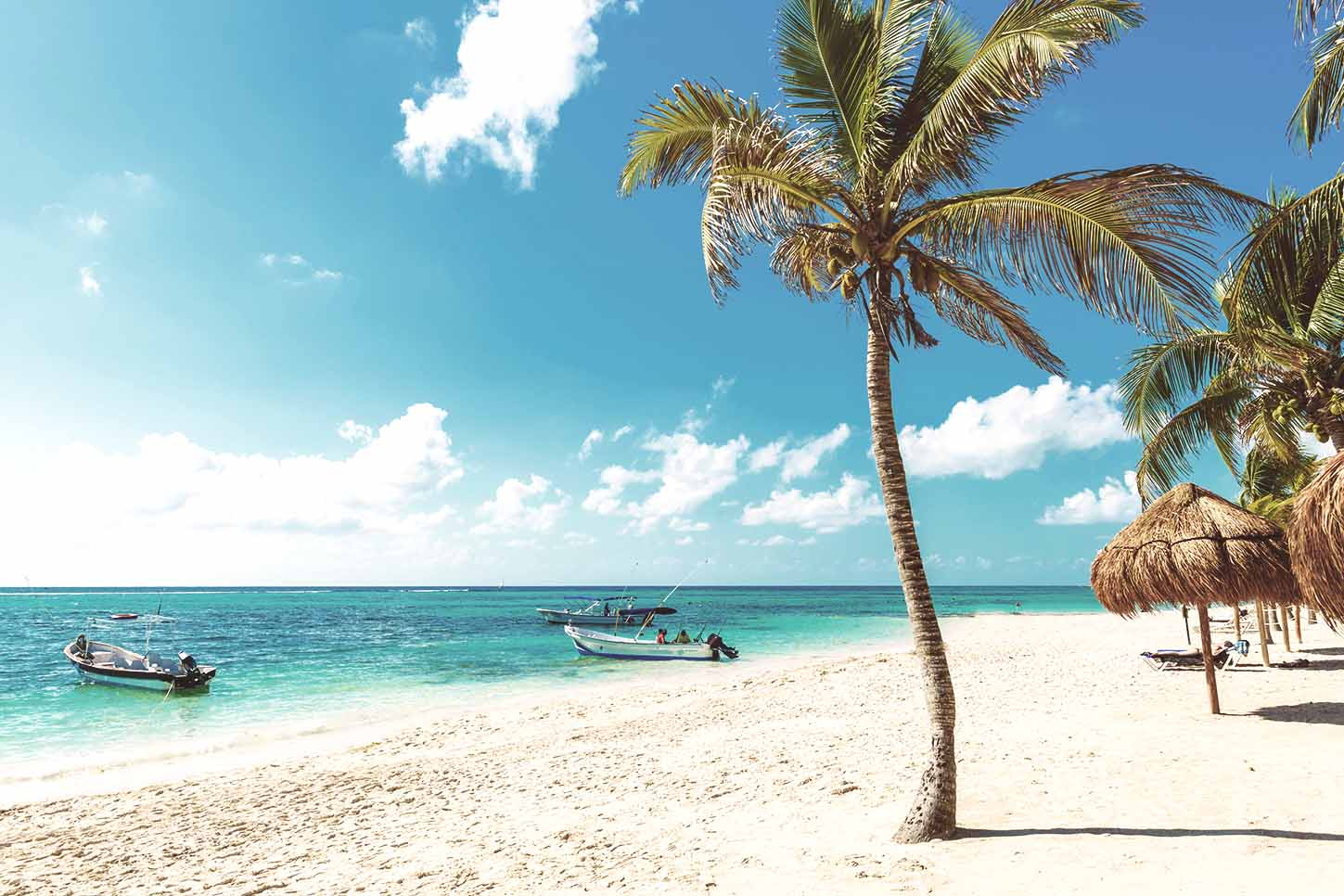 Summer in Riviera Maya Adventures
Summer in Riviera Maya is about sun, sand and relaxation. But it's also about adventure. Here are a few things to do in Riviera Maya that will take you to a place beyond the ordinary.
Xcaret Park: There are virtually endless ecotourism adventures and cultural experiences to be had at Xcaret Eco-Park, a natural attraction for all ages in the Riviera Maya. You'll swim in underground rivers, explore a teeming jungle, and descend into mysterious caves. You'll walk amidst hundreds of fluttering, colorful creatures in the Butterfly Pavilion, and get up-close-and-personal with deer, jaguar and exotic birds. You'll learn about Mayan culture during traditional ceremonies that bring the past to life. Whatever you do, you'll come away from Xcaret with a whole universe of new knowledge.
Tulum: Tulum is perhaps one of the most iconic historic spots in all of the Mayan Riviera. The city emerged during the decline of the Mayan civilization during the late Postclassic period (circa 1200-1520 AD). Perched on a cliff overlooking the Caribbean Sea, Tulum is a popular attraction – especially in summer – so getting here early in the day will pay dividends. The lack of crowds will make it easier to enjoy Tulum's incredible ruins.
Cenotes: If you're visiting Riviera Maya this summer, don't miss your chance to experience the region's unique and fascinating cenotes. These natural swimming holes offer an otherworldly landscape to check out, whether snorkeling, scuba diving or just exploring. Located near Tulum (and easily accessible from Barceló Maya Grand Resort) the Gran Cenote is beloved for its incredible scuba diving opportunities, with deep, calm water, underwater caves and a wealth of marine life.
Riviera Maya Events: Festivals
The summer in Riviera Maya is a great time for Mexican Caribbean festivals and events that give travelers a glimpse of authentic Mexican culture. Here are just a few events you don't want to miss.
Whale Shark Fest (July): Located off the coast of Quintana Roo, Mexico, the beautiful Isla Mujeres is home to the largest population of Whale Sharks in the world. And these gentle giants are celebrated every summer. Over the course of several days, you'll have the chance to swim (in a respectful way) with whale sharks, join in traditional dancing, enjoy local food and work by local artisans and snorkel and dive the incredible reefs surrounding the Island.
Mexican Independence Day (Sept. 15-16): Commemorating the momentous day when priest Miguel Hidalgo y Costilla called on Mexicans to rise up against the colonial government of Spain in 1810, Mexican Independence Day is celebrated each year on September 15-16. In towns across Riviera Maya, you'll enjoy colorful parades, mariachi bands, festive fiestas and deliciously authentic eats.
Equinox at Chichen Itza (Sept. 21): The Mayan people celebrated the end of summer and the beginning of fall each year at the city of Chichen Itza, via a remarkable feat of astrological genius. Right around the first day of fall, the setting sun casts a shadow upon the iconic Pyramid of Kukulcan (or Kukulkan). That shadow then creates the illusion of an enormous snake slithering down the staircase, meeting up with a sizable stone serpent head at the foot of the pyramid. It's truly a once-in-a-lifetime experience you'll never forget.
If you can't make it to Riviera Maya for a summer vacation, don't worry. This part of the world delivers summery vibes all year-round. Start planning your escape now …