Spain uncorked: Discover our favourite wine regions of Spain
Embark on a wine-lovers odyssey through Spain's enchanting wine regions, where ancient traditions meet modern innovation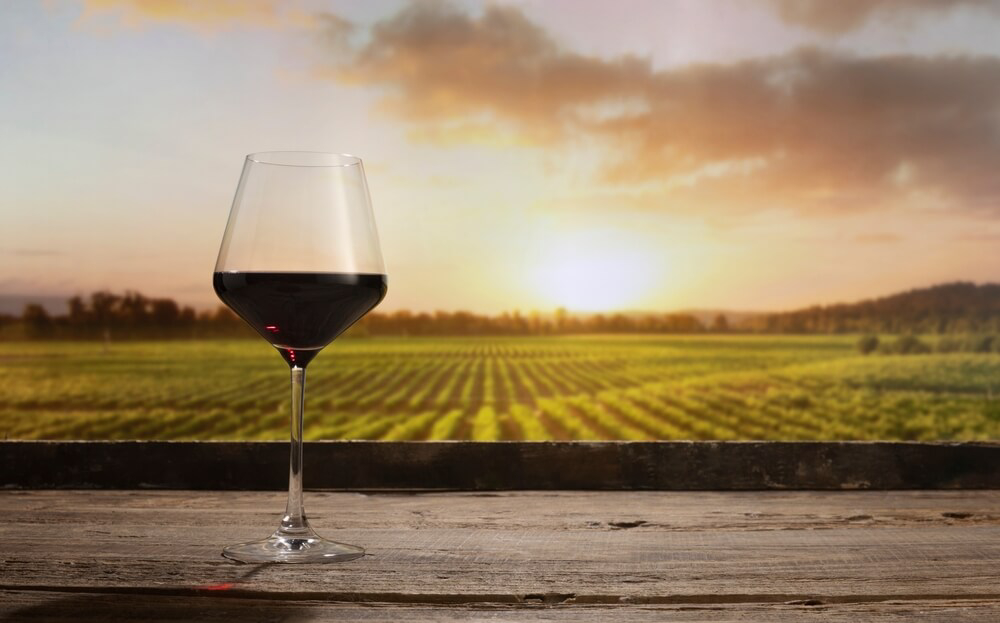 Gone are the days when Ribera and Rioja were the only wine regions of Spain known internationally. Today, Spain, the world's second-largest wine exporter, has evolved into a dynamic hub for oenophiles seeking to explore its diverse terroirs and sample exquisite Spanish wines amidst breathtaking landscapes. Discover Spain's rich tapestry of wine regions, where centuries-old traditions intersect with contemporary wine-making artistry. Brush up on your wine-making lingo and get ready for an adventure that is nothing short of remarkable.
Great wine is produced all over Spain, but a few regions are particularly famous for it. If you're short on time, you should just stick to one of these wine-growing areas of Spain. But, if you've got time to spare, then why not discover a few? Spain's wine journey is a boundless exploration of flavours, cultures, and traditions. Whether you're discovering the classics or venturing into ancient wine regions like Navarre and Priorat, each destination offers a unique chapter in the story of Spanish winemaking. Cheers to your unforgettable wine adventure!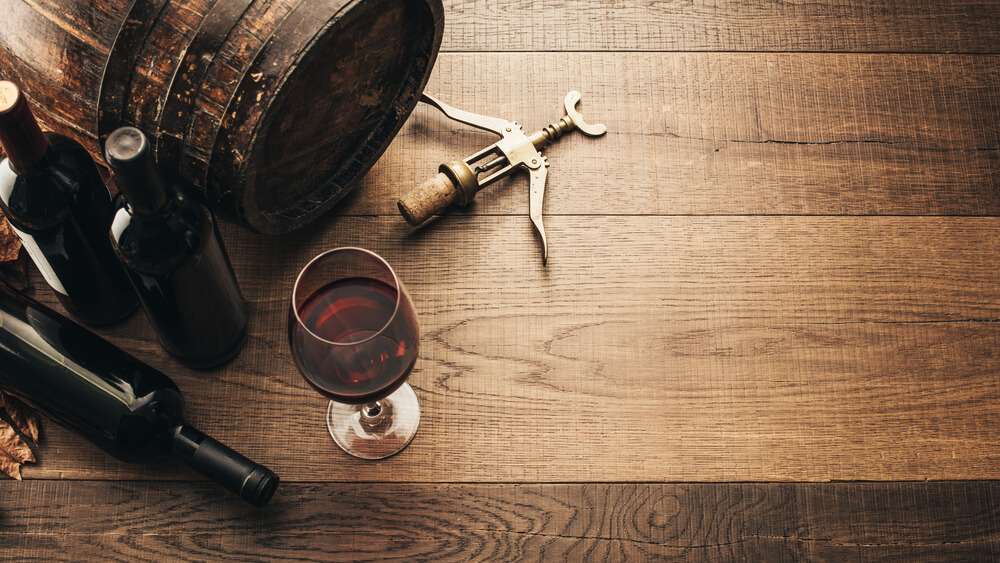 Spain is made up of many varied wine regions
La Rioja, one of the most famous wine regions of Spain
Nestling between the Ebro River and the Sierra de Cantabria, some of the best Rioja denomination of origin wines are produced in the Rioja Alavesa region, which is just over the border into the Basque Country. Wines produced here are aromatic, fresh and evenly balanced. If you do decide to explore the Rioja Alavesa Wine Route in northern Spain, you'll enjoy both the wine and the history behind it. There's everything from mediaeval wine caves to cutting-edge winemaking facilities to be explored. 
If you do decide to explore the Rioja Alavesa Wine Route in northern Spain, you'll enjoy both the wine and the history behind it
The wine is fantastic, but the landscape it's produced in is a big draw in itself. This wine region of Spain, with its walled villages, prehistoric ruins and tower houses, is well worth a visit. The good news is that there's no need for a designated driver when you're wine-tasting in Spain. There's a 'grape train' that takes you to specific wineries, and there are also buses and minibuses running frequently, so you can taste some of the best Spanish wines without a care in the world.
The vineyards of La Rioja
Ribera del Duero: One of the famous Spanish red wine regions
This region, famous for wine tourism, runs along the banks of the Duero River through Castile and Leon, between Valladolid, Burgos and Soria, to the south of the Rioja region.
If you are travelling to the region by car along the N-122 you'll see ancient castles, churches, convents and of course the vineyards for which Ribera del Duero is famous. Protos, Pesquera, Vega Sicilia, and Yllera are just some places famed for producing some of the most popular red wines from northern Spain, which you're sure to have sampled a few of in your time.
Wine tourism has become very popular in this region in recent years, with wine-themed venues such as the Museo del Vino de Peñafiel, housed in a well-preserved castle, or the Wine Architecture Centre in Aranda de Duero.
Culture and winemaking go hand-in-hand, with wineries that combine tradition and innovation, such as the new Portia winery designed by the famous architect, Norman Foster. If you are planning on staying in Madrid, a day trip to the wineries of Ribera del Duero is a wonderful way to taste the culture of Spain.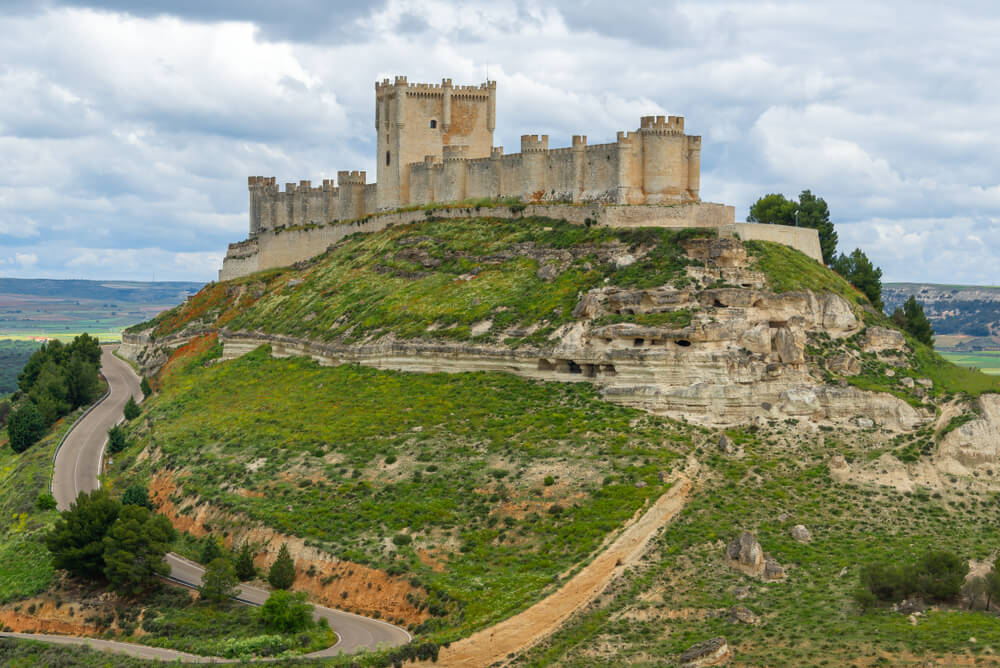 The Peñafiel Museum of wine in Ribera del Duero 
Jerez: Discover wine from southern Spain
Revered for its world-famous sherry wines, Jerez de la Frontera beckons with storied wineries like Bodegas Lustau and Bodegas González Byass, where the art of sherry-making has been refined for centuries. The Palomino, Pedro Ximénez, and Moscatel grapes thrive under the intense Andalusian sun, yielding wines with an array of flavours, from bone-dry Fino to rich and luscious Pedro Ximénez. 
The Palomino, Pedro Ximénez, and Moscatel grapes thrive under the intense Andalusian sun, yielding wines with an array of flavours, from bone-dry Fino to rich and luscious Pedro Ximénez
After a visit to the famous wine and brandy region of this wine region of Spain, stop in for a meal at the El Lagar restaurant in the Barceló Montecastillo Hotel, where the wine steward will give you their expert advice on the best local wine during one of the best wine tastings in Spain. A great excuse for a trip to Andalusia in general is to enjoy its spectacular food and wine.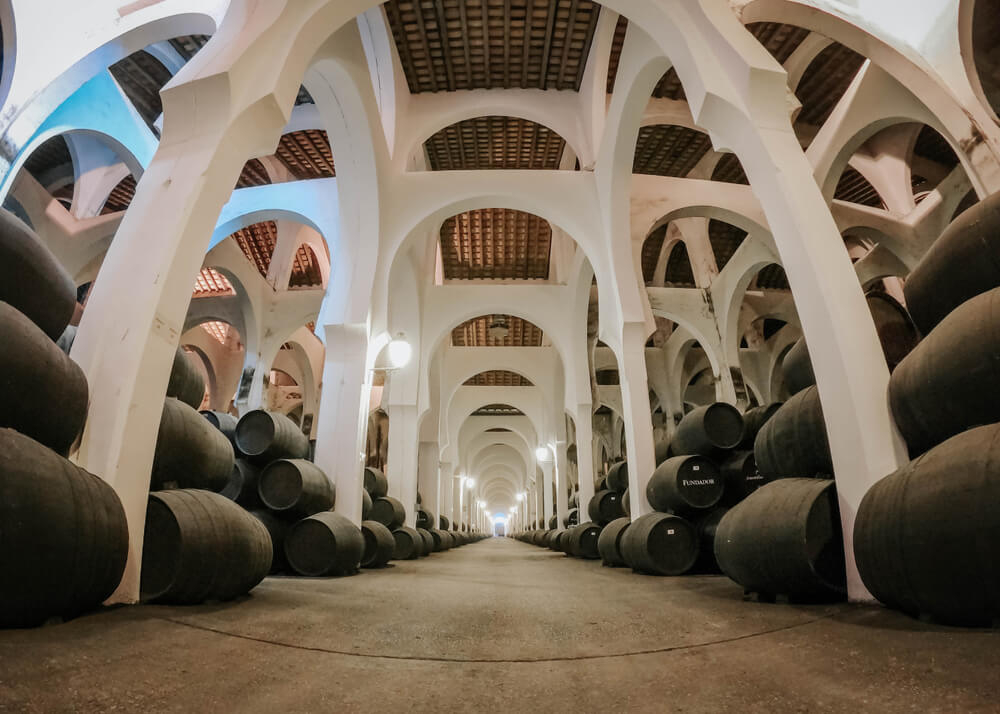 The cask hall of Bodegas Fundador  
Wine tours in Spain through the Priorat region
Intense, dense and very rich is the best way to describe the wine from the Priorat region in Tarragona, which has gained popularity in recent years. It is one of the famous Spanish wine regions near Barcelona, although there is, of course, plenty of cava tasting near Barcelona to be enjoyed too. If you are staying in Barcelona and fancy a day trip, the places you must be sure to visit in the Priorat region for some of the best wine tours in Spain include the 'wine cathedrals' and the wineries at the Scala Dei Monastery and Cornudella de Montsant. You can even rent a burricleta, an electric bicycle that holds the baskets used to carry the grapes. This is a great way to tour the region during the fall harvesting season while getting some exercise as you bike through the vineyards. It's also ideal for a family vacation.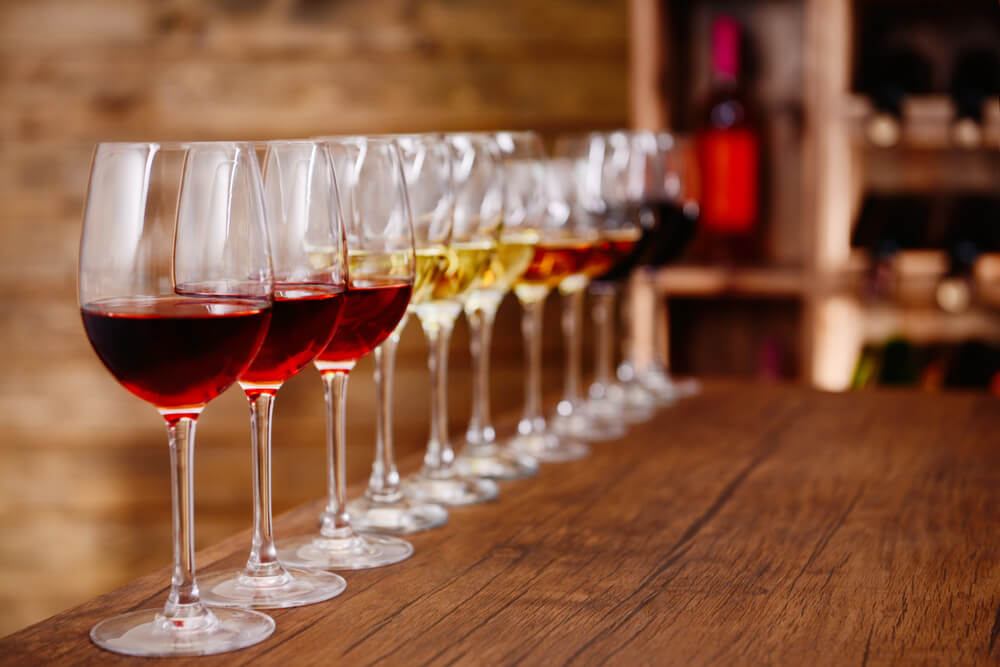 Enjoy a wine tasting on your travels
Discover Navarre: one of the oldest Spanish wine regions
The earliest wine produced in Roman wineries in the north Spain wine region, Navarre, dates back to the first century. Even so, production wasn't industrialised until the early twentieth century, with the creation of the first Winemaking Cooperative in Olite.
September is the perfect month to visit Navarre's winegrowing region, where a grape harvesting festival is held every year in the city of Olite. The festivities begin with a procession of the guilds in their costumes and the proclamation announcing the start of the grape harvest. The treading of the grapes in the centre of town is followed by a free tasting of the first musts of the season. In all the vineyards of Navarre, there are tourist activities that you'll love. You can walk, bike or ride through the vineyards on horseback, and soak up the atmosphere of this special region, perfect for wine tourism.

Discover Galician wines on your travels
Galicia, located in the northwestern corner of Spain, is an enchanting and unique wine-making region known for its lush green landscapes, distinctive grape varieties, and refreshing, high-quality wines. Galicia is different from other wine regions of Spain thanks to the fresh climate, proximity to the ocean and high humidity all of which have shaped its wine production. The Atlantic breezes help maintain the acidity and freshness of the grapes, making it an ideal location for white wine production. 
The Atlantic breezes help maintain the acidity and freshness of the grapes, making it an ideal location for white wine production
Galicia is best known for crisp white wines such as an Albariño or a Godello yet, the Rías Baixas - Galicia's wine-making region, also produces medium-bodied red Mencía wines. Plus, if you are travelling to Galicia for vineyard tours in Spain, be sure to indulge in the region's rich seafood culture- a firm favourite amongst foodies and wine aficionados alike.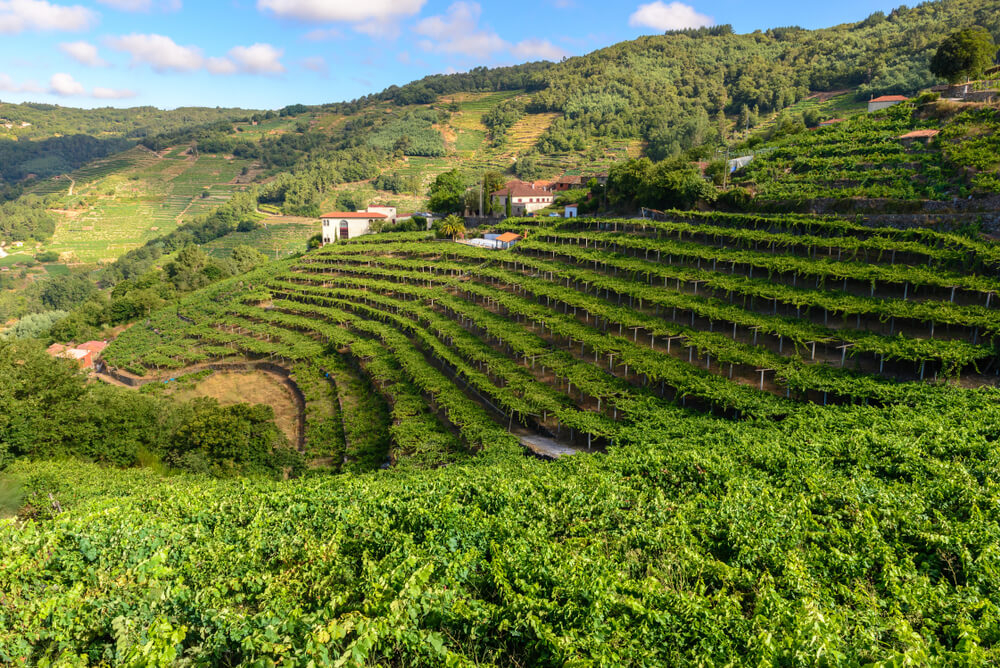 The vineyards of the Ribeira Sacra in Lugo, Galicia
Add Valencia to your list and discover new Spanish wines
Valencia is a wine-producing region in northeast Spain which showcases a captivating landscape of rolling hills and coastal plains, setting the stage for a diverse portfolio of wines. Notably renowned for its robust reds, Valencia is home to prestigious wineries such as Bodegas Mustiguillo and Bodegas Vegamar. These wineries have mastered the art of crafting exceptional wines, with a primary focus on the indigenous grape variety, Bobal, along with international varietals like Tempranillo and Merlot. It is often one of the overlooked wine regions of Spain, yet the towns of Requena and Utiel, are steeped in winemaking tradition. With its Mediterranean climate delivering sun-drenched summers and mild winters, Valencia ensures grapes ripen to perfection, resulting in wines brimming with luscious dark fruit and aromatic spices. Whether you're visiting Valencia or exploring renowned wineries this wine region beckons as a dynamic and evolving destination for wine enthusiasts.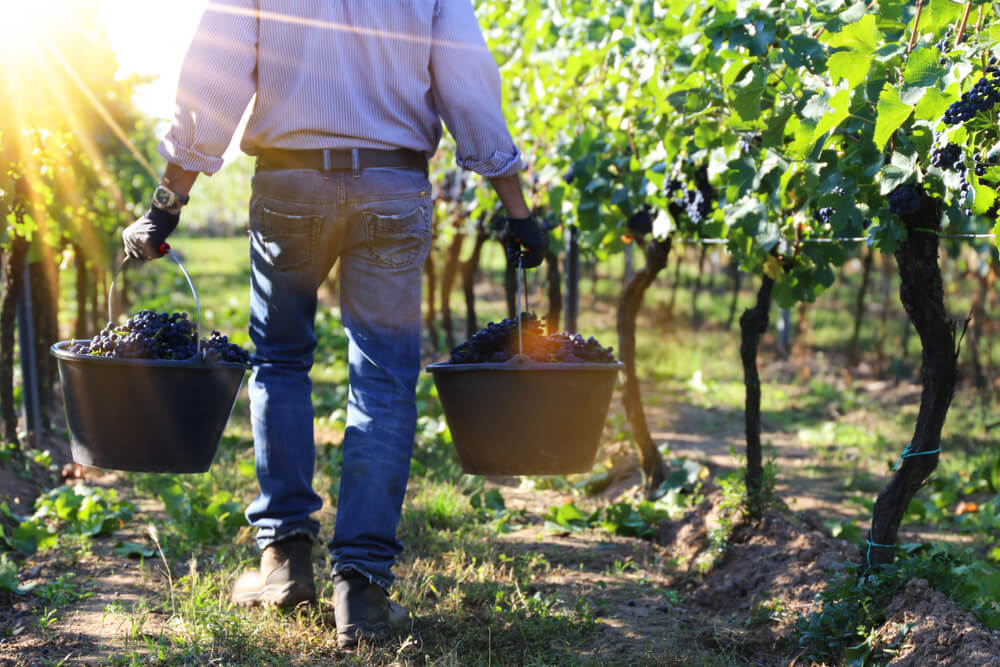 Visit Spain's wine regions at the end of the summer to witness the harvest
The Canary Islands are also an important Spanish wine region
The Canary Islands, located off the northwest coast of Africa are one of the most fascinating wine regions of Spain. Renowned for its volcanic soils and diverse microclimates, the islands produce distinctive wines that stand out in the Spanish wine landscape. Tenerife, the largest of the Canary Islands, is home to iconic wineries like Bodega Viñátigo and Bodegas Monje, where ancient vineyards of Listán Negro and other indigenous varieties thrive in volcanic soil. These wines, often characterised by their minerality and vibrant acidity, captivate the senses with flavours of volcanic earth, tropical fruits, and sea breezes. With breathtaking landscapes ranging from lush valleys to dramatic cliffs, visitors to the Canary Islands can enjoy a wine-tasting experience like no other.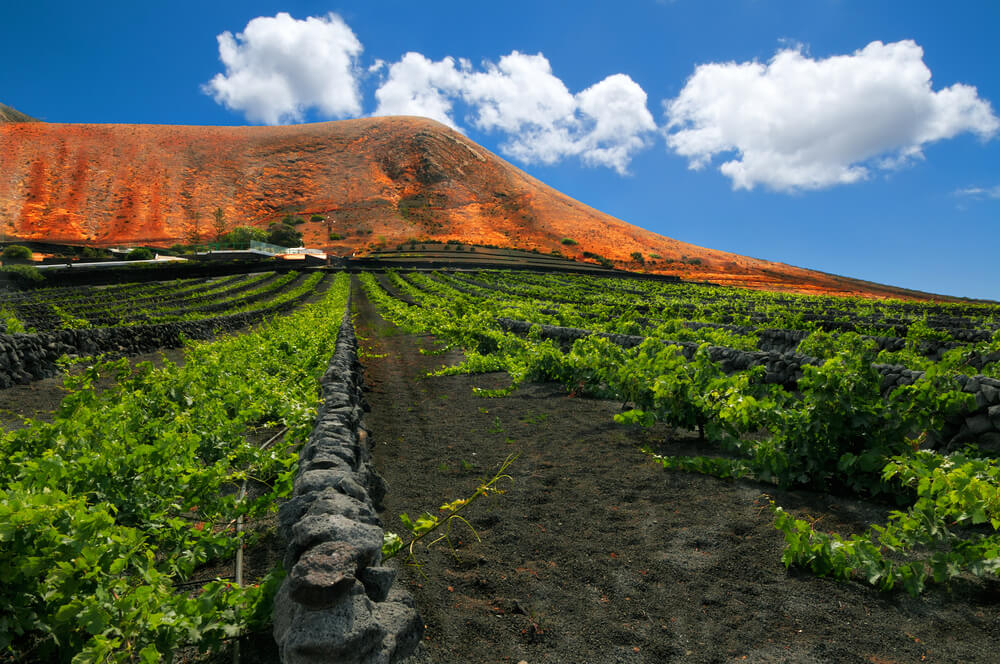 The La Geria winery, Lanzarote