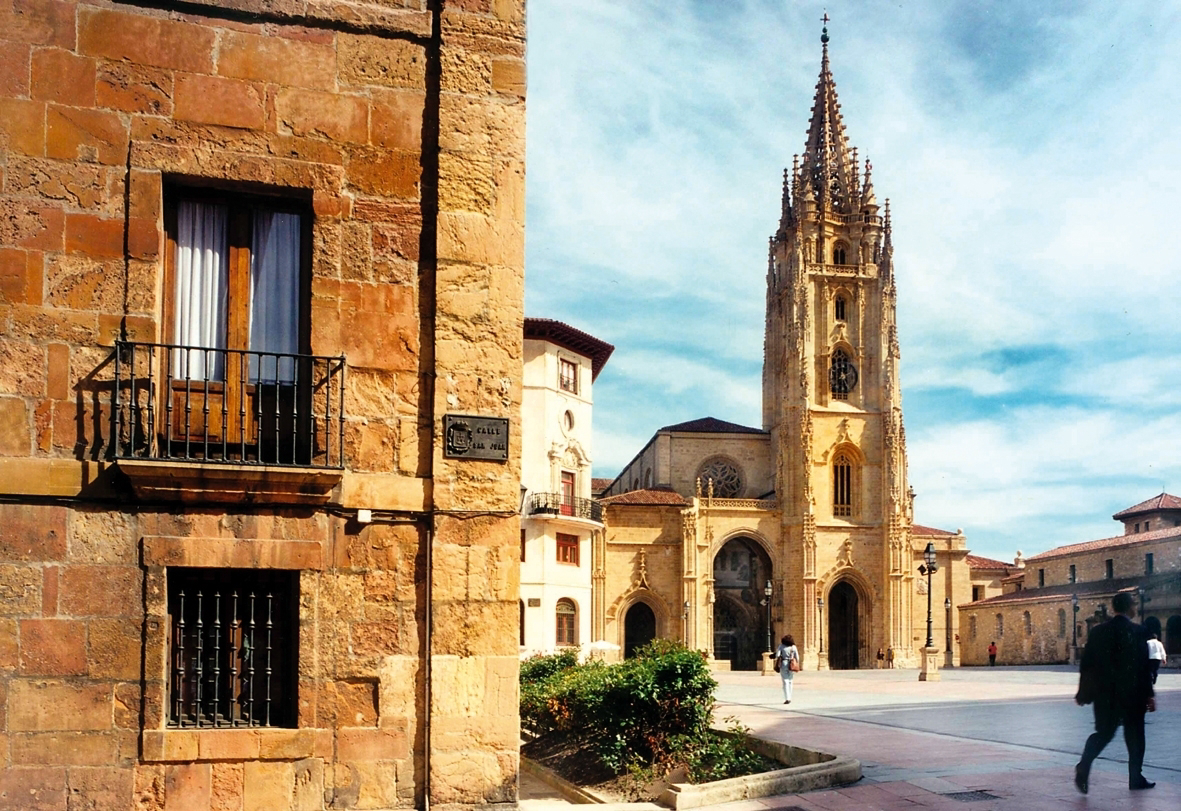 Barceló Hotels & Resorts in Oviedo
Click "Comto" to compare the differences between 2 or more hotels.
Compare
Newly refurbished in 2022
---
Excellent position
Sensational restaurants
4 modern meeting rooms for 180 people
0
/3 hotels selected to compare
Commemorate up to 3 hotels and book the one that best suits your needs
When film-maker Woody Allen said that Oviedo is like a fairy tale, Oviedo marked this great honour by erecting a statue of him in the city centre. The city's important pre-Romanesque heritage has earned it the title of World Heritage Site, but you haven't really experienced the place until you've tried a glass of traditionally poured cider accompanied by a "cachopo" and had a good night's rest at Barceló Hotels & Resorts in Oviedo. It may not be the food of fairy tales but you'll definitely want more.
Pre-Romanesque treasures in Asturias
Monte Naranco is located 15 minutes from the city centre and here you'll find two of the most emblematic pre-Romanesque buildings in the region: Santa María del Naranco and San Miguel de Lillo, dating from the 9th century. When you stay at Barceló Hotels & Resorts in Oviedo you'll be able to visit examples of pre-Romanesque art and architecture at the Foncalada fountain and in the church of San Julián de los Prados.
A walk through the historic city centre
If you want to experience the real Oviedo you have to stay in the centre, which is home to Barceló Hotels & Resorts in Oviedo. Take time to wander around Plaza del Fontán and the market named after it. Nearby, Plaza de la Constitución is dominated by the church of San Isidoro el Real and the City Hall. If you want to feel like a character from the 19th-century novel La Regenta, you'll need to head towards the narrow streets of the old quarter, where you will find the Cathedral.
The cider ritual is considered an art form in itself because it not only involves a special pouring technique (serve it by positioning the bottle above the shoulder and pour the liquid so that it hits the edge of the glass) but it should also be served in small amounts and downed in one go. If you really want to experience Oviedo, don't be shy and give it a go.
Discover the wonderful Asturian capital when you stay at Barceló Hotel Group's hotels in Oviedo.