10 Best beaches in Lanzarote to explore on your next island vacay
Lovers of sunbaked sand, volcanic scenery and revitalising swims in the Atlantic will find paradise on the best beaches in Lanzarote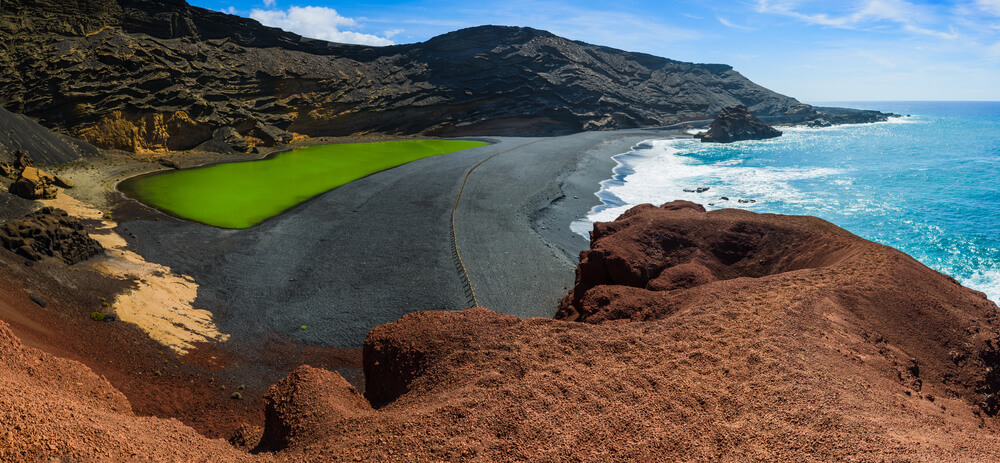 Move over Tenerife, there is another island jostling for the top spot for the best beaches in the Canary Islands. Lanzarote may not be the first island that springs to mind when searching for beach escapes. But one thing is for sure, it is not short of beaches. There seems to be a beach for every occasion. From wide open stretches of white sand to ebony-black volcanic coves, it doesn't matter what your plans are, there is a beach to match. So if you are planning to visit this fiery island on your travels, make sure that you check out the best beaches in Lanzarote. To make life a little easier and to take the stress out of exploring, we have compiled a list of the top 10 must-visit beaches on the island. How many will you tick off?
The perfect time to visit the best beaches in Lanzarote
One of the best things about visiting Lanzarote is that you don't need to be confined to travelling during the school holidays. This island is closer to Africa than it is to Spain which brings with it an eternal springtime. Think of warm gentle breezes and baking hot sunshine during the summer and mild, dry weather in the winter. Every day is a beach day in Lanzarote but summer is the busier time of year. The best time to visit the beaches in Lanzarote and avoid the crowds is mid-September when the weather is still warm but the locals are back at work and school. Take advantage of the winter sun and start planning the ultimate beach break and enjoy the best beaches in Lanzarote. 
1. Catch some rays at Papagayo beach Lanzarote
Calling all sun worshipers. If you are staying in one of the Lanzarote beach resorts then don't miss out on a trip to Playa Papagayo. Situated on the southern tip of the island, Papagayo is certainly one of the most well-known beaches in Lanzarote and comprises a series of beaches separated by high cliffs and volcanic rocks, forming a number of sheltered bays. This fabulous white sand beach is located in a nature reserve so prepare yourself for breathtaking scenery both on land and beneath the waves. Enjoy views of the Ajaches Natural Monument mountains as you soak up the sun on the paperwhite sand. 
The main Papagayo beach is the last one that you'll reach before the Punta del Papagayo, travelling east from Playa Blanca
The main Papagayo beach is the last one that you'll reach before the Punta del Papagayo, travelling east from Playa Blanca. This is an ideal choice if you're looking to spend the day out at the beach, where you can find a chiringuito (beach shack) that sits above the cove and treat yourself to a meal by the sea.
And, pack a snorkel to discover the colourful marine life that awaits you in the topaz waters. A visit to this beach is one of the best things to do in Lanzarote and it certainly deserves to sit in the first position on the list of top 10 beaches in Lanzarote.
Sunning yourself on the shores of Papagayo beach is a must if you visit Lanzarote
2. Enjoy sightseeing and waves at the White Beach Lanzarote
If you're looking for the best family beaches in Lanzarote for an enjoyable day out with the kids, Playa Blanca is the place to be and is ideally situated in a central location at the heart of the resort close to other local landmarks such as Arrecife beach and the Timanfaya National Park.
This European Blue Flag stretch boasts bright white sands and sheltered bays, where lifeguards are on hand, so you can ensure the little ones are playing safely. The calm waters offer good conditions for diving and snorkelling and, of course, make it the perfect place for a refreshing dip, as well as one of the best beaches in Lanzarote.
There are plenty of shops, bars, cafes and restaurants backing onto the beachfront, as well as several ice cream parlours if you fancy cooling off and satisfying your sweet tooth.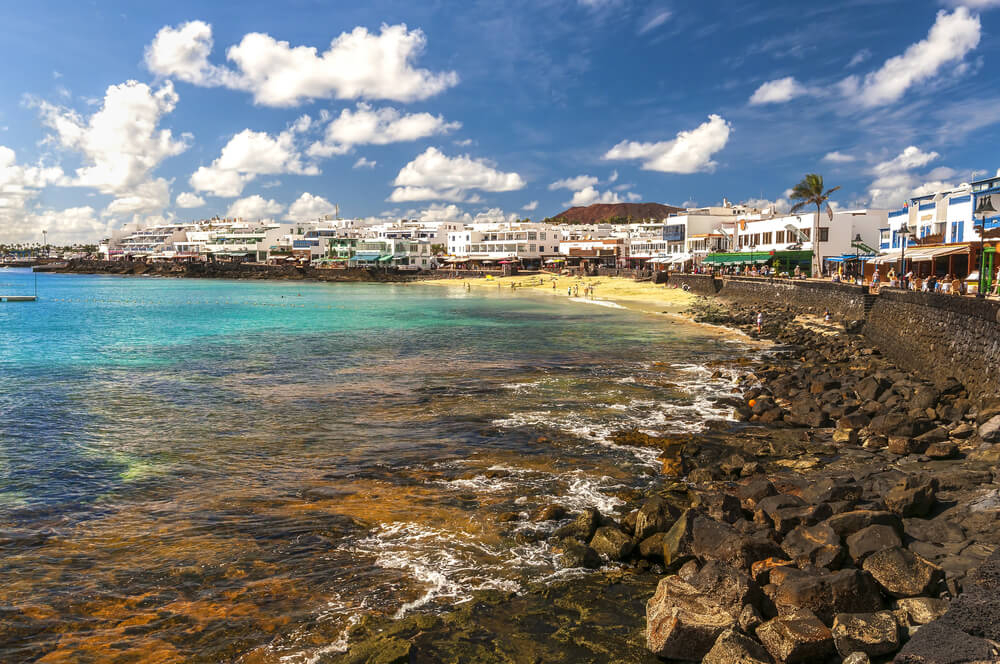 Playa Blanca not only boasts European Blue Flag status but it is also the perfect place for a refreshing dip
3. Playa Grande beach Lanzarote - another family favourite
Arguably the birthplace of tourism in Lanzarote, Playa Grande offers long stretches of sand and plenty of amenities to enjoy. While it may not be the most visually appealing beach, what it lacks in charm, it certainly makes up for in fun. 
Playa Grande is ideal for families looking for beach holidays in Lanzarote
Playa Grande is ideal for families looking for beach holidays in Lanzarote thanks to the calm waters and bucket and spade-friendly shoreline. The offshore inflatable water park that appears during the summer months is certainly not to be missed. And, it is worth noting that it is one of the best beaches in Lanzarote for people with reduced mobility. It is safe to say that this is an all-rounder! 
4. Famara beach Lanzarote - The best beach for taking a stroll
Not all beaches were made for sunbathing. Some lend themselves perfectly for a gentle barefoot stroll along the shoreline. This is certainly true for the 6 km long Lanzarote Famara beach. While this picture-postcard beach looks like the ideal sunbathing spot, it usually gets pretty windy here making it perfect for surfers.
If you're planning on riding some waves during your holiday, Playa Famara is certainly the best surfing beach in Lanzarote, where you'll spot plenty of professionals showcasing their skills. Its strong winds make it trickier for beginners to test the waves, but you'll find surf schools in the village that can show you the right moves and also issue forecasts for best conditions - and times to avoid.
Take a stroll along the white sandy bay and watch the turquoise waters crash against the cliffs that surround this beach. This stunning display of natural beauty, including views of the neighbouring island of La Graciosa, makes Famara one of the best beaches in Lanzarote.
The stunning backdrop of rugged cliffs is also popular with hand-gliders, so depending on your level of fear factor, you could have a jam-packed day of fun and thrills at Playa Famara.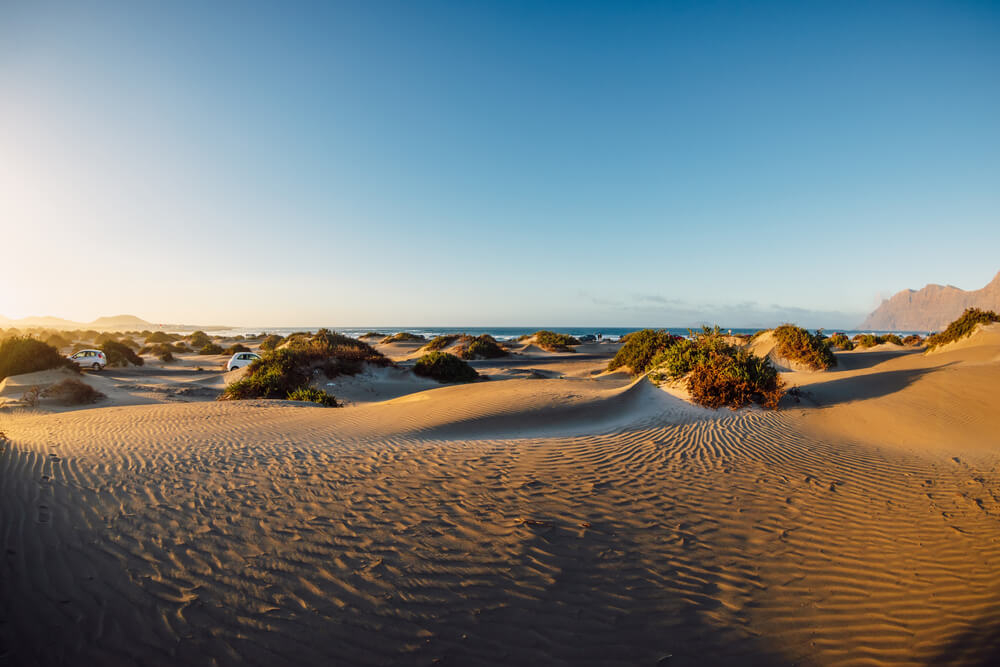 Enjoy views of neighbouring island La Graciosa when sunbathing on Famara Beach
5. Las Cucharas beach Lanzarote - a surfer's paradise
If you are a thrill-seeker looking for your next adventure head to Las Cucharas, one of the best beaches in Lanzarote for watersports. This white sand beach on the east coast is the home to the windsurfing European Freestyle Pro Tour championships which are held here each year. It is one of the top beaches in Lanzarote for adrenaline junkies and there are numerous places to rent the correct gear for your chosen activity. Luckily, there is a breakwater that makes the shallow part of the ocean feel more protected which is ideal for families with young children. And, the beach is divided into two creating an area for swimming and an area for sports. While this beach is famous for action sports, it is also an ideal place for those staying close by to enjoy a romantic date while watching the sunset.
Thrill-seekers will love participating in watersports while spending the day at Las Cucharas beach
6. Playa El Ancla, a Costa Teguise beach
Since Lanzarote is a volcanic paradise, it only seems right to enjoy its natural beauty. Get up close to the lava formations at Playa El Ancla, a small Lanzarote black sand beach where locals have adopted the habit of using the lava rocks as a place to sunbathe. While visiting Lanzarote make sure to venture to this beach. Explore what lies in the hidden rock pools, take a stroll along the rocky promenade that jets out into the water or simply enjoy a swim in the crystal clear sea. The exotic surroundings are hard to resist and it is no surprise that it is one of the best beaches in Lanzarote for locals and tourists alike. 
7. Playa Dorada beach Lanzarote- a paradise for watersports
Situated to the east of Playa Blanca, Playa Dorada is a gorgeous man-made beach that encompasses calm waters that are ideal for kids. Hammocks, sunbeds and sun shades are available to rent, as well as exhilarating water sports activities on offer for adrenaline junkies.
Playa Dorada is a gorgeous man-made beach that encompasses calm waters that are ideal for kids
This fine white stretch has plenty of amenities to keep you entertained, whether you fancy hiring windsurfing boards and jet skis from the water sports kiosks or popping up to the beach bars for a refreshing sangria.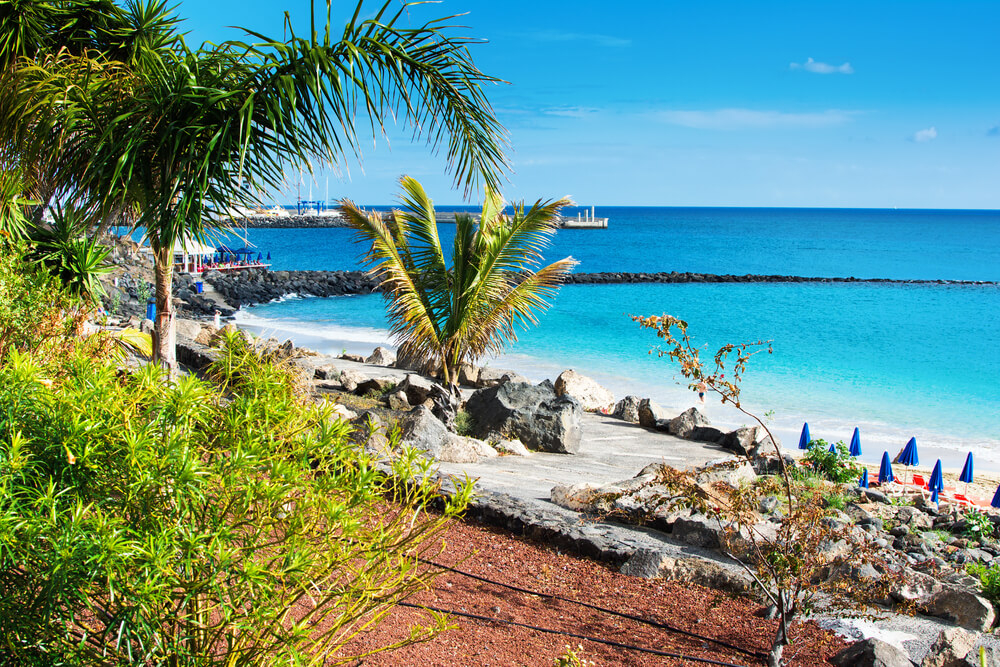 Looking for a fun place to spend a family day at the beach? Head to Playa Dorada
8. Discover Catelón Blanco, an idyllic setting close to Puerto del Carmen beach Lanzarote
Catelón Blanco is located north of Lanzarote in Puerto del Carmen and is a string of beautiful tiny coves of contrasting glistening white sands and jet-black lava rocks. The kids will be in their element exploring the shallow natural rock pools created by the tide, while parents can find a peaceful spot to lay on the soft sands, or perch against a slab of volcanic rock and enjoy an afternoon read. There are a handful of restaurants dotted around the harbour offering a taste of traditional Canarian cuisine, where you can indulge in some of the finest fish restaurants on the island. This fusion of beach and gastronomy make this one of the best beaches in Lanzarote for a day in the sun.
9. Playa del Charco de los Clicos, a black beach Lanzarote
If you want to snap stunning beach pictures for 'the gram' then head straight to Playa del Charco de los Clicos. It is not the picture-postcard view of Lanzarote that appears in the holiday brochures but instead a volcanic black sand beach Lanzarote locals like to call their own. This multicoloured beach boasts red cliffs, black sand and an emerald green lagoon, rich in algae perfect for an attention-grabbing Instagram snap. Of course, the ocean provides the ideal bathing spot for those keen to take a dip.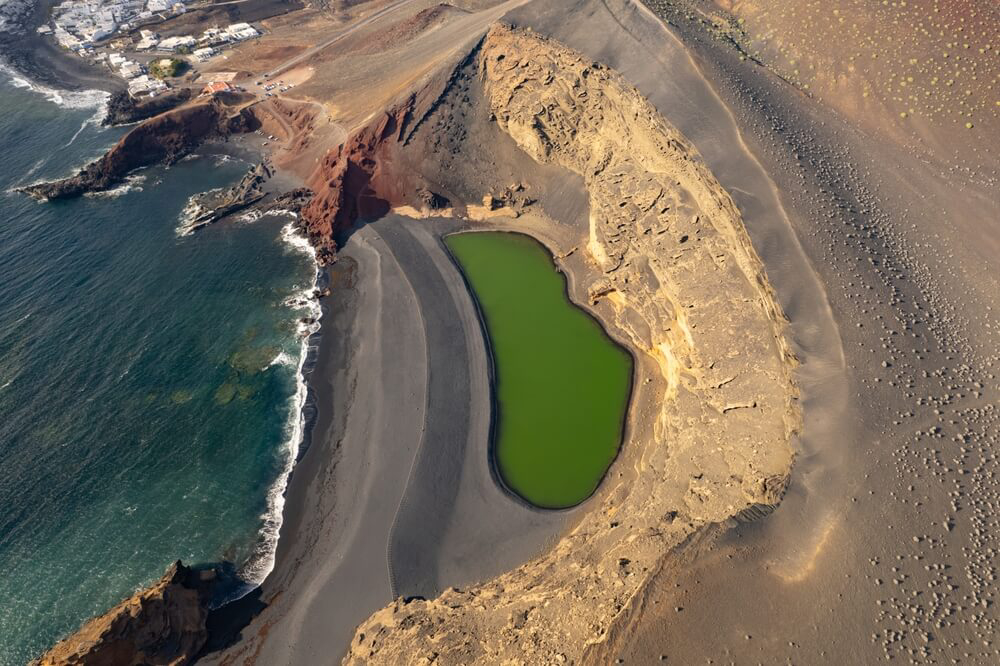 While the green lagoon at Charco de los Clicos is eye-catching, the Ocean is ideal for a refreshing dip
10. Enjoy a romantic date on an Orzola Beach Lanzarote
Is there anything more romantic than enjoying a windswept stroll, hand in hand along a picturesque beach? Well, Lanzarote certainly sets the scene nicely with Caletón Blanco, an Orzola beach with a mesmerising colour palette of white sand, ebony lava-coloured rocks and piercing sapphire blue sea. At low tide, there is a patchwork of rock pools to uncover and at high tide, the ocean is perfect for a quick swim. While this beach is secluded, it is one of the best beaches in Lanzarote for couples, especially if you plan to island-hop to La Graciosa.