10 Gran Canaria beaches that we cannot wait to explore this year
Indulge in sunkissed mornings exploring the secluded sandy coves dotted along Gran Canaria's volcanic coastline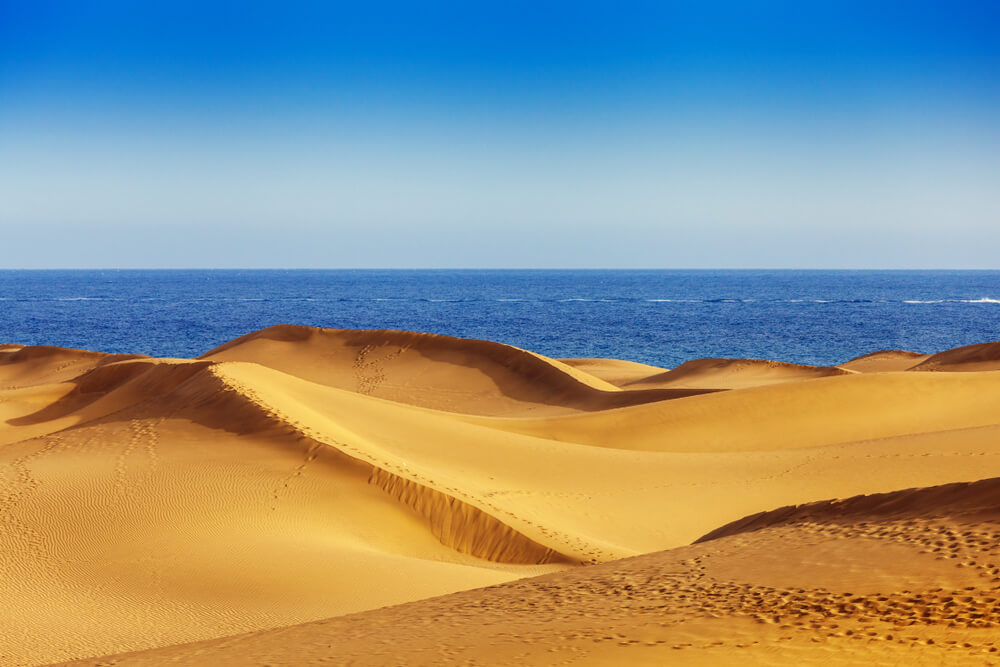 Nothing beats feeling the warm glow of the sun on your body as you lay back on the sunbaked sand, listening to the sound of the Ocean. Are we right? Grab your passport, cossie and a towel because it is time to explore Gran Canaria's beaches. This island paradise is one of the seven Canary Islands and is located just 150 kilometres off the coast of Africa. Expect warm spring-like temperatures all year round and get ready to explore this island of contrasts. The fast-paced metropolitan capital of Las Palmas offers a dose of beachside city living which provides a surprising juxtaposition to the striking volcanic landscapes found elsewhere across Gran Canaria. Sounds exciting? Read on to discover the best beaches in Gran Canaria. 
When to visit the Gran Canaria beaches
They might be Spanish territory but the Canary Islands are gifted with a North African climate that makes every day a beach day. In fact, the year-long sunshine is one of the reasons why Gran Canaria beaches have become key winter sun destinations. For those seeking scorching temperatures and guaranteed wall-to-wall sunshine then July through to September are ideal months to explore the island. Yet, if you want to enjoy warm temperatures and escape the crowds May and June or September and October are equally as tempting.
During the winter, the temperatures still remain high making it a desirable destination to escape the bitterly cold weather of Northern Europe. However, during the winter the temperatures do drop at night and very occasionally there is a rare chance of rain. So, as you can see, the beaches in Gran Canaria are the perfect place to restock your vitamin D levels regardless of the time of year. So, what are you waiting for? Check into one of the top Gran Canaria hotels and hit the beach.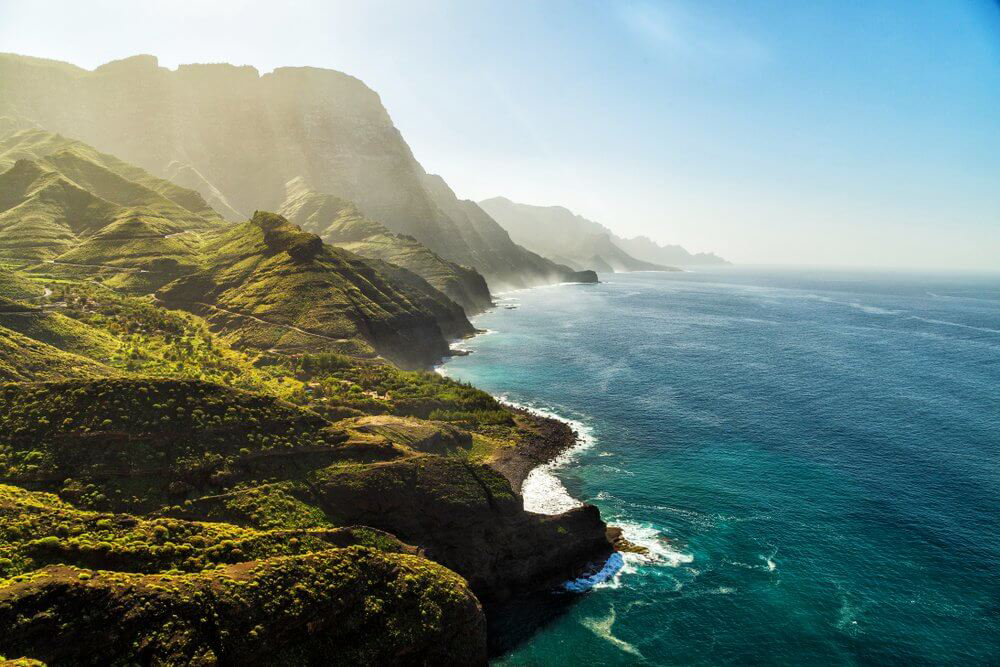 Guests at the Occidental Roca Negra can enjoy the rugged and wild coastline of La Caleta beach
1. Explore the Las Palmas de Gran Canaria Beaches: Las Canteras
If you ask anyone for Las Palmas' best beaches, the one name that will crop up time and time again is Las Canteras. Why? Because If you love city beaches, you'll simply adore Las Canteras, which is widely regarded as one of Europe's best urban beaches. Situated bang in the centre of the island's capital, Las Palmas, here you'll find 3.5km of golden sands stretching around a beautiful bay and a wealth of sporty and hedonistic delights. 
Las Canteras is the island's top hotspot for snorkelling
As the entire beach is a marine reserve, Las Canteras is the island's top hotspot for snorkelling and whether you plan to dive into the calm waters or flop on the sand, the sheltered bay ensures windless weather practically all year. You'll find a great choice of bars and restaurants on and close to the sands, and the top haunts of the city centre are within easy reach making it one of the best Gran Canaria beaches for families.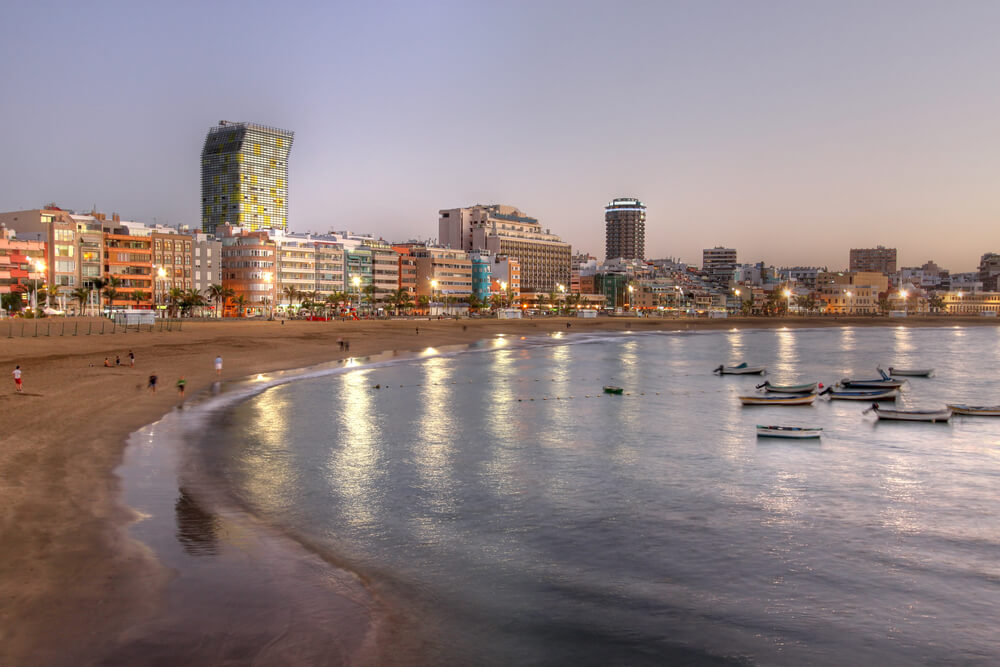 A beach in the heart of the city? Las Canteras beach is the answer to your prayers 
2. Discover Las Palmas' best beaches for nature and sunsets: Playa del Confital
If you want to escape the noise and excess of city life without venturing too far, La Confital beach is the place to go. Located just a stone's throw from the city centre this beach offers surf-worthy waves and a natural rugged coastline ideal for walking and watching the world go by. Small caves sculpted into the rock face provide a much-needed shelter from the heat of the day and kids will love exploring the many weird and wonderful sea creatures that inhabit the many rock pools that can be found dotted along the coastline. However, this beach, one of the most beautiful beaches Gran Canaria offers, becomes even more spectacular when the sun sets and the sky is painted fiery reds, oranges and pinks. Pack a picnic and sit and watch the light change or enjoy the sunset while walking back to the Las Canteras promenade, just 30 minutes away.
3. Where to go to find Gran Canaria's snorkelling beaches? Pasita Blanco, of course!
If the glam factor is top of your wishlist, come and rub shoulders with the beautiful people at the exclusive Pasita Blanco beach, which can only be accessed from within the chic yacht-filled marina of the same name. If you own a gin palace or luxury home in the marina complex, you can drive in - if not, then you'll have to make a not-so-swish entrance by bus to the main gate. Its exclusivity means this beach rarely gets busy and as an added bonus, the conditions for snorkelling here make it one of the best beaches for snorkelling in Gran Canaria.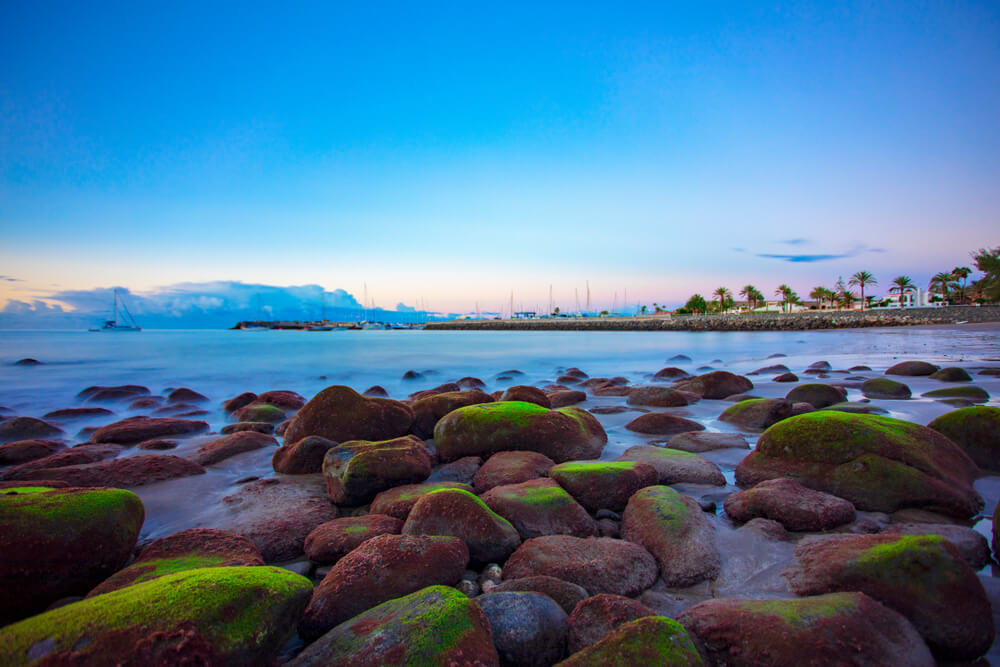 Grab your snorkel and admire the marine life at Pasita Blanco
4. Run wild on the windswept coast of GüiGüi Gran Canaria
But if an 'away from it all' beach that also feeds your thirst for active pursuits is what you're after, then Güigüí Beach is guaranteed to impress you the most.  This is one of the most unspoiled and remote Gran Canaria beaches. 
GüiGüI Beach is one of the most unspoiled and remote Gran Canaria beaches
And when we say remote we're not exaggerating - you'll have to be up for a three-hour hike through a countryside path to get here - or, if that sounds like hard work, jump on one of the boat tours that run from Puerto Rico. It is worth noting that it is a clothing-optional beach so if you have been tempted by the idea to visit a Gran Canaria nude beach, now is your chance.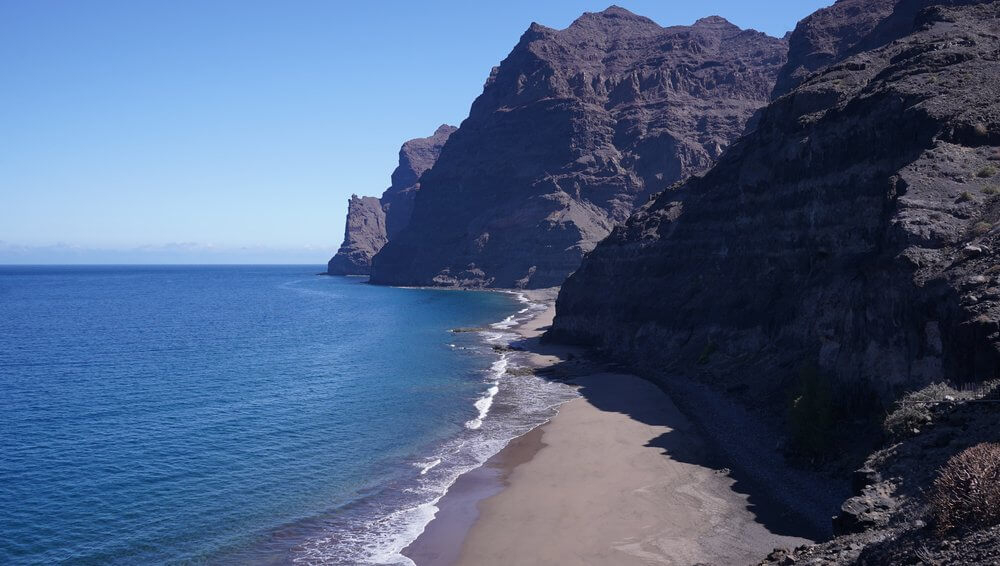 Adrenaline junkies will love GüiGüi beach for the array of activities to try here
5. Visit the Gran Canaria dunes and then cool off at Playa del Inglés
Famous for its vast, undulating dunes, Las Maspalomas is picture perfect - in fact, images of its rolling landscape often grace the covers of travel guidebooks and tourism ads for Gran Canaria. Along with its adjoining sister beach of Playa del Inglés, it stretches more than 6 km and its calm, shallow waters make it a top choice for swimming and snorkelling. The sand dunes are protected ecosystems but you can explore them by following the designated and signposted walking routes. To avoid any surprises, be aware that there is a famous section of sand for nudists to go nude in Gran Canaria located amongst the biggest sand dunes in the middle of this beach. If you are staying at Gran Canaria beach resorts in the south then this is an unmissable activity to enjoy during your holidays.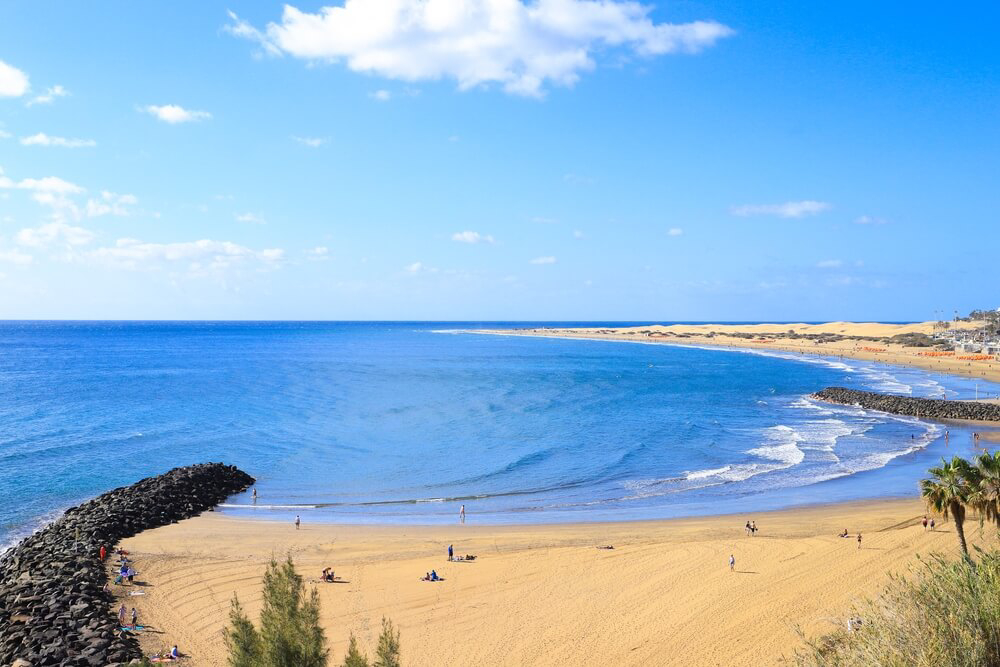 Just next door to the Maspalomas sand dunes, Playa del Inglés is the perfect place to while away an afternoon
6. Imagine that you are in the Caribbean and visit one of the top beaches in Gran Canaria: Amadores beach
If Amadores Beach with its soft white powder sands reminiscent of the Caribbean strikes you as looking palpably different from its neighbours, there's a good reason why - it's beautiful but man-made. Situated near Puerto Rico, you can get here via the cliff top walks that run from Puerto Rico beach to the marina. This is also a great spot for dinner as there's a fabulous choice of restaurants and bars. As far as Gran Canaria beaches go, this is one of the most Instagrammable.
7. Visit a black sand beach in Gran Canaria and explore Playa El Hombre
If you want to explore a more local side of Gran Canaria's beaches then head over to the east of the island where you will find this peaceful and rugged beach that has become a popular surf hangout. Playa El Hombre is a mixture of ebony black sand and small volcanic rock pools.
Playa El Hombre is a mixture of ebony black sand and small volcanic rock pools
Locals love to lounge out on the sunbaked sand and the best thing you can do is join them. Enjoy the laid-back vibes and cool off with a refreshing dip in the Atlantic Ocean. Yet, it is worth being careful of the currents which can be very strong at times. This is a beach for spending half a day soaking up the sun, trying tempting nibbles from the beach bars and enjoying a leisurely stroll along the coastline. 
8. Best sandy beaches in Gran Canaria away from the crowds: Visit Aguadulce
Looking for a peaceful hotspot to lay your towel far from the madding crowds? Aguadulce is a little peach and a stretch of golden rather than black volcanic sands. Situated on the east coast of the island it's generally sparsely populated making this a good choice for those who want to chill out with a book or snooze on the sand.
9. The best beaches in Gran Canaria for scuba diving: head to Sardina del Norte, of course!
Who's up for scuba? If diving is your big passion, make your way to this stunning golden sand beach - and Gran Canaria's best diving site -  situated in a pretty little fishing village on the northwest coast. Sun-splashed throughout the year, Sardina del Norte is also blessed with great little restaurants serving up freshly caught and grilled sardines.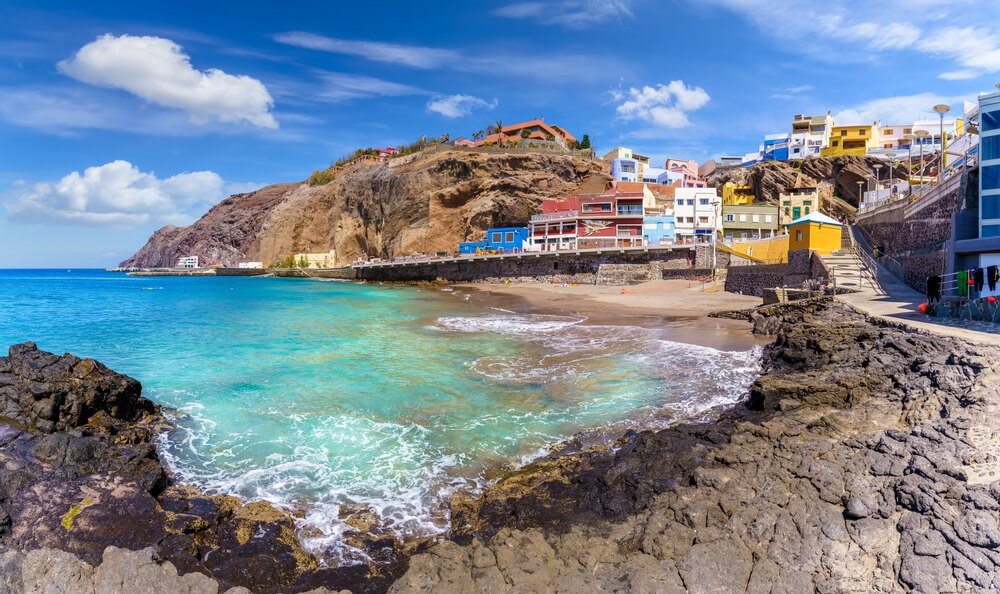 Live like a local and spend the day in the quaint fishing village of Sardina del Norte
10. Take a stroll to La Caleta in Agaete, one of the secluded beaches in Gran Canaria
If you happen to be staying at the adults-only, Barceló Occidental Roca Negra hotel in Agaete, you cannot pass up the chance to take a relaxing coastal walk to La Caleta. Rugged, windswept and wild, this beach shows Gran Canaria beaches in their most natural form. Be sure to be wearing good quality walking shoes as the uneven terrain can be tricky underfoot. Yet, the hike down is worth it when you reach the rock pool beach at the end. The sea can get very rough so be sure to follow the safety guidelines on the signs but even if you just sit on the rocks and take in the views, La Caleta will make you fall in love with the island's beauty. Especially if you visit at sunset.