Discover the best beaches in Menorca to lay out your towel on
With its whitewashed buildings, undulating hills and sandy coves Menorca is a Spanish dream. Discover the best beaches in Menorca for your fill of island paradise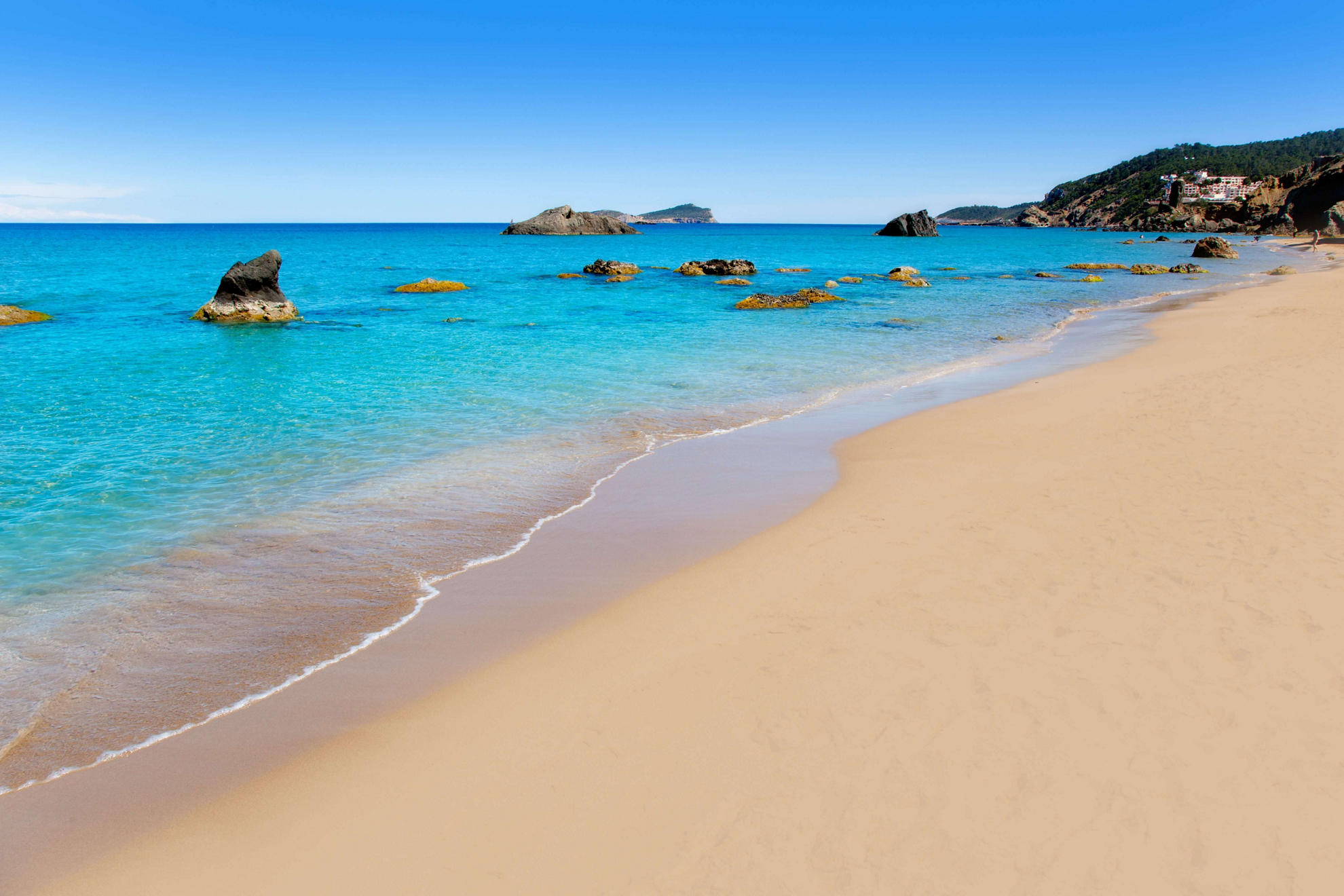 Menorca may seem like it is overshadowed by Ibiza's nightlife and Mallorca's glamour yet this coastal gem of the Balearic Islands offers its own dose of Mediterranean charm. Its unspoiled landscapes, turquoise waters, and beguiling sense of tranquillity give it an irresistible allure that entices travellers year after year. It is no secret that this enchanting island boasts a collection of beaches that rival the most idyllic destinations in the world. Join us as we explore the top ten best beaches in Menorca, where nature's splendour meets ultimate relaxation.
1. Best beaches in Menorca for children: Punta Prima Beach
Imagine waking up to the sound of the waves crashing on the shore and having a pristine golden sand beach at your fingertips. If this sounds like your dream come true, the Occidental Menorca,  just 300 metres from the beautiful Punta Prima Beach, is the ideal choice to complete your beach break. As far as Menorca beaches go, this idyllic spot is ideal for families with children thanks to the calm Mediterranean Sea lapping against the warm golden sand. Parents can soak up some rays on the sand while the kids play in the shallow waters and the wide range of amenities means that you can even indulge in some local cuisine while taking in the impressive vistas. Adventure lovers will also feel at home on this stretch of sand with the choice of watersports on offer. From paddleboarding to scuba diving, there are plenty of ways to enjoy this slice of paradise.
2. Soak up the sun at Cala en Turqueta, one of the top beaches in Menorca
As the name suggests, Cala en Turqueta boasts an eye-catching palette of turquoise hues that merge harmoniously with the dazzling white sand. Nestled away on Menorca's southern coast, a lush pine forest covers the surrounding area offering a secluded and serene escape where you can surrender to the rhythm of the sea. Of all the Menorca beaches, Cala Turqueta is certainly one of the island's most beautiful and sought-after coves and an ideal spot for swimming.  A beach day is one of the top things to do in Menorca. So, pack a picnic and head to this sandy cove for a fabulous day out enjoying one of the top 10 beaches Menorca has to offer.
3. Cala Macarella and Macarelleta: perfect for families
The stunning bay of Macarella and Macarelleta is on the south western side of Menorca and belongs to the Àrea Natural d'Especial Interès on Ciutadella's southern coast. The scenic cove boasts clear, shallow waters and rocky cliffs, making it one of Menorca's most beautiful destinations. The stretch is perfect for families, where you can take a break from the beach and indulge in an excellent selection of meat, fish, home grown-salad, and more at the seaside restaurant -  Susy's Chiringuito (Beach Bar and Restaurant).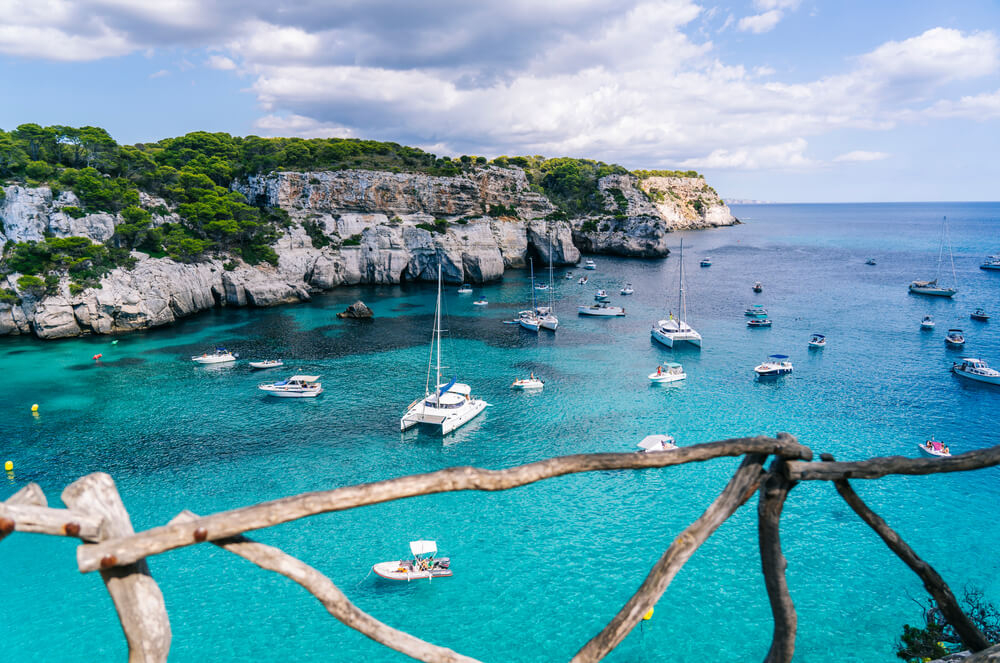 Soak up the Menorcan sun on the stunning sandy bay of Macarelleta
4. Cala Pregonda is one of the best-secluded beaches Menorca has to offer
Cala Pregonda is renowned for being one of the best beaches in Menorca. Yet, this scenic bay is located in a remote place on the north coast of Menorca. The cove boasts a beautiful sandy beach with rock formations, which can be reached by footpath. The clear shallow waters are ideal for swimming and snorkelling, while the breathtaking landscape will captivate travellers, casting a spell that will make them want to return to this secluded setting. If you are looking for secret beaches, Menorca has many but we think this is one of the best. However, there are no facilities at the beach, so make sure you bring plenty of refreshments. 
Stretch out your towel on one of Menorca's most secluded beaches, Cala Pregonda
Best beaches in Menorca: View of Cala Pregonda with the rocks and boats in the distance
Known for its reddish sand, Cala Pilar is an unspoilt beach in the north of Menorca in a protected fishing area. If you're looking to escape the tourist traps and unwind in sheer tranquillity, then Cala Pilar is the perfect spot. No shaded zones are making it a sun worshippers' paradise, while the wind conditions offer an ideal breeze to keep you comfortable. It is worth noting that you will need to make a short hike to reach this stretch of sand yet this is one of the best beaches north Menorca offers, so it is worth the short walk to reach it.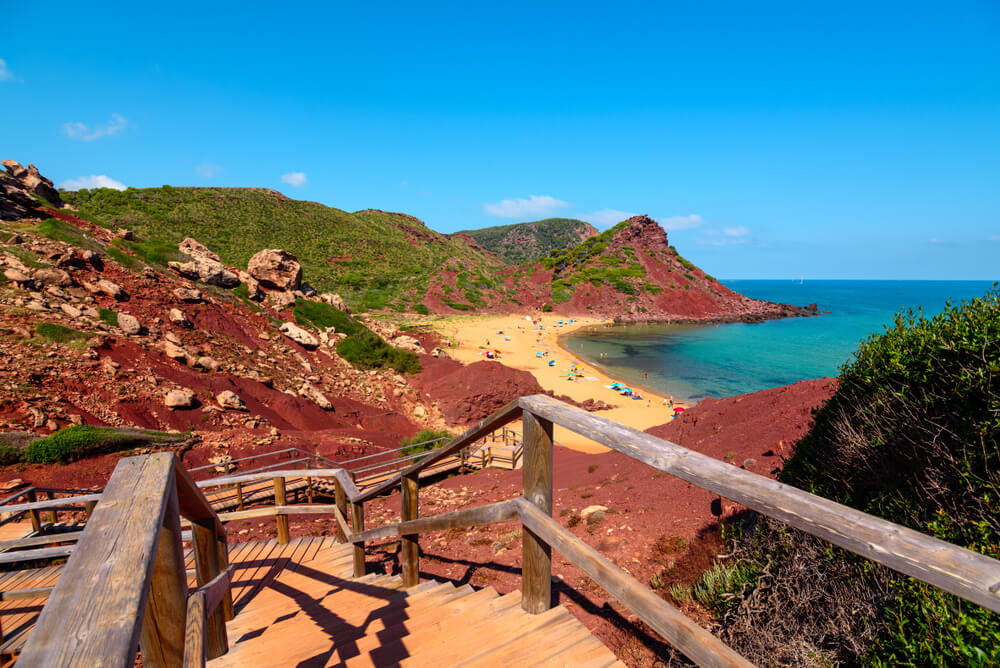 Enjoy one of Menorca's unspoilt locations, Cala Pilar
6. Cala Mitjana: One of the most beautiful beaches Menorca has to offer
Cala Mitjana is a bay and beach on Menorca's southern coast boasting clear waters, picturesque cliffs and white sands. Just a stone's throw away from another of the best beaches in Menorca, Cala Macarella, Cala Mitjana is an intimate haven, secluded from the world. Cala Galdana, another one of the best calas in Menorca sits right next to it and is renowned for its exhilarating water sports. The two beaches are just metres from each other, so swimming back and forth between the two pristine bays is possible. As you venture down a gentle path through fragrant pine forests, the beach of Cala Mitjana emerges providing enchanting views of its pristine golden sands and the azure waters lapping gently at its shore. Here, you can bask in the soothing stillness of nature, embraced by an atmosphere of pure tranquillity.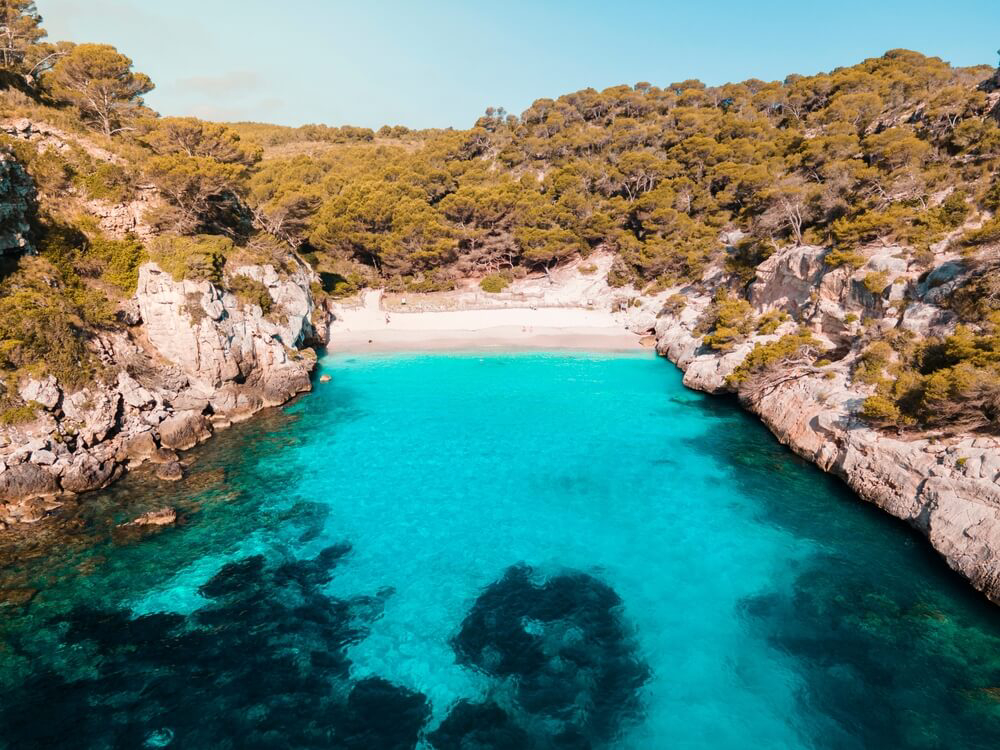 Head to the pristine bay of Cala Mitjana for the perfect beach day
7. Cala Trebalúger, a secret sandy Menorca beach
Cala Trebalúger is one of the quietest virgin beaches of the south coast, and just a 20-minute walk from Cala Mitjana. The difficulty in reaching the beach makes it a scarcely visited beach, but it's all worthwhile once you are welcomed by calm turquoise waters and sheer tranquility. If you're searching for peace on the island, then Cala Trebalúger won't disappoint.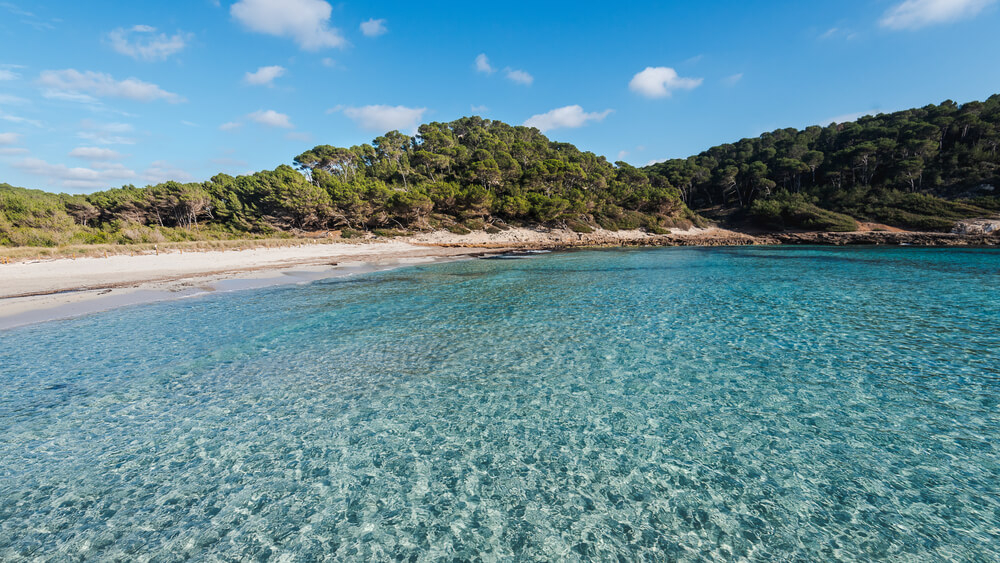 Head to the pristine bay of Cala Mitjana for the perfect beach day
8. Playa de Son Bou is a paradise for beach lovers
If you are visiting Menorca, you cannot go home without taking a stroll along one of its longest beaches, Playa de Son Bou. Stretching majestically for over 3 kilometres along Menorca's southern coast, this is one of the nicest beaches in Menorca and it offers an expansive playground for beach enthusiasts. You won't struggle to find space to lay out your towel on the golden sand as there is ample space for sunbathing. The crystal-clear waters beckon you to dive in and explore their wonders. Don't forget to pack a snorkel and try to catch a glimpse at the kaleidoscope of marine life that lives here. With excellent facilities and a vibrant atmosphere, this beach caters to every desire, from water sports to lazy sun-drenched afternoons.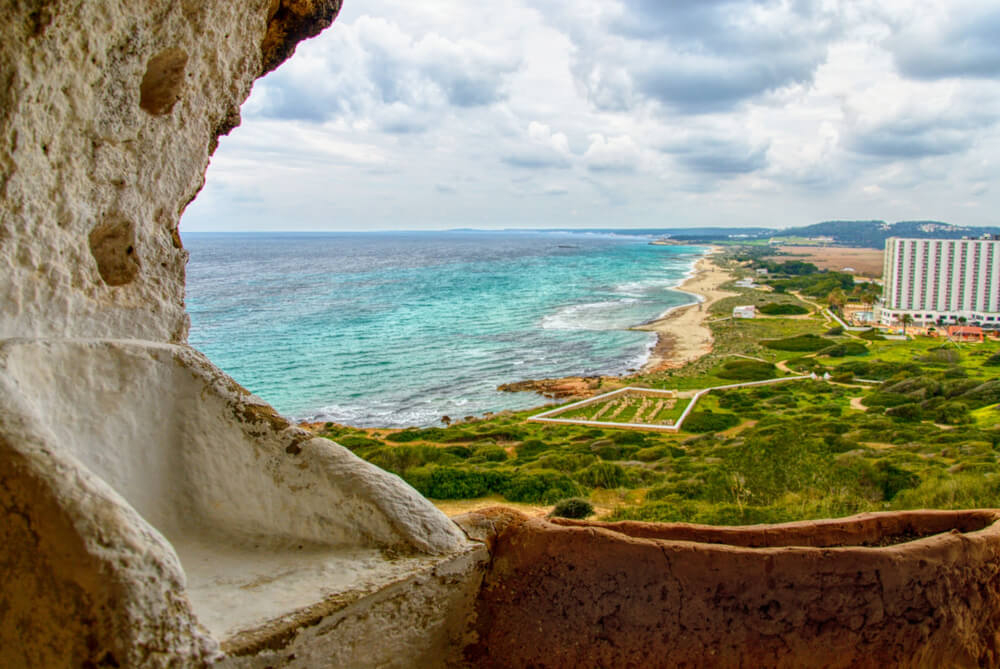 Visit Menorca's longest beach, Playa Son Bou and enjoy a family day out
9. Cala Galdana - a family-friendly oasis and one of the best coves in Menorca
You may have heard about this stretch of sand thanks to the famous walk from Cala Galdana to Cala Macarella. Yet, unless you have stepped foot on this picturesque horseshoe-shaped bay, you won't be able to appreciate the true beauty of Cala Galdana. This is one of the best beaches in Menorca and it perfectly captures the essence of a family-friendly beach paradise. The shallow, transparent waters are ideal for little ones to splash in, while parents can revel in the stunning natural surroundings. Recline on the sunbaked, soft sand and enjoy the convenience of beachfront eateries and cafes. We know perfection doesn't exist, but this is pretty close.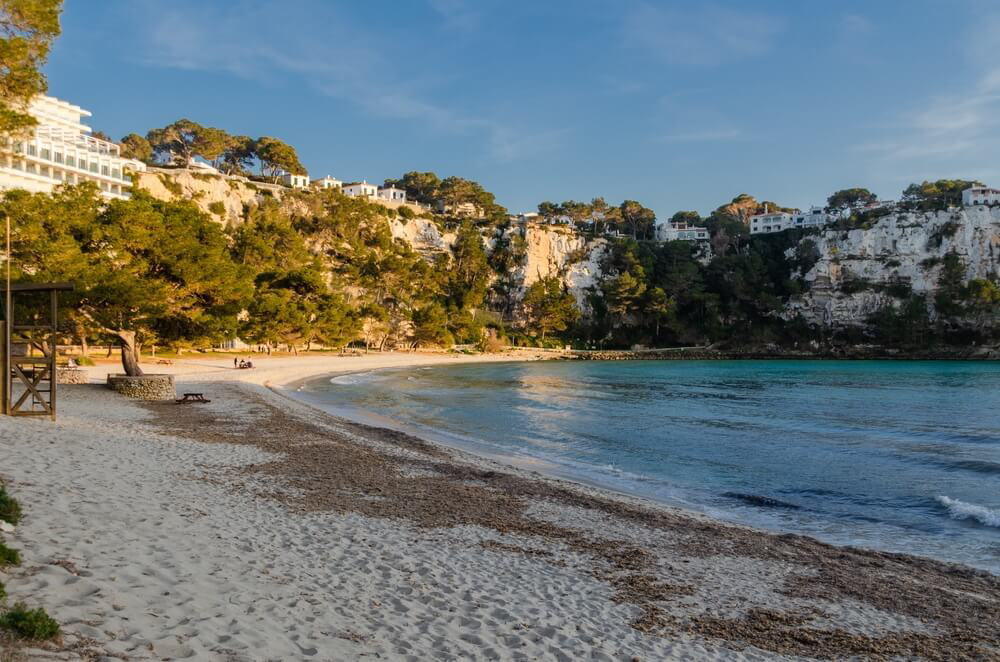 Dive into the turquoise tranquil waters of Cala Galdana
10. Cala Morell Beach, a snorkeler's paradise
If you are an avid watersports fan and are looking for the best calas Menorca has to offer, look no further than Cala Morell.  Perched on Menorca's northern coast, this beach stands out for its breathtaking cliffside setting and rocky landscape. You will want to pinpoint this spot as the surrounding small caves and clear waters teeming with marine life makes it an interesting, secluded gem for snorkelers and divers. If adventure and natural beauty are what you are after, as one of the best beaches in Menorca, Cala Morell offers this in spades. Soak up its unique charm and tranquil atmosphere and enjoy an unforgettable beach experience while on your Balearic Island holidays. 
Enjoy an adrenaline rush as you practise watersports at Cala Morell, Menorca