The 10 best Cozumel hidden gems
During your Caribbean getaway at the all inclusive Occidental Cozumel, be sure to make your way to the 10 best Cozumel hidden gems.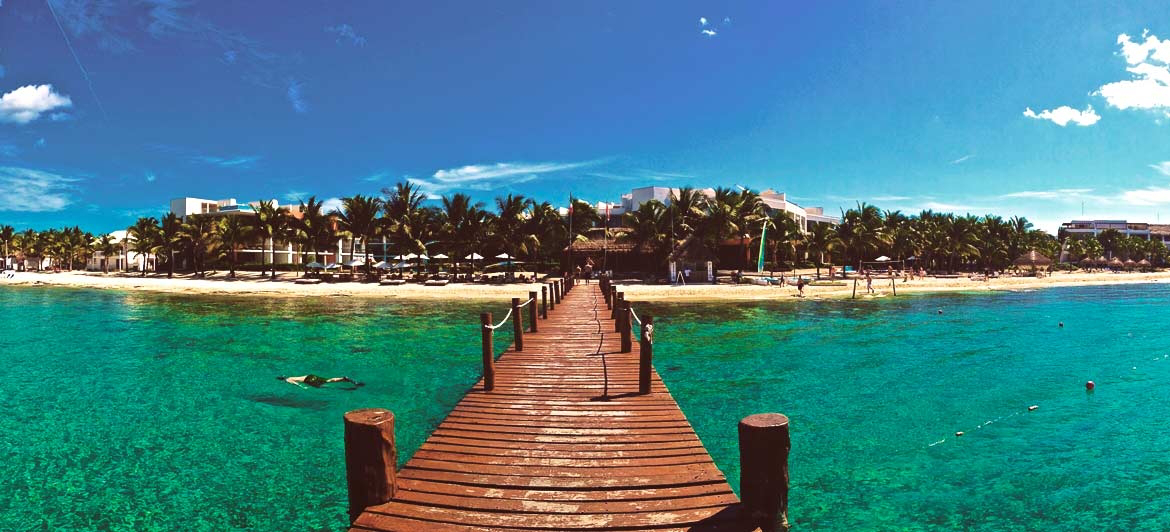 Cozumel may be a small island. But it's enormous in terms of experiences and adventures. And there are still plenty of under-the-radar pleasures to be discovered here. During your Caribbean getaway at the all inclusive Occidental Cozumel make your way to the 10 best Cozumel hidden gems.
This isn't just an art gallery, it's a working art studio. At Gallery Azul, owner Greg Dietrich works with engraved blown glass to create unique lamps and night lights, candle art, and engraved blown glass vessels. Much of his inspiration comes from the exotic marine life in the reefs that surround Cozumel. Many of Gallery Azul's glass art feature dazzling Mayan-inspired landscapes and symbols – a great way to bring a piece of Cozumel culture back home with you.
Punta Sur Ecological Park
Adventure awaits at Punta Sur Ecological Park. Here, you'll find 247 acres of ecotourism experiences. Get up-close-and-personal with a wide variety of wildlife, from tropical birds to crocodiles. Wander along sandy beaches, discovering tide pools that brim with life. And of course, climb to the top of the majestic Celerain lighthouse at Punta Sur. You'll be rewarded with some of Cozumel's most spectacular views.
Located at the southern tip of the island, Maracaibo is a pristine Cozumel diving site. It's less popular and less well-known than other scuba attractions, but no less beautiful. It's also much less crowded! Maracaibo offers deep dives for experienced scuba adventurers with depths of up to 100 feet. The visibility is crystal clear, making it easy to see the schools of fish darting around the gorgeous coral structures.
History, theater, culture, music, dance and more all come-together at this interactive Cozumel museum. Pueblo de Maiz (House of Corn) is a meticulously re-created Mayan village that will immerse you in the traditions of the ancient Mayan civilization. You'll play a part in a fascinating Mayan ritual (even with a chance to get your face painted in amazing colors). You'll learn firsthand about the religious figures who made up the Mayan pantheon. You'll even find out how the Mayans invented chewing gum! Don't miss your chance to enjoy one of the best Cozumel hidden gems.
Take a dirt road aboard a jeep to another one of the best Cozumel hidden gems – Jade Cavern (AKA "Chempita" in Mayan). Cenotes (natural swimming holes) were thought to be sacred spots by Mexico's original inhabitants – and you'll get that awe-struck feeling instantly here. At Jade Cavern, you'll find a cenote with cool, clear waters that will relax you in no time. There are also a few great rock outcroppings that are perfect for cliff divers who want to make a splash. Or you can just relax in the cenote's soothing ambiance, surrounded by magnificent stalagmites and stalactites.
Located on the north shore of the island, Cozumel Pearl Farm is the only pearl farm in the world. They are devoted to cultivating beautiful pearls from a specifically Cozumel species of oyster. During a visit here, you can learn about the farm's sustainable approach to pearl farming. And you can check out (and buy!) some of the incredible handcrafted pieces of jewelry made by a local artisan, all using these Cozumel pearls.
Located near the cruise port in a beautifully restored mansion, Los Cinco Soles is a Cozumel hidden gem filled with handcrafted items, sparkling silver jewelry, and must-have souvenirs. There are countless things to choose from here, and the atmosphere of the store is wonderful. If you need a recommendation, try Los Cincos Soles' 100 percent organic vanilla extract. And you can also get bottles of Xtabentun (pronounced "ish-ta-ben-toon"), a favorite Yucatan Peninsula liqueur made from honey.
A tiny island paradise just off the north end of Cozumel, Isla Pasion is a romantic Caribbean escape. On Isla Pasion (Passion Island), you'll find picture-perfect natural scenery – white sand beaches, sparkling turquoise waters, swaying palm trees and lush greenery. Definitely dive into the sea here for a great snorkeling experience – there are gorgeous tropical fish everywhere. Isla Pasion a perfectly relaxing Cozumel day trip, away from all your troubles and cares.
Finding Coconuts is half the fun. The Cozumel restaurant/bar is hidden away at the highest elevation on the island. Climb the natural limestone stairs to discover a classic beach bar, with friendly locals and visitors, a wide selection of food & drink, plus panoramic ocean views. Coconuts' menu is filled with tasty seafood dishes, including a highly recommended ceviche, served fresh.
Tucked away on the southeast coast of Cozumel, Freedom In Paradise is also known as "The Bob Marley Bar." That's right, this is Cozumel's own reggae bar, located right on a beautiful beach. During an evening here, you'll dance to reggae music (plenty of Bob Marley, of course), take a walk on pristine sands or kick back in one of the bar's hammocks. Enjoy the cool night air and soak in a perfect Cozumel sunset, a cocktail in hand. Paradise, indeed.