Romantic getaway: six romantic things to do in Majorca
There is no shortage of romantic things to do in Majorca. Plan the perfect holiday, including visits to the most romantic beaches in Majorca.
Are you looking to experience the ultimate couple's getaway in Majorca? Then you'll want to discover the most romantic places to spend your precious days and the hottest things to do on the island with the one you love. As the largest of the stunning Balearic Islands, bang in the middle of the Mediterranean Sea, there's no shortage of romantic things to do Majorca, whether you like the rustic or up-scale, like to be in the thick of it or want to find peaceful corners.
Majorca is overflowing with hidden beaches, fascinating cultural attractions and mesmerising scenery. On top of that, there are plenty of romantic hotels in Majorca for a blissful backdrop for your getaway.
So why not whisk your beloved away for the very best romantic holiday in Spain?
The most romantic things to do in Majorca
Check out our pick of the six most romantic things to do in Majorca that will mean your holiday is the ultimate couple's retreat..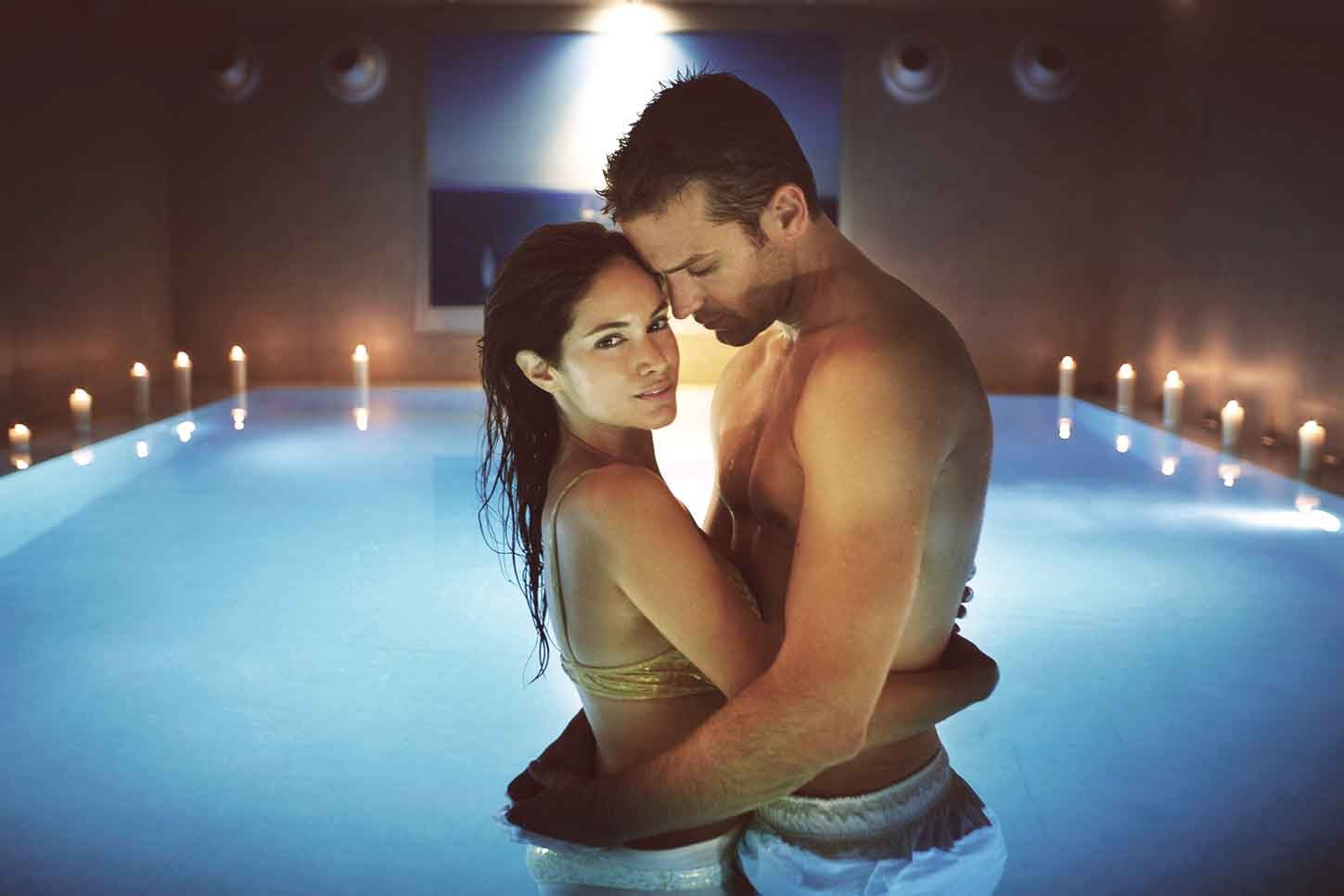 Start your visit to Majorca with a romantic day at the spa
First things first. At the beginning of your holiday, chances are you're a bit stressed out from work and your hectic schedule back at home. So, to get into the spirit of things, make sure you take some time to chill out. Get into the mood for your romantic holiday in Majorca with a spa day.
What better way to spend your first day on the island than relaxing and unwinding in a luxury spa hotel in Majorca with your loved one?Barceló Illetas Albatros is an adults-only hotel. One of its main attractions is the U-Wellness centre, offering sophisticated facilities and treatments in a harmonious, tranquil environment.
Take a plunge in the pools that make up the heated thermal circuit, soak and scrub away your worries in the hot tub and Hamman (Turkish bath) or sit back and relax in the tranquil Finnish sauna.
As if that weren't enough, you can both enjoy a five-star spa treatment. You have the option to make a prior booking to enjoy a double massage with your other half, so you enjoy the experience together.
Select a massage of your choice with the 'Classic for U' treatment, from a simple relaxation massage, to aromatherapy, to tension relief, to sports. These treatments sooth both the body and the mind, leaving you feeling utterly relaxed all over. Alternatively, you can choose from an additional range of spa treatments.
Treatment areas have stunning sea views, which add a touch of romance to the experience.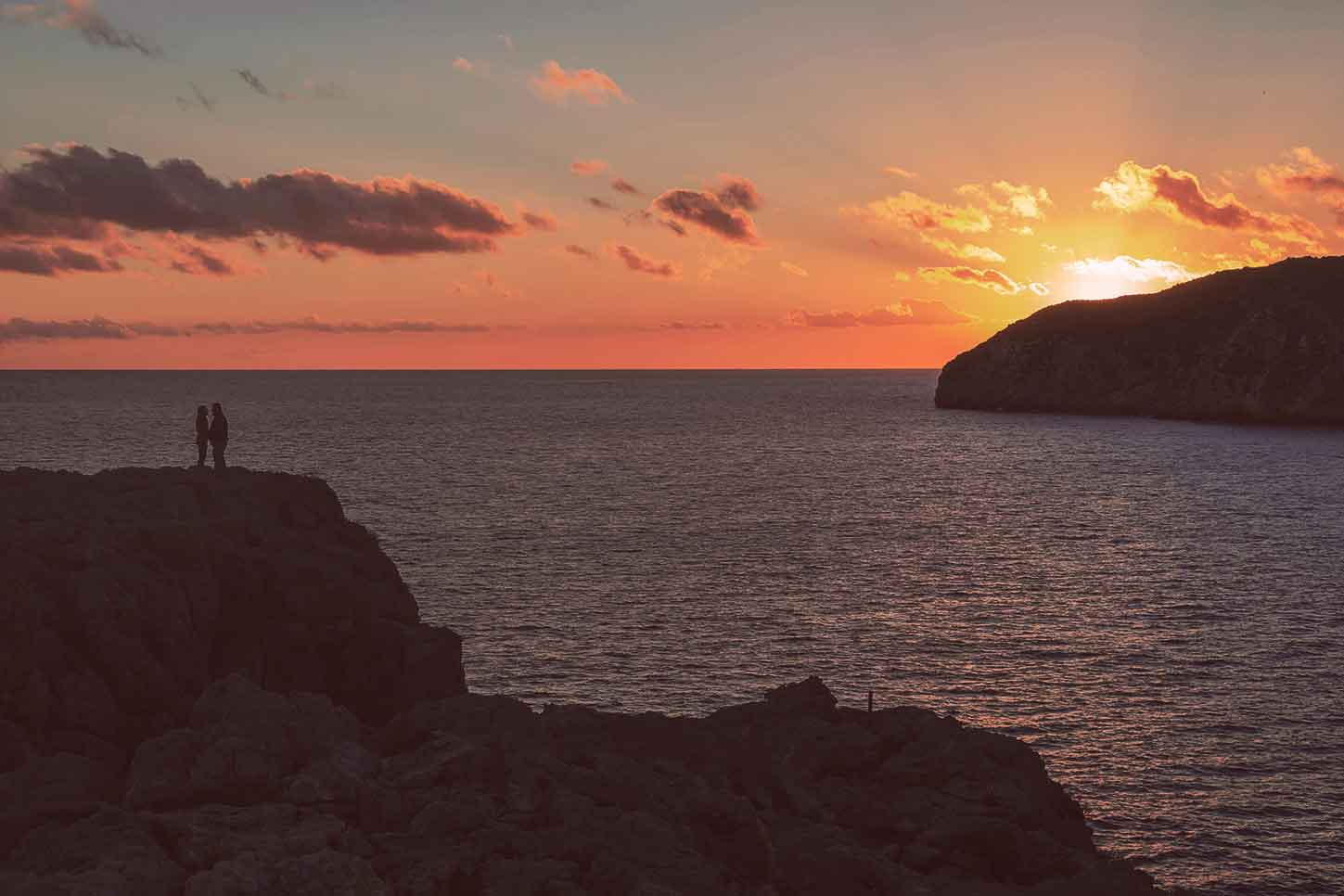 Best things to do in Majorca: Take a trip to a vineyard
Venturing out to a vineyard is a great day out for anyone who likes a glass of wine, no matter how much you actually know about viniculture. There are numerous bodegas in Majorca that give visitors a very warm welcome and the opportunity to sample some delicious local wines.
Bodegas Angel Vineyard sits right in the heart of Majorca's wine region, in a tranquil area close to the attractive town of Santa Maria del Cami.
The vineyard encompasses 20 hectares of French and native Majorcan vines. They're currently producing white wine, Blanc Noir, oaked white wine, rose wine, red wine and oaked red wine.
Tours of the vineyard are available in English, Spanish and German and last for one hour. Why not turn it into a full afternoon experience with wine tasting al fresco, accompanied by Mahón cheese and Majorcan bread?
If you've got a taste for local wine and want to discover more, then we've got another option for you. Just make sure you decide on the designated driver in advance.Bodega Riba, located in Consell, is a fantastic winery. You can sample their finest wines and gain an insight into the thorough work of the winegrowers and winemakers.
One of the most popular packages for couples is the 'Winery Tour and Gastronomical Experience', lasting 3-4 hours, where you get a guided walk through the vineyards and a tour of the winery, followed by a complete meal served in the garden. In our opinion, this is one of the best days out in Majorca there is.
Another romantic package is the 'Winery Tour and Stargazing' experience. You get a guided tour of the winery, a taste of three wines and an appetizer platter. The cherry on the cake is a stargazing experience with large high-powered telescopes hosted by expert astronomers.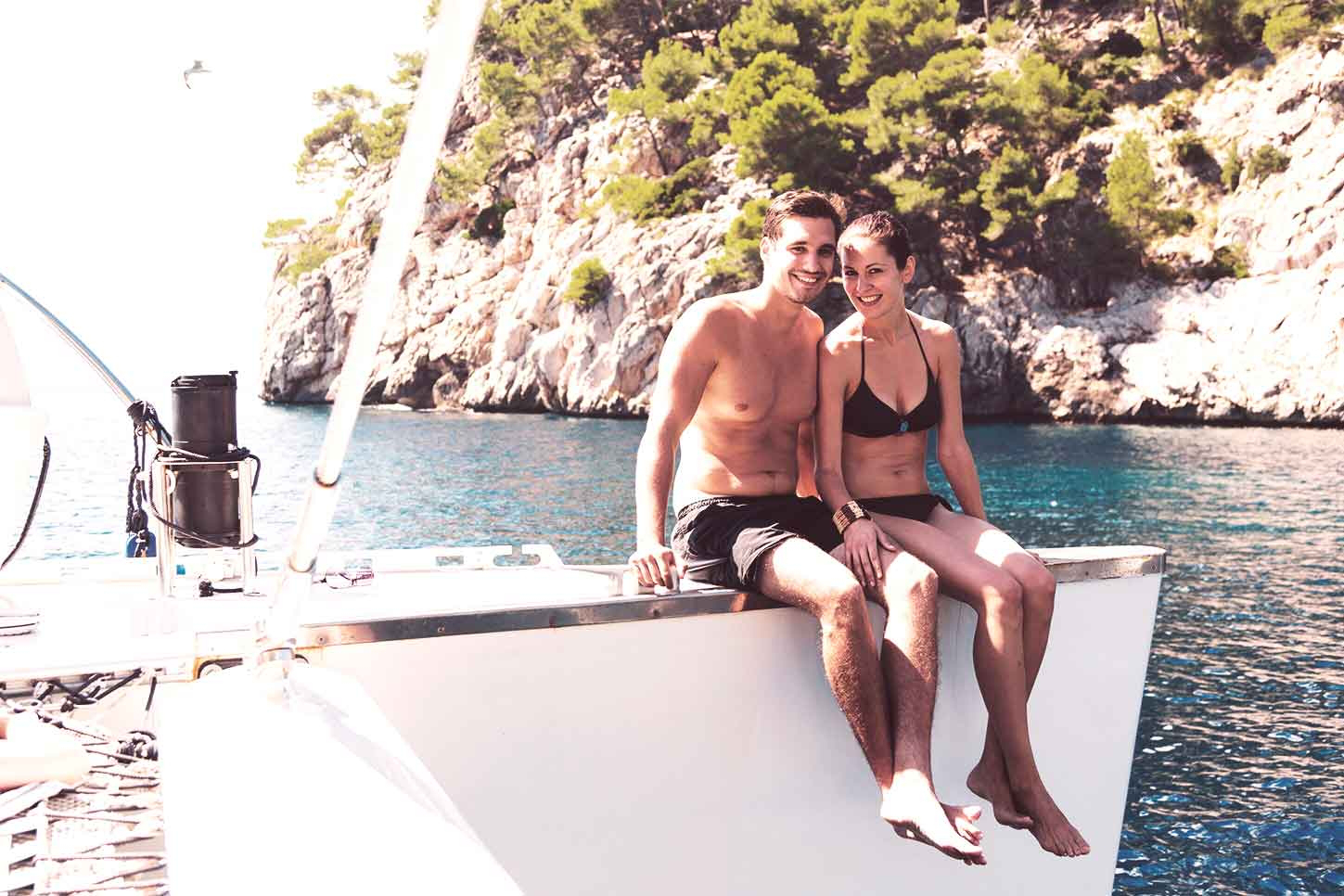 Visit the most romantic beaches in Majorca
If you're a couple looking for the most romantic beaches in Majorca, Calo d'es Moro is an unspoiled beach located in the south-east of the island near the town of Santanyi. It's one of the island's best-kept secrets.
With inviting and translucent turquoise waters, this tiny white stretch of sand is bordered on either side by steep cliffs dotted with greenery and caves.
Although its appeal means that it's invariably packed with both tourists and locals during the high season, it is worth the day trip for its impressive beauty and mesmerising scenery, despite the limited space to lay down your towel.
For a more tranquil beach experience, visit Majorca in May, June or September.
Alternatively, Cala Formentor is one of the best beaches in Majorca, fringed by pine forests, framed by hills, and boasting pristine sand and crystalline waters. Pack a picnic, bring a bottle of the finest Majorcan wine, and enjoy chill out time with your partner.
If you're craving an adrenaline rush, you could also share a hired jet ski and race along the shores together.
Eager to escape the tourist traps and bustling crowds? About 30 minutes from Cala Deià town, Deià Bay is one of the best coves in Majorca. It's a spectacular small rocky cove with a shingle beach, and two beach restaurants renowned for their exquisite fish.
If your idea of romance is getting away from it all, then you might agree with us in thinking that these are some of the most romantic restaurants in Majorca.
Rocky cliffs curve around the magical waters, making you feel like you're in a secluded paradise.
Fun things to do in Majorca: Spot yachts in San Antonio
Port Adriano is one of the most modern and extravagant ports in the Mediterranean and is unashamedly luxurious.
This up-scale yacht port has over 52 commercial spaces that include a range of high-end fashion shops, as well as both international and local restaurants.
Prepare to splash out on an exclusive gastronomic experience, with a delicious choice of Asian, Spanish and Italian cuisine (none of which come cheap). Many of them are wonderfully romantic restaurants. You can also get a taste of some of the best tapas and paellas in town.
The Port Adriano marina has become one of the most beautiful places in Majorca for loved-up couples to take a stroll, relaxing next to the glistening sea or exploring its shops and art galleries.
Sip on fine wine and sangria while you marvel at the island's most spectacular sunsets, watching the sun dip beneath the horizon.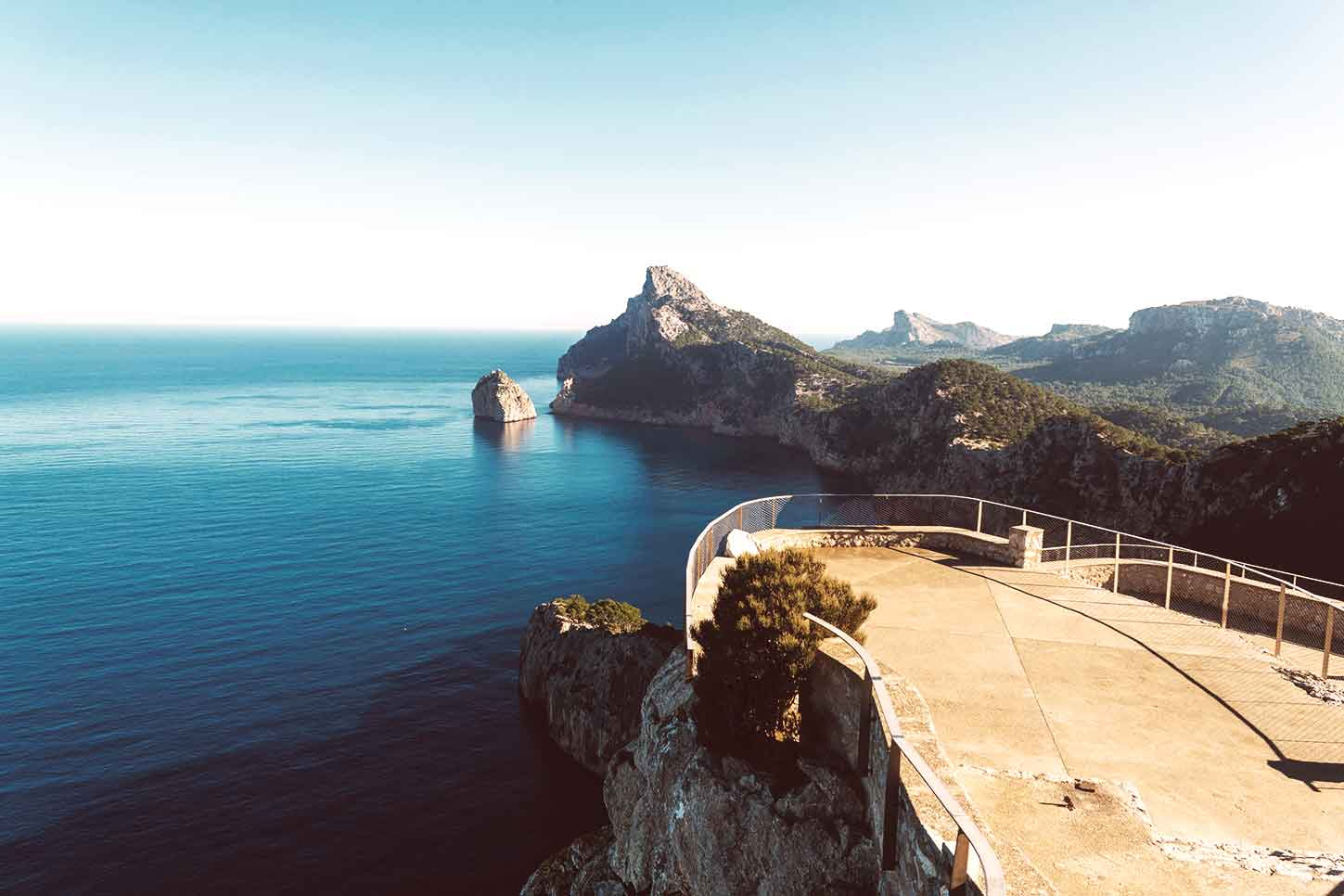 Romantic sightseeing in Majorca: Explore the Catedral de Mallorca
Palma's enormous Catedral de Mallorca ('La Seu' in Catalan) is a Gothic Roman Catholic cathedral and one of the city's major architectural landmarks.
Its mesmerising interior details are captivating, not to mention its beautiful, majestic exterior that reflects onto the tranquil waters below, creating the perfect ambience for the ultimate evening of romance.
Book your visit in advance to avoid missing out on one of Majorca's ultimate attractions.
Admire the best destinations in Majorca from above
To admire the finest views on the entire island, you'll need to make your way up to the hottest viewpoints in Majorca. Some of these are bit of hike, but all are worth it.
On the winding road to Cap Formentor in the far north-east, way up in the Sierra Tramuntana mountain range, you will come across a gem of a viewpoint – Mirador es Colomer. The Mirador es Colomer is an observation deck that's perched over 300 metres above sea level.
Take in the mesmerising panoramic views of the sea and surrounding cliffs from this elevated lookout, or just gaze into the eyes of the one you love.