Best things to do in Granada: Chasing the Alhambra
When it comes to things to do in Granada, you're spoilt for choice. From the Alhambra to the Mirador de San Nicolas, be charmed by the magic of the city.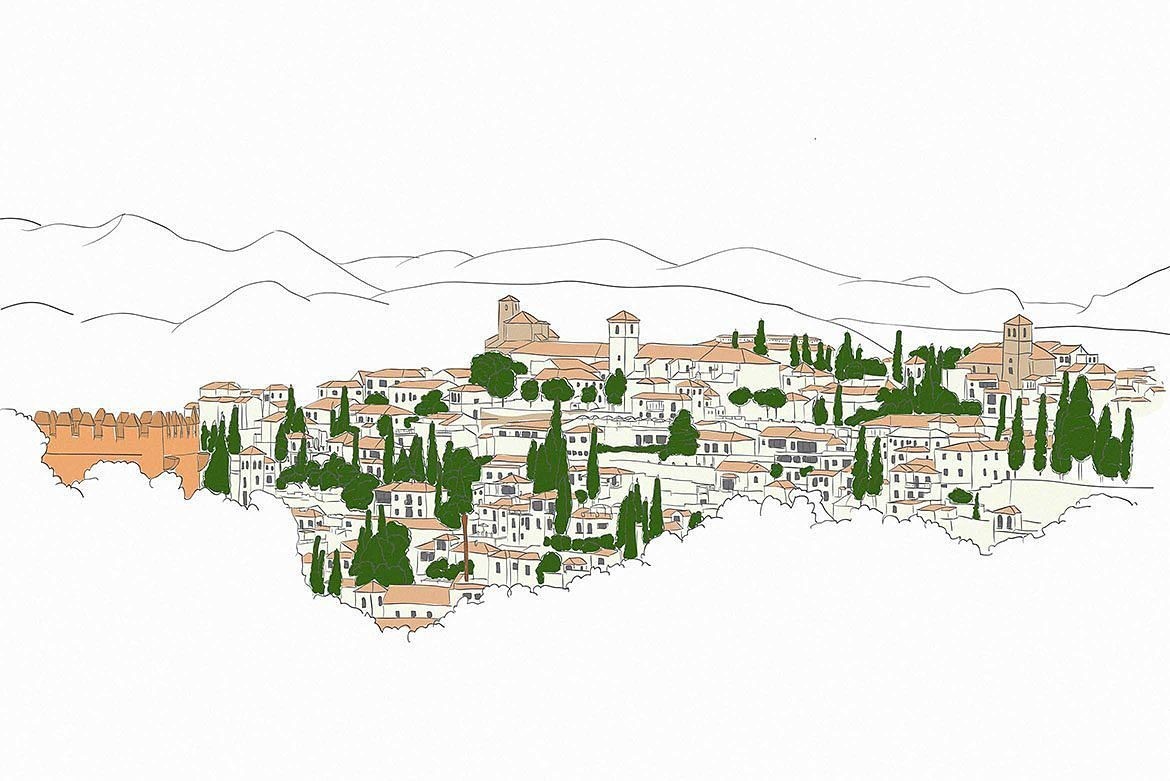 "I do not know what to call this land upon which I stand. If what is beneath my feet is paradise, then what is the Alhambra? Heaven?" The writer Lope de Vega isn't the only famous literary figure to have lost his heart to the Alhambra palace and the city of Granada. Everyone from Hugo to Hemingway lost their hearts to this captivating, unique city, and you'll be no different. There is no shortage of things to do in Granada, but we think you'll find yourself gravitating towards the heavenly Alhambra.
The city does, of course, have far more to offer, but the beauty of the topography of the area means that when you're exploring other fascinating parts of the city, you'll constantly be catching sight of it. As you wind through Granada's cobbled streets, you'll keep seeing the Alhambra from a completely different angle, and falling in love with it all over again.
And, it doesn't just change depending on the angle you see it from. The morning light and the light that bathes this collection of Moorish castles as the sun goes down are totally different, picking out different details.
For the majority of the year from the vantage point of the unmissable Mirador de San Nicolas, a square at the top of the Albaicin with panoramic views of the Alhambra palace and gardens, the dramatic peaks of the Sierra Nevada are snow-capped.
So, whenever you visit this Andalusian city, one thing you definitely won't be is bored. If you're planning a visit to this unforgettable spot, whether you're staying for 1 day in Granada or 10, let us give you a few ideas of what to see in Granada.
When coming to Granada make sure you pack a decent pair of walking shoes to deal with all those cobbles, and check the weather.
Days can be warm in winter but the nights are icy cold, and in summer temperatures soar, so make sure you come prepared to enjoy everything Granada has to offer.
You can't come to Granada without visiting this ancient Nazari city, now a UNESCO World Heritage Site and Spain's most popular tourist attraction. Prioritise this over all other things to do in Granada. It's a huge complex and you will need to dedicate at least a whole morning or afternoon to visiting the Alhambra palace.
IMPORTANT: Once you've decided on where to stay in Granada and booked your flights, you'll need to make sure you book your visits to the Alhambra, Granada's main draw. They release advance tickets to the Alhambra three months in advance and they quickly book up. You can sometimes get your hands on last-minute tickets, but it's best to come prepared so as not to be disappointed.
General entry costs around 15 euros and gives you access to the Alcazaba and the Generalife at any time of day, with a specific time to visit the jewel in the Alhambra's crown, the Nazari palaces. You can also buy a ticket for just the Alcazaba and Generalife during the day, and visit the Nazari Palaces at night, which will make you feel like you're playing a starring role in the tales of One Thousand and One Nights.
The good news that after your visit to the Alhambra and Generalife is done and dusted, there's a whole lot more to see, and lots of different views of the Alhambra to be enjoyed. Read on for some of the best free things to do in Granada.
Places to see in Granada: Paseo de los Tristes
Don't look up Paseo de los Tristes on Google Maps, as you won't find it. Its official name is Paseo del Padre Manjón, although all Granadinos know it by its unofficial name. There are a few theories as to why it's named for 'los tristes', 'the sad', but most agree it's in memory of the funeral processions that passed along this road in the 19th century.
The Alhambra towers over you as you sit in the square, listening to the tinkling fountains, the rush of the River Darro, and the buzz of both tourists and locals out for a stroll. At weekends small artisanal markets sometimes take place here, and there are plenty of restaurants with terraces to choose from. It's a very touristy spot, but the views are worth it.
There are so many things to do in Granada you might be pressed for time, but we recommend visiting both during the day and when the Alhambra is lit up at night.
Best things to do in Granada: El Sacromonte
Climbing the hill at the end of Paseo de los Tristes and turning road to follow the road between prickly pears and limestone walls, we arrive at El Sacromonte, a picturesque neighbourhood that has always been inhabited by gypsies, bohemians and artists for as long as anyone can remember.
Visit at night and experience flamenco in one of its caves or 'zambras,' and sit out on a terrace to enjoy panoramic views of the Alhambra and Generalife from a different angle, framed by the forest.
This is probably the best view of the Alhambra in the city, but just be aware that it's no secret. The fact that it's one of the most popular things to do in Granada means it's buzzing with people all day and night, but that does mean it has a fantastic atmosphere, and there's normally live flamenco music being played by buskers.
Go for the sunset, find yourself a spot on the wall and watch the bricks glow orange as the day fades, and then the lights turn on.
Spend the rest of your days in Granada wandering the winding streets and visiting as many of the city's tapas bars as you can cram in, and you'll never want to leave.