Best urban beach breaks in Spain
Searching for a holiday in Spain that brings you the delights of a city and the beach all in one destination? Check out the top urban beach breaks for Summer 2018.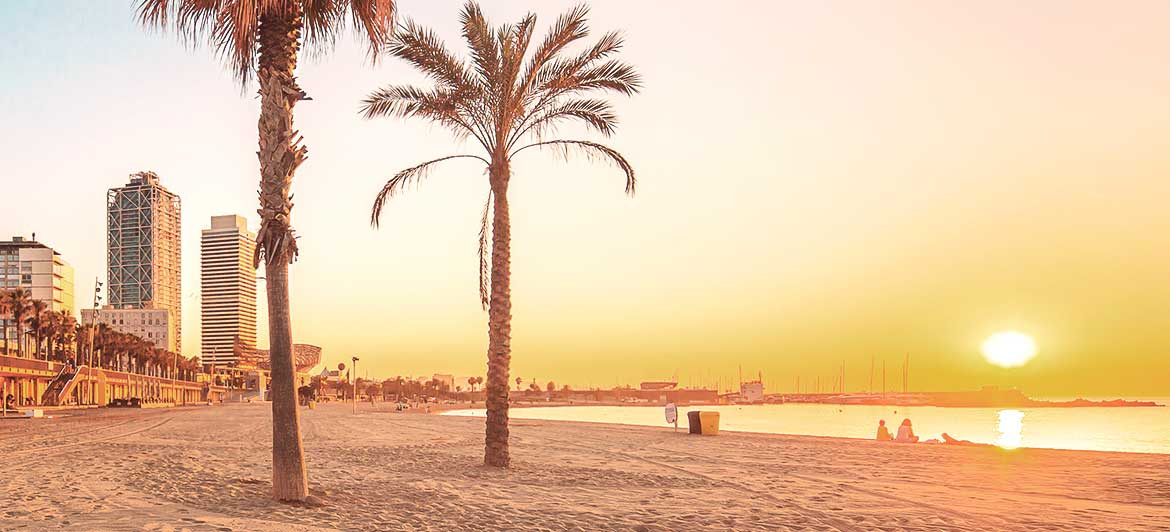 Do you ever find yourself in a catch-22 when choosing between the thrill of an action-packed city getaway and the laid-back charms of beach breaks? Why not give yourself the best of both worlds and combine the two? Some of the best beach breaks in Spain can be found well within city limits, as long as you're in the know of the top ones to visit.
Take full advantage of your travels to Spain this summer by visiting the finest urban beaches, where golden sands, crystalline waters and seriously good food and drink await you. Whether you're looking for beach breaks for just you and your partner, families or friends, holidaying in Spain will provide an unforgettable combination of city and beach retreat experiences.
Check out the hottest urban beach breaks in Spain for 2018...
Barcelona
Barcelona is renowned for being one of the world's finest cities, from its mesmerising cultural heritage to its world-class dining and drinking scene, to its stunning monuments and museums. But most importantly, Barcelona can offer travellers the buzz of a city break along with the lavishness of relaxing on a beach and soaking up the rays.
There are plenty of beaches to chose from in Barcelona when wanting to get your ocean fix in the city, with some better suited to families and sports, and others bustling with lively tourists.
Barceloneta Beach is the nearest beach to the city centre and one of the most popular city attractions, where you can experience one of the most animated and vibrant seafronts. Boundless restaurants and bars are lined along the shore, where sangrias and seafood are on the top of everyone's list. It may be the most crowded beach in Barcelona due to its tourist admiration, but it's the ideal location if you fancy topping up the tan in a buzzy environment and plunging into the gorgeous Mediterranean.
If you're looking for a more peaceful beachfront, then Nova Icaria Beach is the place to be. This beach boasts a fantastic range of restaurants and bars and is the perfect choice for families looking to immerse themselves in the wide range of sports available. Another option is Ocata Beach: this pristine and tranquil stretch is perfect for holidaymakers who are keen to escape the chaos of the city and indulge in a more luxurious beach experience.
Barcelona certainly ticks all the boxes when it comes to urban beach breaks.
Looking for a hotel for your Barcelona beach break? Check out the latest deals at Barcelό Raval.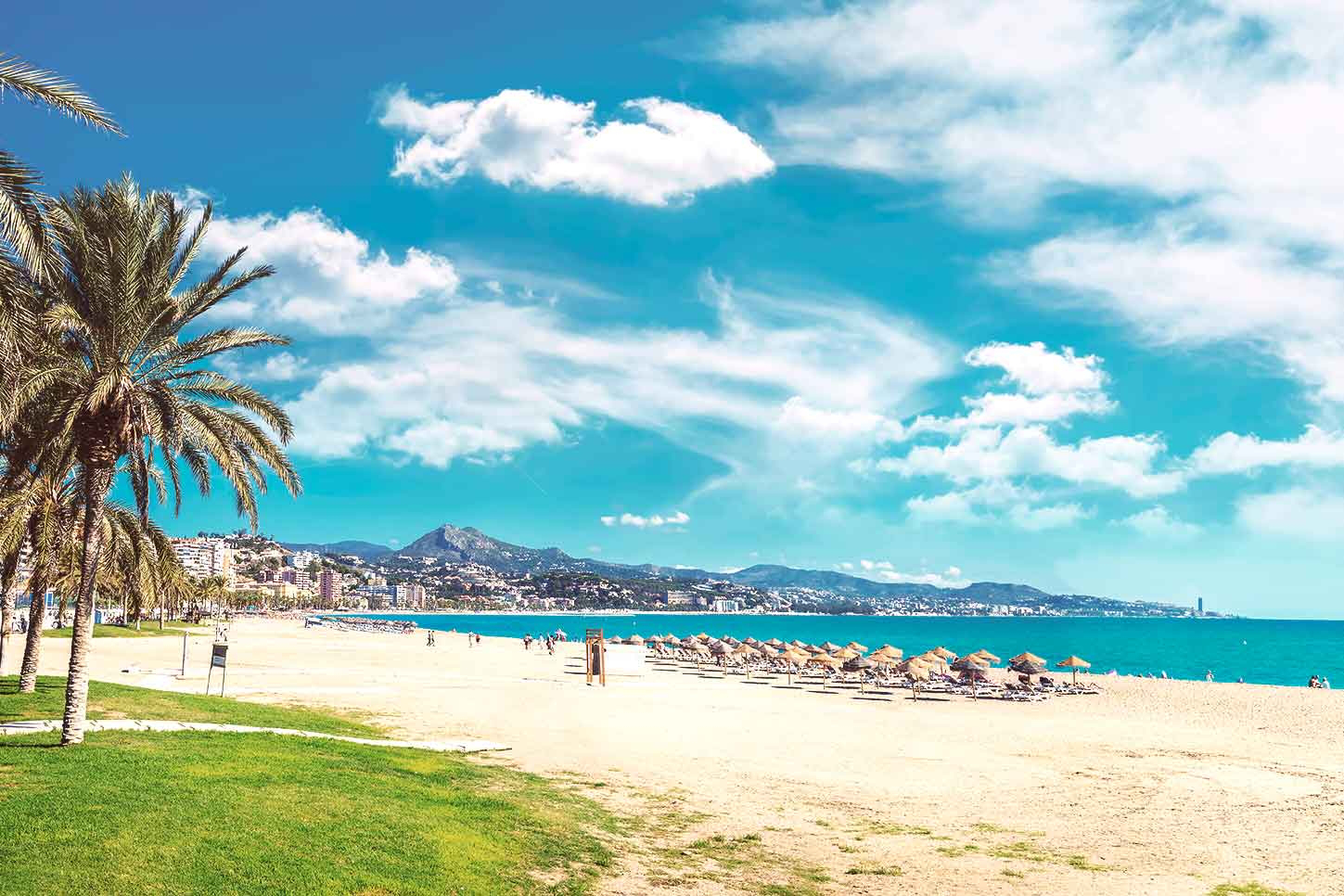 Malaga
Malaga is a city that is not only blessed with scorching hot summers but also boasts some of the finest beaches in the Costa del Sol. The most accessible beach, Playa Malagueta, is just a short walk from the city centre and the perfect setting for visitors to absorb the Andalusian sunshine. The beachfront is lined with restaurants and bars where you can dine after a refreshing dip in the sea. Sun loungers, hammocks and parasols are available to rent, as well as water sports equipment such as pedalos for those looking to indulge in some cheap thrills.
Further east along the coast from Playa Malugeta is Playa Caleta, a fantastic city-beach renowned for its clean sands and picturesque mountain views. Also offering a selection of bars, restaurants and watersports, Playa Caleta is less over-crowded and congested, giving visitors a more restful experience.
Alternatively, Playa de el Palo is a family-friendly beach in the working-class neighbourhood of Pedregalejo, which is extremely popular amongst the locals, and for diving and fishing. Playa Pedralejo and Banos del Carmen are also popular, with Pedralejo accommodating more families, and Banos del Carmen appealing to Malaga's younger crowd.
Make the most of your Malaga experience and stay at the luxurious Barceló Malaga.
Valencia
As the third largest city in Spain, Valencia offers the best of both worlds, with its charming, medieval city and exciting beach culture.
Valencia boasts a gorgeous marina located just 20 minutes from the city centre, next to La Malvarrosa and Las Arenas beaches, where a range of yacht charters and water sports such as jet skiing are available. Taking a stroll down the marina is also worthwhile, where you can admire the huge variety of boats bobbing along the ocean, from sailing boats to cruise ships.
La Malvarrosa and Las Arenas beaches are a great choice for family outings, with a large promenade of shops, restaurants and bars offering some of the finest local dishes. There are numerous games available at the beach to keep the children entertained, and sun loungers for rental if you're looking for somewhere to perch.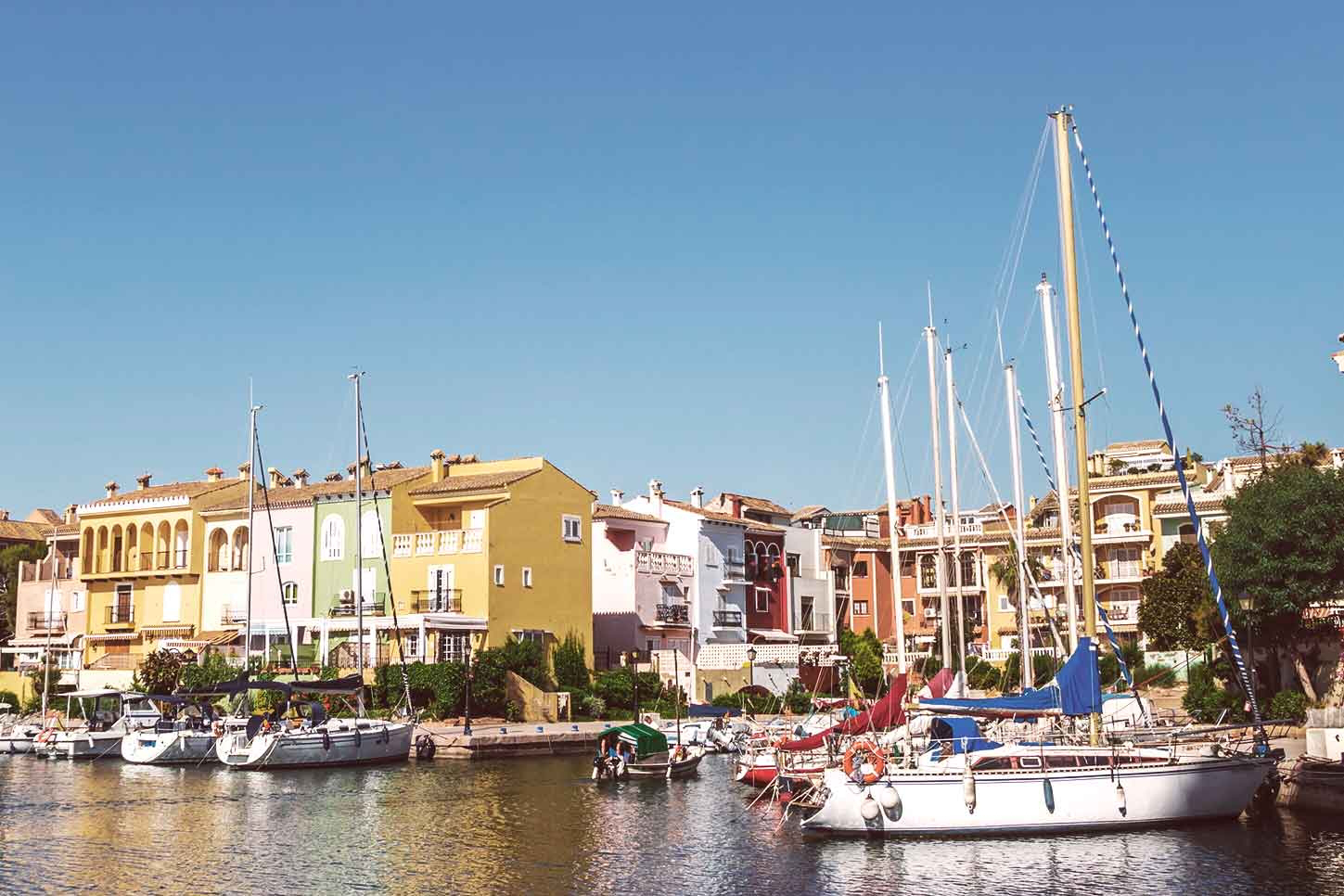 El Saler is another popular choice among travellers who prefer to soak up the Valencian sun in a more peaceful and luxurious spot. White sands, azure waters and stunning sand dunes are just a few of the delights that guests can enjoy, along with some of the most delicious local foods such as Paella.
The Barceló Valencia hotel near the City of Arts and Sciences is the perfect choice for discovering Valencia.
Alicante
For beach bums who are looking for a luxury experience in the city, then Alicante is your ultimate paradise.
Playa del Postiquet is situated just yards away from the city centre and has become one of the city's most popular tourist attractions all year round. This stunning beach encompasses tranquil turquoise waters, golden sands and a pristine boardwalk flanked by palm trees. An extensive choice of cafes, restaurants, and bars surround the beachfront, where guests can dine amidst the picturesque views. Sporty holidaymakers can immerse themselves in a game of beach volleyball, while sun worshippers can lounge on their sunbeds, read or snooze.
Playa la Albufereta is a small beach just a couple of miles up the coast from the Postiquet. This is the most popular beach amongst the locals of Alicante, and the ultimate water sports and leisure platform for those who want a dose of adrenaline.
Cabo Huertas is one of the more secluded yet beautiful areas in Alicante, with its crystal-clear waters and rocky coves. This beach is perfect for those looking to avoid the crowds of the larger beaches and is ideal for snorkeling and scuba diving.
Another hot spot is Playa de San Juan – Alicante's longest beach, boasting 3km of golden sands, and encompassing a selection of beach bars, water sports and a play area for children.
Alicante is definitely one of the most popular places to visit for an active urban beach break.
Complete your Alicante experience with a stay in Asia Gardens Hotel and Thai Spa, a Royal Hideaway.
Bilbao
Famous for its staggering architecture and landscape of skyscrapers, Bilbao also delivers a string of beaches where visitors can catch some rays and relax in beautiful coastal settings.
Plentzia is a serene beach that is prime for aquatic delights, such as surfing and paddle boarding; just to list a few. Similarly, Las Arenas, located in the residential area of Areeta, offers a wide range of beach activities including windsurfing, beach tennis, canoeing, and sailing. A sailing school is within walking distance, where introductory courses are available to beginners, as well as advanced courses for the pros.
Why not stay at the stunning Bilbao Nervión during your urban beach breaks retreat?