Dominican Republic whale watching guide
During Dominican Republic whale watching season – the best time for whale watching in Punta Cana – these humpback whales gather.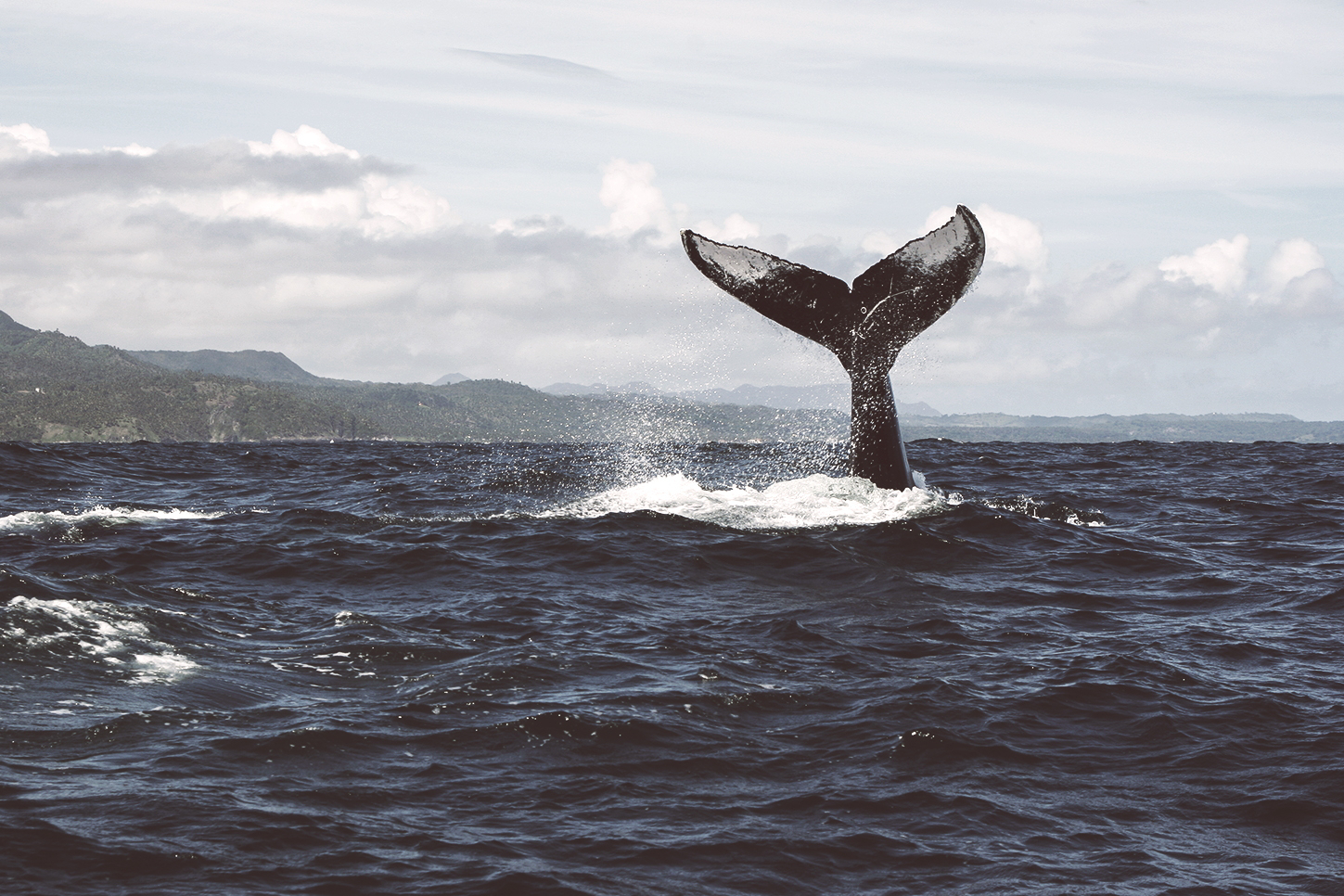 Every year between mid-December and late March, thousands of humpback whales congregate in the warm waters off the coast of the Dominican Republic. During Dominican Republic whale watching season – the best time for whale watching in Punta Cana – these magnificent mammals gather here to mate, give birth and nurse their young. It's one of nature's most spectacular annual events – and you can enjoy the best whale watching during your visit. Barceló Bavaro Grand Resort is the perfect home base for a whale watching day trip in the Dominican Republic.
Ultimate Dominican Republic Whale Watching: Sanctuary of the Humpback Whales in Samaná
The Sanctuary of the Humpback Whales in Samaná, located in the northeast corner of the Dominican Republic, is one of the best whale watching experiences in the world. It's a place where humpbacks are treated with the greatest respect – Samaná whale watching is unique because the waters are virtually off-limits to any boats except for whale watching boats, so the whales are comfortable and friendly. During Dominican Republic whale watching season in Samaná, you'll see not only full-grown humpbacks, but also newborn calves swimming under the watchful eyes of their mothers. You'll also see plenty of male humpbacks battling for the attention of their prospective mates, which results in a lot of fun activity: leaping out of the water into the air and slapping their fins and tails to make a thunderous clap.
Good to know: Samaná's Museo de las Ballenas (Museum of Whales) is a must-visit. During a visit there you'll see an awe-inspiring 40-foot skeleton of a humpback whale found in 1993. This attraction is a great alternative if you can't make it for Dominican Republic whale watching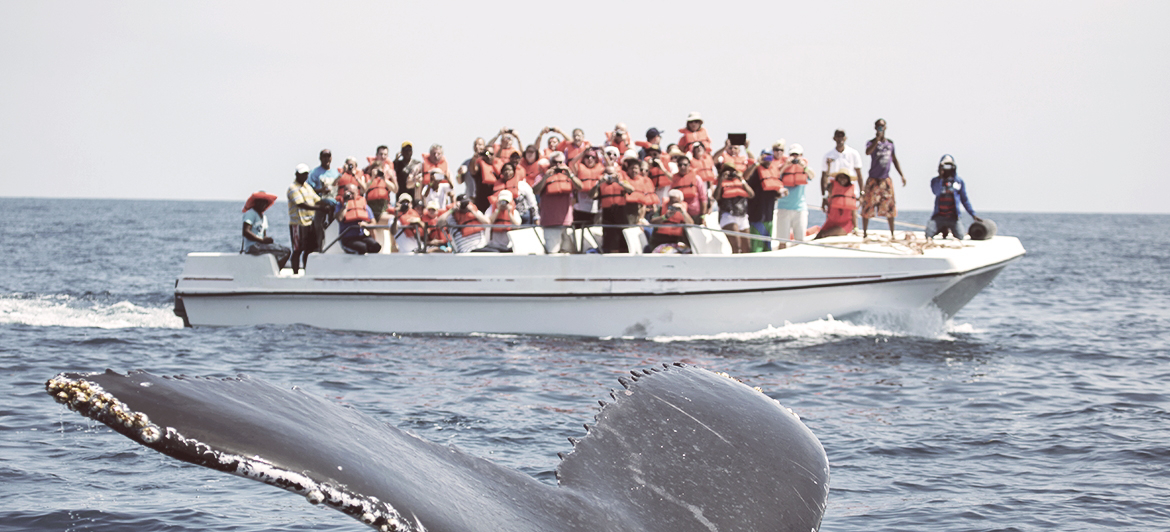 Dominican Republic Whale Watching Tours
There are several Dominican Republic whale watching guides, outfitters and packages to consider, including:
Additionally, Barceló Bavaro Grand Resort offers several tours of the Samaná area (which offer much more than just whale watching).
Samaná Adventure: Enjoy a walk through the mountains, be refreshed on the famous "Bacardi Island" and then take a walk towards the spectacular Limón Waterfalls. This is Barcelo Bavaro's only excursion that includes land, sea and air.
Samaná Discovery: Enjoy this new way to discover the incredible landscape and beauty of Samaná, over land, crossing Samaná Bay by boat from Miches. You will travel through mountains, visit Cascada El Limón (El Limón Waterfall) and spend time on Bacardi Island or Cayo Levantado.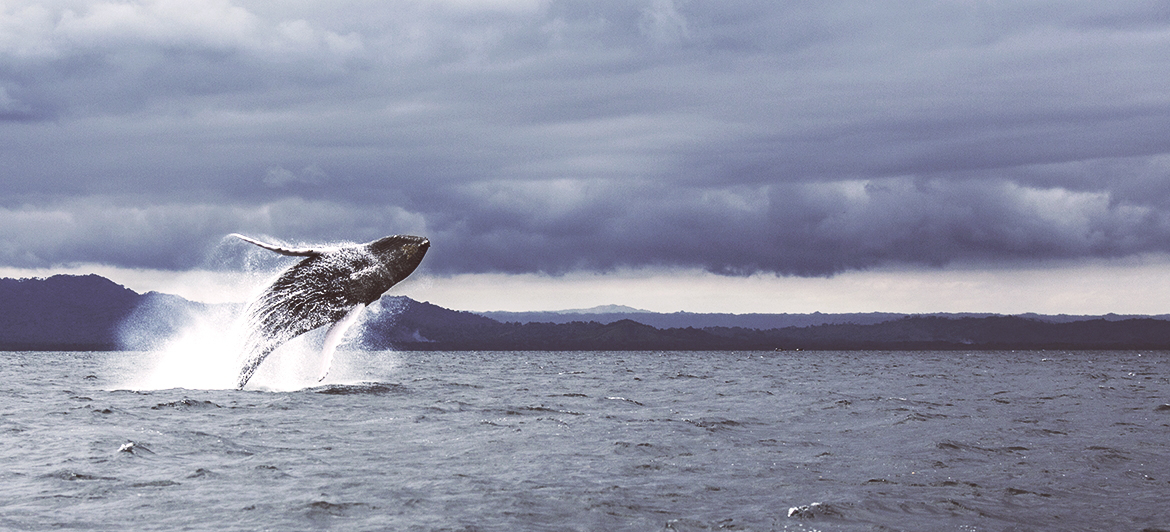 Fun Facts about Humpback Whales
You'll learn plenty about humpback whales during your Dominican Republic whale watching experience. But here are a few things to know before you go.
Acrobats of the sea. Humpback whales will occasionally launch themselves right out of the water in a behavior called breaching – which causes a BIG splash. Some researchers think breaching is a way to loosen skin parasites. Others think humpbacks are just having fun!
A long commute. Humpbacks whales swim epic distances during their annual migration. Some of them travel as as far as 4,000 miles each way.
Marine giants. An average humpback whale weighs about 40 tons (80,000 pounds!) and measures 48 to 62 feet long. That's just about the size of a bus.
A little diet. Humpbacks may be huge, but they eat tiny things. A lot of tiny Their diet consists mainly of shrimp-like crustaceans known as krill and they've been known to consume as much as 1.5 tons of food per day.
Underwater music. Humpbacks' haunting and complex songs can last up to an hour and can be heard from distances up to 20 miles away.
There's still lots to learn, but this will get you started on your
Dominican Republic whale watching
adventure.