Majorca family holidays: the ultimate travel guide
Everything you need to know about Majorca family holidays, from the top experiences and attractions to the best family-friendly hotels.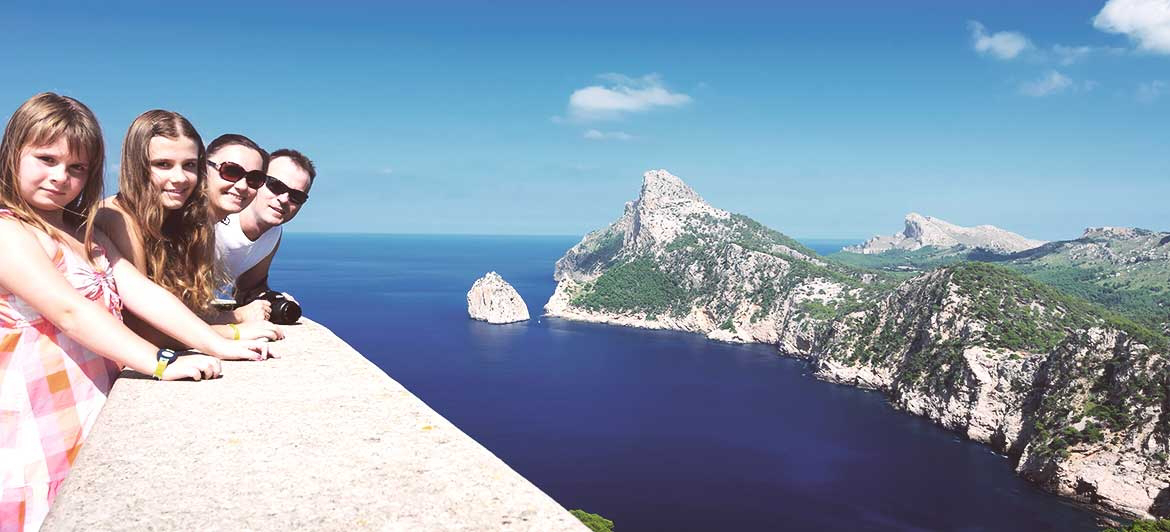 Looking for some inspiration on Majorca family holidays? As the largest of the Balearic Islands , there are plenty of family experiences on offer in Spain's blissful island of Mallorca , from thrill-seeking adventures and mesmerizing attractions, to exclusive family-friendly hotels. During September, Mallorca is blessed with pleasant temperatures averaging in the high 20's, making it the perfect destination for some family fun before the kids head back to school.
If you're looking for the best places for Majorca family holidays, check out these family-friendly hotels to complete your getaway ...
Majorca family holidays:  Occidental Cala Viñas
If you're looking for all-inclusive Mallorca family holidays, then Occidental Cala Viñas is the place for you. The hotel is perfect for families, with a full range of facilities plus an extensive all-day entertainment program for children and adults. The kids will love the sports on offer, including table tennis, pool tables, table football, darts and more. Check out the latest deals and availability to avoid missing out.
Majorca family holidays:  Occidental Playa de Palma
In an unbeatable location just a few meters from Playa de Palma and its wonderful attractions, Occidental Playa de Palma is the ultimate hot spot for all-inclusive Majorca family holidays. From designated children's pools to a range of evening entertainment, the whole family can enjoy an unforgettable island experience. Book your stay now to avoid missing out.
Majorca family holidays:  Barceló Ponent Beach
Barceló Ponent Playa offers an incredible seaside location and services for the entire family. This all-inclusive gem features an indoor and outdoor pool, mini golf course, tennis court and brilliant entertainment programs for adults and kids. With direct access to Cala Ferrera beach, Barceló Ponent Beach lies in unbeatable surroundings. Check out availability before it gets booked up!
With an infinite amount on offer for both the adults and kids to enjoy, here is our round-up of the hottest activities and attractions to kick-start your family adventure on the island and how to experience the best Mallorca family holidays.
Jungleparc
Situated in the beautiful Santa Ponsa pine forest, Jungleparc is a world of thrilling adventures for the whole family to enjoy. As the largest treetop adventure park in the Balearics, you can immerse yourself in a total of 134 platforms. Swing from tree to tree at varying heights from the ground, using ropes, vines, bridges and zip wires. You and the little ones will be connected to safety line through the course of the adventure, so it's a completely safe way to enjoy an adrenaline-pumping experience. The Pirates course is designed for little ones aged 4-11 years old, with 42 gentler platforms and six circuits, with a team of instructors always present to give the tots to helping hand.
Ready for the challenge? Check out the course prices and availability to avoid missing out.
Aqualand
Water parks are endlessly dotted around Mallorca, offering ready-made fun for children, as well as thrills for adults. Located near the resort town of El Arenal on Palma Bay, Aqualand provides the perfect combination of high-speed water slides, kids' splash pools and leisurely raft rides. Aqualand is an aquatic dream for family fun, where you can ride the artificial waves on Surf Beach, cruise around the Congo River or plunge down the Grand Canyon slide on a giant family-sized rubber ring. There are also mini parks and adventures for the youngest of visitors to enjoy, offering gentler slides and games.
Enjoy a full-day family package for € 82 (two adults, two under-10s), or alternatively you can browse all the different ticket types on offer to suit your party. 
Safari Zoo
Situated near Cala Millor , the Safari Zoo is a fantastic family adventure suitable all year round. Embark on a drive-thru safari tour, either in the comfort of your own car or on the park's train and discover over 600 animals roaming around the scenic landscape. Drive alongside the likes of giraffes, elephants, flamingos, monkeys, zebras, rhinos and plenty more exotic animals, including a visit to a fascinating reptile house.
If that was not enough, there is a restaurant, kids club and several playgrounds on site to keep the little ones entertained. 
Double 8 Rock Climbing Center
Located on the outskirts of Palma de Mallorca, Double 8 Rock Climbing Center is the highest climbing center on the island, offering indoor and outdoor courses. With over 30 climbing routes and 3200 holds, the whole family is likely to be scaling to new heights in no time. For those keen to embark on a new challenge, lessons are also available in rappel, canyoning, slacklining, vertical dance and circus acrobatics.
Palma Aquarium
Ready to take an adventure through the Mediterranean, Indian, Atlantic and Pacific Oceans? Just 500 meters from Playa de Palma beach, Palma Aquarium includes 55 tanks which are home to over 700 different marine species. The aquarium's star attraction, the 'Big Blue', is the deepest shark tank in Europe, featuring over 1000 specimens and ten enormous sharks. If you're brave enough to get up close and personal with the sharks, you can dive alongside them and enjoy being in the company of one of the most awe-inspiring of all marine creatures. Kids above eight swim swim alongside rays or hop on board the shark view boat where you can see them swim beneath the glass bottom surface.
The Puig de Galatzó Reserve
The Reserve is a mesmerizing nature reserve in Puigpunyent, near the South West of Mallorca, offering spectacular scenery within a Mediterranean forest. Enjoy a leisurely wander around the park with the family and participate in fun-filled activities along the way, from braving the longest zip line in Mallorca, to simply cooling off in the crystal-clear waterfalls and pools. You will also come across a fantastic array of wildlife, such as bears, ostriches, emus, deer, donkeys, goats, peacocks, geese and more, amidst a stunning landscape.
After a day of exploring, finish off your day enjoying lunch in the picnic area, with a bar and barbeque offering salads, sandwiches, burgers, hot dogs, and plenty of other refreshments.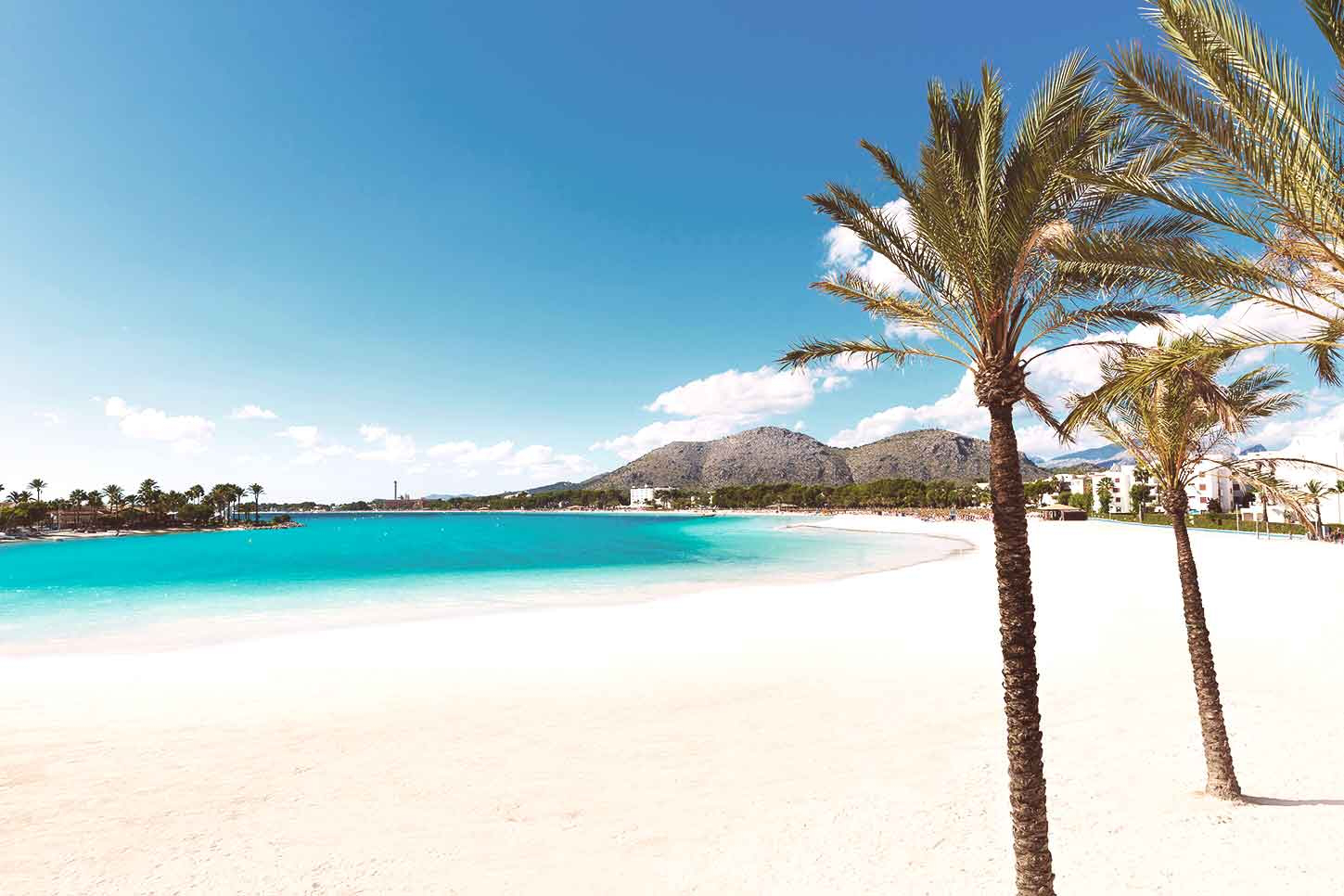 Port d'Alcudia beach
What better way to relish in some family fun than a day spent at one of Mallorca's beautiful beaches? Port d'Alcudia is one of the top beaches in Spain, offering 3.5 kilometers of fine white sand in the north of the island. This family-friendly stretch is the perfect spot for the little ones to dig out their bucket and spade or play ball on the seafront. The turquoise waters are shallow and tranquil, making them ideal swimming conditions for the kiddies. Adrenaline junkies can also immerse themselves in the fantastic array of water sports on offer, including jet skis and parasailing, while sun worshipers can rent sunshades and bask in the Mallorcan sunshine.
Cafes, restaurants and shops can be found along the beach's promenade, along with a play area and climbing frame to top off the kid's entertainment.