Discover the incredible world of Mexican sea turtles
Mexico is home to several of the most important turtle nesting beaches and other habitats for Mexican sea turtles. Discover the world of these creatures.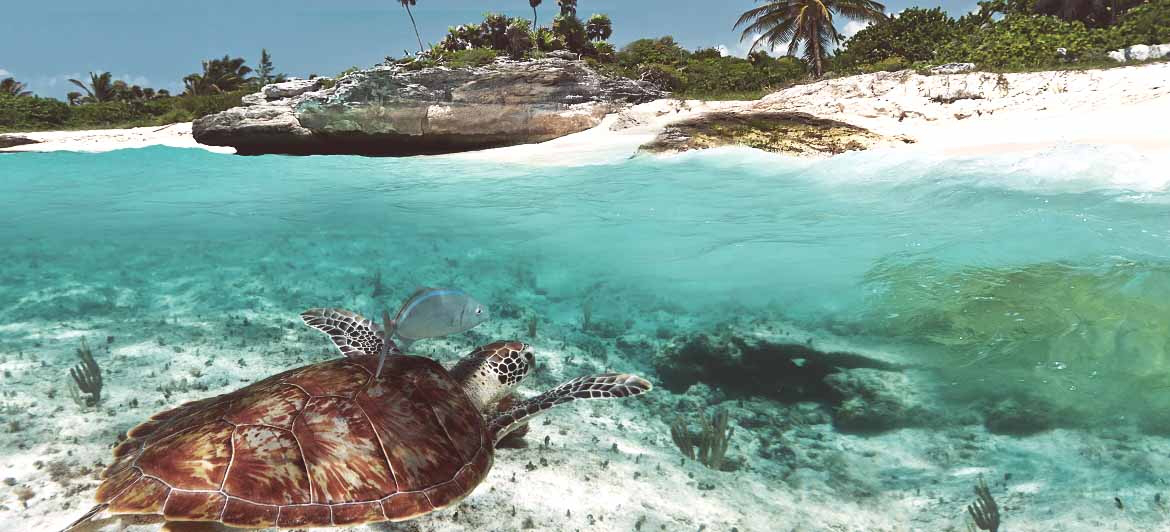 Did you know that the sea turtle is one of the oldest species in existence today? It's true. Their legacy stretches back 130 million years – at least! They're hardy creatures, able to adapt to all kinds of changes in environment and climate. And yet today, they're close to extinction. They face danger from boats, litter and other manmade problems. There are only seven species of Mexican sea turtles and they all nest on Mexico's coast. Four of these species can be found in Quintana Roo – the leatherback turtle, the loggerhead turtle, the hawksbill turtle and the white turtle. The nonprofit Centro Ecologico Akumal (CEA) is devoted to protecting the sea turtle population of the Riviera Maya and regularly hosts turtle walks in the area. Go to their Facebook page to learn more about their mission.
Travel Tip: Always remember that if you encounter Mexican sea turtles in the wild – do NOT touch, or interfere in their activities. Treat these beautiful animals with respect.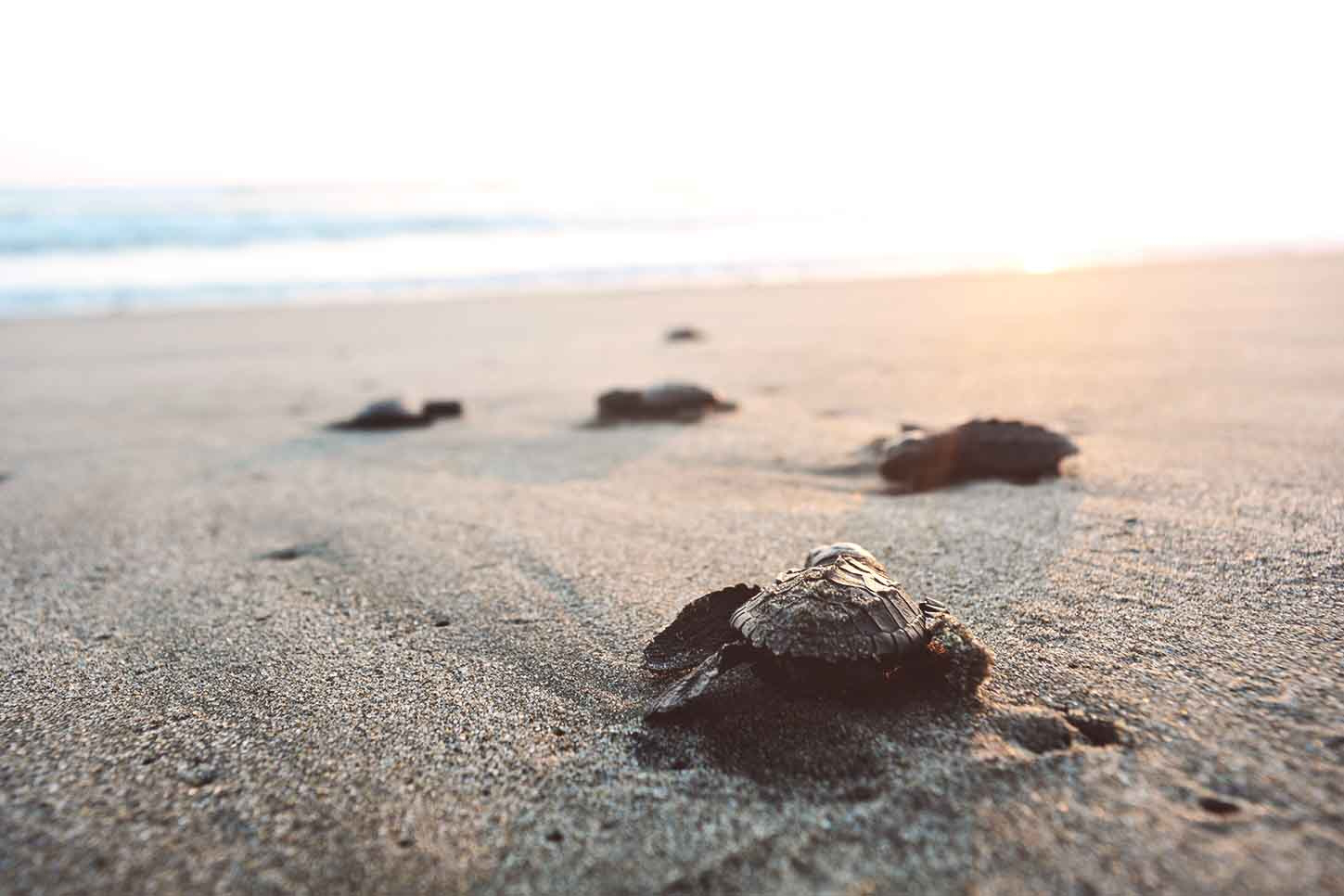 Isla Mujeres: The Turtle Farm
Isla Mujeres is located off the coast of Cancun, and is one of the most spectacular day trips you can experience on a Riviera Maya vacation. On a day trip to Isla Mujeres, you'll discover secluded beaches, pristine natural landscapes, incredible watersports – and plenty of sea turtles. The island is home to the La Tortuga Granja (The Turtle Farm), an amazing spot that the whole family will love. From May through September, giant Mexican sea turtles lay their eggs in the sands here. In order to protect them, volunteers gather the eggs until they hatch, and are released into the wild by children in August, September and October. There are also Mexican sea turtles who live at the Turtle Farm permanently. Some of these are rare albino sea turtles who are in need of protection and special care. There are also a variety of other fascinating species to encounter here, including iguanas, manta rays, tropical fish and crabs. The admission at La Tortuga Granja is just $3 (30 Mexican pesos) – and every cent goes toward the conservation of Isla Mujeres' incredible sea turtles.
Akumal: The place of the turtles
Any Riviera Maya vacation is going to include plenty of beach time. The area is home to some of the most idyllic stretches of sand in the world. But Akumal, located between Playa del Carmen and Tulum, is special. There's a hint in the name: "Akumal" is a Mayan word that translates to "the place of the turtles." And there's good reason. The beach is one of Mexico's most important national Mexican sea turtles refuges. Between May and November every year, hundreds of sea turtles come to Akumal to lay eggs. The best place to experience this incredible natural rite of passage is Half Moon Bay, where you can witness (from a respectful distance) adorable baby Mexican sea turtles, fresh out of their eggs, making their way towards the water for the very first time. But no matter what time of year you come to Akumal, you'll be able to enjoy snorkeling in calm, clear waters alongside majestic sea turtles, relaxing on the spacious sands, or exploring underground rivers.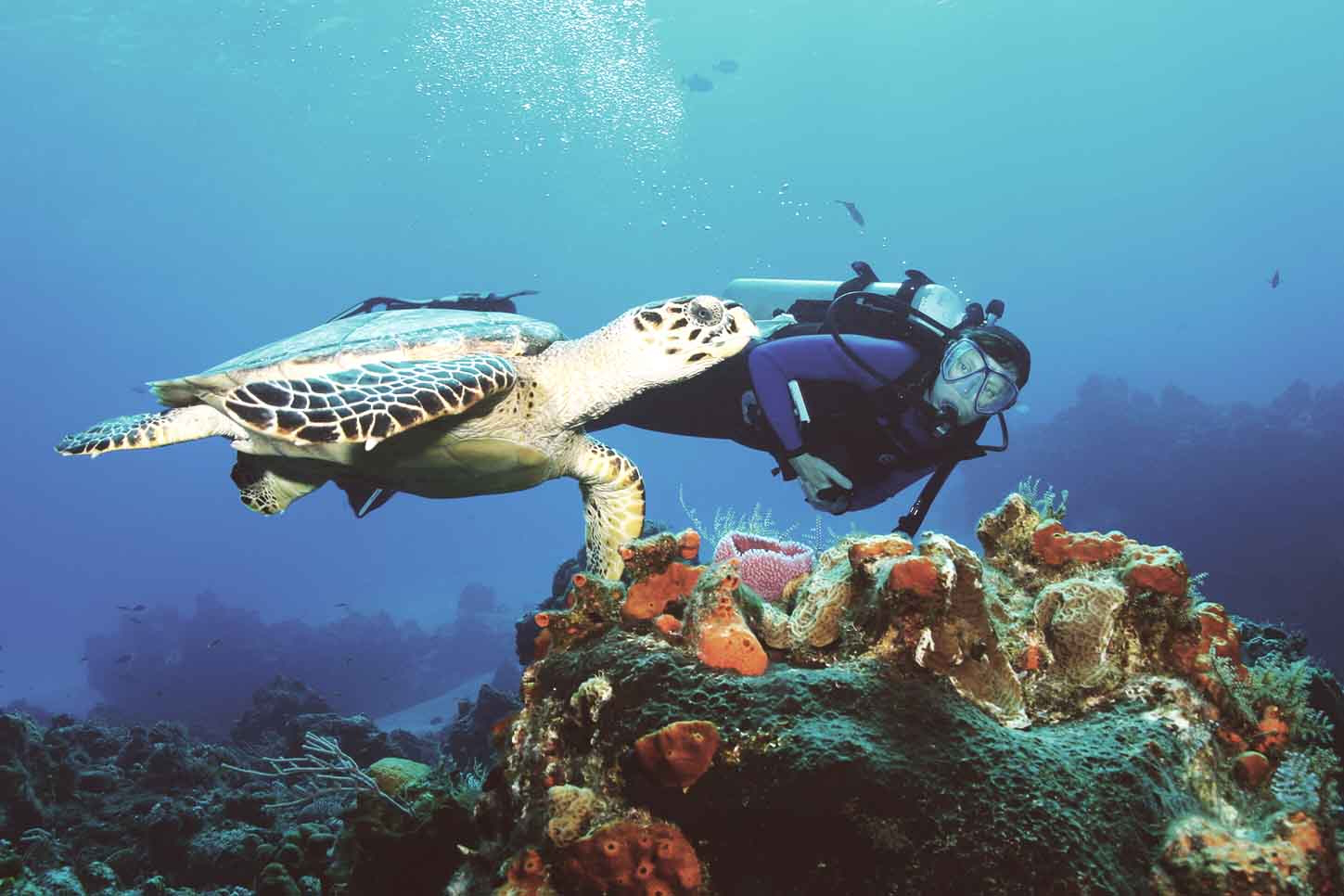 Xcaret: Riviera Maya eco-adventures
There are countless eco-adventures to experience at Xcaret Park (located adjacent to Occidental at Xcaret Destination), from underground rivers to Mayan cultural celebrations. During your time at the park, don't miss your chance to see some Mexican sea turtles at the Coral Reef Aquarium, too! At Xcaret, small and medium-sized turtles are viewable from a special area. Larger specimens make their homes near the natural pools in a spacious pond. There's a window, so you can check them out while they're swimming underwater – a majestic sight, indeed. Some of these creatures weigh up to a ton, and yet they look light as air when they are swimming. The Mexican sea turtles at Xcaret are part of the Riviera Maya's Sea Turtle Conservation Program. Once the turtles are healthy and large enough to be safe from predators, they are released into the sea.
Travel Tip: Occidental at Xcaret Destination's Unlimited Xcaret Xperience package offers guests unlimited access to the park's 40 amazing exhibits and attractions.