Find pure relaxation in Aruba
Aruba spas and wellness experiences are just what the doctor ordered if you're looking for relaxation and rejuvenation in a spectacular setting.
Aruba is good for the mind, body and soul. On this beautiful slice of paradise, you'll be refreshed and rejuvenated, thanks to the all inclusive comforts of Barceló Aruba and the surrounding island's many activities. There are so many things to do in Aruba that will deliver pure relaxation. Here are a few ideas to get you started on the path to Aruba bliss, including Aruba spas.
The perfect relaxation destination
It's the kind of island paradise that you've seen in movies or dreamt of … but don't worry, Aruba is real. And the rumors are true: this Dutch-Caribbean island is the best vacation destination on the planet. Here's why.
Easy access: Just like the island itself, getting to Aruba from virtually anywhere in the world is a simple, stress-free experience. Located in the southern Caribbean, it's in an ideal spot. At the Queen Beatrix International Airport, you'll find frequent nonstop, or convenient single-connection flights from most major U.S. cities. There are also daily flights from all major hubs, around the world. Another stress-reliever: American, Canadian, Caribbean, European and most South American citizens don't need visas to enter Aruba.
Aruba weather: In a word, Aruba weather is idyllic. The island receives less rainfall than most other Caribbean destinations – meaning more restorative sunshine on your vacation. The daytime temperature generally hovers in the low- to mid-80s year-round. Perfect beach weather, to say the least. And Aruba is well outside of the hurricane belt, too, so you can rest easy.
All inclusive Aruba: Nestled into the white, powdery shores of Palm Beach, the all inclusive Barceló Aruba is the ideal spot for an Aruba vacation. The resort provides an elevated level of service, of delivering distinctive experiences that anticipate the desires of all guests. This intimate Caribbean oasis of relaxation and delight features six restaurants, three bars, a large free-form swimming pool, daily activities, some of the best nightly shows on the island and more. Let the gentle Caribbean breezes carry your worries away …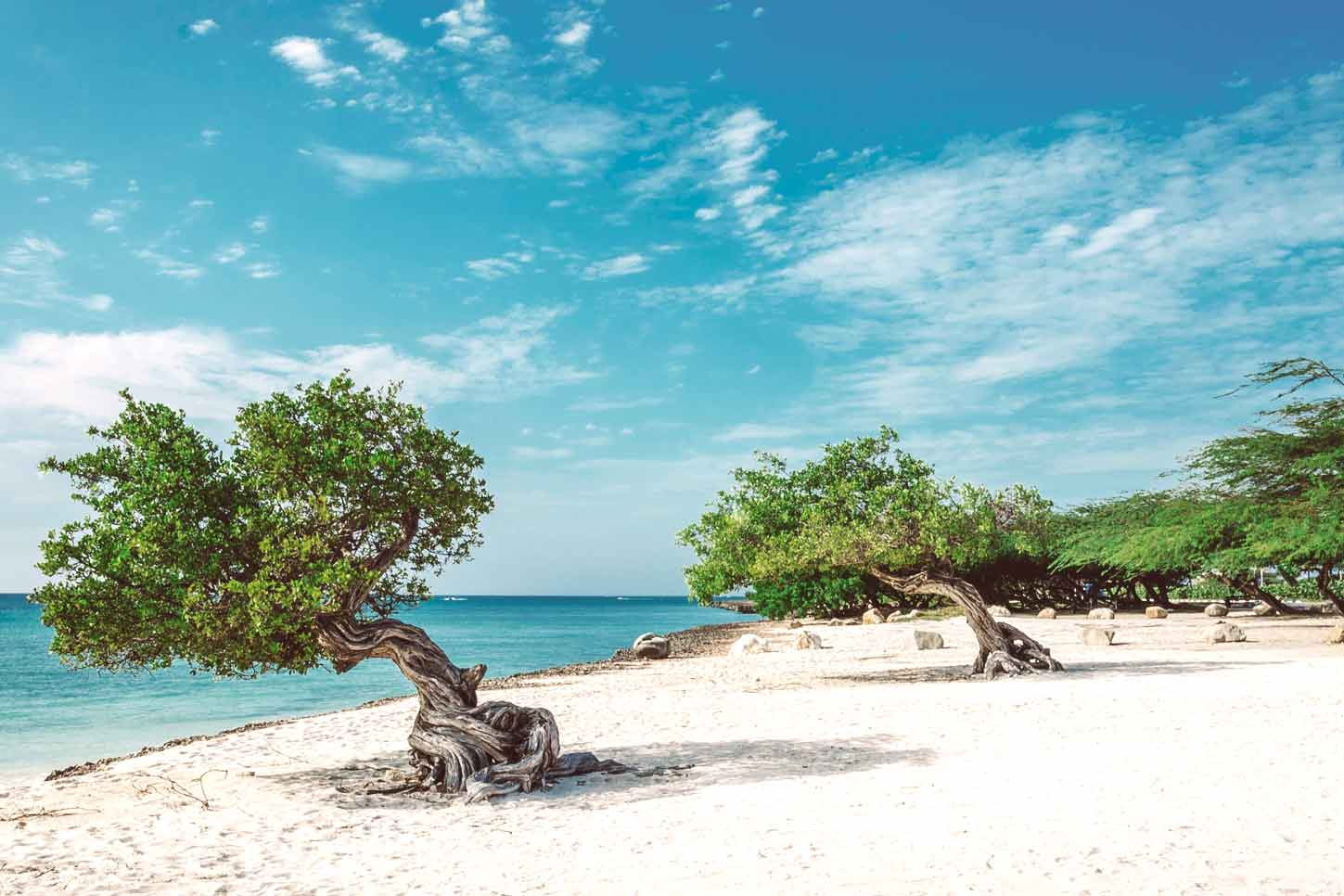 It's true – Aruba beaches will make all other beaches pale in comparison. Here are just a few pristine stretches of sand to enjoy during your relaxing Aruba getaway.
Palm Beach: When you're staying at Barceló Aruba, you'll just have to walk a few steps to get to this wonderful Aruba beach. It's two miles of heaven, with calm and shallow waters (great for snorkeling) and plenty of space to spread out upon. Find your own private spot and get ready to unwind. And if you really want a moment to remember, spend some time on Palm Beach at dawn or sunset. The dazzling colors will set your mind at ease and spark your imagination.
Fisherman's Hut Beach: Not too far from Barceló Aruba, Fisherman's Hut Beach's calm currents and crystal-clear azure waters of Fisherman's Hut Beach make it a favorite spot for snorkeling. It's also the perfect place to learn to windsurf or kitesurf, with gentle breezes and shallow depths. You'll want to stick around until evening, too. Fisherman's Hut Beach boasts legendary sunsets.
Eagle Beach: One of Aruba's most secluded beaches, Eagle Beach is known the world over for its spectacular white sands. You have to see it to believe it! Word is getting around. The beach was singled out as 2019 TripAdvisor Travelers' Choice Award Winner for Third Best Beach in the World.
Aruba spas and wellness experiences
If you're looking for rejuvenation along with your relaxation, look no further than New Image Spa Aruba, located in Barceló Aruba. This space offers pure harmony and relaxation, combined with good taste, attention to detail and personalized attention. Here are a few of your Aruba spa treatment options.
Facial treatments: New Image Spa Aruba's express facial treatment offers a cleansing Vitamin C treatment to restore your youthful glow.
Microderm abrasion: Too much time in the Aruba sun? No worries. Microdermabrasion is a skin-freshening technique that helps repair facial skin damaged from the sun.
Massages: New Image spa offers a great selection of massages, all carried out by the spa's expert team.
Aruba isn't just world famous for its beaches, culture and food. It's also famous for aloe. Founded in 1890, Aruba Aloe is the oldest aloe company in the world, bringing the restorative powers of this succulent plant to the world for more than a century. Many island spas use locally grown aloe in their treatments; the plant is a powerful antioxidant and contains vitamins that are great for your skin. One of the best things to do in Aruba is a guided tour at the Aruba Aloe Museum & Factory. There, you'll see exactly how aloe is "fileted" and learn the many benefits of Aloe Vera. Afterwards, take a walking tour the Factory itself, including the aloe cutting room and the testing lab.
Saving money can be relaxing, too! Check out some great Aruba vacation packages and deals.