Uncover these off-the-beaten-track things to do in Cappadocia
Fall under an enchanting spell as you discover these off-the-beaten-track things to do in Cappadocia
Cappadocia, nestled in the heart of the Central Anatolia Plateau in Turkey, is a historical region that mesmerises travellers with its fairy-tale landscapes. Its otherworldly rock formations, ancient cave dwellings, and whimsical hot air balloons floating in the candyfloss-coloured skies make it a top holiday destination unlike any other. Yet, there is far more to Cappadocia than the sights you see on Instagram. If your heart is calling for an adventure, venture off the beaten track as we uncover the hidden things to do in Cappadocia. 
When is the best time to enjoy all the things to do in Cappadocia?
While Cappadocia can be visited throughout the year, the ideal time to discover this captivating region is either the spring or the autumn months when the temperatures are cooler. It is during these months that visitors can enjoy the wide range of outdoor activities as well as explore the many different landmarks dotted along the volcanic landscape. If you are interested in getting the most out of your time in this region, investigate the Cappadocia things to do that require a certain climate such as hiking or hot air ballooning and make sure to book in advance. Still need some inspiration? Here are our top picks of the essential things to do in Cappadocia.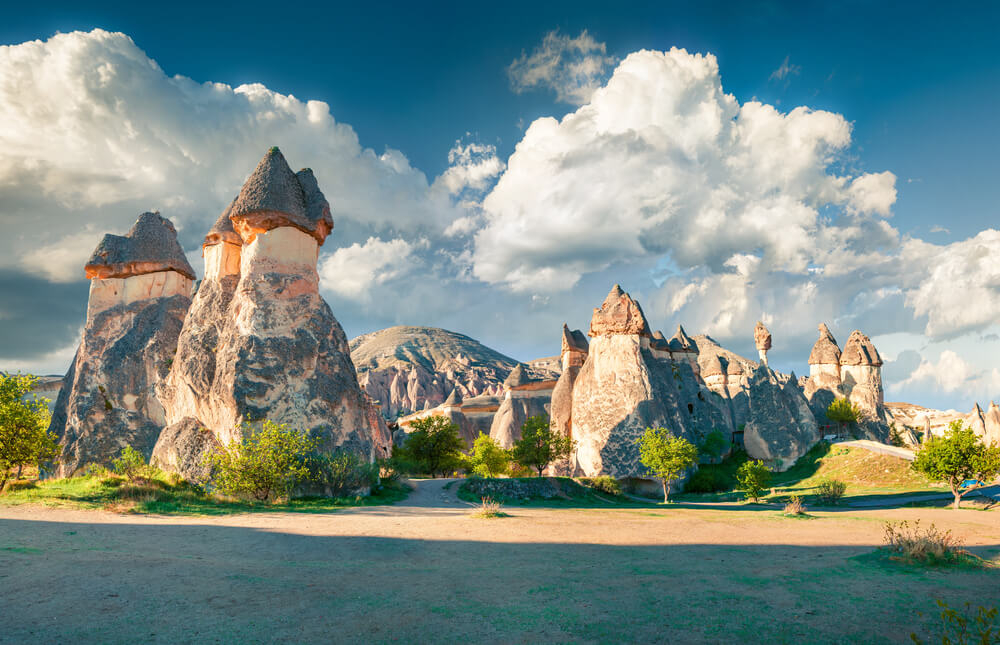 The ancient underground city of Kaymakli
Places to visit in Cappadocia to learn about its history and culture
If you are keen to get under the skin of this alluring destination, Cappadocia is a treasure trove of historical and cultural attractions. Travel directly to the region or plan a day trip from Istanbul and spend time visiting these Cappadocia attractions to immerse yourself in their ancient heritage and gain a deeper understanding of the historical significance of this region. 
Explore underground cities during your Cappadocia sightseeing
If you really want to get to know the region, the best way to do it is to venture underground to discover its ancient cities. Delve into the depths of Cappadocia's history and discover an intricate network of subterranean dwellings, tunnels, and chapels that once provided shelter to early Christian communities. One of the best places in Cappadocia for this is the ancient underground city of Kaymakli. Step inside the interconnecting tunnels and marvel at the ingenuity and resilience of the ancient inhabitants. There are living areas, communal areas and even areas of worship, all left untouched ready to be explored.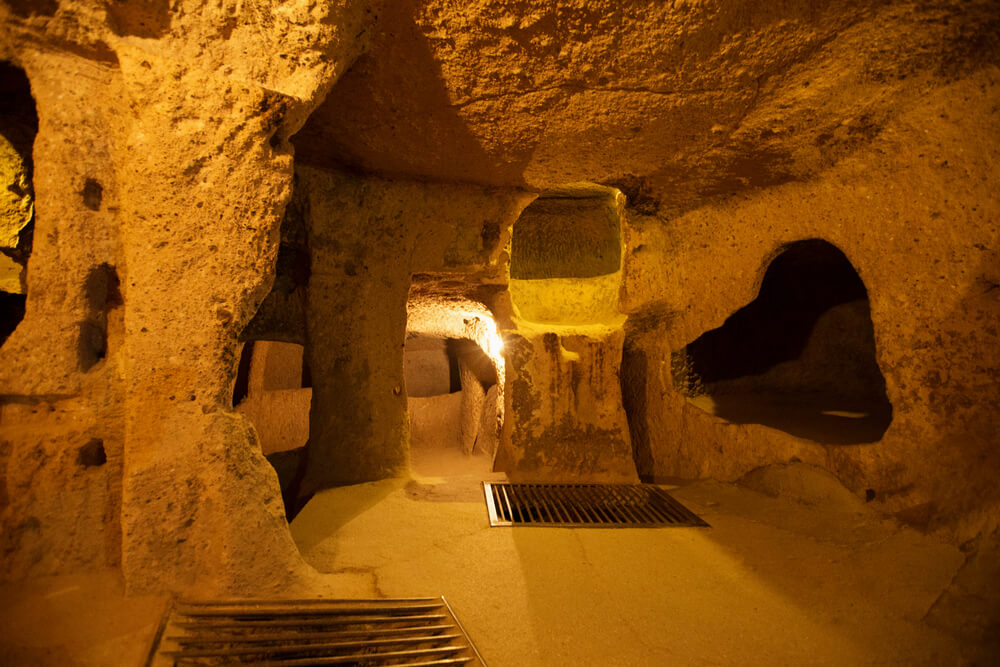 The ancient underground city of Kaymakli
Discovering the open-air museums is one of the top things to experience in Cappadocia, Turkey:
If you are looking for things to see in Cappadocia, the open-air museums offer a glimpse into the region's rich cultural heritage. Head to the Göreme Open-Air Museum, a UNESCO World Heritage Site, where you can get up close to Cappadocia's Byzantine past while admiring the centuries-old rock-cut churches adorned with vibrant frescoes. 
Spend time here and soak up the fascinating history and religious significance of the ancient surroundings
Spend time here and soak up the fascinating history and religious significance of the ancient surroundings. Yet, don't forget to look down at the floor as many secrets are held in the rock formations that surround the museum.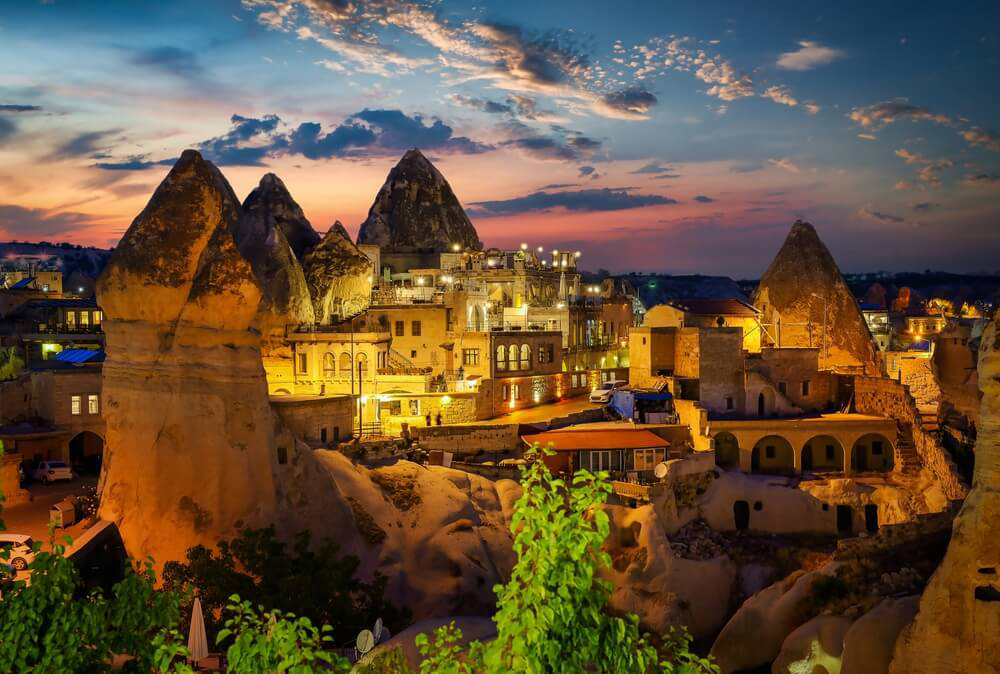 The Göreme Open Air Museum is a must-visit when in Cappadocia
Immerse yourself in local culture and uncover unique places to visit in Cappadocia
When travelling to Cappadocia, immersing yourself in its vibrant local culture is essential. Luckily, there is plenty to keep curious minds entertained. If you enjoy being creative, pay a visit to a traditional pottery workshop. Here you will be able to watch skilled artisans create exquisite pieces using age-old techniques. Love wine? Head to the quiet town of Cemil and witness how the community is brought together during the harvest season (September). Of course, nothing immerses you in the local culture more than a trip to the market. Look out for the Ebru Art House, a small tucked-away shop in Ortahisar where Güler Hanım and her husband Mustafa create marbled silk scarves using a traditional Turkish art form, right in front of your eyes. While in the market, take advantage of the enticing food stalls and try some local delicacies. You will be tempted at every corner.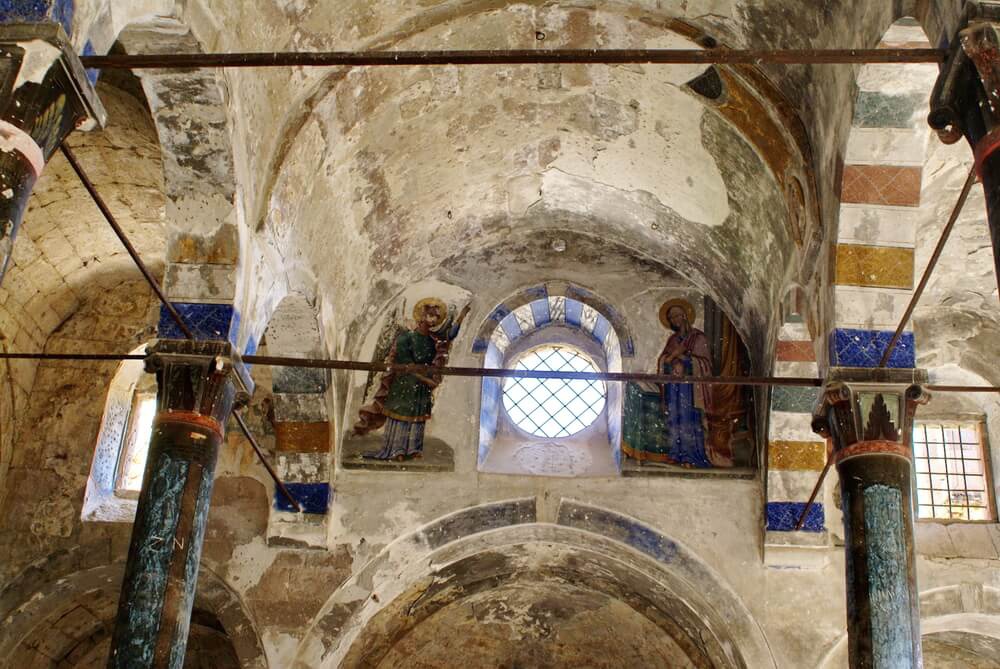 The churches of Cemil boast beautiful Byzantine frescoes
The landscape and nature are the top Cappadocia tourist attractions
It is no surprise that nature will be the protagonist of your travels in Cappadocia. Everywhere you turn expect to be wowed by the volcanic landscapes that give the region its iconic, whimsical appearance. But, if you are staying in Cappadocia, there is no better way to explore nature than by getting involved with all the nature-related things to do in Cappadocia. 
Wander through the Fairy Chimneys of Cappadocia
You may have seen photos of the famous fairy chimneys in Göreme online but nothing comes close to seeing these mesmerising rock formations in person. Sculpted by centuries of wind and erosion, these unusual, natural structures resemble mystical towers and castles which gives them their name of "fairy chimneys". Enjoy a leisurely ramble through the picturesque valleys of Göreme and Love and make sure you take time to marvel at the ethereal beauty of these natural wonders. When it comes to places to see in Cappadocia, this is high on the list.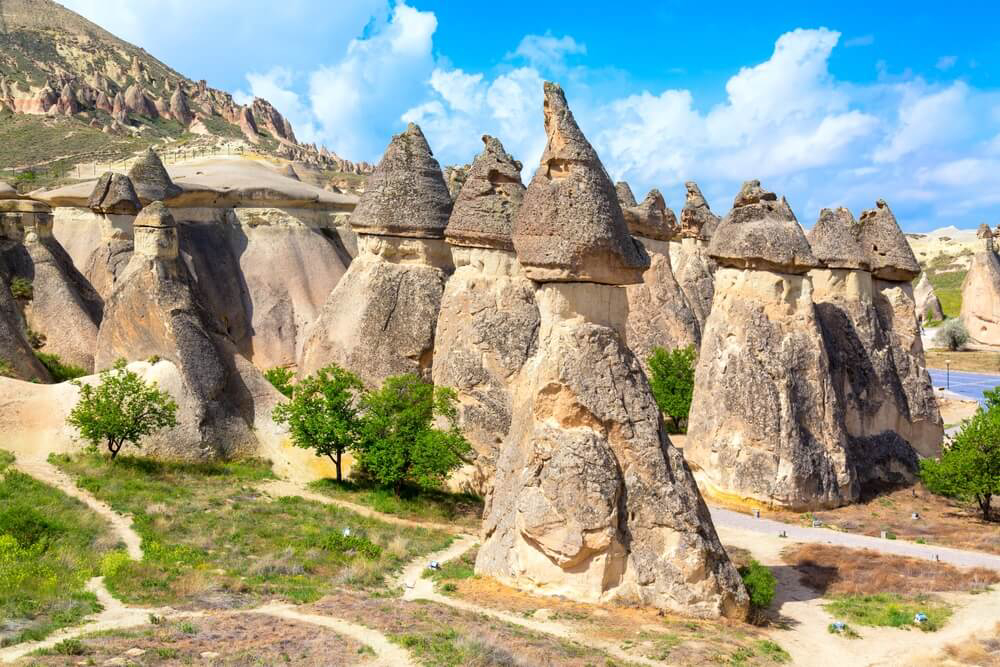 The iconic fairy chimneys of Cappadocia
Take to the skies with a hot air balloon Cappadocia tour
A once-in-a-lifetime experience awaits those who ascend into the Cappadocian skies in a hot air balloon. Yet, as the saying goes, the early bird gets the worm. The best time to go hot air ballooning in Cappadocia is shortly after sunrise when the light conditions are at their best and the air is not too hot, allowing you to witness the region's breathtaking landscapes from a unique perspective. If you are planning a destination wedding or a honeymoon in Cappadocia, this is an activity not to be missed.
The best time to go hot air ballooning in Cappadocia is shortly after sunrise
Relish the feeling of weightlessness as you float above the fairy chimneys and undulating valleys that lie beneath. Since this is a popular activity, it is worth booking this in advance or mentioning it to your hotel when you book to get it included in your stay.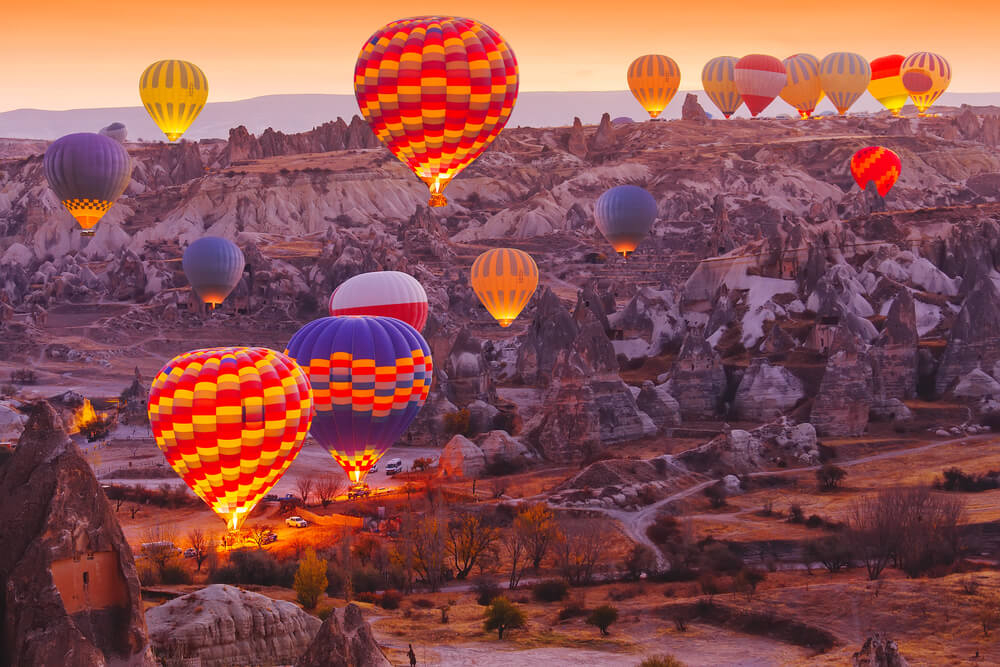 Sunrise hot air balloon Cappadocia experiencie
Enjoy an active holiday and discover the top things to see in Cappadocia
If you are visiting Cappadocia and want to really embrace everything this region has to offer, there are plenty of adventures to choose from. Here are our top picks of the best active activities to do in Cappadocia.
Add hiking the valleys to your Cappadocia to-do list
Outdoor enthusiasts and nature lovers will rejoice when they catch a glimpse at Cappadocia's striking valleys. Lace up your boots and get ready to hike across the region's diverse landscapes. If you are keen to see undulating terrains full of surreal rock formations, trek to Rose Valley. Or, if lunar-like landscapes take your fancy, Pigeon Valley is for you. If you are really adventurous head to Mount Chimaera where you can witness the famous flames coming out of the mountain floor. Couples may enjoy the Red Valley Cappadocia hike where the dramatic sunsets provide an unforgettable panorama and set the scene for a romantic evening.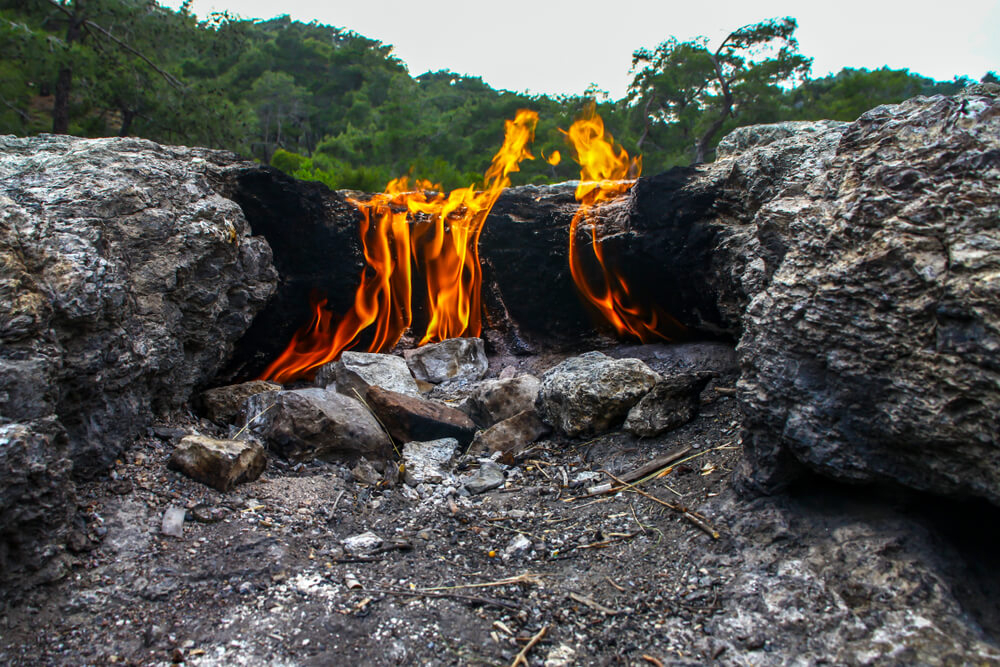 Hike to the flaming mountainside of Mount Chimaera
ATV adventures and horseback riding in Cappadocia
Cappadocia is famous for its horseback riding and it won't be hard to find a riding school that offers excursions through the famous valleys. Or, if horses are not for you, hop on an ATV and navigate Cappadocia's rugged terrain. Venture through the valleys and canyons, feeling the wind on your face as you embrace the freedom of the open landscapes. Unleash your adventurous spirit and create lifelong memories in this extraordinary natural playground before exploring more things to do in Cappadocia.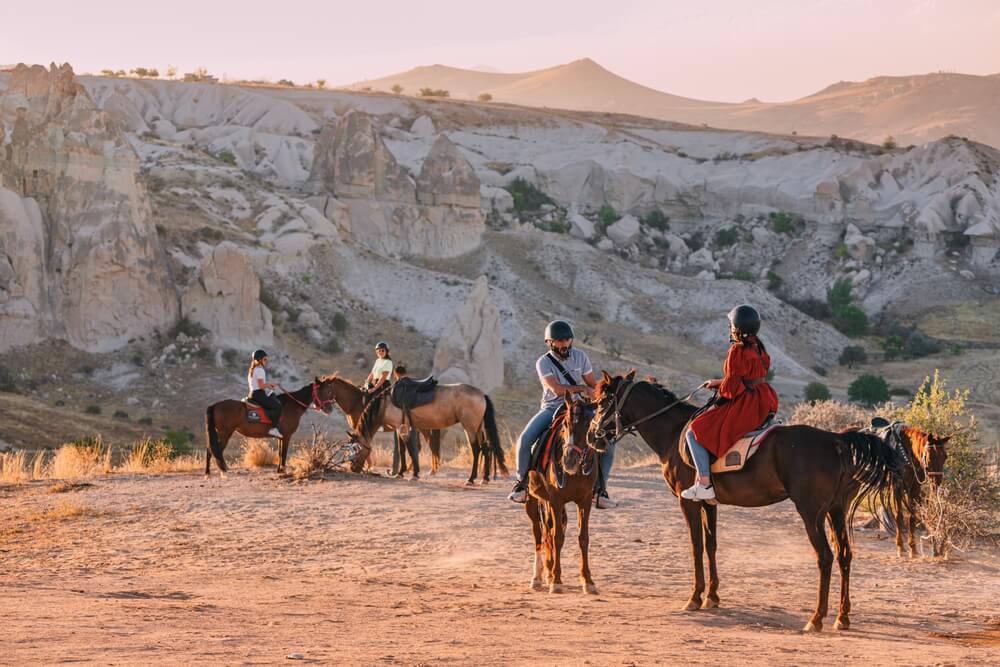 Discover Cappadocia from a new perspective with a horseback riding trip