Europe's best-kept secret: 10 reasons to visit Malta this year
Visit Malta and spend the summer discovering its swoon-worthy beaches, fascinating culture and practically undiscovered coastline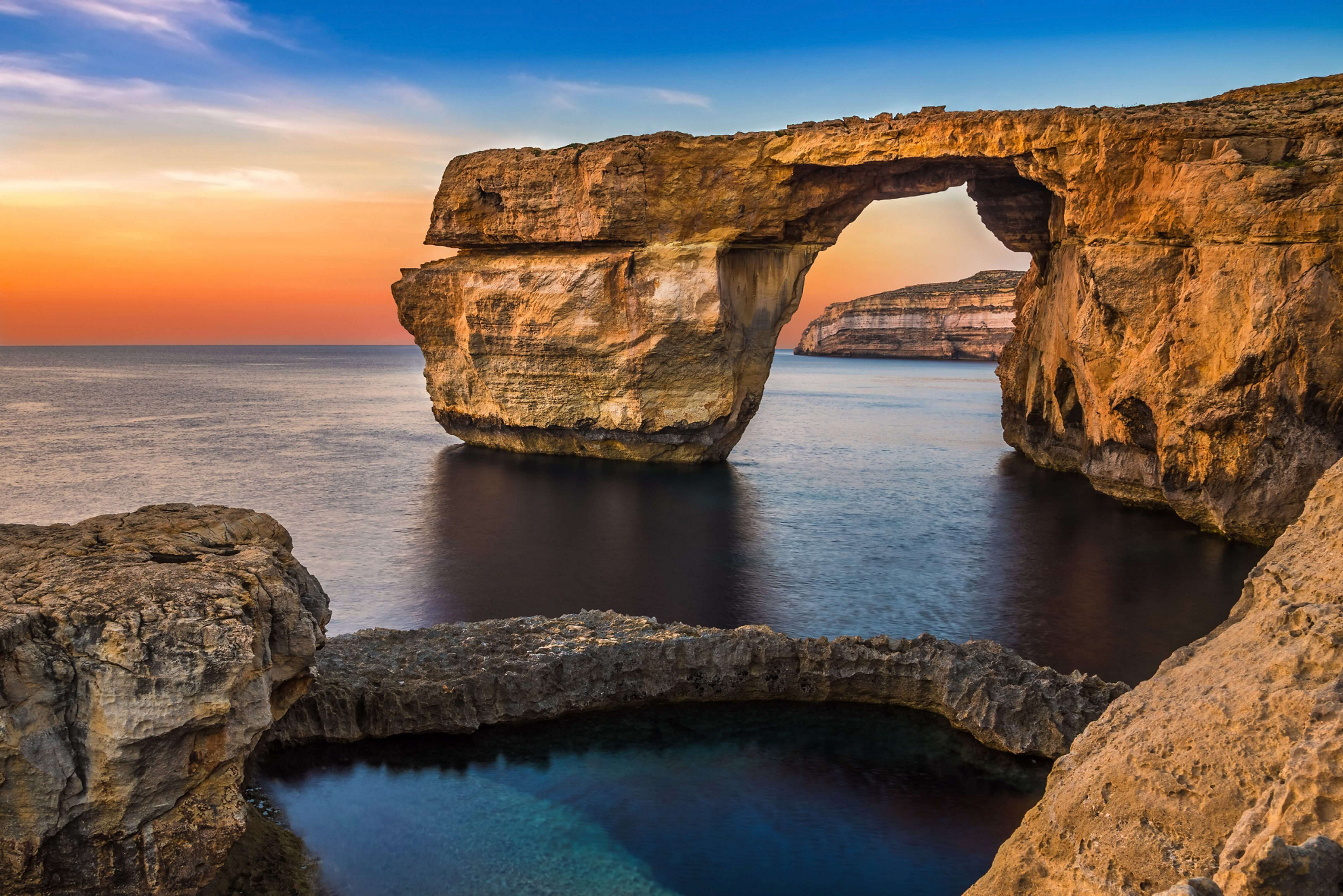 When it comes to European travel, the continent provides an endless list of must-visit destinations. Yet, just 80 kilometres south of Italy, in the heart of the Mediterranean lies a hidden gem waiting to be discovered. Malta may look like nothing more than a small archipelago, but if you scratch under the surface you will discover a rich history and vibrant culture which has long been Europe's best-kept secret. Still deciding where to travel this summer? Embark on a journey to this enchanting island nation and experience its captivating allure. Here are our top 10 reasons why you should visit Malta.
1. Visit Malta and discover its timeless history and elegant architecture
This small island nation has been around for thousands of years, so it is no surprise that it is brimming with ancient sites and architectural wonders. One of the top places to visit in Malta is the UNESCO-listed capital city of Valletta. This city is a living museum with baroque palaces, grand cathedrals, and fortified walls greeting you at every turn. Another place not to miss if you plan to visit Malta is the ancient city of Mdina, known as the "Silent City". Step back in time and stroll along its narrow cobblestone streets and don't forget to stop to admire the beautiful mediaeval architecture. It will be hard not to feel captivated by the unique blend of European, Arab, and North African influences that have shaped Malta's architectural heritage throughout history.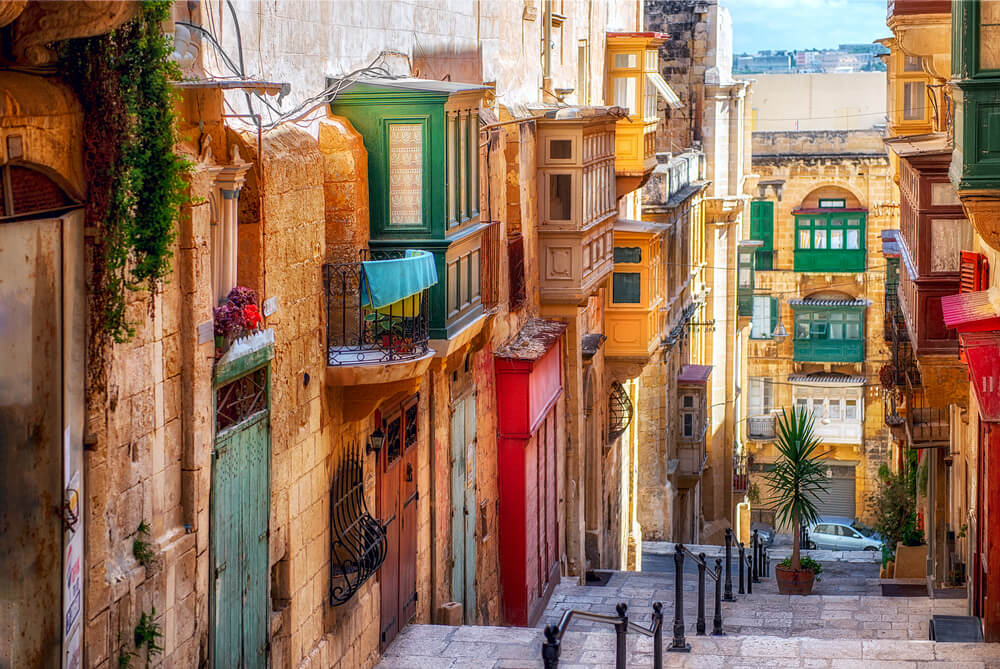 Stroll through the ancient streets of Malta's capital, Valletta
2. There are many reasons to visit Malta, but one of our faves is its breathtaking natural beauty:
While it is easy to imagine Malta as nothing more than stunning cities and beautiful beaches, in reality, it boasts an astonishing variety of natural landscapes. If you are thinking to visit Malta, expect to uncover everything from dramatic cliffs and secluded coves to azure blue waters and picturesque countryside. Nature enthusiasts will rejoice as every corner of this island is full of interesting places to visit in Malta. 
Nature enthusiasts will rejoice as every corner of this island is full of interesting places to visit in Malta
One of the most famous natural landmarks was the stunning Azure Window, a natural limestone arch that once drew in the crowds until its collapse. But there are still many picturesque coastal spots to discover. Take to the Ocean and enjoy a boat trip to the mesmerising Blue Grotto. This series of sea caves are adorned with vibrant colours and are best explored while taking part in a snorkelling or scuba-diving excursion.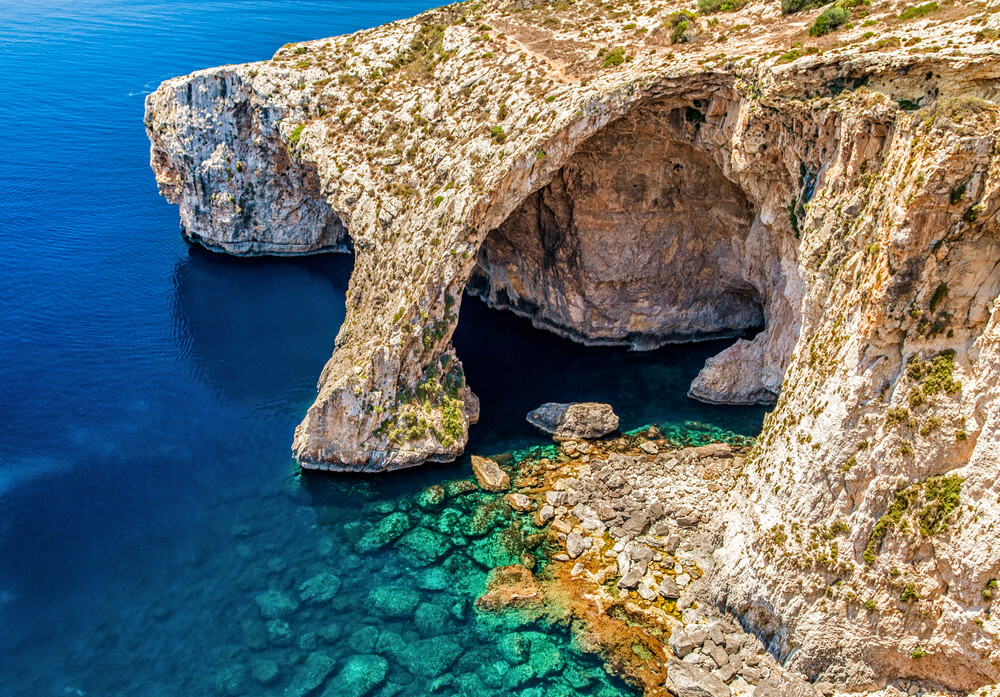 Take to the sea and enjoy a trip to the Blue Grotto
3. Why visit Malta? To try deliciously fresh Mediterranean gastronomy, of course!
Thanks to its strategic location, Malta's culinary scene is an eclectic fusion of Mediterranean flavours, influenced by its diverse history. Eating out is a must-do in Malta so be ready to (over)indulge in traditional Maltese dishes such as rabbit stew (fenek), crispy pastizzi pastries, and hearty fish soups. Seafood is a big deal and is often spotted on the menus alongside other delicious dishes made using locally sourced ingredients, all best served with a glass of chilled regional wines. Foodies will also love exploring the vibrant food markets, charming village restaurants, and trendy cafes.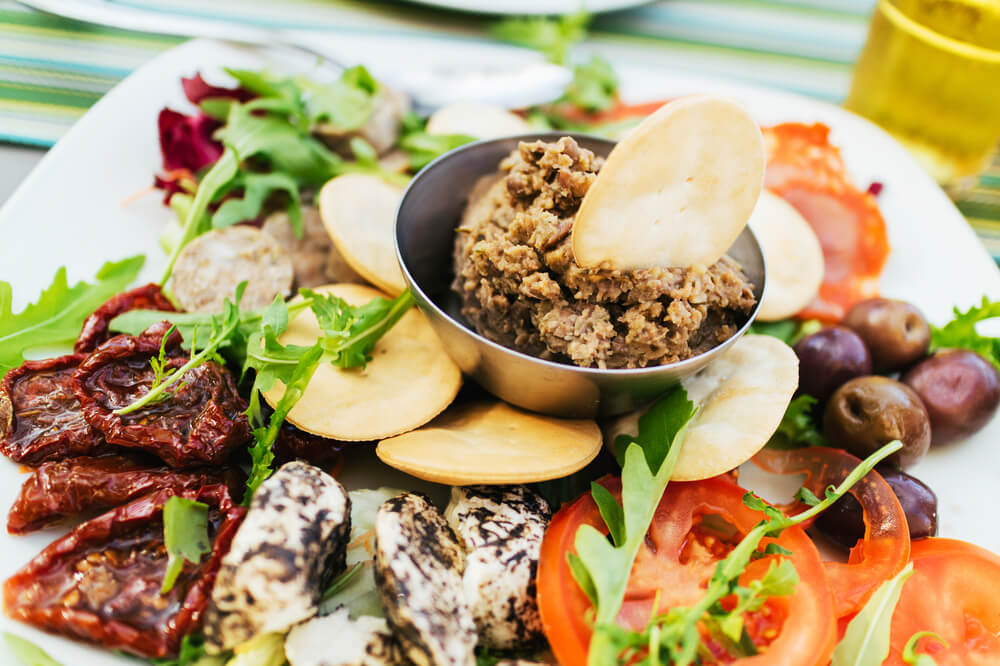 Indulge your tastebuds with delicious traditional Maltese cuisine
4. The festivals and cultural events are also wonderful Malta tourist attractions
What better way to get to know a place than to participate in its traditional celebrations? Maltese culture is deeply rooted in ritual and offers those who want to visit Malta, a calendar packed full of vibrant festivals and cultural events. Throughout the year, the island is brought to life with a range of vibrant events ranging from the grandeur of Valletta's Baroque Festival to the lively Carnival celebrations. 
The Holy Week processions are a Malta must-see, where centuries-old religious rituals take to the streets
The Holy Week processions are a Malta must-see, where centuries-old religious rituals take to the streets. You could also take a crash course in Maltese folklore and attend the village fairs, each one honouring patron saints with fireworks, processions, and merriment.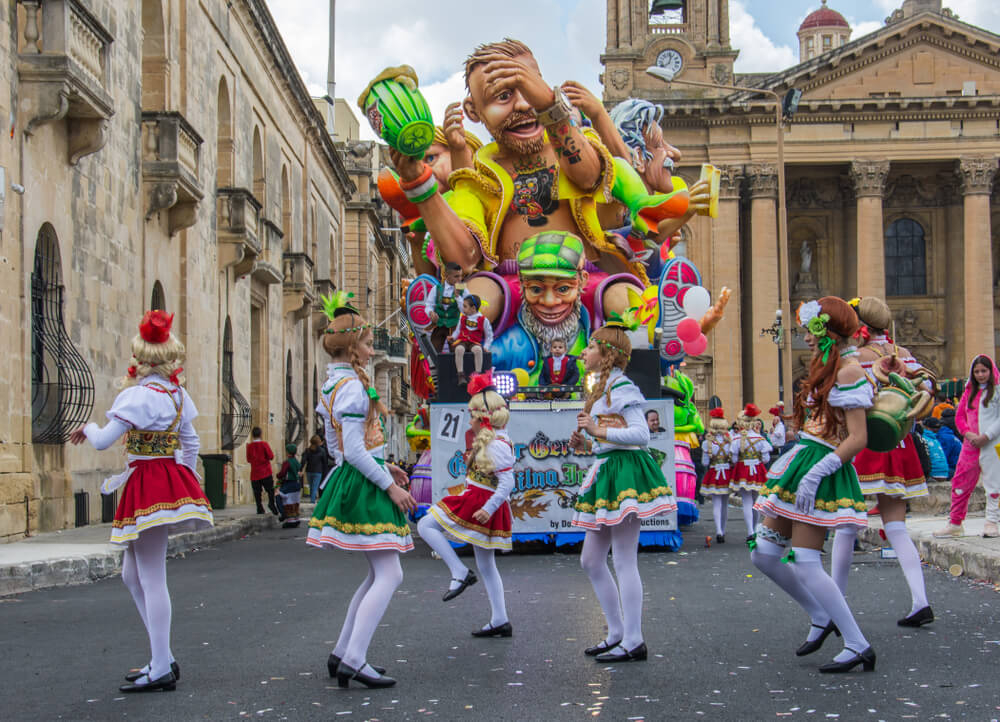 Join in the fun at Malta Carnival
5. If you want to discover the Game of Thrones filming locations, there are many places to visit in Malta:
Calling all Game of Thrones fans! Did you know? Malta was used as a filming location for this beloved series. While you are sightseeing in Malta, walk in the footsteps of your favourite characters as you explore the ancient walled city of Mdina, which was transformed into King's Landing. And not just that, the awe-inspiring, towering cliffs of the island of Gozo, were the backdrop of the wedding scene of Daenerys Targaryen and Khal Drogo. Feel as though you are part of the epic fantasy world of Westeros as you delve into the real-life settings that brought the Seven Kingdoms to life.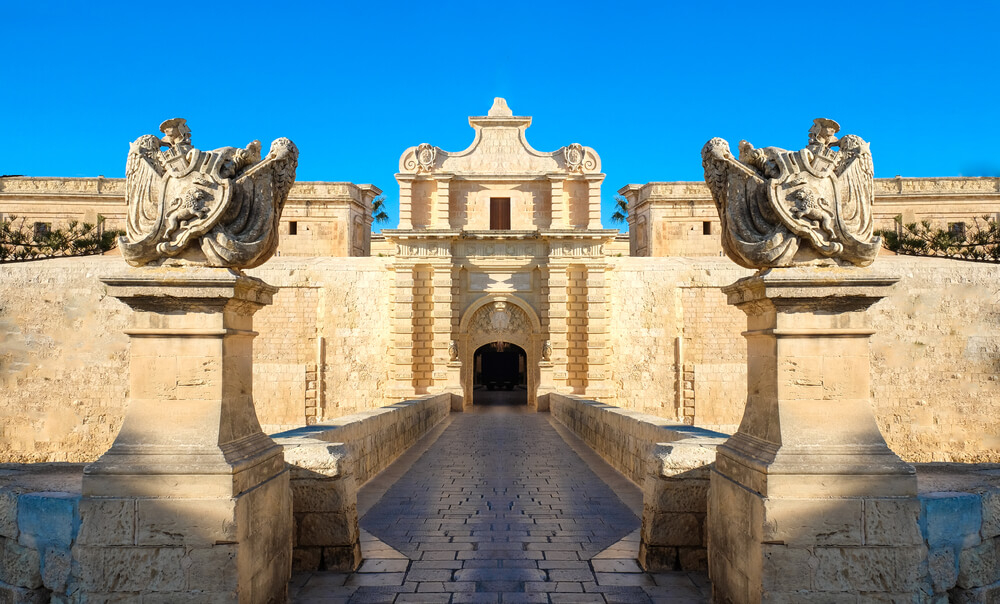 Mdina is a must-visit when travelling in Malta
6. The hospitable locals and warm Mediterranean vibes are one of the best things about Malta:
There is something about island souls that makes them irresistibly charming. The Maltese are no different. Locals share a deep sense of pride in their island and are eager to share their culture and traditions with visitors. If you plan to visit Malta, from the moment you step foot on island soil, you'll be greeted with a smile and a warm welcome. This genuine friendliness adds a special touch to your travel experience and when mixed with the laid-back Mediterranean vibes and endless sunshine, it is impossible not to feel relaxed while travelling. So if you are thinking, "Why go to Malta?", the warm, island hospitality is a reason in itself to go.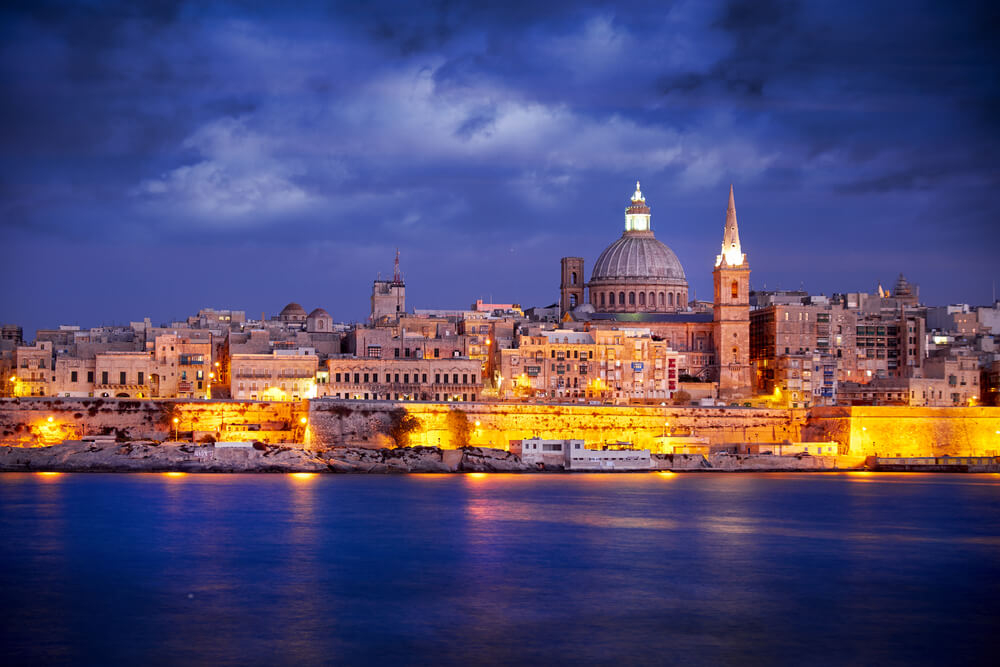 Head to the capital, Valletta to discover the local life
7. The amazing accessibility makes your stay in Malta, visiting places and exploring so much easier
When on holiday, there is nothing better than arriving at your destination and discovering that everything is easy to get to. Malta is located at the crossroads of Europe, Africa, and the Middle East and is well-connected to major cities across the continent, making it easily reachable by air. Yet, it is not only super easy to visit Malta, once you arrive reaching all the best places to go in Malta is a breeze. With a well-developed public transport system, taxis, and car rentals available, you can effortlessly explore the island's treasures at your own pace.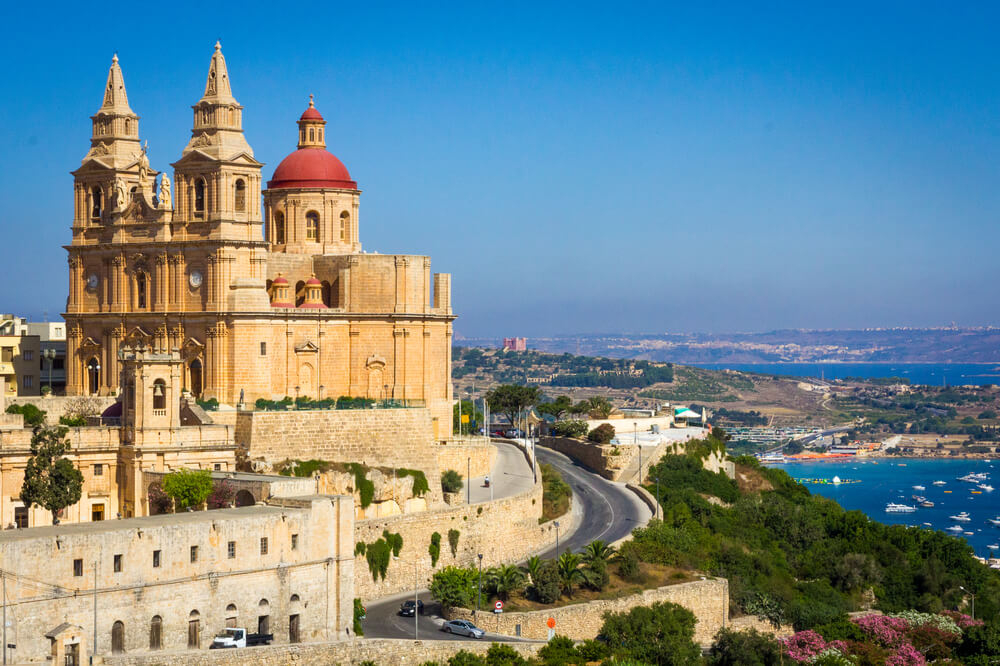 The incredible infrastructure of Malta makes it easy to reach attractions such as the Baroque Parish Church of Mellieha
8. Uncover the Prehistoric temples archaeological sites and other top Malta tourist spots
This island's ancient history means that you will definitely not be short of things to see in Malta. This island is home to some of the world's oldest free-standing structures which are a must-see for all ages. 
This island is home to some of the world's oldest free-standing structures which are a must-see for all ages
Prehistoric temples such as Ħaġar Qim and Mnajdra, transport visitors to the island's ancient past and offer a glimpse into the Neolithic era. Marvel at the ingenuity of our ancestors as you tour these remarkable landmarks, recognized as UNESCO World Heritage Sites and soak up Malta's rich cultural significance.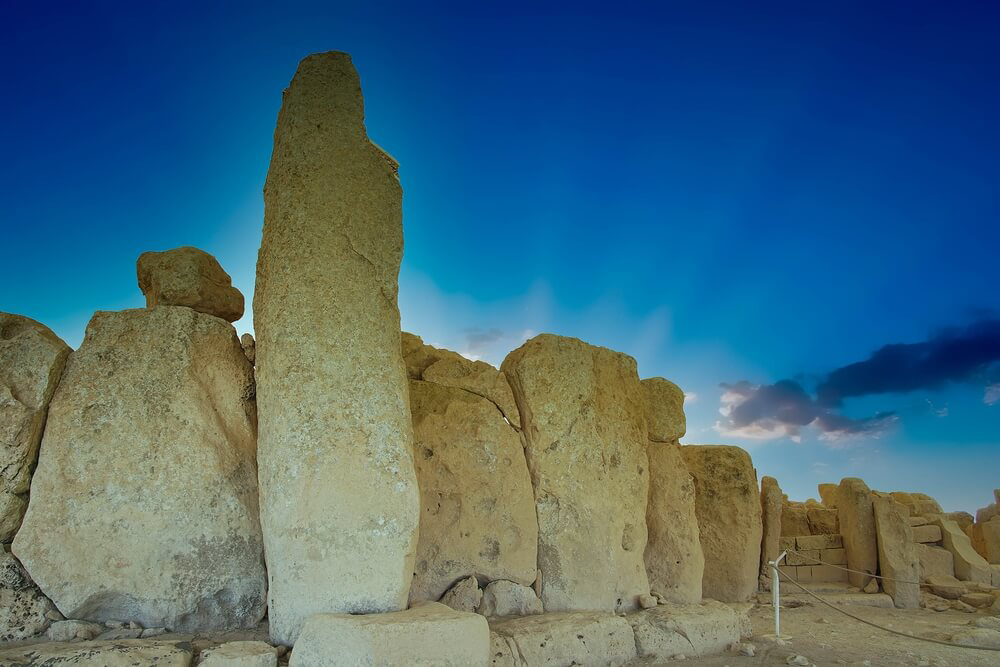 The ancient ruins of Ħaġar Qim
9. Visiting the picturesque coastal villages is one of Malta's top things to do
Venture beyond the bustling cities and make a beeline to Malta's charming coastal villages which exude tranquillity and timeless beauty. These towns top the list of Malta's best tourist attractions and it is easy to see why. Take a leisurely stroll along the colourful fishing harbour of Marsaxlokk, famous for its traditional Luzzu boats and lively fish market. Explore the idyllic village of Marsaskala, with its picturesque bay and quaint promenade, offering breathtaking views of the Mediterranean. These charming villages offer a peaceful retreat where you can immerse yourself in the local way of life, savour freshly caught seafood, and watch the sunset paint the sky in a myriad of hues.
Take a trip to Marsaxlokk and ride on the Luzzu boats
10. Island hop to Gozo: The Island of Tranquility - one of the top holiday places in Malta
If you are looking for the best holiday destinations in Malta, do what locals do and take a short ferry ride to the island of Gozo. Stepping foot in this serene paradise will make you feel as though you have landed in a bygone era. Gozo's unspoiled beauty and rustic charm, combined with a slower pace of life and a chance to reconnect with nature make it an ideal choice for those looking to step off the world. Explore the dramatic cliffs of Dwejra, visit the quaint village of Xlendi nestled in a picturesque bay, or wander through the fortified Citadel in Victoria, Gozo's capital. You can't help but fall in love with its pristine beaches, crystal-clear waters, and lush countryside. If you are seeking relaxation and a peaceful retreat, island hopping to Gozo is the perfect day trip from Malta.