Things to know before visiting
the Dominican Republic
Required documentation
Like on any international trip, the most important document is a passport, which must have at least six months of validity when entering the island and contain at least two blank pages to be stamped upon arrival and departure.
All passengers entering the island, including Dominicans, need a tourist card, which includes a government tax charged to citizens of other countries that do not require a visa. The amount is approximately $10 but is included in airfare as of April 2018, although refunds can be requested. Additional information can be found here.
Another document everyone should have is an insurance policy to cover any medical contingencies or accidents, with full coverage from the moment they arrive and until they leave the island.
The island's electronic portal for travelers arriving and departing is online
The Dominican Republic's E-Ticket Portal for Inbound and Outbound Travel is operational as of November 29 at the following link. It contains a form that passengers must complete before going through customs, with step-by-step instructions available in English and Spanish.
This unique portal is for registering and submitting the information required by the General Immigration Office, the General Customs Office and the Ministry of Public Health, of all the passengers who enter and leave the country, regardless of whether they are Dominican or foreign nationals.
This online form is in lieu of having to fill out all the printed forms that were required up until now and that will no longer be requested in paper format as of January 2021.
A website containing a list of frequently asked questions about the inbound and outbound e-ticket is also available to users. .
Exchange rate and communications on the island
The official currency is the Dominican peso, but a number of places accept dollars and others accept euros, although to a lesser degree. It is advisable to exchange your currency upon arrival. ATMs can be found at popular tourist spots and in the most important cities on the island, and banks are open between 8:30 AM and 3:30 PM, Monday through Friday.
Additionally, there are currency exchange branches in airports and hotels. Dominican banknotes currently in circulation include 20, 50, 100, 200, 500, 1000 and 2000 pesos, along with coins for 1, 5, 10 and 25 pesos.
Keep in mind that high-value notes (such as 200 and 500 euros) are difficult to exchange, but the process is relatively easy with 5, 10, 20, 50 and 100 euro bills.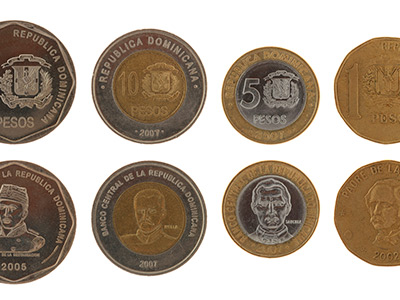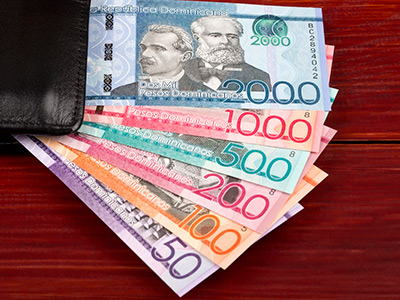 Many establishments all over the island accept Visa and MasterCard, but it is important to never lose sight of cards because many police reports are filed for fake or cloned cards, particularly in Santo Domingo, Punta Cana and Bávaro.
As far as telecommunications, WiFi and cell phone coverage are readily available, but to make local calls, use an unlocked device and a local SIM card that can be purchased for a low price.
What is the best season for visiting the Dominican Republic?
Thanks to its Caribbean location, the Dominican Republic has a pleasant climate year-round, so any month is perfect for a memorable vacation.
However, December through April are best because rain is less likely, temperatures range between 84 °F and 86 °F, and close to 8 hours of sun are virtually guaranteed each day.
The best prices can be found in February and March, which are before or after peak seasons but do not coincide with the hurricane season.
The Dominican Republic is one of the safest destinations in the Caribbean
The Dominican Republic is one of the safest parts of the Caribbean. Since tourism is the country's main source of economic growth, authorities work hard to make sure that visitors are able to enjoy a peaceful vacation, without unexpected situations.
Beach destinations and the best all-inclusive resorts have security and all types of safety measures, particularly in the exclusive Bávaro Beach region, but like any tourist destination, certain recommendations should be followed to prevent unpleasant surprises.
For example, keep track of your belongings, avoid carrying large amounts of cash, and as mentioned earlier, never lose sight of debit or credit cards to avoid fakes or cloning.
Remain alert when out on tours or when going for a walk, because although there is a high level of security, thefts, particularly in the capital, Santo Domingo, are always a possibility. If any incidents occur in this city, the phone number for emergencies is 911.
In other parts of the country, the phone numbers for calling the Tourism Police are +1 809 222-2026 and +1 809 222-2123.
To visit or explore places loutside of popular tourist spots, avoid traveling through rural or isolated areas. Like other tourist destinations around the world, make sure that buses and taxis are safe and identified accordingly.
The best ways to get around the Dominican Republic
Visitors can look forward to a fantastic vacation without having to move around the country because the all-inclusive resorts are able to offer everything imaginable and also arrange tours for various activities around the island.
However, there are many ways to get around the Dominican Republic, including a modern and vast public transportation system, taxis in every city and tourist destination, and intercity bus services that are both convenient and affordable.
Uber operates in Santo Domingo, Santiago and Puerto Plata, and Cabify is also available in the capital.
Additionally, Santo Domingo has a metro service, with two lines that stop near tourist attractions such as the National Theater, top museums and Félix Sánchez Olympic Stadium.
Luggage essentials
In addition to all the required documents, other important things to pack for the Dominican Republic include comfortable shoes (for sports and water), sunglasses, a light towel for strolls beyond the all-inclusive resort, hat, sunscreen and mosquito repellent.
Despite the fantastic climate and endless hours of sun, tropical rainstorms can make an unexpected appearance, so also bring a rain jacket.
And to look back on this trip to paradise, be sure to include a photography and/or video camera. Finally, bring a 110 V adapter and keep in mind that the outlets on the island are American, with flat plugs.
The best places to stay on this Caribbean island
The Barceló Group has modern facilities throughout the country, including an establishment in the heart of the Dominican capital, Hotel Barceló Santo Domingo, urban luxury for leisure or business travel has an excellent location on Avenida Máximo Gómez at the intersection with 27 de Febrero.
The group has four hotels in Punta Cana: Barceló Bávaro Palace, an all-inclusive hotel that caters to sun worshipers and has the best technology; Occidental Caribe; Barceló Bávaro Beach (adults only) and Occidental Punta Cana.
The first is located on one of the top-10 beaches in the world and is one of the best hotels for enjoying all the wonders of Punta Cana: endless beaches bathed by the warm sea, coral reefs, a Caribbean breeze and palm trees that seem to touch the sky.
The address is Playa Bávaro KM 1 No. 1 CP 03177 in Punta Cana, Dominican Republic.
The Barceló Bávaro Beach hotel is situated right on Bávaro Beach in Punta Cana. This exclusive adults-only resort is perfect for romantic getaways and breathtaking weddings.
Occidental Punta Cana, a member of the Barceló Hotel Group, is located on El Cortesito Beach, one of the most spectacular in the Dominican Republic. Aside from being a tropical paradise, this hotel's main goal is to offer visitors a unique and unforgettable stay.
The address is Avenida España Bávaro la Altag, CP 23000, in Bávaro, Dominican Republic.
Last but not least, overlooking the transparent water of Arena Gorda Beach, one of the best in the Dominican Republic, Occidental Caribe has everything guests need for a fun and entertaining stay.
Related
plans