Although it may sound cliché to say that Bremen is a fairytale city, in this case it quite literally is, as the story of the Bremen musicians written by the Brothers Grimm is well known by everyone. This story involving a donkey, a dog, a rooster, and a cat is a constant when touring this incredible destination in northern Germany. You'll find references in sculptures, signs, and illustrations, among other things. And, of course, few places are ideal as Bremen for a children's story. This is one of the most beautiful and charming getaways from Hamburg.
If you only plan to spend one day in Bremen, we suggest leaving Hamburg early to make the most of the day because there's so much to see, and it's not worth rushing. Visit the Bremer Marktplatz, St. Peter's Cathedral in Bremen, the Schnoor district, and Bürgerpark. And if you're travelling with children, set time aside for them to enjoy the Universum Bremen, home to an interactive science centre, the botanical garden, the Overseas Museum, and the Airbus Activity Centre. There's no need to stress in this city, because everything here invites you to dream and enjoy.
Bremer Marktplatz
Bremen's historic market square is located in the heart of the city's historic centre and its beating heart. Surrounding the square are a number of unique buildings, some as magnificent as the City Hall, in front of which stands the sculpture of Roland symbolising "freedom". Both have been declared World Heritage Sites by UNESCO. In the southeast you can also admire St. Peter's Cathedral, which we'll tell you about next, and the Bürgerschaf, a building whose construction was very controversial because it seemed too "modern" in relation to its surroundings, and which now houses the representatives of the city-state of Bremen. If you look to the southwest, you'll see a beautiful Chamber of Commerce building dating from the 15th-16th century. The Renaissance-style residences, with historic arcades from the 20th century, don't go unnoticed either.
And one more curious fact: if you see a sewer cover with a slot in which to insert some coins, do so because the melody of the "Bremen musicians" will then play.
St. Peter's Cathedral in Bremen
The Protestant-Lutheran St. Peter's Cathedral is over 1,200 years old and has an early gothic feel reminiscent of the first half of the 13th century. You'll find it on the Market Square (Marktplatz), between the City Hall and the Parliament, and two impressive towers standing almost 100 metres high that miraculously remained standing after the bombings of World War II. Although it may seem a bit macabre, a popular thing to do here is to visit the basement to discover the secrets of the mummies. If you'd prefer something more "normal", you can head to the Bible garden in the cloister, where you can have a cup of coffee and a slice of cake.
Bürgerpark, Bremen's big park
This is Bremen's green lung and one of the most pleasant places to stroll and relax after the hustle and bustle of city life. This park, created in 1866, was financed exclusively by private donations, as you can see from the plaques on many of the benches, bridges, and monuments scattered throughout the area. If you're interested in contributing and having your name on one of them, you'll be able to do so. You can do almost anything in this beautiful spot, from walking along its paths to visiting the enclosures that were historically designed to house animals (they're beautiful and some of them are still home to birds, ducks, fallow deer, etc.). You can also play mini-golf and hire a boat to paddle around the pond (it takes about an hour and a half to cover the whole pond).
Schnoor Quarter
This historic quarter, the oldest in the city, is one of the jewels in Bremen's crown. Its beautiful houses line small, uneven streets, some of which are so narrow you can touch both sides with your arms outstretched. Walking through this neighbourhood takes you back to its origins in the 13th and 14th centuries as a quarter full of fishermen, craftsmen, and merchants. Today, its streets are lined with beautiful architecture and many shops that have been converted into cosy cafés, souvenir shops, and even the Bremer Geschichtenhaus Museum and Packhaustheater.
Weser River
On a trip to Bremen, you can't miss the Weser River, which is directly responsible for the city's commercial past and is now part of the city's tourist attractions. We recommend you stroll along its shores and enjoy the bright, seaside image of this destination. Among the moored ships, there are some that function as cafés or restaurants, and others such as the Hanse Kogge, which is very interesting because it was built in imitation of a 13th-century caravel.
Where should I eat in Bremen?
The city of Bremen is very tourist friendly, so you'll find plenty of restaurants where you can sample the traditional flavours of Bremen's cuisine. Fish dishes from the Weser or the North Sea are on every menu. Among the best restaurants are Fisherman's Seafood, a modern and very pleasant place with an extensive fish menu. If in doubt, order a mixed plate here with a variety of fried foods and a sauce. Another option is the Gaststätte Kleiner Olymp, in a small house in the Schoor district, where they have a bit of everything, German recipes, fish, salads, etc.
And finally, the Schüttinger Gasthausbrauerei, a traditional restaurant with long tables and generous plates where you can enjoy a good beer and German food.
Where to stay near Bremen
Hamburg is around 45 minutes by train from Bremen, a perfect city to stay in and from which to explore northern Germany. Here you'll find the Barceló Hamburg, an avant-garde four-star hotel where you can relax and enjoy its gastronomic offer. The hotel has 193 B-rooms, which offer guests extra comfort. The 1700 restaurant, specialising in fusion cuisine, and a wine bar with excellent wines, are located in the hotel itself. And if you like to take care of yourself on your travels, be sure to visit the gym and spa.
Free cancellation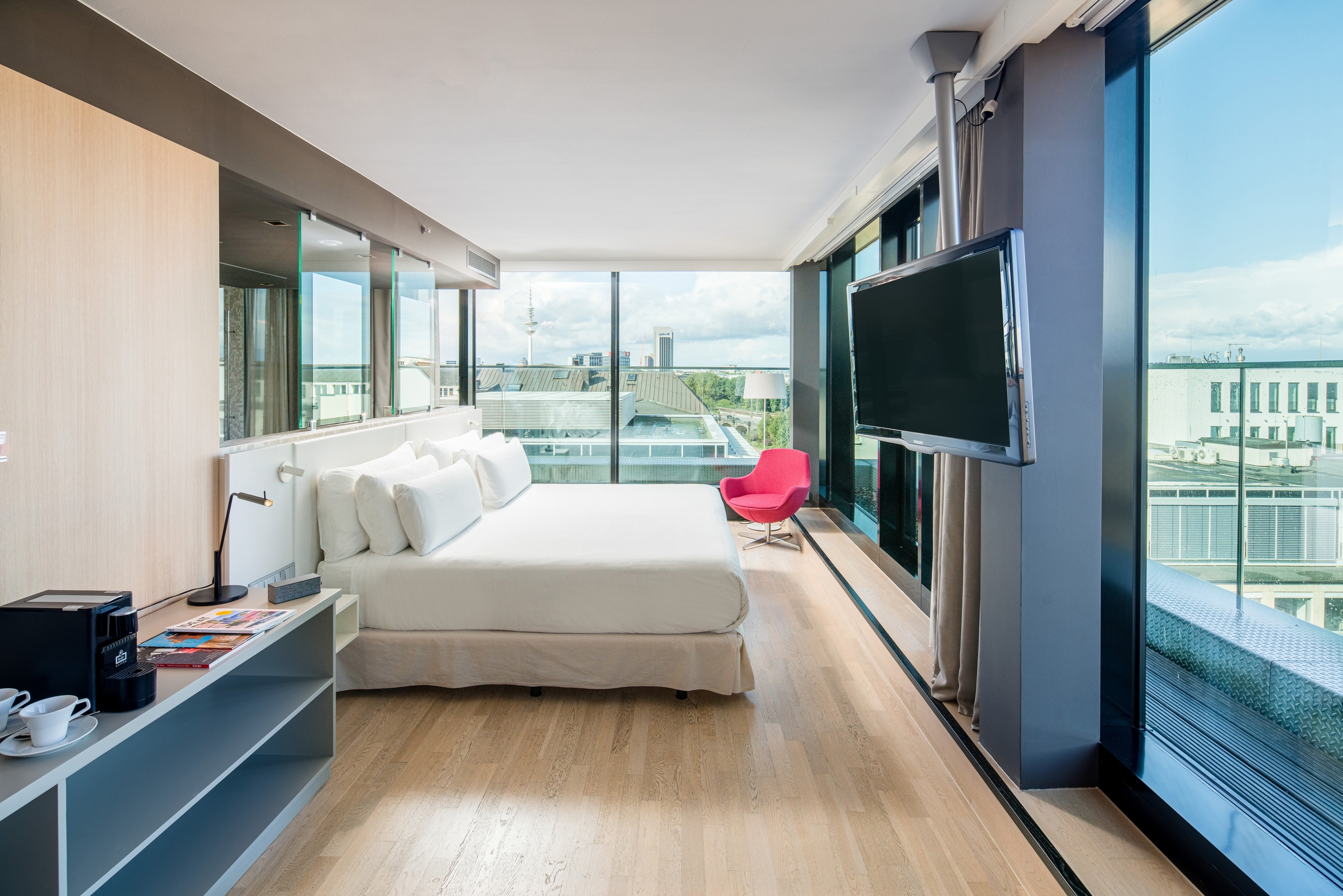 Hamburg
from 113 €/nightBOOK
Frequently Asked Questions
Where is Bremen?
The city of Bremen is located in north-west Germany, about 125 kilometres from Hamburg. It's a medium-sized city with a population of more than half a million inhabitants. It's considered one of Germany's must-see tourist destinations.
How to get to Bremen from Hamburg?
The best options for getting to Bremen from Hamburg are: by train, which takes 45 minutes; by bus, which leaves from the central station and takes an hour and a half; or you can rent a car, which takes 1 hour and 15 minutes along the A1 motorway.
Where should I eat in Bremen?
In Bremen you'll find plenty of good restaurants, including Fisherman's Seafood, with an extensive fish menu and Gaststätte Kleiner Olymp and Schüttinger Gasthausbrauerei, with generous German dishes and good beer.
Related
plans