Miniatur-Wunderland Museum,
the kingdom of trains
Although it may come as a surprise because there's so much to see and do in Hamburg, the Miniatur-Wunderland Museum, also known as "Miniature Wonderland", is considered the city's main tourist attraction. This miniature wonderland, which dazzles the young and old alike, covers an area of 1,545 m2 and has over a thousand trains and 260,000 figures on its various sets. The space in question has been built in different phases. The first phase began on 15 December 2000 and was completed on 16 August 2001. The last sections to be opened to the public were "Rio de Janeiro" and "The World from Above" in 2021, but it's not yet finished and there are plans to continue with other "worlds" until 2028. What are its advantages? You can visit it every time you come to Hamburg and there will always be something new to see.
Although the first models to be built were about Germany, the theme has been expanded and the geographical destinations have been extended to include South America, Rio de Janeiro, Venice, and an airport, among other places. Hundreds of people are involved in the detailed design and construction of the models.
What to see in the museum, real and imaginary places
The idea for Miniatur-Wunderland came to Frederik Braun from Germany who entered a shop selling model trains while visiting the city of Zurich. This reminded him of his childhood and how he'd like to build one, so he called his twin brother and said, "let's build the biggest model railway in the world". After giving it a lot of thought and seeing how they could get a return on their investment, they set about building the models and haven't stopped yet. Surprising, right?
The space is divided into "thematic worlds": Central Germany, with its mountains, villages, and railway routes; Knuffingen, a village of around 10,000 inhabitants between the Alps and the Harz Mountains, which is one of the largest models in the space. There's no shortage of Austrian landscapes either, with 60 m2 of the Alps as a backdrop, or the frenetic life of Hamburg, which is replicated on a 200 m2 surface. The miniature creation of America was a challenge and required many hours of work, but the 100 m2 that can be admired are a wonder to behold. Las Vegas, the Grand Canyon, and Yosemite National Park feature in this space. Absolutely thrilling is Scandinavia, where they didn't hesitate to include the North Sea (with real water), 16 ships, 150 trains, 40,000 figures, lighthouses, among other elements, in its 300 m2 area. In addition, the water rises and falls depending on the automated tides.
From a scenic point of view, the Swiss railway diorama is a favourite among visitors, stretching some six metres high over two floors. Among the surprises on display are a chocolate factory, the Matterhorn tunnel, and the Glacier Express.
Those who love aeroplanes will find in the Knuffingen Airport area a 150 m2 paradise with 52 aeroplanes, 75 buildings, and some 15,000 figures. A curious fact is that during a normal day there can be 250 flights. Italy is also represented and you can see wonderful corners of this country in a model, and a second one dedicated exclusively to Venice. Can you imagine the beauty of the canals, palazzos, and gondolas? In recent years the Miniatur-Wunderland Museum has also included other themes such as a large fair, Rio de Janeiro, South America, Monaco, and Provence.
Over 900 trains
Railway enthusiasts will find a fantasy world in Miniatur-Wunderland with 1,120 trains with 10,450 carriages running on 15,400 metres of track. The longest train is 14.51 metres long. You'll be surprised to learn that over 300 employees have spent 990,000 hours to create the different scenery that you can see here. This entire microworld isn't operated manually but is controlled by 53 computers. You may also be interested to know that every year this space creates special editions of cars for H0, N, and Z scale tracks.
Events at the museum
In addition to the worlds created in the museum, there are also large and very impressive temporary exhibitions. Would you believe that it's possible to build five dioramas about the breeding and welfare of pigs? Well, it is. Seven dioramas were also created to show the history of the division of Germany, eight dioramas to depict the history of civilisation, and an original 25-metre long display of the world from above.
The museum's cultural programme is definitely worth keeping an eye out for.
Where to stay in Hamburg
Among the best hotels in Hamburg is the Barceló Hamburg, a four-star hotel with an avant-garde style and very comfortable facilities from which to discover the beauty and hectic life this city has to offer. This hotel has 193 B-rooms with large windows and an interior design that invites you to relax. In addition to staying there, you can also enjoy the exquisite cuisine of its 1700 restaurant and the variety of wines offered from its wine cellar. A drink on the terrace, with its spectacular views, is the best way to end any day in Hamburg. And if you're the kind of person who takes care of yourself on your travels, there's also a gym and spa waiting for you.
Free cancellation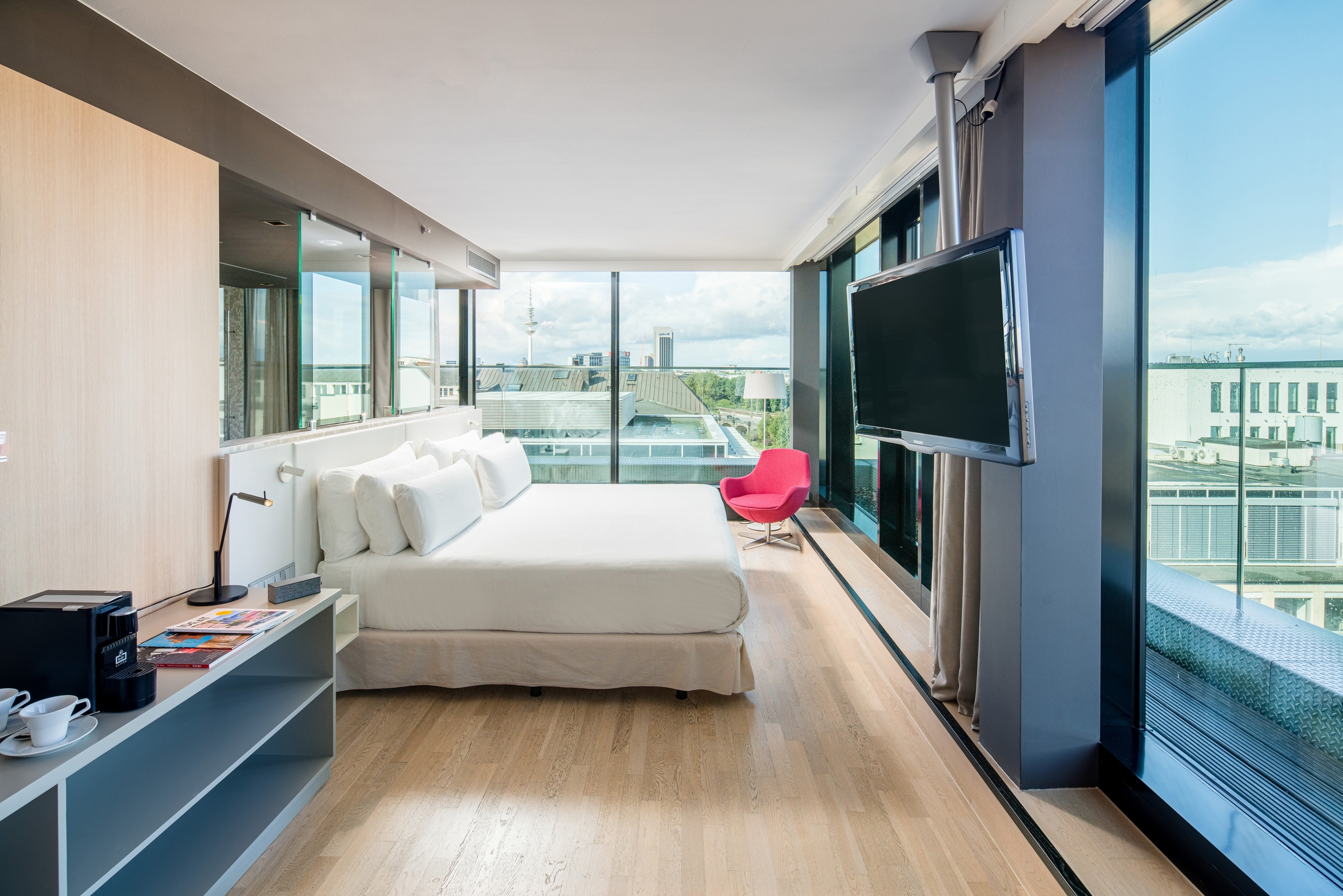 Hamburg
from 102 €/nightBOOK
Frequently Asked Questions
What can you see at the Miniatur-Wunderland Museum?
The Miniatur-Wunderland offers over ten themed worlds and interesting events. Don't miss the models of Central Germany, Knuffingen, Austria, Hamburg, America, Scandinavia, Switzerland, Knuffingen Airport, Italy, Venice, Rio de Janeiro, South America, Monaco, and Provence.
Where is the Miniatur-Wunderland Museum?
The Miniatur-Wunderland Museum is located in the warehouse district in Speicherstadt, between Hamburg City Hall and the Elbphilharmonie building. It's a place you always pass by on a sightseeing tour and is well worth making time for in your itinerary.
How can I get to the Miniatur-Wunderland Museum?
To get to the Miniatur-Wunderland Museum in Speicherstadt, you can take bus number six, which has a stop very close by. It's also possible to get there by underground and get off at Baumwall station. If you want to go by taxi, give this address: Kehrwieder, 2.
Related
plans