Typical Indonesian cuisine:
sample its most authentic flavours
Discovering the gastronomy of a country is a great way to delve into its history and culture, and Indonesia's traditional cuisine will give you a better idea about the way its people live, their traditional crops and the influence of trade with other places. As in all of Southeast Asia, the staple of the cuisine is rice, a grain that you will see planted in endless green fields on your outings. Tea and coffee are also a firm fixture on Indonesian tables, made from crops that you will be able to see from the road. In the archipelago you should not be surprised to find fish and seafood on the menus of all restaurants, since fishing is one of the main activities in some of the country islands.
You might want to take note that the main meal of Indonesians is in the evening or late at night, since they have something quicker at midday, when their chores permit, with no fixed times. Lunch may consist of a salad and a main course (meat or fish). Long-grain rice is a must and is usually complemented with other ingredients that are added to it. At lunchtime you can opt for a traditional restaurant, a street stall selling sandwiches or a market (night markets are very lively). Below is a list of the most traditional Indonesian dishes and which are the ones most worth trying.
Nasi campur
This is one of the dishes that western travellers like the most, since it reminds them of Chinese fried rice. A dish of nasi campur consists of boiled rice placed in the middle and around it a series of ingredients that can vary depending on the island or the restaurant. Some classic additions include tuna, grated cucumber, chicken or beef, corn, prawns, vegetables and spicy sauce.
Free cancellation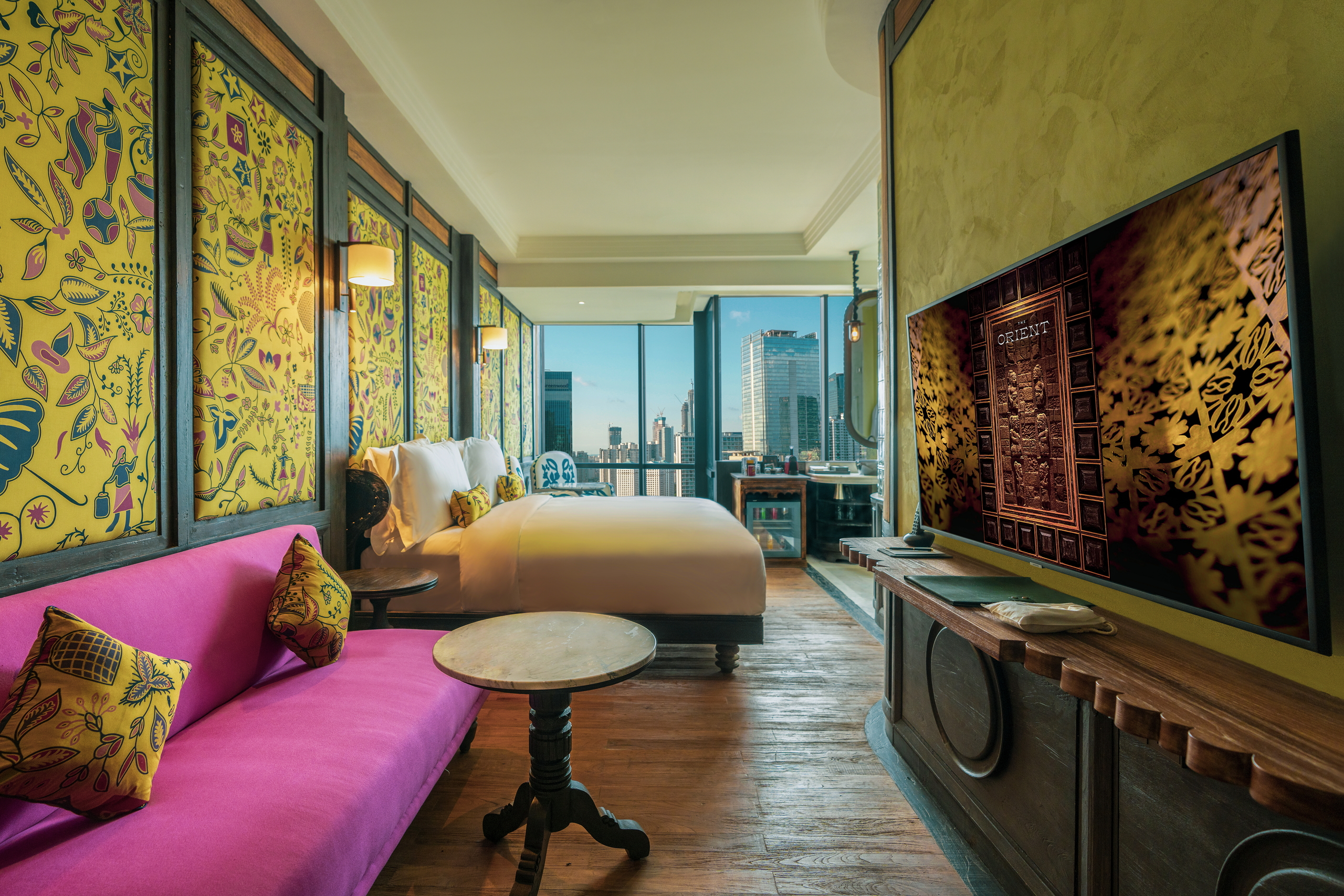 Nasi goring fried rice
This is one of Indonesia's traditional dishes and for many the most popular. It consists of a portion of fried rice to which other ingredients are added such as a fried egg, which is placed on top, a bit of chicken, curry and an assortment of vegetables. These may include pepper, onion, tomato and a whole host of others. The main feature of this recipe is fried long-grain rice, which makes it unmistakable.
Gado-gado
Fans of salads will find that gado-gado is an excellent alternative. This traditional dish is usually presented on top of a banana leaf on which all the ingredients are laid out without mixing them up. It is very refreshing and contains soybean sprouts, potatoes, cabbage, green beans, tomatoes and boiled egg. The sauce is made from peanuts and is slightly spicy. It is usually accompanied with some crunchy prawn crackers.
Satay
This dish is perhaps the one that will be most familiar to you, since it also features in the cuisines of other cultures. Satay consists of grilled skewered chicken (sate ayam) or pork (sate babi) and a peanut sauce, accompanied by white rice and sliced cucumber.
Siomay
This traditional Indonesian fish dish is a type of dumpling (similar to Chinese dim sum) filled with fish, boiled egg, potatoes, pumpkin and vegetables. Once cooked it is sliced into chunks and a spicy sauce is added. It is accompanied with raw chopped vegetables.
Lumpia
This dish is similar to spring rolls due to their shape, although they are filled with slightly different ingredients. The filling consists of rice noodles, carrots, leeks and meat. The lumpia is dipped in a spicy sauce and served with salad vegetables or potato chips. They are usually served as a starter and you will be hard pushed to find anyone who doesn't enjoy them.
Bakso
This is a hearty dish that will leave you full of energy, since it contains pasta and meat. It looks like a soup with large meatballs, which can be made from chicken, beef, fish, prawns and more. Chopped vegetables or soybean sprouts are also added. The unusual thing about this Indonesian dish is that you can find it at street stalls as well as in fancy restaurants. If you add a little bit of spice, it enhances the flavour.
Rendang
Indonesian cuisine also includes dishes with flavours as exotic as rendang, which is a beef stew simmered over a low heat with coconut milk and spices such as turmeric and ginger, which give it a unique touch. The beef can be substituted with chicken, lamb or duck. Be sure to try it.
Sambal
This is the name given to a sauce made from hot chillies and other ingredients such as spring onions and ginger. It may also contain shrimp paste, fish sauce, rice vinegar and lime, among others. If you see it on the menu as a dish, it probably refers to sambal goreng udang, which includes fried prawns as part of this spicy sauce.
Pepes Ikan
Fans of fish will love this recipe, which consists of a large piece of fish on top of a banana leaf, which is used as a wrapper when cooked. It can be steamed or grilled. Inside is the fish with some chilli and mint. The flavour of the fish (ikan) is more intense when cooked this way (pepes is the name of the technique). Truly delicious.
Pempek
Fish pempek is mainly eaten in Palembang, in the south of Sumatra, although variants can be found all over the country. This dish could be defined as a pie with a filling. To make it, thin pastry is made and then filled with fish, a boiled egg, and more. It comes in many shapes and sizes, such as meatballs or sticks, and may be sliced or served whole, depending on the size of the fish. It is then accompanied by a sauce and some salad.
Indonesian desserts
We have saved the sweet side of Indonesian food for last. Some desserts you might like include pisang goreng, which consists of fried sliced banana with sugar sprinkled on top, served with vanilla ice cream. Another traditional dessert is kolak, which is made from coconut milk, fruit and sugar (beans and banana can also be added). It can be served hot or cold. To accompany your coffee, you can order klepon, a small rice cake with sugar dipped in coconut. Finally, if you go to Bali, you are sure to be offered a crepe wrapped in pandan leaves (which give it a very characteristic flavour), known as dadar gulung, flavoured with coconut and peanuts.
Hotels in Jakarta
One of the best hotels in Jakarta is The Orient Jakarta, a Royal Hideaway Hotel, a five-star establishment that combines elegance and the interior design of Bill Bensley with all the creature comforts you may wish for on a trip to Indonesia. The designer's vision blends the aspects of the local culture with modern facilities. Its 153 rooms have impeccable aesthetics and offer sweeping panoramic views.
In the hotel you will also find excellent restaurants where you can sample both Asian and Spanish cuisine. Don't miss what is on offer at the restaurant Lounge Caspar or the Japanese dishes at the restaurant Furusatu Izakaya, which, although it is not part of the hotel, offers sushi and sake areas and private rooms.
The hotel's two swimming pools (one on the rooftop with a pool bar), the spa and the gym do not go unnoticed either. There are undoubtedly few hotels as complete as this one.
Free cancellation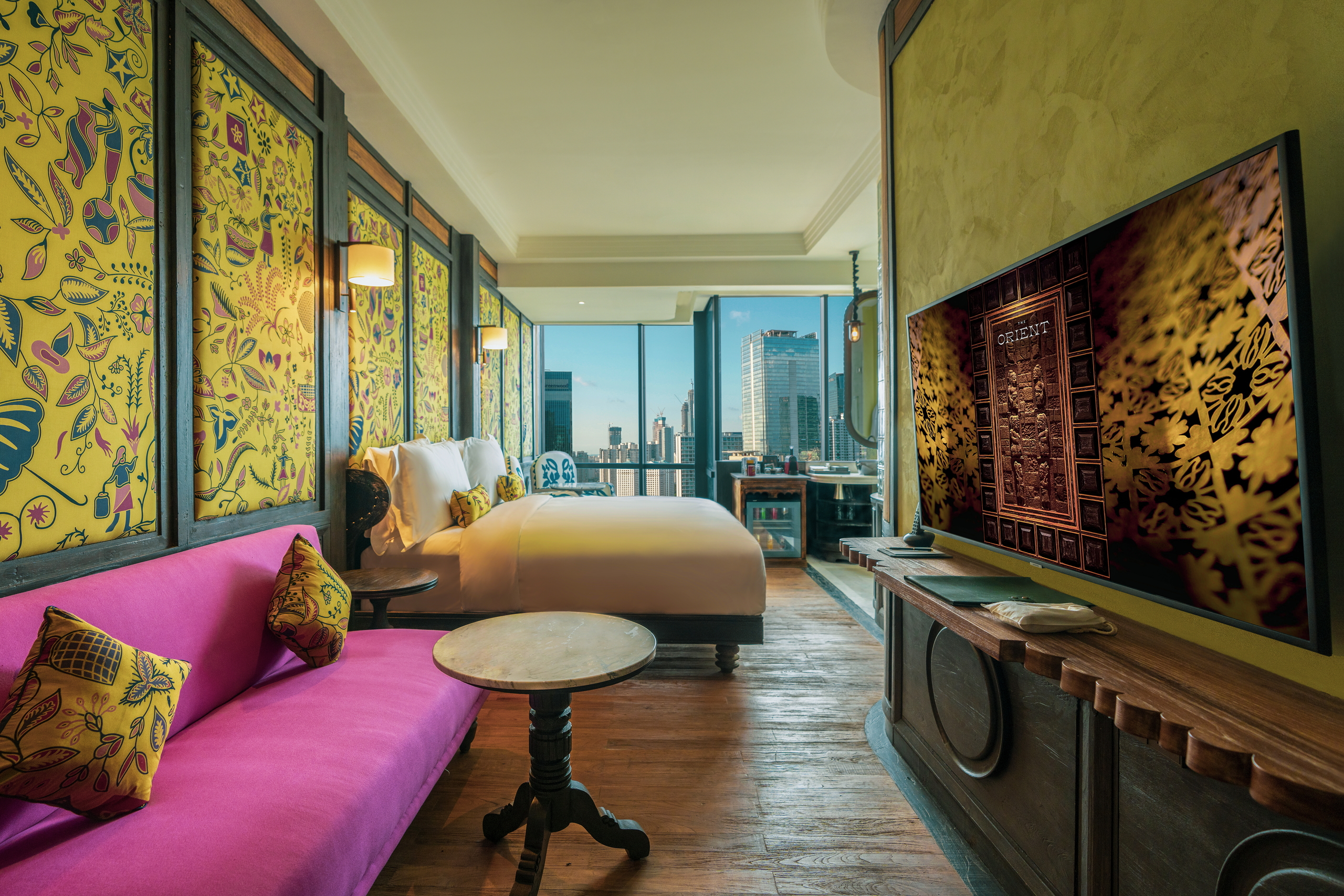 Frequently Asked Questions
What are the most popular Indonesian dishes?
The common denominator of typical Indonesian food is rice and spiciness, although each dish has its own unique features. Be sure to try gado-gado, lumpia, bakso, sambal, rending and satay, and desserts such as pisang goreng, kolak, klepon and dadar gulung.
What are typical sweet desserts in Indonesia?
Indonesian desserts are distinctive and use local ingredients, such as rice, coconut, palm sugar, banana and more. Some of the desserts you may like include kolak, klepon rice cakes, dadar gulung crepes and pisang goring, which consists of fried banana.
What is traditional street food in Indonesia?
Traditional dishes you can find at street stalls (warung) and night markets are nasi goreng (spicy fried rice with other ingredients), satay, which are marinated skewers with sauce that are easy to eat standing up, and the hearty bakso, which consists of meatballs in a soup with noodles.
Related
plans