Activities in Granada for
solo travellers
Granada is a destination chosen by solo travellers for a variety of reasons. Some are imbued with the spirit of Romanticism and are fans of Tales of the Alhambra by the North American writer Washington Irving, so they come here to feel like 19th century adventurers as they visit the city's Nasrid remains. Athletes, on the other hand, head to the ski slopes and trails at Sierra Nevada for some thrills. Foodies give their heart and soul to the local culinary pleasures and refined customs—such as the hammams—left behind by the moors. Others simply follow the twists and turns of the city's exciting nightlife, perhaps in search of the exuberant beauty of locals. Since every traveller is unique, Granada has something for everyone. Here are some interesting ideas of things for solo travellers to do.
Visiting the Alhambra, Washington Irving-style
The Alhambra remains in the collective imagination as a magical place thanks to the romantic vision that the North American writer Washington Irving (1783-1859) captured in his acclaimed work Tales of the Alhambra, which he wrote during the months in 1829 that he spent living in the Nasrid Palaces when the abandoned fortress was occupied by beggars and swindlers. Today, despite being a major tourist attraction, many solo travellers continue to visit this monument as an intimate and introspective journey, in line with that romantic spirit.
For this, there is nothing better than going with a copy of the book in hand—or fresh in the mind after reading it recently—to visit the monument in the evening, when the contrasts between the lights and darkness fill the atmosphere with intriguing and reminiscent shadows. One of the night-time routes takes us through the Nasrid Palaces, whose rooms and courtyards with subtle and refined decorations take us back in time to the maximum splendour of the Nasrid kingdom in Granada during the 14th and 15th centuries. In one of these rooms, a plaque on the wall reminds us that Washington Irving wrote his famous book here in 1829. The other evening route travels through the Gardens of the Alhambra and the Generalife, the historic summer home of Nasrid rulers, where once the sun sets, the intense fragrances of the more than 600 plant varieties remind us of legends and stories of forgotten loves. In the gardens of the Alhambra, near the Gate of Justice, a bronze statue has stood since 2009 of the famous 19th century New Yorker, with a notepad in hand and accompanied by his suitcase and a folder containing drawings. An inscription at his feet reads: 'Son of the Alhambra'.
Alone in Sierra Nevada
The second highest mountain range in Western Europe, after the Alps, is also known as the 'Andalusian Finland', a geographic rarity that houses flora and fauna more suited to Nordic latitudes but only 100 kilometres from the Mediterranean Sea. This makes Sierra Nevada perfect for nature lovers and snow-sports enthusiasts, who can choose from a wide array of solo mountain activities.
Sierra Nevada ski resort, the furthest south in Europe, has 100 kilometres of slopes for skiing, snowboarding and many other activities at an elevation of 2,100 metres. The Mirlo Blanco recreational area has a fun rollercoaster in the snow along with other alternatives such as ice skating, sledding, tubing and skibobbing.  For people who prefer a more intimate and introspective alternative, the resort also has night skiing and snowshoe excursions.
However, Sierra Nevada is much more than just snow and skiing. Hikers can choose from dozens of routes to explore the heart of these mountains during any season. Feel like Indiana Jones in the gorges and hanging bridges of Cahorros del Río Monachil, make your way up to the roof of the Iberian Peninsula at Mulhacén, discover the remains of the only Andalusian glacier on Pico del Veleta or travel along the path that connected the local mines at Vereda de la Estrella. Not enough? For something even more exciting, try canyoning at the Verde River, rafting on the Genil and Guadalfeo rivers or flying over the peaks of Sierra Nevada in a paraglider.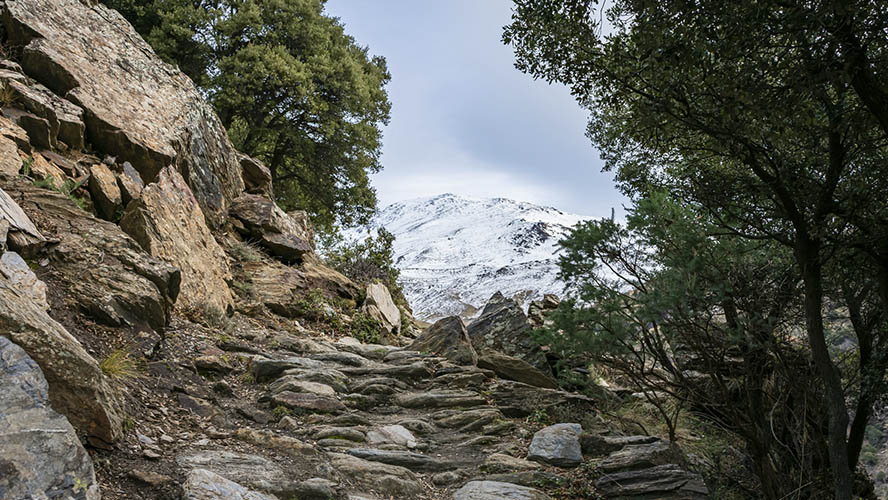 Feel like a sultan in a hammam
After so much adrenaline, the body needs to relax and refuel. To also learn about the ancient Moorish culture centred around physical and mental wellness, there is nothing better than visiting a hammam. Granada's Arab baths—some of which date back several centuries, such as El Bañuelo and Palacio de Comares—form part of a timeless tradition that has regained popularity. The former residents of the Nasrid kingdom would visit these establishments for hygiene and pleasure as well as to cleanse their body. Sultans did the same in their own private baths, which were also used to entertain diplomats and politicians from other kingdoms. Today's modern hammams, which replicate the ancient versions, have added new comforts such as massage rooms and a tea parlour in which to relax after a bath. Some of the most famous in Granada are Hammam Al Andalus, built on the former site of 13th century Arab baths, Baños Aljibe San Miguel and Baños Elvira, where you can feel like a sultan for approximately €25.
Single travellers in Granada: Tapas and parties throughout the city
A solo trip to Granada must include 'exploring' the city's most entertaining and lively facet: its nightlife. Solitude can be inspiring during a trip, but there comes a point when you feel like eating tapas, having some drinks, moving your body and mingling with the locals, particularly in a city like Granada, which has such a high concentration of attractive people per square metre. This route is a sure hit.
Before getting started, keep in mind three things: 1. Tapas are free with every drink, so they were not served by mistake. 2. Some bars allow patrons to choose and others have a first round, a second round and so on. 3. If you would like another round of the same thing, simply say to the waiter, 'Nos llenas?'.
Always steer clear of tourist-trap terraces, which are primarily on Paseo de los Reyes Católicos and Paseo de los Tristes. Around midday, you can visit Calle Navas, which leads to Plaza del Ayuntamiento, the location of a traditional establishment called Los Diamantes that serves fish tapas as well as aubergine with cane syrup. In the afternoon, we recommend sitting at one of the terraces in the Albaicín quarter, tucked away in the narrow streets leading up to the Mirador de San Nicolás lookout point. In the evening, you can make your way to Plaza de Trinidad, where the most traditional taverns coexist alongside indie-style bars, or Plaza de Gran Capitán, a popular spot filled with university students. To have some drinks and mingle with young revellers, then go to Calle Pedro Antonio de Alarcón, which has countless pubs and bars. And to dance the night away, you can choose from several options: Mae West nightclub is a guaranteed success, but if you prefer the indie scene, then go to Sala Vogue. For electronic beats, try the Boom Boom Room, and if you prefer rap music, then go to Afrodisia Club. And for an evening with a flamenco twist, visit El Camborio in the Sacromonte quarter.
Information of interest
Related
plans