All the reasons to go scuba diving in
La Herradura
La Herradura Bay is one of the most popular spots in Costa Tropical. Why? One reason is its sunny beaches with transparent water. However, the main appeal of this specific region can be found underwater.
In fact, this is a favourite spot for scuba divers. The seabed of along this stretch of Granada's coast is stunning because it has unique coral species and protected animals. This, combined with the crystal-clear waters of the calm Mediterranean, make this the perfect scuba diving destination.
Scuba diving in La Herradura
Scuba diving is one of the most popular activities on Almuñécar's beaches. The Costa Tropical seabed invites visitors to take the plunge and gaze at all the sights. There are many scuba diving centres in the region, with instructors backed by extensive experience and vast knowledge of the area.
Many people have their first immersion here. For example, Open Water La Herradura offers this type of activity. This beachfront centre also specialises in professional scuba diving and has a trained team of experts.
It caters to all types of diving levels, from beginner to the most expert (Dive Master). All of the courses are certified by PADI (Professional Association of Diving Instructors), so they are valid anywhere in the world.
Another centre that introduces people to the world of scuba diving or helps them gain experience is Aqualia La Herradura, which has PADI-certified courses for all levels. There are advanced courses for deep diving, which teaches how to manage oxygen levels; enriched air or nitrox diving, which is perfect for repetitive immersions; night diving for enjoying the magical seabed in the evening; and wreck diving for finding treasures in sunken ships.
The centre also offers personalised first-time immersions, with one instructor per diver to guarantee a positive experience.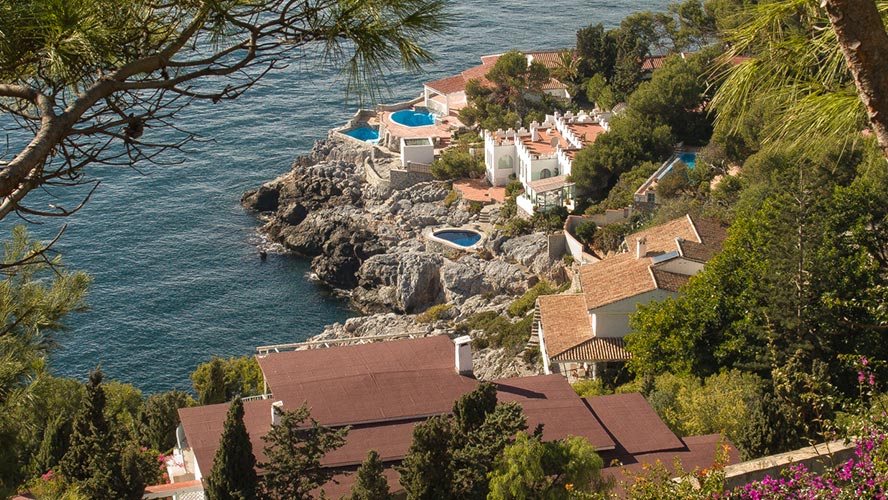 La Herradura, Almuñécar
La Herradura is a town on Costa Tropical in the Almuñécar municipality. It is one of the most popular destinations along Costa Tropical, in part because it has one of the largest populations in the region, and also because of the wide variety of activities that are available and the amazing beaches.
This town is located on a bay along the Mediterranean Sea and its beach is divided into three sections. However, the most amazing aspect is its seabed. The land and sea in this area were declared a Nature Reserve in 1980 by the regional government, and the local corals and animal species are classified as endangered.
Since this is one of the most appealing spots along Granada's coast for scuba divers, it specialises in this sport and has a number of diving centres. This is also the location of Marina del Este, which is home to many scuba diving vessels and has space for up to 230 boats.
The beach is tucked between Punta de la Mona to the east and Cerro Gordo Rock to the west, creating an ideal location that is protected from easterly and westerly winds. The region has a warm climate practically year-round; temperatures in the summer are pleasant and they rarely fall below 12 °C in the winter. As a result, this is the perfect place for sea activities throughout the year.
Surrounded by Sierra de la Almijarra and Valle Tropical, the town of Almuñécar has a very special location. Its borders include Maro Nature Reserve and Cerro Gordo, with Peña Escrita (1,200 metres above sea level) to the north and the Mediterranean Sea to the south. Tropical crops predominate in the region due to its micro-climate.
This area is also home to the most popular beaches in Costa Tropical, including La Herradura, which is perfect for scuba diving; San Cristóbal, which has many activities for tourists; and Velilla, the largest in the region. The vegetation and maritime landscapes come together on these beaches to create stunning destinations.
After a day of scuba diving, there is nothing better than strolling through the city and recharging your batteries with some of the local food. The most striking aspect is the major role that tropical ingredients play in the cuisine from this part of Granada. Since this is the perfect climate for avocado and mango crops, many restaurants serve dishes like avocado with prawns or king prawn salad with mango. Fried courgette, skewered sardines and fennel stew are also local dishes.
Costa Tropical is an ideal holiday destination, and when combined with a few days on La Herradura Bay, visitors can enjoy the fantastic beach and activities such as scuba diving. This is the best scuba diving alternative in the region and you will certainly be amazed by its underwater landscapes.
Related
plans