Going to a spa in Granada: Step into the most
relaxing experience
A growing number of people are choosing to try a relaxing spa experience. It has become one of the most popular activities, and spending time at thermal baths to forget about the stress of everyday life has become routine.
Granada has an extensive history in the matter. During the Moorish conquest of Spain, many Nasrid customs were adopted, such as using hammams, or Turkish baths, as a place to meet.
This includes hydrotherapy circuits and pools as well as all the treatments based on the traditional teachings of Arab baths. This experience is available in Granada.
Hammam
Cleansing the body and spirit of all sins is the main purpose of these baths. Muslim culture places a strong emphasis on this, which is why baths were popular meeting points. Men would come together in hammams to discuss current events. This ritual was so important that women were also permitted at different hours and places than the men.
Arab baths follow a unique layout, and since they are places where people come together, there is a main pool that is connected to the other pools. The decor features geometric themes and soft lighting created by small star-shaped openings in the ceiling for a relaxing atmosphere and a social space in which to converse.
Experts believe that there were many Arab baths in Granada between the years 600 and 800, and today you can treat yourself to this pleasure at any of the city's hammams.
Hammam Al Andalus, the first in Spain, is located behind the Church of Santa Ana, facing the Alhambra. The facility was rebuilt on the site of a former Turkish bath using the same pools. It is recommended to always begin with a relaxing bath, followed by stops in the various pools at different temperatures, and completing the experience in the steam room (a recreation of the original Al-Andalus hammam).
Additional services include relaxing massages and Nasrid rituals with essential oils and hot stones.
Another Arab bath, Aljibe de San Miguel, only uses organic cosmetic products. Aromatherapy is a fundamental element of the experience at these baths and essential oils offer an array of benefits when inhaled or absorbed by the skin during a massage.
Another popular establishment in Granada is Baños Elvira. Its traditional Nasrid architecture conveys the authentic essence of a hammam. The arches, vaults and tiles recreate the atmosphere of an ancient Turkish bath.
After the hydrotherapy circuit and an optional massage, you can order some tea, fresh juice or fruit to refuel the body.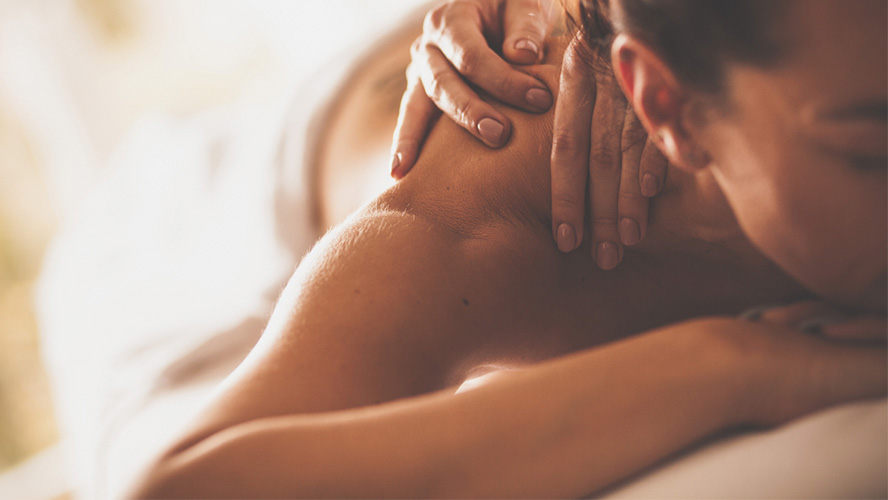 Spa
To help balance the body and mind, spas are made up of several sections that include pools, saunas, baths and hydrotherapy circuits. These elements can be combined to achieve the desired goals.
The pools are at different temperatures to improve circulation, so after spending time in warm water, such as a hot tub, it is always advisable to switch to a cold pool, thereby activating the body.
The second section is the sauna, which is where toxins are released and the skin is purified. A Turkish bath has a similar effect but with the additional use of essential oils. Some circuits also have a foot bath to relax the feet and legs.
Most have an area for relaxation in which to spend the last part of the experience with some tea, juice or even a glass of cava to emerge as revitalised as possible.
There is an oasis to relax the five senses right in the heart of Granada: Spa Five Senses. This facility combines bi-thermal treatments with relaxing the body and mind. The contrasting temperatures and textures make it easier to find balance. For a full experience, relaxing and lymphatic drainage massages are also available.
Spa Granada Palace is located on the city's outskirts, in El Barrichuelo. With almost 900 square metres of wellness and relaxation, this is one of the largest spa facilities. It offers a wide array of services such as cascade spouts, massage jets, micro-bubble circuits and more.
There is also a massage menu that includes treatments with aromatic herbs, essential oils, volcanic stones and natural ingredients such as honey, chocolate or seaweed.
One of the most interesting experiences in Granada is to visit the Beer Spa, a popular tourist attraction and an original activity involving beer, which has beneficial properties for the skin.
In addition to relaxing us from within, it has a similar effect on the outside through the use of treatments centred around basic beer components, such as yeast, hops and barley. Applying these components to the skin helps it regenerate thanks to the B vitamins in beer.
Granada is an expert in relaxation, and the results are backed by the Nasrid traditions of hammams. This is a perfect alternative for couples or friends visiting the city.
Related
plans