The Artà Caves,
underground fantasies
The Artà Caves attract fewer visitors than other natural caves of Majorca, such as the lovely Drach Caves. And while they are considerably smaller than these caves, this does not make them any less attractive to visit. In fact, this actually makes them even more highly recommended.
This is because, first, the number of guests allowed in is limited, making it an almost private visit. And second, because you are not limited to entering at a specific hour. This means that you can plan your visit to the Artà Caves along with other activities in this part of the island.
A visit to these caves is the perfect activity to do with family or with friends, as you will view some incredibly beautiful and plastic geological formations. Here, nature has sculpted some amazing shapes, which have been subsequently illuminated by man, in an equally creative way.
What are the Artà Caves like
The Artà Caves are geological formations of limestone that were created over millions of years by diverse seismic movements and by the erosion of underground waters. And as we know, stalactites, stalagmites and columns take centuries to form, from the action of water droplets filtering from the cave's surface, filled with sedimentary minerals.
The entrance to the Artà Caves faces the sea, on a cliff of almost 40-metres in height. Specifically, this cliff is Cap Vermell, in the municipality of Capdepera, surrounded by mountains.
Although there is no clear proof, it is suspected that these caves were inhabited by humans during prehistoric times. Even though we cannot be sure that they had residents, clearly all of the civilisations and towns of Majorca have visited these caves.
Interestingly, the caves have received more or less regulated visits since 1870.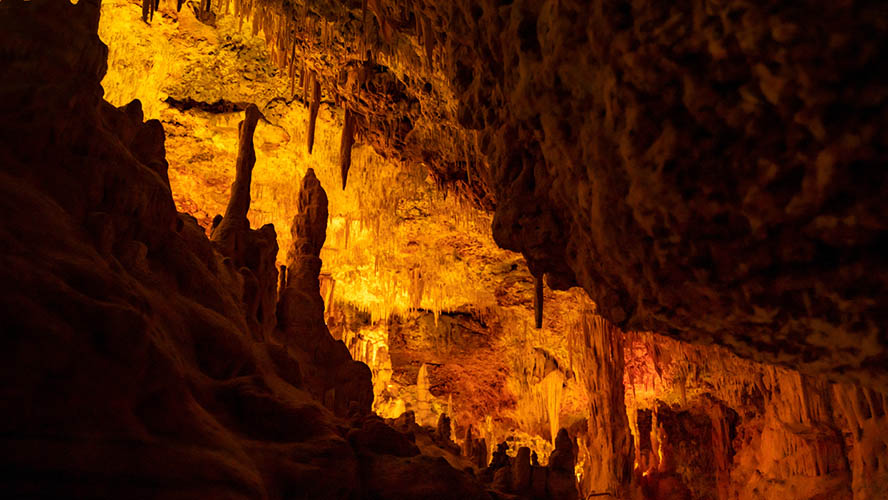 What to see in the Artà Caves
The Artà Caves extend over approximately 500 metres, distributed across a variety of halls, each of which bears a name that refers to its appearance and function or the 'figures' that may be admired in them:
Entrance: filled with stalactites and stalagmites having human-like forms.
Hall of Columns: with a Gothic-like appearance, this space is filled with slender columns, pointed arches and filigreed canopies.
Hall of the Queen of Columns: this hall received its name from the huge column of 25 metres in height that is situated in the centre of the same.
Hell: one of the largest halls in the Artà Caves. Along with many other elements, it has a stony filigreed curtain. There are also many grotesque forms and a certain 'hellish' quality.
Chamber of Bells: named for the specific sound produced by the stalactites in this hall, when touched by a stone. Of course, only the guide may touch them.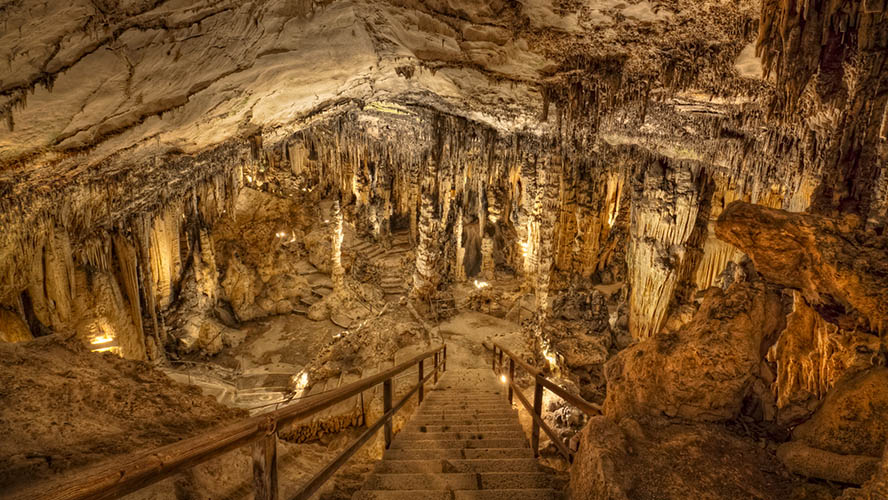 The Theatre: square in shape, this hall receives its name from the stony curtains that hang from one of its sides, similar to a stage drop, next to others that look like wings.
Chamber of Flags: on its ceiling there is what appears to be an unfolded flag with its pole. It also hosts a group of gigantic columns that look like the tubes of a church organ.
The Vestibule: from here, through the entrance cavity, it is possible to view the sea.
Some interesting facts about Artà
The inside of the Artà Caves maintains a constant temperature and humidity. Specifically, 18ºC and 80%. Thus, when visiting, we recommend that you bring along a light jacket and some comfortable and slip-resistant shoes (wearing flip flops is not a good idea).
Although we have mentioned some of the most interesting formations and shapes of the cave, be sure to listen carefully to the guides who will share other curious information and facts. And most important of all: relax and let your imagination run wild.
Close to the caves
After a visit to the Artà Caves, take a walk through this area, the easternmost of the Majorcan regions. Be sure to visit some of the beaches and coves that are situated in Cala Ratjada, Cala Mesquida, Canyamel and Font de Sa Cala.
You can also visit Sa Mesquida valley, which has a cove bearing the same name and which is home to some of the most spectacular and best kept dunes of the island: Munt Gros.
Other points of interest in the area include:
Canyamel valley, containing a small stream and reaching the beaches of the town that bears its same name.
The Talaiotic settlements (prehistoric Balearic culture) of Ses Païses, Son Sastres, Son Cabila, Son Favar and Claper des Gegants.
The Capdepera castle and fort, built in the 14th century, which are some of the most relevant historic sites on the island.
Information of interest
Entradas Cuevas de Artà
Precio no residentes: entrada gratuita hasta los 7 años, con descuento hasta los 12 y tarifa estándar para adultos. Consulta información actualizada en la web oficial.
Horarios
En verano (julio, agosto y septiembre): de 10 a 19 horas.
En primavera y otoño: de 10 a 18 horas.
En invierno (noviembre a marzo): de 10 a 17 horas.
Cómo llegar
En coche: las Cuevas de Artà están muy próximas a la localidad de Canyamel, a poco más de una hora desde Palma, por carretera; una media hora desde Manacor; y hora y media desde el Puerto de Sóller.
En autobús: desde Manacor se puede tomar la línea 411 hasta Cala Ratjada. Una vez allí se toma el bus hasta Canyamel y se camina unos 20 minutos hasta la entrada de la cueva.
En barco: desde Cala Ratjada hay varias empresas que organizan excursiones hasta las Cuevas de Artà.
Related
plans