Hendaye:
delve into its history
Hendaye is a pretty French town on the Spanish-French border, on the other side of the Bidasoa River from Hondarribia. Its geographical location means that it has become a trading centre for the two countries and it was even a reception point for Spanish migrants fleeing from the Civil War.
The beach, the friendly locals and the blend of French and Spanish cuisine mean that is has become a top holiday destination for tourists and people living on either side of the border.
Hendaye: why it's a great place to visit
If you'd like to find out more about what to see in Hendaye, you'll find everything you need to know here. Hendaye has a very rich background and it is full of places that have played key roles in Spanish history. The train station is one such example. It is in the oldest quarter of the city and it is famous for having been the place where Adolf Hitler and Francisco Franco, the Spanish dictator, met to discuss Spanish intervention in the Second World War.
Place de la République is right in the historical centre of the town. You will find many bars and restaurants there so it's a perfect place to stop off and have a drink or a bite to eat in a quiet and welcoming environment. A market is held there every Wednesday which is an excellent opportunity to buy gifts or souvenirs.
Free cancellation
The 16th century church in Hendaye – Saint Vincent – is another emblematic spot. When you see it for the first time, no doubt the contrast of the white stone walls and red windows will surprise you. It is a perfect place for urban art-lovers.
Hendaye beach
One of the main tourist attractions in this coastal town is undoubtedly the beach. Hendaye beach is a three-kilometre cove of fine, golden sand. Since it is so spacious, it is popular with everyone and there is even a nudist area.
You can take Boulevard de la Mer, the marine walk, along the entire length of the sands until you reach Old Croisière Casino, a unique building situated right there on the beach. It is no longer a casino, however. Nowadays there are luxury apartments and a modern shopping centre inside.
Pheasant Island

Pheasant Island is the world's smallest condominium. For half of the year, it is French territory and for the other half, it is Spanish territory. It is situated between Irún and Hendaye and it is only 200 metres long and 40 metres wide. The pretty island can, unfortunately, only be viewed from the river bank as it is uninhabited and not open to the public.
However, there is a great deal of history to Pheasant Island. For example, in 1659, the Treaty of the Pyrenees was signed there, marking the end of the Thirty Years War.
It's a quiet place but there was some action in 1974 when members of the terrorist group, ETA, were caught there as they tried to cross the French border.
Château d'Abbadie: the castle in Hendaye
Sheer cliffs drop dramatically to the sea at the edge of the grounds of this neo-Gothic castle. The original owner, Antoine d'Abbadie, built an astronomical observatory inside it and nowadays it is one of the castle's most well-known features.
The façade, covered in crocodiles, elephants and other wild animals, is also incredibly interesting. Visits to the castle are permitted so take the opportunity to admire the library, marvel at the Arab room and visit the spot where the owner and his wife were buried. Following Antoine d'Abbadie's death, the castle was donated to the French Academy of Sciences and in 1984 it was listed as a national heritage site.
Top restaurants in Hendaye
You will most likely have worked up an appetite after walking around this beautiful town, so here are some of the best places in the area to taste excellent French and Spanish cuisine. There is always a little something to please everyone.
Le Comptoir des Alles
Le Comptoir des Alles is the best place to go if you'd like to try local, French food. This beautifully decorated restaurant serves typical French meals that have been carefully and lovingly prepared. Enjoy them sitting on the large terrace. The chefs use top-quality ingredients and the food is delicious.
Campanile
Campanile hotel and restaurant is a fantastic option if you're looking either for accommodation or for a place to eat in Hendaye. The restaurant serves a range of dishes made using local produce. It's a great way of making the most of your stay.
Hendaye is a perfect place to go on holiday and local towns such as Bayonne and Biarritz are an added bonus. This town is all about history, good food and a great vibe. Spend a day on the beach and try local food served in top-quality restaurants.
Related
plans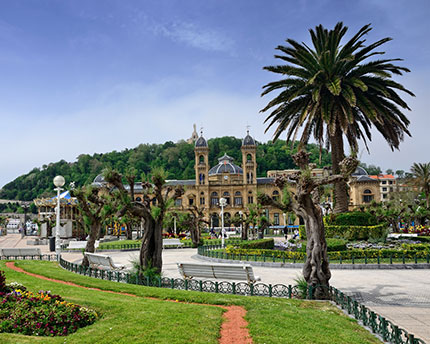 Places of Interest